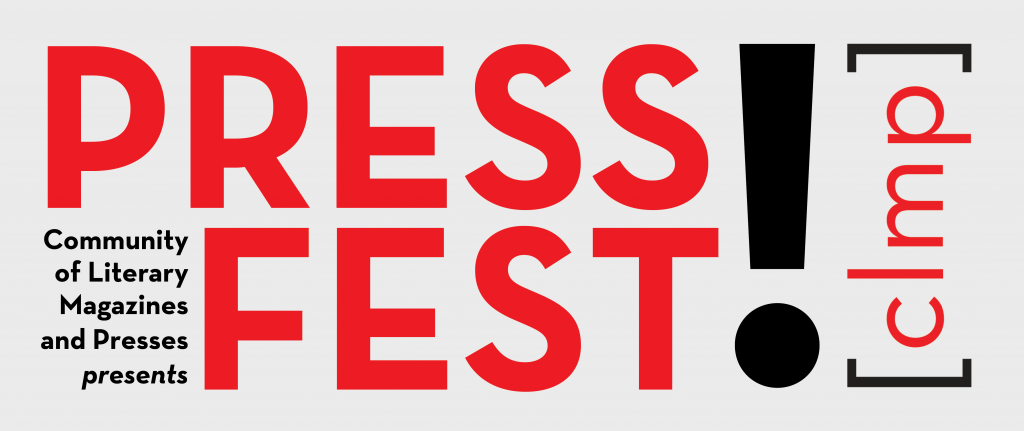 At the PEN World Voices Festival
Friday, April 20 2018
4 – 8 PM
Click here for more info (including participating publishers & schedule)
Tables must be registered by 5 PM on Monday, April 16. PRESS FEST! will be included on the PEN World Voices website, marketed on CLMP's website and social media, and through our monthly e-newsletter, Fresh Pressed.
Exhibitors are encouraged to embrace the international spirit of the PEN World Voices Festival by displaying related titles/issues; and are also encouraged to offer author signings, or other interactive features at their table (past examples include raffles, exquisite corpses or other writing-related activities, etc). Note that information about signings, etc. must be relayed to us by April 9.
VENDOR GUIDELINES: Table Fee: CLMP Members $100 / Non-Members $125.
Fee includes a six-foot table and two folding chairs.
Two CLMP member publishers may share a table.
Register by April 16th, 2018
Submit information about author signings, etc. no late than April 9th
Use the form below to secure your table and list table signings or other events.
Promote our community's Block Party!
Author signings and other table event info may be entered below or send this information directly to Christina Blok, CLMP's Communications Manager, at cblok@clmp.org separately after securing your table: