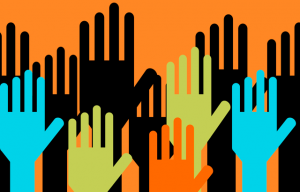 Dear Members of the Independent Literary Publishing Community,
Let's do something. Whether you are angry, disheartened, or hopeful for the future of our country, now is the time for us come together as a community.
Many of us are trying to make sense of the current political climate in our country and the events around the recent election. Many of us are deeply concerned and troubled about the deep divide within our electorate and what the incoming administration might mean in terms of that divide. Many of us are deeply disturbed by the fires of racism that have been fanned and actions that have been enabled as a result. We fear for the future of civil liberties and a civil society. We're worried about the future of our environment and how changes to the Supreme Court may affect all of us for years to come. We're pained that many in America, both those born in other countries and those born here, may feel unsafe simply walking down the street.
CLMP—the Community of Literary Magazines and Presses—invites you to a virtual Town Hall to take place on Monday, November 21st, 2017 from 3:00 – 4:30 pm EST. It will be set up as a simple chat room and provide a space for open discussion. It's our hope that we might move toward ways that the independent literary publishing community might address the many issues at stake.
If we care about a diverse and inclusive literary landscape, how might we use our platforms as publishers in the current climate? We are largely conduits to creative work, not journalists, yet as publishers we do more than simply connect writers and readers. We potentially provide powerful tools for empathy, understanding and transformation. What might we do as a group to address what's happening and make it better? What responsibility might we have to do so? How might we help direct and focus the power of literature in this most uncertain of times?
Please RSVP to info@clmp.org if you would like to participate. Note that you will need a Gmail address to take part. We will respond with details instructions about how to join the discussion. Whether or not you are a member of CLMP, if you represent an independent literary publisher, we invite you to take part.