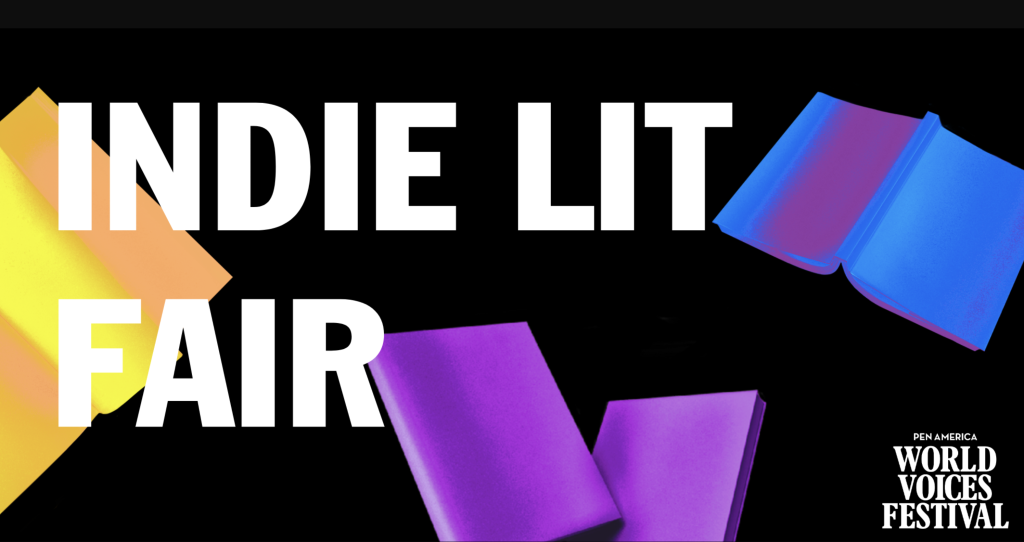 May 13, 2023
The eighth annual Indie Lit Fair, co-presented by PEN World Voices Festival and the Community of Literary Magazines and Presses [CLMP], took place on Saturday, May 13, 2023, from 12-5 PM in New York City, south of Washington Square Park on the sidewalk outside AIA New York at 536 LaGuardia Place.
Free and open to the public, the Indie Lit Fair celebrates the vitality and diversity of independent literary publishing and showcases new and established poetry presses, fiction and creative nonfiction publishers, and innovative literary magazines. Visitors can browse, buy, and bask in the breadth of the literary arts being published today. The 2023 lineup of independent presses and literary magazines included 128 Lit, Archipelago Books, Belladonna* Collaborative, Berlinica, Black Sun Lit, Circumference Magazine, Cleveland Review of Books, Europa Editions, The Evergreen Review, Feminist Press, Fence, Fiction, Five Points: A Journal of Literature & Art, Futurepoem Books, Get Fresh Books, Guernica, Lampblack, Nightboat Books, Paper Brigade, The Paris Review, A Public Space, Solid Objects, Tender Buttons, Three Rooms Press, and Ugly Duckling Presse.
CLMP also hosted Vital Voices from Indie Lit Publishers, a reading inside AIA New York, in AIA 532, at 12 PM ET. This event featured fiction writers Kevin Chen (Ghost Town, a novel published by Europa Editions) and Ada Zhang (The Sorrows of Others, a short story collection published by A Public Space); poets Chia-Lun Chang (Prescribee, published by Nightboat Books), India Lena González (poetry published by Lampblack and forthcoming from BOA Editions), Christina Olivares (Interrupt, published by Belladonna* Collective, and Future Botanic, published by Get Fresh Books), and Lynne Sachs (Year by Year, published by Tender Buttons); and translators Mayada Ibrahim (translations of work by Najlaa Eltom published in 128 Lit and Circumference Magazine), Ostap Kin (translation of poetry by Serhiy Zhadan in Circumference Magazine), and Jennifer Shyue (The Enlightenment of Katzuo Nakamatsu, a novel by Augusto Higa Oshiro, published by Archipelago Books).
Check back for information about the 2024 Indie Lit Fair.
---
The Indie Lit Fair is made possible by the New York State Council on the Arts with the support of Governor Kathy Hochul and the New York State Legislature.