Celebrating the Best of Independently Published Literature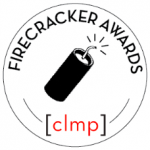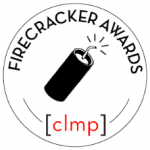 The CLMP Firecracker Awards for Independently Published Literature are given annually to celebrate books and magazines that make a significant contribution to our literary culture and the publishers that strive to introduce important voices to readers far and wide. Prizes are awarded in the categories of Fiction, Creative Nonfiction, Poetry, Magazine/General Excellence, and Magazine/Best Debut. Each year, CLMP also awards the Lord Nose Award, given to a publisher or editor in recognition of a lifetime of work in literary publishing.
For this year's awards, we're thrilled to announce that each winner in the books category will receive $2,000–$1,000 for the press and $1,000 for the author or translator–and each winner in the magazine categories will receive $1,000. In addition, a national publicity campaign spotlights and promotes our winning titles each year. In partnership with the American Booksellers Association, promotional materials—including a press release and shelf talkers featuring the winning titles—are distributed to over 750 independent booksellers across the country. Winners are also promoted in CLMP's newsletters, on our website, and through a dedicated social media campaign. The publishers of winning titles receive a free one-year membership to CLMP, and magazine winners receive a one-year CLMP Member subscription to Submittable.
The winners will be announced on June 23, 2022, 7PM ET, at the virtual Firecracker Awards Ceremony, where we'll also present the Lord Nose Award to this year's recipient, Bradford Morrow of Conjunctions. We hope you'll join us!

2022 Firecracker Award Finalists
Fiction
Farthest South and Other Stories by Ethan Rutherford, published by A Strange Object
The House of Rust: A Novel by Khadija Abdalla Bajaber, published by Graywolf Press
Householders by Kate Cayley, published by Biblioasis
Pleasantview by Celeste Mohammed, published by Ig Publishing
The Trees: A Novel by Percival Everett, published by Graywolf Press
Creative Nonfiction

Dear Memory: Letters on Writing, Silence, and Grief by Victoria Chang, published by Milkweed Editions
Footnotes: The Black Artists Who Rewrote the Rules of the Great White Way by Caseen Gaines, published by Sourcebooks
Names for Light: A Family History by Thirii Myo Kyaw Myint, published by Graywolf Press
Plastic: An Autobiography by Allison Cobb, published by Nightboat Books
Migratory Birds by Mariana Oliver, translated by Julia Sanches, published by Transit Books
Poetry
book of the other: small in comparison by Truong Tran, published by Kaya Press
CURB by Divya Victor, published by Nightboat Books
Phantompains by Therese Estacion, published by Book*hug Press
To Know Crush by Jennifer Jackson Berry, published by YesYes Books
Winter Phoenix: Testimonies in Verse by Sophia Terazawa, published by Deep Vellum
Magazines: Best Debut
Brink
Inverted Syntax
Islandia Journal
Nowruz Journal
SISTORIES
Magazines: General Excellence
The American Poetry Review
Bellevue Literary Review
Chicago Review
The Evergreen Review
Obsidian: Literature & Arts in the African Diaspora
2022 Lord Nose Award Recipient
Bradford Morrow, Editor of Conjunctions
2022 Firecracker Award Judges
Fiction
Donna Hemans, author of Tea by the Sea, published by Red Hen Press
Carley Moore, author of The Not Wives, published by Feminist Press
Cristina Rivera Garza, author of Grieving: Dispatches from a Wounded Country, published by Feminist Press
Creative Nonfiction
Ander Monson, author of I Will Take the Answer, published by Graywolf Press
Joni Tevis, author of The World Is on Fire: Scrap, Treasure, and Songs of Apocalypse, published by Milkweed Editions
Melissa Valentine, author of The Names of All the Flowers, published by Feminist Press
Poetry
Xan Phillips, author of Hull, published by Nightboat Books
Lee Ann Roripaugh, author of tsunami vs. the fukushima 50, published by Milkweed Editions
Jillian Weise, author of Cyborg Detective, published by BOA Editions
Magazine
Lana Barkawi, Executive and Artistic Director, Mizna
Rob Greene, Publisher, Raleigh Review
Miah Jeffra, Cofounder, Foglifter Journal
The Firecracker Awards are sponsored by