Celebrating the Best of Independently Published Literature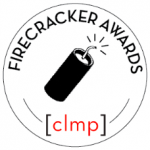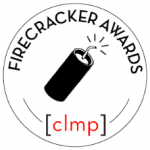 The CLMP Firecracker Awards for Independently Published Literature are given annually to celebrate books and magazines that make a significant contribution to our literary culture and the publishers that strive to introduce important voices to readers far and wide. Prizes are awarded in the categories of Fiction, Creative Nonfiction, Poetry, Magazines/General Excellence, and Magazines/Best Debut. Each year, CLMP also awards the Lord Nose Award, given to a publisher or editor in recognition of a lifetime of work in literary publishing.
A national publicity campaign spotlights and promotes our winning titles each year. In partnership with the American Booksellers Association, promotional materials—including a press release and shelf talkers featuring the winning titles—are distributed to over 500 independent booksellers across the country. Winners are also promoted in CLMP's newsletters, on our website, and through a dedicated social media campaign. The publishers of winning titles receive a free one-year membership to CLMP, and magazine winners receive a one-year CLMP Member subscription to Submittable. To read press coverage about the 2020 Firecracker Award winners, visit our Press Center.
The Firecracker Awards winners will be announced at a virtual awards ceremony hosted by The Center for Fiction on June 23, 2021, at 7PM ET.

The 2021 Firecracker Award Finalists:

Fiction
David Tung Can't Have a Girlfriend Until He Gets Into an Ivy League College by Ed Lin, published by Kaya Press
Fiebre Tropical by Juli Delgado Lopera, published by Feminist Press
Further News of Defeat by Michael X. Wang, published by Autumn House Press
Hezada! I Miss You by Erin Pringle, published by Awst Press
Silence Is My Mother Tongue by Sulaiman Addonia, published by Graywolf Press
Silverfish by Rone Shavers, published by CLASH Books
Telephone by Percival Everett, published by Graywolf Press
Temporary by Hilary Leichter, published by Coffee House Press
When the Whales Leave by Yuri Rytkheu, translated by Ilona Yazhbin Chavasse, published by Milkweed Editions
Where the Wild Ladies Are by Aoko Matsuda, translated by Polly Barton, published by Soft Skull Press

Creative Nonfiction
Bright Archive by Sarah Minor, published by Rescue Press
The Dragons, the Giant, the Women by Wayétu Moore, published by Graywolf Press
Grieving: Dispatches from a Wounded Country by Cristina Rivera Garza, translated by Sarah Booker, published by Feminist Press
Just Us: An American Conversation by Claudia Rankine, published by Graywolf Press
Lecture by Mary Cappello, published by Transit Books
The Names of All the Flowers by Melissa Valentine, published by Feminist Press
Nine Moons by Gabriela Wiener, translated by Jessica Powell, published by Restless Books
Pass With Care by Cooper Lee Bombardier, published by Dottir Press
Stranger Faces by Namwali Serpell, published by Transit Books
This Is One Way to Dance by Sejal Shah, published by University of Georgia Press

Poetry
america, MINE by Sasha Banks, published by co•im•press
DMZ Colony by Don Mee Choi, published by Wave Books
Fugitive Atlas by Khaled Mattawa, published by Graywolf Press
Homie by Danez Smith, published by Graywolf Press
The Malevolent Volume by Justin Phillip Reed, published by Coffee House Press
OBIT by Victoria Chang, published by Copper Canyon Press
Postcolonial Love Poem by Natalie Diaz, published by Graywolf Press
Salt Body Shimmer by Aricka Foreman, published by YesYes Books
Wound from the Mouth of a Wound by torrin a. greathouse, published by Milkweed Editions
Year of the Dog by Deborah Paredez, published by BOA Editions

Magazines: Best Debut
Gasher Journal
Lucky Jefferson
Midst
Subnivean
Magazines: General Excellence
American Short Fiction
The Kenyon Review
Mizna: Prose, Poetry, and Art Exploring Arab America
New England Review
Oxford American
Raleigh Review
The Seventh Wave
World Literature Today
2021 Firecracker Award Judges
Fiction
Natanya Ann Pulley, author of With Teeth, published by New Rivers Press
Irene Yoon, Director of the LARB Publishing Workshop at the Los Angeles Review of Books
Robert Yune, author of Impossible Children, published by Sarabande Books
Creative Nonfiction
E. J. Koh, author of The Magical Language of Others, published by Tin House Books
Paul Lisicky, author of Later: My Life at the Edge of the World, published by Graywolf Press
Aimee Nezhukumatathil, author of World of Wonders: In Praise of Fireflies, Whale Sharks, and Other Astonishments, published by Milkweed Editions
Poetry
Sarah Gambito, author of Loves You, published by Persea Books
Raquel Salas Rivera, author of while they sleep (under the bed is another country), published by Birds, LLC
Malcolm Tariq, author of Heed the Hollow, published by Graywolf Press
Magazine
Charles Flowers, Editor, BLOOM Literary Journal
Keetje Kuipers, Editor, Poetry Northwest
Marcus Wicker, Poetry Editor, Southern Indiana Review
The Firecracker Awards are sponsored by