Celebrating the Best of Independently Published Literature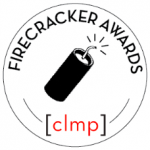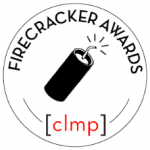 The CLMP Firecracker Awards for Independently Published Literature are given annually to celebrate books and magazines that make a significant contribution to our literary culture and the publishers that strive to introduce important voices to readers far and wide. Prizes are awarded in the categories of Fiction, Creative Nonfiction, Poetry, Magazine/General Excellence, and Magazine/Best Debut. Each year, CLMP also awards the Lord Nose Award, given to a publisher or editor in recognition of a lifetime of work in literary publishing.
Each winner in the books category will receive $2,000—$1,000 for the press and $1,000 for the author or translator—and each winner in the magazine categories will receive $1,000. In addition, a national publicity campaign spotlights and promotes our winning titles each year. In partnership with the American Booksellers Association, promotional materials—including a press release and shelf talkers featuring the winning titles—are distributed to over 750 independent booksellers across the country. Winners are also promoted in CLMP's newsletters, on our website, and through a dedicated social media campaign. The publishers of winning titles receive a free one-year membership to CLMP, and magazine winners receive a one-year CLMP Member subscription to Submittable. To read press coverage about the 2022 Firecracker Award winners, visit our Press Center.
The winners will be announced on June 22, 2023, 6PM ET, at the virtual Firecracker Awards Ceremony, where we'll also present the Lord Nose Award to this year's recipient, Christine Holbert of Lost Horse Press.
2023 Firecracker Awards Finalists
Fiction
Brother Alive by Zain Khalid, published by Grove Atlantic
God's Children Are Little Broken Things by Arinze Ifeakandu, published by A Public Space Books
Stories of a Life by Nataliya Meshchaninova, translated by Fiona Bell, published by Deep Vellum
Violets by Kyung-sook Shin, translated by Anton Hur, published by Feminist Press
When I Sing, Mountains Dance by Irene Solà, translated by Mara Faye Lethem, published by Graywolf Press
Creative Nonfiction
Brown Neon by Raquel Gutiérrez, published by Coffee House Press
Conversations with Birds by Priyanka Kumar, published by Milkweed Editions
Imminent Domains: Reckoning with the Anthropocene by Alessandra Naccarato, published by Book*hug Press
O by Tammy Nguyen, published by Ugly Duckling Presse
Optic Subwoof by Douglas Kearney, published by Wave Books
Poetry
Customs by Solmaz Sharif, published by Graywolf Press
Look at This Blue by Allison Adelle Hedge Coke, published by Coffee House Press
Maafa by Harmony Holiday, published by Fence Books
The Rupture Tense by Jenny Xie, published by Graywolf Press
Togetherness by Wo Chan, published by Nightboat Books
Magazines: Best Debut
128 Lit
The Ampersand Review of Writing & Publishing
Lampblack
LIBER: A Feminist Review
Lines & Breaks
Magazines: General Excellence
The Arkansas International
Ecotone
Ninth Letter
Orion
Oxford American
LORD NOSE AWARD RECIPIENT
Christine Holbert, Founder and Publisher of Lost Horse Press
2023 Firecracker Awards Judges
Fiction
Karen Maeda Allman, former Author Events Co-Coordinator, Elliott Bay Book Company
Kristen Arnett, author of With Teeth, published by Riverhead Books
Vauhini Vara, author of  The Immortal King Rao, published by W. W. Norton

Creative Nonfiction
Cinelle Barnes, author of Monsoon Mansion: A Memoir, published by Little A
Daisy Hernández, author of The Kissing Bug, published by Tin House
Emerson Whitney, author of Heaven, published by McSweeney's
Poetry
Kemi Alabi, author of Against Heaven, published by Graywolf Press
Jenny Gropp, author of The Hominine Egg, published by Kore Press
Komal Mathew, author of For Daughters Who Walk Out Like Sons, published by Zone 3 Press
Magazine
S. Tremaine Nelson, Editor and Publisher, Northwest Review
Alysia Li Ying Sawchyn, Editor in Chief, The Rumpus
NaBeela Washington, Founder and Editor in Chief, Lucky Jefferson
The Firecracker Awards are sponsored by