Celebrating the Best of Independently Published Literature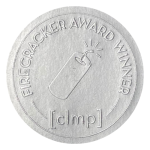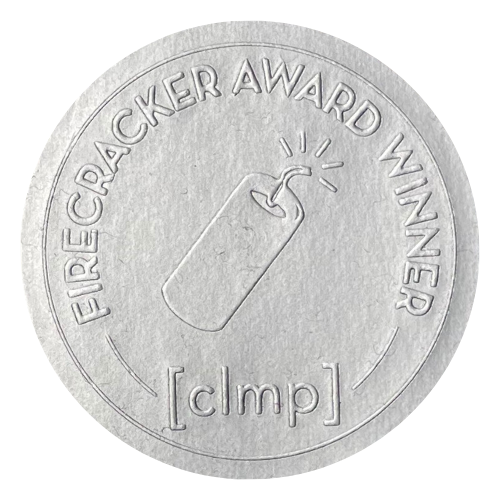 The CLMP Firecracker Awards for Independently Published Literature are given annually to celebrate books and magazines that make a significant contribution to our literary culture and the publishers that strive to introduce important voices to readers far and wide. Prizes are awarded in the categories of Fiction, Creative Nonfiction, Poetry, Magazine/General Excellence, and Magazine/Best Debut. Each year, CLMP also awards the Lord Nose Award, given to a publisher or editor in recognition of a lifetime of work in literary publishing.
Each winner in the books category will receive $2,000–$1,000 for the press and $1,000 for the author or translator–and each winner in the magazine categories will receive $1,000. In addition, a national publicity campaign spotlights and promotes our winning titles each year. In partnership with the American Booksellers Association, promotional materials—including a press release and shelf talkers featuring the winning titles—are distributed to over 750 independent booksellers across the country. Winners are also promoted in CLMP's newsletters, on our website, and through a dedicated social media campaign. The publishers of winning titles receive a free one-year membership to CLMP, and magazine winners receive a one-year CLMP Member subscription to Submittable. To read press coverage about the 2023 Firecracker Award winners, visit our Press Center.
Finalists will be announced in spring 2024; the winners will be announced in June 2024.
Submission Guidelines
General
There is no limit to the number of unique entries publishers may submit.
The entry fee is $65 ($55 for CLMP Members) for the first submission and $30 ($25 for CLMP Members) for each additional entry. Interested in becoming a CLMP Member? Join now.
Book Categories
Books must be published by an independent publisher during the 2023 calendar year
Books of poetry, fiction, and creative nonfiction for adults are eligible. This includes English-language books from international publishers, books in translation, and graphic novels.
Self-published books, including books published with "hybrid" publishers in which authors pay for part or all of publication costs, are not eligible.
Children's and young adult books are not eligible. Anthologies are not eligible.
Entries should be submitted by the publisher. However, authors may submit their own books if the publisher consents to the entry of the book. If an author submits their book themselves, they must provide contact information for the publisher in the application.
Magazine Categories
Magazines must be independent and literary in nature (primarily publishing fiction, creative nonfiction, poetry, and/or literary reviews).
Magazines submitting in the General Excellence category must have published regularly for at least the past two years.
Magazines submitting in the Best Debut category must have launched in the 2021, 2022, or 2023 calendar years.
Both print and digital magazines are eligible.
Magazines may only be submitted in one category.
CLMP reserves the right to determine all submissions' eligibility, and its decision will be final.
2024 Firecracker Award Judges
Fiction
Zeyn Joukhadar, author of The Thirty Names of Night, published by Atria Books
Talia Lakshmi Kolluri, author of What We Fed to the Manticore, published by Tin House
Kevin Sampsell, events coordinator and small-press book buyer at Powell's Books
Creative Nonfiction
Edgar Gomez, author of High Risk Homosexual: A Memoir, published by Soft Skull Press
Raquel Gutiérrez, author of Brown Neon, published by Coffee House Press
Gaël LeLamer, head book buyer at Books & Books
Poetry
Allison Escoto, head librarian and education director at The Center for Fiction
Crystal Wilkinson, author of Praisesong for the Kitchen Ghosts, published by Clarkson Potter
Shelley Wong, author of As She Appears, published by YesYes Books
Magazine
Sam Campbell, managing editor, The Arkansas International
Manuel Gonzales, fiction editor, Bennington Review
Dana Isokawa, editor in chief, The Margins
The Firecracker Awards are sponsored by