Celebrating the Best of Independently Published Literature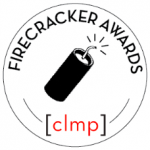 The CLMP Firecracker Awards for Independently Published Literature are given annually to celebrate books and magazines that make a significant contribution to our literary culture and the publishers that strive to introduce important voices to readers far and wide. Prizes are awarded in the categories of Fiction, Creative Nonfiction, Poetry, Magazine/General Excellence, and Magazine/Best Debut. Each year, CLMP also awards the Lord Nose Award, given to a publisher or editor in recognition of a lifetime of work in literary publishing.
2020 Firecracker Award Winners
From the Judges
"This exceptional novel defies categorization and investigates the many facets of terror and xenophobia through the story of a radicalized young woman."
Johannes Anyuru is a poet, novelist, and playwright. He has published numerous books, including the novel ​A Storm Blew in from Paradise​ (World Editions, 2019). In 2017, he was awarded the August Prize for Best Fiction Book of the Year. Anyuru's work has been likened to a mix between Nobel Laureate Thomas Tranströmer and a hip-hop MC.
Translator Saskia Vogel's​ translations include work by leading female authors, such as Katrine Marçal, Carolina Ramqvist, and the modernist eroticist Rut Hillarp. Vogel's debut novel, Permission​ (Coach House Books), was published in 2019.
Two Lines Press exists to give American readers the opportunity to read some of the great work from outside our borders that they would not otherwise get to see. As the barriers between cultures continue to come down and more and more authors are finding inspiration in foreign lands, there's all the more reason for us to read the world.
From the Judges:
"With a particular focus on fragrances, Dubrow follows her nose into the terrain of memory, but also into the relationship of scent to grief and desire, and how these emotions might be felt, understood, and smelled."
Jehanne Dubrow​ is the author of six poetry collections, including most recently ​Dots & Dashes (Crab Orchard Series in Poetry, 2017), ​The Arranged Marriage​ (Mary Burritt Christiansen Poetry Series, 2015), and ​Red Army Red (​ Triquarterly, 2012). She is an associate professor of creative writing at the University of North Texas.
New Rivers Press​ maintains a dual mission: to connect the best new and emerging writers and storytellers from across Minnesota and the world with eager audiences and to provide hands-on learning opportunities at Minnesota State University Moorhead for students interested in entering the publishing world after graduation.
From the Judges:
"Jena Osman's ​Motion Studies​ defies categorization, combining science writing, dystopian (science) fiction, popular journalism, critical theory, and lyricism."
Jena Osman's​ books of poems include ​Corporate Relations​ (Burning Deck, 2014), ​Public Figures​ (Wesleyan University Press, 2012), ​The Network​ (Fence Books, National Poetry Series selection, 2010), and others. She cofounded and coedited the literary magazine ​Chain​ with Juliana Spahr from 1994-2005.
Ugly Duckling Presse​ is a nonprofit publisher for poetry, translation, experimental nonfiction, performance texts, and books by artists. UDP favors emerging, international, and "forgotten" writers, and its books, chapbooks, artists books, broadsides, and periodicals often contain handmade elements, calling attention to the labor and history of bookmaking.
From the Judges:
"Personal Volcano​ is a tension between the 'social' and the 'deep ecological'—encompassing of something larger and more powerful than the anthropocentric could ever admit."
Laura Moriarty's​ books include ​A Tonalist​ (Nightboat Books, 2010), ​A Semblance: Selected and New Poems, 1975-2007​ (Omnidawn, 2007), ​Ultraviolet​ (Atelos, 2006), and others. In addition to having taught at Naropa University and Mills College, she was the deputy director of Small Press Distribution.
Nightboat Books​ seeks to develop audiences for writers whose work resists convention and transcends boundaries by publishing books rich with poignancy, intelligence, and risk.
From the Judges:
"Porter House Review​ publishes well-crafted prose and verse that is attentive to form and captivating. The journal demonstrates inclusivity, publishing works by writers from a wide range of backgrounds and exploring expansive themes."
Porter House Review​ is an online literary journal produced in conjunction with Texas State University's MFA program in Creative Writing. Inspired by the legacy of Katherine Anne Porter, the journal seeks to publish bold and incisive writing that interrogates not only the complexities of the human experience, but also the prevailing social challenges of our time.
From the Judges:
"With a mission to 'celebrate the art of translation,' ​Two Lines Journal​ highlights the exceptional work of both writers and translators, offering Anglophone readers a rare chance to connect with stories and ideas across cultures."
Two Lines Journal​, published in conjunction with Two Lines Press, ​exists to give American readers the opportunity to read some of the great work from outside our borders that they would not otherwise get to see. As the barriers between cultures continue to come down and more and more authors are finding inspiration in foreign lands, there's all the more reason for us to read the world.
2020 Lord Nose Award
Since it was founded in 1978 by W. Paul Coates, Black Classic Press has specialized in republishing obscure and significant works by and about people of African descent. Black Classic Press has issued more than 135 titles and is still going strong, with four titles forthcoming in 2020 and 2021, plus twelve more books acquired from The Majority Press. Its best-selling titles include important classics, 100 Years of Lynching by Ralph Ginsburg, Why Should White Guys Have All the Fun by Reginald F. Lewis, Black Man of the Nile by Yosef Ben-Jochannon, When We Ruled by Robin Walker and Seize the Time by Bobby Seale.
Coates is a graduate of Atlanta University's School of Library and Information Studies (1980) and SDC/Antioch University (1979). The coeditor of ​Black Bibliophiles and Collectors: Preservers of Black History​ (Howard University Press, 1990), Coates is an active Black bibliophile and collector of cultural artifacts. As a former African American Studies reference and acquisition librarian at Howard University's Moorland-Spingarn Research Center, Coates was responsible for collection development of African American books and related materials. His responsibilities included the selection and purchase of rare and non-rare items. In addition, he served as adjunct instructor of African American Studies at Sojourner-Douglass College, Baltimore, MD. He formerly owned and operated The Black Book (1972-1978), a Baltimore-based bookstore.
Read more about W. Paul Coates & Black Classic Press, and the Lord Nose Award.
---
2020 Firecracker Award Finalists:
Fiction
Flowers of Mold by Ha Seong-nan, translated by Janet Hong, published Open Letter Books
Glory and Its Litany of Horrors by Fernanda Torres, translated by Eric M. B. Becker, published Restless Books
The Incompletes by Sergio Chejfec, translated by Heather Cleary, published by Open Letter Books
Last of Her Name by Mimi Lok, published by Kaya Press
The Not Wives by Carley Moore, published by The Feminist Press
Spider Love Song and Other Stories by Nancy Au, published by Acre Books
Tonic and Balm by Stephanie Allen, published by Shade Mountain Press
The Wind That Lays Waste by Selva Almada, translated by Chris Andrews, published by Graywolf Press
Creative Nonfiction
Axiomatic by Maria Tumarkin, published by Transit Books
Blackfishing the IUD by Caren Beilin, published by Wolfman Books
Codependence by Amy Long, published by Cleveland State University Poetry Center
Hatred of Translation by Nathanaël, published by Nightboat Books
Knitting the Fog by Claudia D. Hernández, published by The Feminist Press
Setting the Wire: A Memoir of Postpartum Psychosis by Sarah C. Townsend, published by The Lettered Streets Press
Socialist Realism by Trisha Low, published by Coffee House Press
We Both Laughed in Pleasure: The Selected Diaries of Lou Sullivan by Lou Sullivan, edited by Ellis Martin and Zach Ozma, published by Nightboat Books
White Flights by Jess Row, published by Graywolf Press
Poetry
Dunce by Mary Ruefle, published by Wave Books
SLINGSHOT by Cyrée Jarelle Johnson, published by Nightboat Books
while they sleep (under the bed is another country) by Raquel Salas Rivera, published by Birds, LLC
Woodland by Knox Gardner, with music by Aaron Otheim, published by Entre Ríos Books
Magazines: Best Debut
Aquifer: The Florida Review Online
Protean
Magazines: General Excellence 
American Short Fiction
The Common
Ecotone
Foglifter Journal
The Kenyon Review
The Literary Review
New England Review
SLICE Magazine
Under a Warm Green Linden
Water~Stone Review
2020 Firecracker Award Judges
Fiction
Bonnie Chau, author of All Roads Lead to Blood, published by 2040 Books
Melanie Fleishman, book buyer for the Center for Fiction, BookHampton, and Arcadia Books
Alex Gilvarry, author of Eastman Was Here, published by Penguin Books
Creative Nonfiction
Lacy M. Johnson, author of The Reckonings: Essays, published by Scribner
Douglas Martin, author of Acker, published by Nightboat Books
Cristina Rodriguez, bookseller at Deep Vellum Books
Poetry 
Thom Donovan, author of Withdrawn, published by Compline
Celina Su, author of Landia, published by Belladonna*
Simone White, author of Dear Angel of Death, published by Ugly Duckling Presse
Magazine
Laura Cogan, Editor, Zyzzyva
Ruben Quesada, Poetry Editor, AGNI
Alexandra Watson, Executive Editor, Apogee Journal
Read about past winners, finalists, and judges.
About the Lord Nose Award
The annual ​Lord Nose Award​ is given to a publisher or editor in recognition of a lifetime of work in literary publishing to honor and celebrate the memory of Jonathan Williams, founder and publisher of the now legendary literary press, The Jargon Society, as well as an accomplished poet, photographer, raconteur, and cultural observer with a mordant wit and a clear eye for artistic excellence wherever it might be found. Over a period of more than fifty years, beginning in 1951, Jargon published 85 books and 30 broadsides and booklets, all focused on his unique vision of poetry, prose, and photography that truly mattered—that needed to be discovered, nurtured, and brought into the world. His commitment to making books as compellingly beautiful objects never wavered. Jargon stands as one of the most important literary presses of the twentieth century. It is an exemplar of Jonathan's lifelong dedication to words and art, of discovery and joy, the social act of making public the work he believed in. The Lord Nose Award was established in 2017 by David Wilk, with support from Jeffery Beam and Tom Meyer. There is no application process; honorees are chosen based on their work and accomplishments. The award is administered by CLMP.
About the Firecracker Awards
A national publicity campaign spotlights and promotes our winning titles each year. In partnership with the American Booksellers Association, the Firecracker Award winners are announced in Bookselling This Week and promotional materials, including a press release, shelf-talkers, and more, are sent to over 500 independent booksellers across the country. Winners are also promoted in CLMP's newsletters, on our website, and through a dedicated social media campaign. The publishers of winning titles receive a free one-year membership to CLMP, and magazine winners receive a one-year CLMP Member subscription to Submittable.
Submissions to the 2021 Firecracker Awards will be accepted in the fall.
Finalists will be announced in spring 2021; the winners will be announced at the Firecracker Awards ceremony in June 2021.
Submission Guidelines
Books must be published by an independent publisher during the 2020 calendar year.
Anthologies and self-published titles are not eligible but works in translation and graphic novels are welcome.
Both print and digital magazines are eligible.
Magazines submitting in the General Excellence category must have published regularly for at least the past two years.
Magazines submitting in the Best Debut category must have launched during the 2019 or 2020 calendar year.
There is no limit to the number of entries publishers may submit.
The entry fee is $65 ($55 for CLMP Members) for the first book and $30 ($25 for CLMP Members) for each additional entry.
Interested in becoming a CLMP Member? Join now.
The Firecracker Awards are sponsored by