It's always a good idea to stop in to your local bookstore, but it's even better when you're meeting famed poet Dorothea Lasky there. In advance of her hosting gig at the 2018 Firecracker Awards, we met up with Ms. Lasky at Book Culture near Columbia's campus, where she teaches.
Now, I'm something of a NYC bookstore connoisseur, but this was my first time to Book Culture. I was so pleased to find not only a beautiful store with a friendly and helpful staff, but a generous helping of lit mags and highlighted small presses. Right as you walk in the door, there's a shelf dedicated to small press releases & chap books, which is something I've never seen before. And – you guessed it – several of those shelves were decorated with Firecracker Award Finalists.
This year will be Ms. Lasky's second year MCing the ceremony. "The first time I didn't have a lot of expectations of what I would do," she said when I asked her what she thought might be different this year.  "I did write a poem for that and I'm so excited people liked it but I was worried maybe people didn't, so I'm hoping to work on that and make a really really kick-ass synthesis of the work to introduce everything." The poem is famous in the CLMP office, which makes it even more astounding that she wasn't sure about it. She managed to work all the finalist titles into one cohesive piece. 
"I am very excited to see the sheer range of books and magazines on the finalist list. If I were to think of one word to try and attempt to describe it all, I might use the word: BOLD. Everything I see is boldly trying to do something new and to shuffle out old modes of thinking about genres and forms. This is a really magnificent thing and I am thrilled to be alive to witness this boldness. "
And we're excited about discovering the winners, too. "Just the sense of excitement, like any awards show there's that feeling of, who's gonna win? and everyone's just waiting on the edge of the sheet. Last time I didn't know the winners either and so it was really suspenseful, and I'm really looking forward to that feeling.  And being able to celebrate the books. I just love being able to give people good news, and all of these people are going to be getting good news – it's just a happy occasion"
As we talked about the ceremony, the topic of celebrating small presses came up. Now, we celebrate small presses here at CLMP every day, but the Firecracker awards are a special occasion. Why is it important to highlight the work coming from small presses and literary magazines in this way? "I don't want to say that it's always the case, that there couldn't be wonderful literature that's on a bigger press, but coming from a poetry perspective where there's a lot of the economics of publishing not necessarily in our favor or in our court, I think that a lot of great literature does kind of get silenced or swept under the rug or not necessarily given it's due because it isn't always easy to understand," Lasky responded. "And I think that more likely than not bigger presses tend to market books that are going to be easy to have a soundbite about or easy to look at. I think that it's really important to give support to smaller presses because they're supporting the really great literature.  [Small presses] just allow literature to thrive and give it what it needs to be nurtured. And there are very strong networks at small presses because people are doing it out of a labor of love more than anything else, so there's this wonderful sense of community. If you're writing, you have a sense that your books are getting into the right hands, that they're with the people who really want to read them."
So when we think about the importance of that community, being recognized "means that your family loves you. It gives people the love to show them that their readership really cares about their work. It's maybe the most meaningful award you can get." We couldn't have said it better ourselves.

"We really need each other, we're really a symbiotic ecosystem where we can love great literature and help each other and obviously we're not against a bigger press, it's not a conflict, but it's important for us to build our foundation and have a solid foundation to keep thriving and to show each other we're not doing this alone. It's a network of smaller presses that are supporting each other"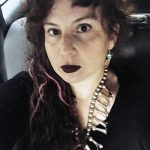 Dorothea Lasky is the poet behind Milk (Wave Books), ROME (W.W. Norton/Liverright) and Thunderbird, Black Life, and AWE (Wave Books). She has also authored several poetry chapbooks, and her work has appeared in POETRY, The New Yorker, The Paris Review, The Atlantic, and Boston Review. She is currently the Assistant Professor of Poetry at Columbia University's School of the Arts.