For Asian/Pacific American Heritage Month, observed annually during the month of May, we asked our members presses and literary magazines to share some of the literature by Asian American and Pacific Islander American writers they recommend reading in celebration. (Learn more about Asian/Pacific American Heritage Month.)
Fiction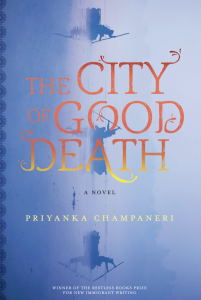 The City of Good Death by Priyanka Champaneri
Restless Books | 2021
Winner of the Restless Books Prize for New Immigrant Writing, Champaneri's debut novel "brings us inside India's holy city of Banaras, where the manager of a death hostel shepherds the dying who seek the release of a good death."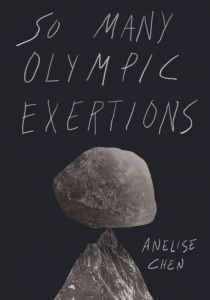 So Many Olympic Exertions by Anelise Chen 
Kaya Press | 2017
This experimental debut novel—by a recipient of the National Book Award Foundation's Best 5 under 35 award—blends "elements of self-help, memoir, and sports writing" into "a personal handbook on 'how to live.'"
Small Beer Press | 2021
Winner of the 2022 Ray Bradbury Prize from the L.A. Times Book Prizes, this collection features "nineteen sparkling stories that weave between the lands of the living and the lands of the dead."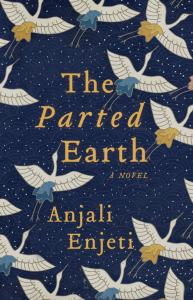 The Parted Earth by Anjali Enjeti
Hub City Press | 2021
Enjeti's debut novel "is a heartfelt and human portrait of the long shadow of the Partition of the Indian subcontinent on the lives of three generations."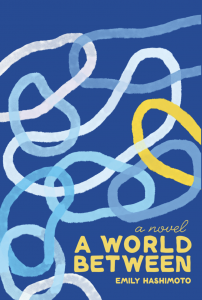 A World Between by Emily Hashimoto
Feminist Press | 2020
In Hashimoto's debut novel, "a college fling between two women turns into a lifelong connection—and spells out a new kind of love story for a millennial, immigrant America."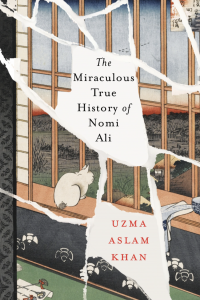 The Miraculous True History of Nomi Ali by Uzma Aslam Khan
Deep Vellum Publishing | 2022
Set in the Andaman Islands over the course of oppressive imperial regimes, The Miraculous True History of Nomi Ali is "a complex, gripping homage to those omitted from the collective memory."
Akashic Books | 2022
This collection of nine stories "is an updated exploration of Asian American identity, this time with characters who are presumptive model minorities in the arts, academia, and media."
Akashic Books | 2003
According to Stephanie Cha, Southland is a "literary crime novel about two families in South Los Angeles and their tangled history between the 1930s and the 1990s."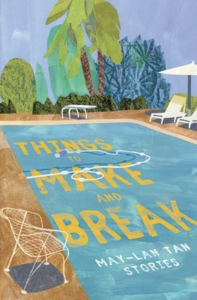 Things to Make and Break by May-Lan Tan
Coffee House Press | 2018
In these eleven short stories, "we meet indelibly real and unforgettable people, a cast of rebels and dreamers trying to transform themselves, forge new destinies, or simply make the moment last."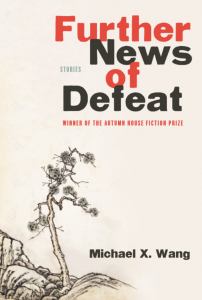 Further News of Defeat by Michael X. Wang
Autumn House Books | 2020
Winner of the 2021 PEN/Robert W. Bingham Prize for Debut Short Story Collection, Wang's short fiction "interrogates personal and political events set against the backdrop of China that are both real and perceived, imagined and speculative."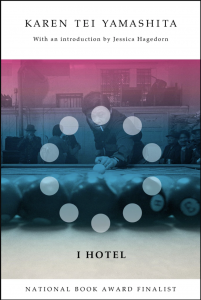 I Hotel by Karen Tei Yamashita
Coffee House Press | 2019
Re-issued as a tenth anniversary edition, "this multivoiced fusion of prose, playwriting, graphic art, and philosophy spins an epic tale of America's struggle for civil rights as it played out in San Francisco near the end of the 1960s."
Poetry
Sarabande Books | 2020
In this debut poetry collection, Chan "navigates her Filipino heritage by grappling with notions of diaspora, circumnavigation, and discovery."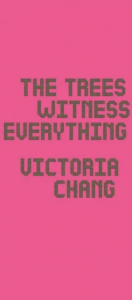 The Trees Witness Everything by Victoria Chang
Copper Canyon Press | 2022
In this poetry collection largely composed in various Japanese syllabic forms called "wakas," Chang "reinvigorates language by way of concentration, using constraint to illuminate and free the wild interior."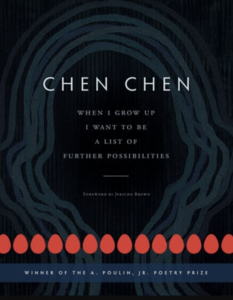 When I Grow Up I Want to Be a List of Further Possibilities by Chen Chen
BOA Editions | 2017
In this debut poetry collection, Chen "investigates inherited forms of love and family—the strained relationship between a mother and son, the cost of necessary goodbyes—all from Asian American, immigrant, and queer perspectives."
CavanKerry Press | 2022
Cho's poetry collection "provides a rare glimpse into the cultures of Asian America, particularly the Korean immigrant and Korean American experiences."
Each Crumbling House by Melody S. Gee
Perugia Press | 2010
In Each Crumbling House, Gee "asks about inheriting a language that isn't hers and a culture that died during the Chinese Cultural Revolution, while she tangles with the loss of her mother's culture, food, history, and home."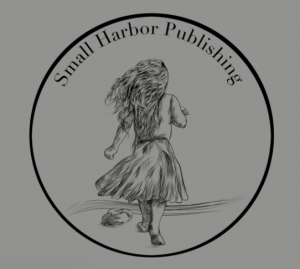 How to Make Pancakes for a Dead Boy by Joan Kwon Glass
Harbor Editions | 2022
In this poetry chapbook, "Glass becomes an alchemist, transforming unfathomable tragedy into a narrative of mourning, teaching us in the process that there are endless layers to discover even in the heartbreak of a life cut short."
BOA Editions | 1993
In the foreword to Lee's debut collection, Gerald Stern says that he is "amazed by the large vision, the deep seriousness, and the almost heroic ideal" of Lee's poetry.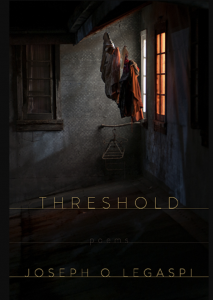 Threshold by Joseph O. Legaspi
CavanKerry Press | 2017
Legaspi's poetry collection "celebrates various courageous outsets across boundaries—bodily, filial, marital, even biblical."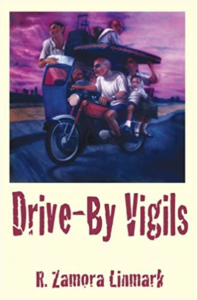 Drive-By Vigils by R. Zamora Linmark
Hanging Loose Press | 2011
According to Rigoberto González, the poems in this collection take "readers on a high-speed chase to the heart of 'today's madness,' where Manila intersects with Hollywood."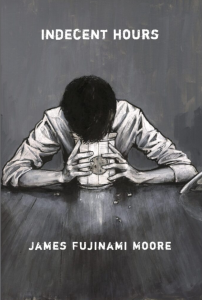 indecent hours by R. James Fujinami Moore
Four Way Books | 2022
In this debut poetry collection,"sensual, political, and imagined worlds collide, tracing a history of diaspora and trauma that asks: what do we do in the aftermath of violence, and why do we long to inflict it?"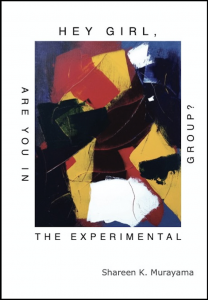 Hey Girl, Are You in the Experimental Group? by Shareen K. Murayama
Harbor Editions | 2022
According to Arielle Greenberg, Murayama "explores the complex notions of the model minority and privilege and their bearing on Asian-American identity."
Center for Literary Publishing | 2020
Phan's debut collection of prose poems is, according to Ruth Awad, "a language experiment in the inner workings of grief—its crystalline truths, its kaleidoscopic perspectives, its stillness, its wry humor."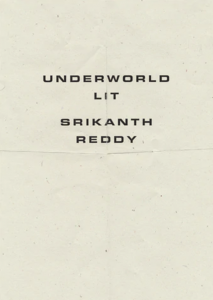 Underworld Lit by Srikanth Reddy
Wave Books | 2020
Reddy's serial prose poem "moves from the college classroom to the oncologist's office to the mythic underworlds of Mayan civilization, the ancient Egyptian place of judgment and rebirth, the infernal court of Qing dynasty China, and beyond."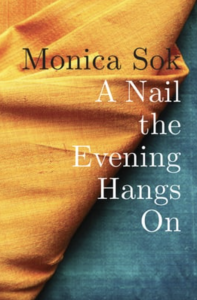 A Nail the Evening Hangs On by Monica Sok
Copper Canyon Press | 2021
In this poetry debut, Sok "illuminates the experiences of Cambodian diaspora and reflects on America's role in escalating the genocide in Cambodia."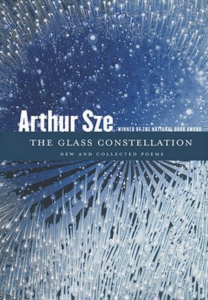 The Glass Constellation: New and Collected Poems by Arthur Sze
Copper Canyon Press | 2021
Spanning five decades, this collection demonstrates Sze's "distinct stylistic signature that harnesses luminous particulars, and is sharply focused, emotionally resonant, and structurally complex."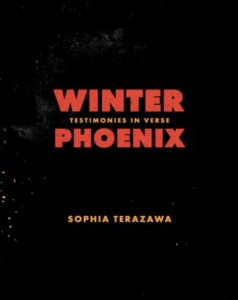 Winter Phoenix: Testimonies in Verse by Sophia Terazawa
Deep Vellum Publishing | 2021
A debut collection blending testimony and tribunal, Winter Phoenix "creates a courtroom for colonial and linguistic reckoning after the U.S. war machine in Vietnam."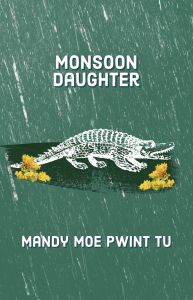 Monsoon Daughter by Mandy Moe Pwint Tu

Thirty West Publishing House | 2022
In this debut fiction chapbook is, "a love letter to the poet's home country of Myanmar, mixes with condemnation of the ensuing military coup."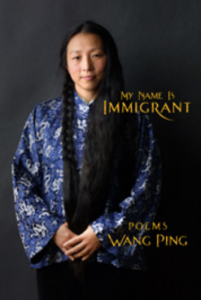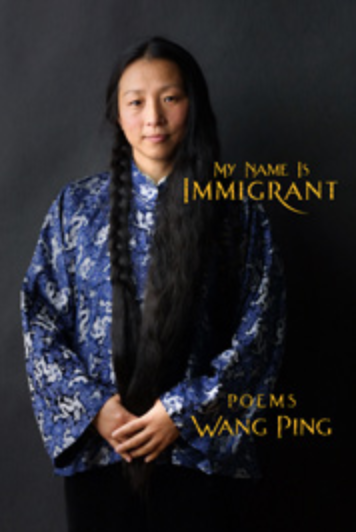 My Name Is Immigrant by Wang Ping
Hanging Loose Press | 2021
Wang's latest poetry collection is a "song for the plight and pride of immigrants around the globe."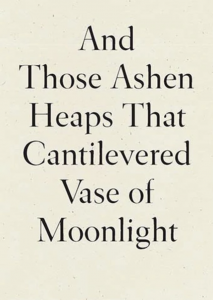 And Those Ashen Heaps That Cantilevered Vase of Moonlight by Lynn Xu
Wave Books | 2022
Xu's book-length poem is "part protest against reality, part metaphysical reckoning, part internationale for the world-historical surrealist insurgency, and part arte povera for the wretched of the earth."
Thirty West Publishing House | 2022
This debut fiction chapbook is, according to Robert James Russell, "a marvelous and magical excavation of personal and inherited mythologies."
Nonfiction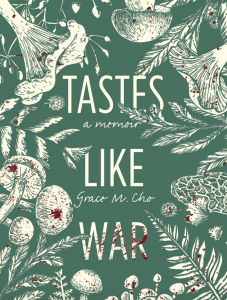 Tastes Like War by Grace M. Cho
Feminist Press | 2021
This debut memoir is "a hybrid text about a daughter's search through intimate and global history for the roots of her mother's schizophrenia."
Feminist Press | 2018
In an essay collection edited by Rowan Hisayo Buchanan and with a foreword by Viet Thanh Nguyen, "Asian diasporic writers imagine "home" in the twenty-first century through an array of fiction, memoir, and poetry."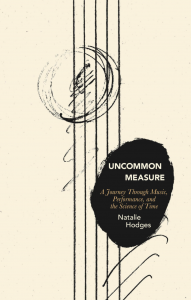 Uncommon Measure: A Journey Through Music, Performance, and the Science of Time by Natalie Hodges
Bellevue Literary Press | 2022
Concert solo violinist Hodges "traces her own passage through difficult family dynamics, prejudice, and enormous personal expectations to come to terms with the meaning of a life reimagined."
Ugly Duckling Presse | 2020
The End is an essay "about the ends of poems and the ends of time" that "examines notions of epiphany, closure, excess, and economy."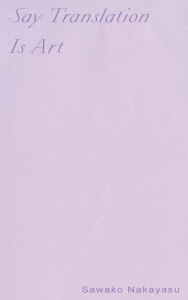 Say Translation Is Art by Sawako Nakayasu
Ugly Duckling Presse | 2020
This book is "a treatise on literary translation that exceeds the bounds of conventional definitions of such, advocating for a wider embrace of translation as both action and as art."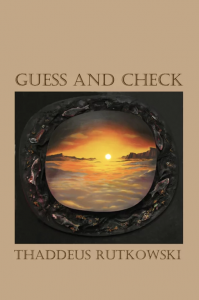 Guess and Check by Thaddeus Rutkowski
Gival Press | 2017
This memoir is "a creative look at the life of a biracial boy—later seen as a young man—who adjusts with difficulty to lessons learned from the behavior of his parents and the people around him."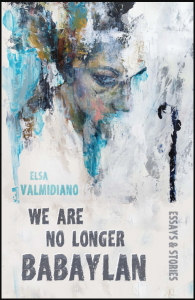 We Are No Longer Babaylan by Elsa Valmidiano
New Rivers Press | 2020
In her debut essay collection, Valmidiano "frames the ancient, persistent pain that hammers and chisels Filipina American knowledge with ritual and unrest."
Literary Magazines
Sweet Lit | 2021
According to editor Ira Sukrungruang, "This Asian Solidarity issue is a collection of poems and essays and graphic narratives that resist generalizations, a way being categorized that eviscerates and oversimplifies our lives."

"Eleven Reasons Why Asian Americans Are (Very) Good At Math" by Grace Chao

Epiphany | 2021
This prose sequence begins, "1. Because we can't—we won't—fail at anything we do."
Harbor Review | 2021
This micro-chapbook "takes us to Jeju, to Seoul, to American living rooms, and through time, back to an 80's childhood (The Fonz, Willy Wonka, roller skates in the basement), back to the turn of this century, and the wars of the 20th."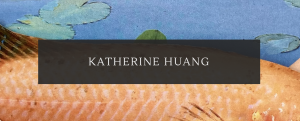 "Sleeping Lotus" by Katherine Huang
West Trestle Review | 2021
This poem begins, "For a good place  / to pick water lilies, go to / the south bank of the river / between life and infinity."

"In the Land of Pain" by Travis Chi Wing Lau
Cincinnati Review | 2021
This poem begins, "Keep walking, / I will myself. / Fear of an attack, / shooting pains / that nail me / to a spot—no, / cannot stop, / cannot break."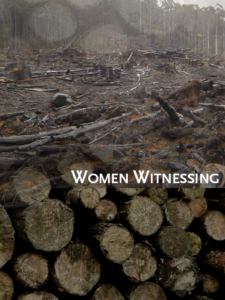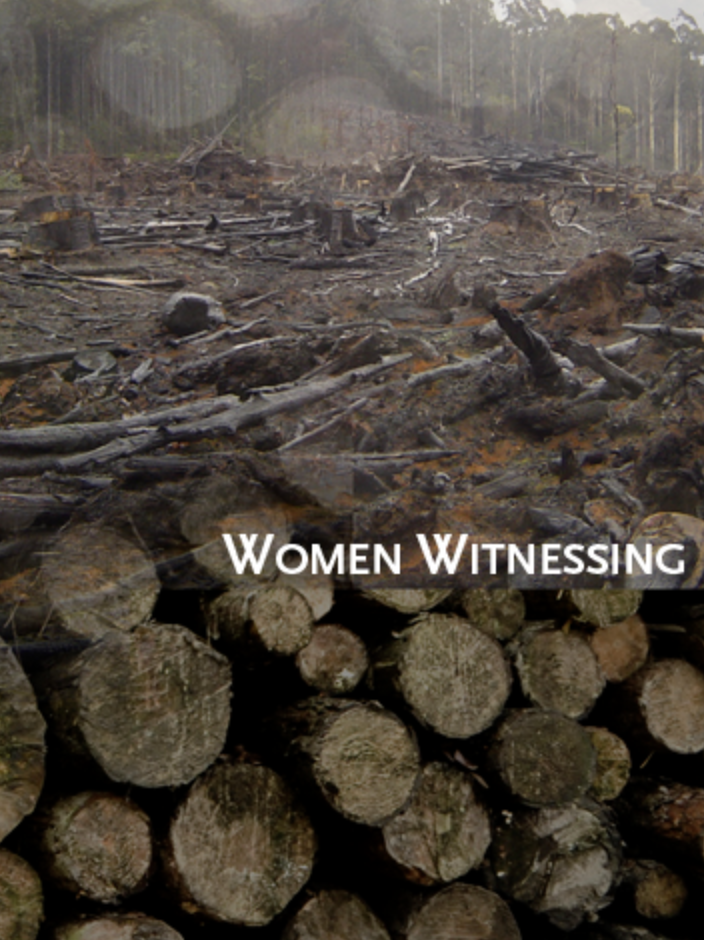 "My people sent me a canoe" by JuPong Lin
Dark Matter: Women Witnessing | 2020
This poem begins, "Last night my people sent me a yellow canoe / floating gently into my dreams."
SmokeLong Quarterly | 2021
This story begins, "Here is your story so far. A beautiful woman lives in a coastal village and goes out in search of work but no one will hire her. ."

"The Mountain of Longing" by Leeyee Lim
Epiphany | 2020
This short story begins, "In my family it was well known that my grandfather had once shot a baby slow loris by mistake."
Cincinnati Review | 2021
According to Lisa Low, in this piece "the embodied act of watching a film turns into a nuanced meditation on connectedness and pain."

"Humans Don't Realize How Biased They Are Until Machine Learning Reproduces the Bias" by Gaia Rajan
West Trestle Review | 2021
This poem begins, "The machine talked back, said please, I am your worthiest / god, and the men crooned god, god, finally // I own you."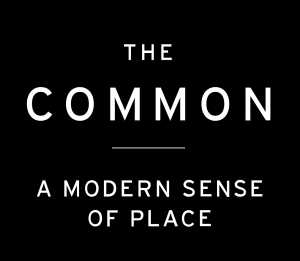 Reading List: Asian American and Pacific Islander Heritage
The Common
This reading list features "selected works that speak to Asian American and Pacific Islander heritage," including poetry by Darien Hsu Gee, fiction by Angela F. Qian, and nonfiction by Stephanie Minyoung Lee.

"Inheritance" by Grace Q. Song
SmokeLong Quarterly | 2021
This story begins, "All day I've been angry in upstate New York. Somewhere in the Catskills, my father and I sit in a small white fishing boat, encircled by red cedars and feasted on by mosquitoes."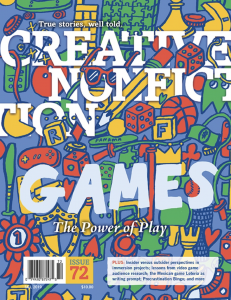 "Never a Sure Bet" by Amber Wong
Creative Nonfiction | 2019
In this essay "a family passes mah-jongg—and a taste for gambling—down through generations."