Celebrate Filipino American History Month, observed annually during October, with literature published by our member magazines and presses. (Learn more about Filipino American History Month here.)
Poetry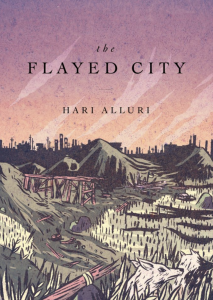 The Flayed City by Hari Alluri
Kaya Press | 2017
According to Juan Felipe Herrera, the poems in this collection contain "a new, quiet brush of multi-currents, of multi-worlds to paint this holographic life-scape."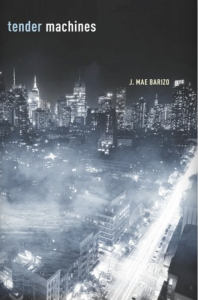 Tender Machines by J. Mae Barizo
Tupelo Press | 2023
The poems in Tender Machines "swing between the domestic and the surreal, charting motherhood, desire and an immigrant family's haunted inheritance."
Milkweed Editions | 2020
In this poetry collection, Barot "widens his scope, contextualizing the immigrant journey of his Filipino-American family in the larger history and aftermath of colonialism."
Sarabande Books | 2020
In this debut poetry collection, Chan "navigates her Filipino heritage by grappling with notions of diaspora, circumnavigation, and discovery."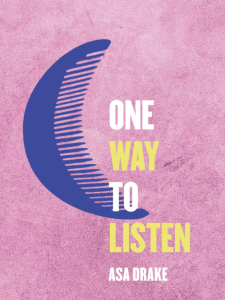 One Way to Listen by Asa Drake
Gold Line Press | 2023
The poems in this debut chapbook "return to interlocking loves: of family, place, and self—love especially in resistance to rising violence that this speaker, a Filipina American woman, is positioned to live in acute awareness of."
Tupelo Press | 2011
In these poems, Gaba "swerves formally among varied styles, constructing and awakening through the sign-language of a physical book an irrefutable question: Could any of us say that our life is our own?"
Alice James Books | 2004
According to Kimiko Hahn, "The poems in Sarah Gambito's first book, Matadora, are sheer juxtapositions of anything—starfish, Tagalog, frisson—and the friction very often adds a political dimension to the poetic."
BOA Editions | 2019
Winner of the A. Poulin, Jr. Poetry Prize, this poetry collection is "rooted in the experience of living in America as a queer undocumented Filipino."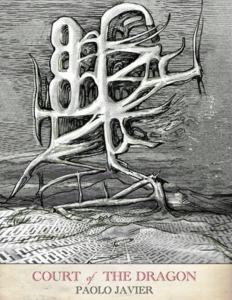 Court of the Dragon by Paolo Javier
Nightboat Books | 2015
Javier's poetry collection "is both intimate and elusive, a simultaneity brought to the fore by the author's interest in the occult and intuitive processes, in oblique and plain spoken discourses."
Threshold by Joseph O. Legaspi
CavanKerry Press | 2017
Legaspi's poetry collection "celebrates various courageous outsets across boundaries—bodily, filial, marital, even biblical."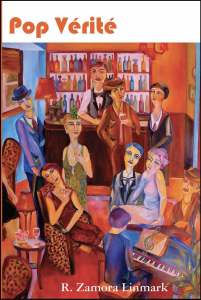 Pop Vérité by R. Zamora Linmark 
Hanging Loose Press | 2017
According to David Kirby, "James Schuyler and Frank O'Hara flit in and out of these poems, but then so do Tony Bennett, Roberto Bolaño, Donna Summer, Samuel Beckett, Amy Winehouse, and, well, everybody."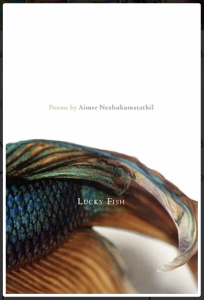 Lucky Fish by Aimee Nezhukumatathil
Tupelo Press | 2011
Nezhukumatathil's fourth poetry collection is, according to Publishers Weekly, "fascinated with the small mechanisms of being, whether natural, personal, or imagined."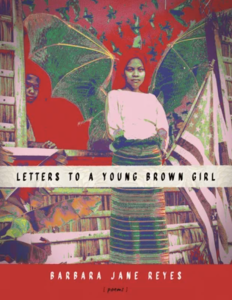 Letters to a Young Brown Girl by Barbara Jane Reyes
BOA Editions | 2020
Reyes's latest poetry collection "answers the questions of Filipino American girls and young women of color with bold affirmations of hard-won empathy, fierce intelligence, and a fine-tuned B.S. detector."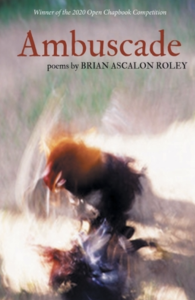 Ambuscade by Brian Ascalon Roley
Finishing Line Press | 2021
This poetry chapbook "taps into the personal experience of parenting a wheelchair user son and combines it with Philippine horror mythology."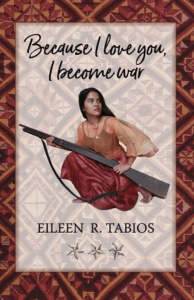 Because I Love You I Become War by Eileen R. Tabios
Marsh Hawk Press | 2023
According to E. San Juan, Jr., this collection of poems and prose "weaves the semiotic subtleties of icon, index, and symbol into epiphanies and discoveries that are, indeed, new additions to our world as we know it so far."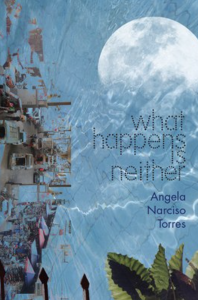 What Happens Is Neither by Angela Narciso Torres
Four Way Books | 2021
According to Tim Seibles, in this poetry collection Torres "has jimmied the lock to a house of intricate family memory and sumptuous wisdom."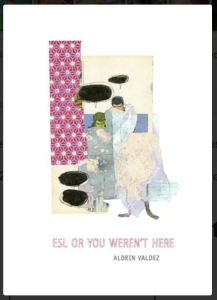 ESL or You Weren't Here by Aldrin Valdez
Nightboat Books | 2018
This poetry collection "is the poet's awakening to the legacy of American imperialism & colonialism in the Philippines, and to the experience of living between languages, cultures, temporalities, and genders—untranslatable."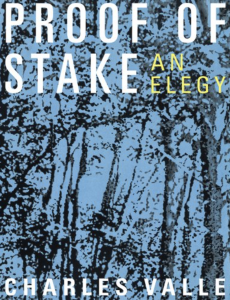 Proof of Stake: An Elegy by Charles Valle
Fonograf Editions | 2021
According to Joyelle McSweeney, in this debut poetry collection Valle "​​carries his lost loved one close against his chest as he soars through centuries, continents, climates, colonialisms and profit motives."
Nonfiction
Read Furiously | 2023
First is a collection of Cruz's webcomic Li Comics as she "continues to document her journey as an artist and all the firsts life presents her."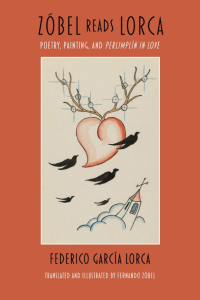 Zobel Reads Lorca: Poetry, Painting, and Perlimplín in Love by Federico García Lorca
Translated from the Spanish by Fernando Zóbel
Swan Isle Press | 2023
Zóbel Reads Lorca presents Zóbel's previously unpublished translation of Lorca's play Amor de Don Perlimplín con Belisa en su jardín and features contextual essays from several scholars.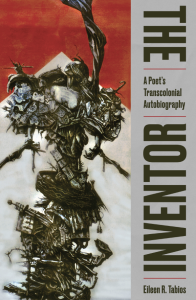 The Inventor: A Transcolonial Autobiography by Eileen R. Tabios
Marsh Hawk Press | 2023
According to Tabios, "In The Inventor, I show how Poetry is not mere words but a proactive approach to improving our relationships with each other and life on our planet."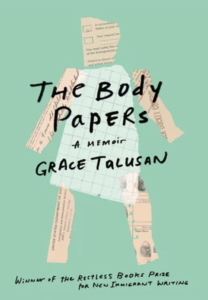 The Body Papers by Grace Talusan
Restless Books | 2019
Winner of the Restless Books Prize for New Immigrant Writing, Talusan's memoir "powerfully explores the fraught contours of her own life as a Filipino immigrant and survivor of cancer and childhood abuse."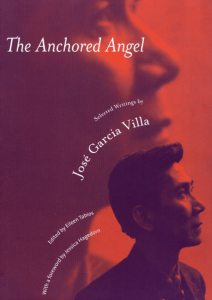 The Anchored Angel: Selected Writings by José Garcia Villa
Kaya Press | 1999
This selection of Villa's writings "both recovers and rediscovers the work of this fierce iconoclast for a new generation" and includes essays from several contemporary Filipino and Filipino American writers.
Fiction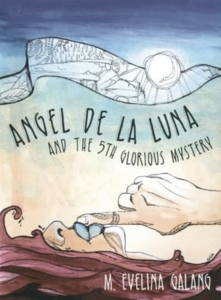 Angel de la Luna and the 5th Glorious Mystery by M. Evelina Galang
Coffee House Press | 2013
In this novel for young adults, a teenage girl "leaves Manila for snowy Chicago, taking a tradition of protest—and some old family hurts—with her."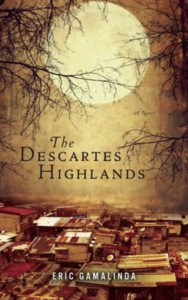 The Descartes Highlands by Eric Gamalinda
Akashic Books | 2014
Gamalinda's novel "demonstrates that for lives marked by unrelieved loneliness, the only hope lies in the redemptive power of love."
Akashic Books | 2013
According to Publishers Weekly, this anthology—featuring stories by Gina Apostol, R. Zamora Linmark, Sabina Murray, and more—"includes a liberal dose of the gothic and supernatural, with disappearance and loss being constants."
Milkweed Editions | 2013
This novel "explores how the decisions we make in an instant reverberate in the years to come, and paints a portrait of sacrifice within two immigrant families raising first-generation Americans."
Literary Magazines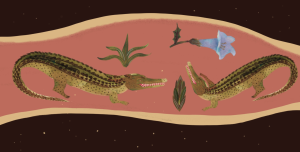 "Letter to the Deity Who Told Me Arriving Here is Difficult as Welcome" by Hari Alluri
Adi Magazine | 2023
This poem begins, "Dear Kabunian, I love you even though you gave your buhay to our bodies…."

"Rivkah and Floradita" by Kristene Cristobal
Another Chicago Magazine | 2020
This story begins, "Floradita Pamakan laid out an elaborate breakfast for a death anniversary. Rivkah was very late, but Floradita was a patient woman, with no other plans."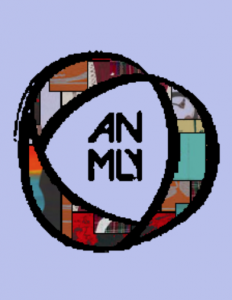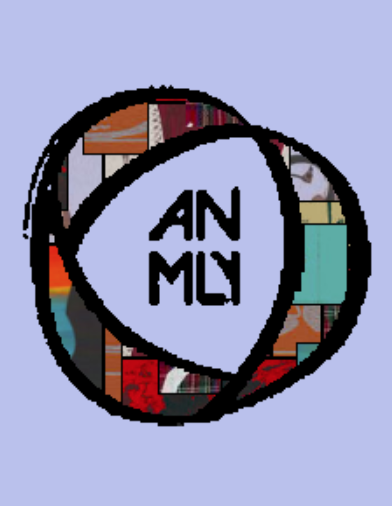 "A History of Skin" by K. Degala-Paraíso
ANMLY | 2023
This essay begins, "Mama [grandmother] started coming to me in my dreams before she was even dead. Before all of her body's organs failed at once, before her brain finally shut down…."

"Leftist Love Song" by Jay Julio
Cincinnati Review | 2023
This poem begins, "It's true: I fell for a world / reimagined, heart palpitations / a cause for health care / unconditional."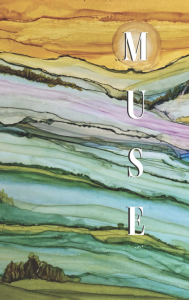 Two Poems by Tina Lentz-McMillan
MUSE | 2023
The poem "How to Grow Tadpoles" begins, "Materials: / 1. Water, the kind from a place of origin. / 2. Tadpoles taken from the creek behind the house on 6th street."
"Reading and Re-Remembering in Gina Apostol's Bibliolepsy" by R. Zamora Linmark
The Hopkins Review | 2022
This essay begins, "I first read Gina Apostol's Bibliolepsy in 1998, a year after it was published by the University of the Philippines Press. I was residing in Manila at the time."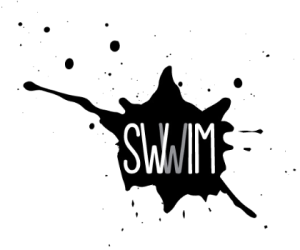 "Sampaguita (When We're in Bloom)" by Momo Manalang
SWWIM | 2018
This poem begins, "Mother                                    you splice my mango mouth in June, // shed my ripe skin                    in pockets of dawn…."

"Heritage Haunting" by Larisse Mondok
Another Chicago Magazine | 2021
This story begins, "I came to America on my parents' money four years ago. I had just finished college, and my dad convinced me the opportunity might be worth exploring since I had an American passport."
"The Dead Children" by Sabina Murray
The Hopkins Review | 2022
This story begins, "'You said it was his heart?' she asked. / 'A massive coronary. Surprised everyone.'"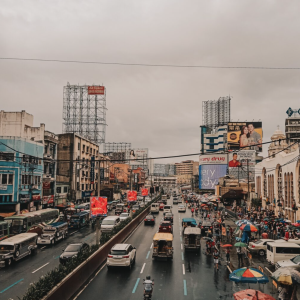 A Reading List for Filipino American History Month
The Common | 2023
This reading list from The Common includes poetry by Bino A. Realuyo and R. Zamora Linmark, an interview with Oliver de la Paz, an essay by Danielle Batalion Ola, and more.
ANMLY | 20
The poem "A Song of Monsoon and Blood Lava" begins, "In the mornings they say the duwendes scatter and descend thence they came…."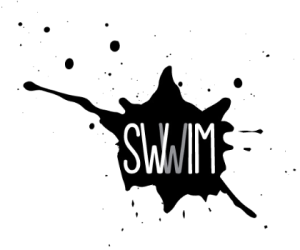 "Pantoum with Lines from Virginia Woolf's Diary" by Angela Narciso Torres
SWWIM | 2018
This poem begins, "Truth is, one can't write about the soul. Looked at, it vanishes. / Why have I so little control?"