For Pride Month, we asked our members—independent presses, literary journals, and others—to share with us some of the books they recommend reading by LGBTQ writers and in celebration of LGBTQ literature.
The resulting list features works of intersectionality, activism, and joy, including Natalie Diaz's Postcolonial Love Poem from Graywolf Press; Fiebre Tropical, a multilingual novel by Juli Delgado Lopera from The Feminist Press; and The Complete Works of Pat Parker from Sinister Wisdom.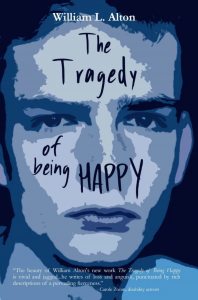 The Tragedy of Being Happy by William L. Alton

Regal House Publishing; 2019
Alton's novel "explores the depths of mental illness and adolescence, and the divide between those who live with it and those who exist 'on the other side.'"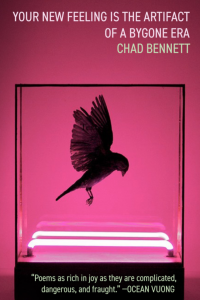 Your New Feeling Is the Artifact of a Bygone Era by Chad Bennett
Sarabande Books; 2020
Bennett's debut poetry collection, selected by Ocean Vuong for the Kathryn A. Morton Prize, is "a deeply personal account of loss, but more critically, a dismantling of an American history of queerness."
Turn Around BRXGHT XYXS by Rosebud Ben-Oni
Get Fresh Books; 2019
According to Rachel McKibbens, in this poetry collection "Ben-Oni is doing sacred work here, strutting across the asperous terrain of our modern world with a queer femme sovereignty that intoxicates and heals."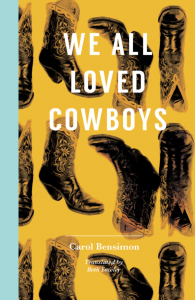 We All Loved Cowboys by Carol Bensimon
Transit Books; 2018
Translated from the Portuguese by Beth Fowler, this novel about two women on a road trip through Brazil "offers an intimate look into identity, love, and desire."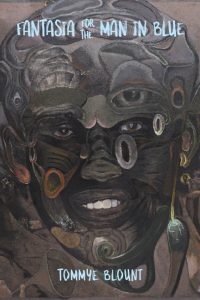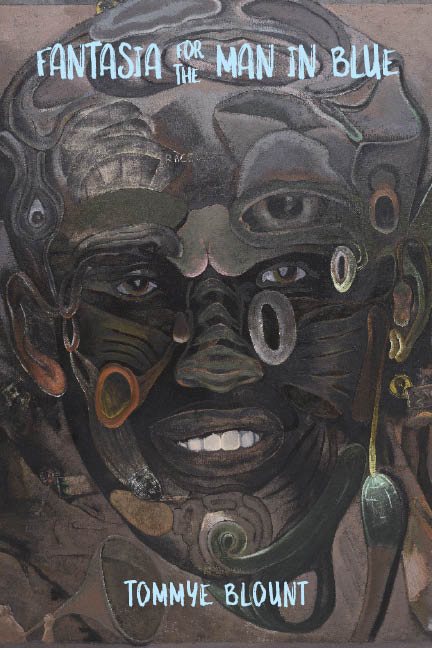 Fantasia for the Man in Blue by Tommye Blount
Four Way Books; 2020
In this debut poetry collection, Blount "orchestrates a chorus of distinct, unforgettable voices that speak to the experience of the black, queer body as a site of desire and violence."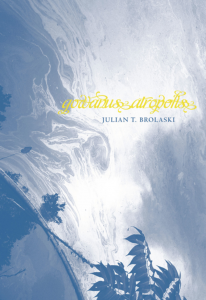 Gowanus Atropolis by Julian T. Brolaski
Ugly Ducking Presse; 2011
"An ecopoetical exploration" of the Gowanus Canal, this poetry collection is "a queer elegy for when language might have been prior to thought, where the phrase becomes the thought, rather than the other way around."
Avant Desire: A Nicole Brossard Reader by Nicole Brossard
Coach House Books; 2020
Edited by Sina Queryas and Erin Wunker, this collection traces "Brossard's fusion of lesbian feminist desire with innovation, experimentation, and activism, emphasizing the more overtly political nature of her early work and its transition into performative thinking."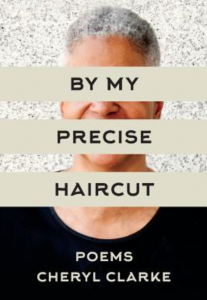 By My Precise Haircut by Cheryl Clarke
The Word Works; 2016
Clarke's fifth poetry collection "travels the political and spiritual trails of her many commitments—to social justice, to women of color, to the LGBTQ community, and to the rage, love, and song that live in each reader."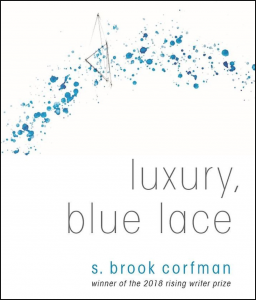 Luxury, Blue Lace by S. Brook Corfman
Autumn House Press; 2019
Winner of the 2018 Rising Writer Contest, selected by Richard Siken, this mix of poetry and prose is, according to Cameron Awkward-Rich, "attuned to the heady ambivalence of gender, genre, and time."
Zephyr Press; 2019
Translated from the Polish by Karen Kovacik and a finalist for the 2019 PEN Poetry in Translation Award, this poetry collection explores "Internet culture, science, nature and gay love."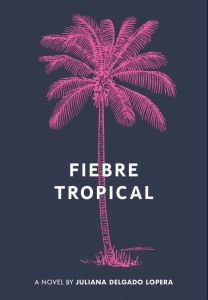 Fiebre Tropical by Juli Delgado Lopera

The Feminist Press; 2020

According to LitHub, this multilingual novel is a "story about coming of age as a queer adolescent, an immigrant, a daughter, a bilingual kid, a complex human being."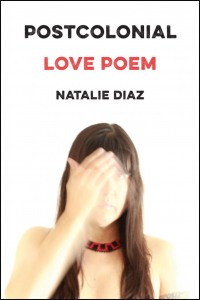 Postcolonial Love Poem by Natalie Diaz

Graywolf Press; 2020

In Diaz's second poetry collection, "the bodies of indigenous, Latinx, black, and brown women are simultaneously the body politic and the body ecstatic," and "language is pushed to its dark edges, the astonishing dunefields and forests where pleasure and love are both grief and joy, violence and sensuality."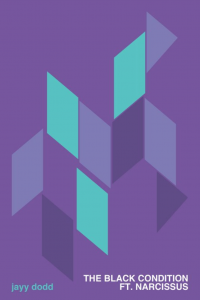 THE BLACK CONDITION FT. NARCISSUS by jay dodd
Nightboat Books; 2019
dodd's poetry collection is "an irreverently tender profile of Black trans life surviving and thriving during contemporary political turmoil."
Bellevue Literary Press; 2019
This award-winning novel inspired by Alan Turing "evokes an extraordinary life, the beauty and sorrows of love, and the nature of consciousness."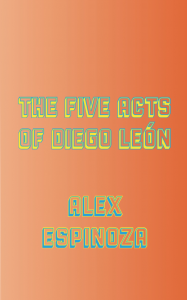 The Five Acts of Diego León by Alex Espinoza
LARB Books; 2020
Following its protagonist from his rural village during the Mexican Revolution to 1920s Hollywood, The Five Acts of Diego León is a "sweeping, sensual novel of love, ambition, and identity."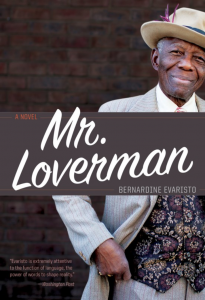 Mr. Loverman by Bernardine Evaristo
Akashic Books; 2014
Evaristo's novel follows "two elder gay Caribbean men coming to terms with being closeted in a changing world."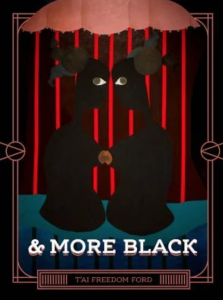 & more black by t'ai freedom ford
Augury Books; 2019
ford's second collection of poems draws inspiration from Wanda Coleman's American Sonnets and, as Terrance Hayes says, is full of "propulsive, poly-vocal, poly-verbal gems" and holds "spectacular spells, songs, and instructions for freedom."
Deep Vellum; 2017
Translated from the French by Emma Ramadan and winner of the 2018 Albertine Prize, this novel is "an intimate, sensuous exploration of memory and desire."
Graywolf Press; 2020
Guzmán's debut poetry collection is "part immigration narrative, part elegy, and part queer coming-of-age story."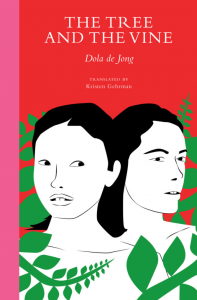 The Tree and the Vine by Dola de Jong

Transit Books; 2020

First published in 1954 in the Netherlands and translated from the Dutch by Kristen Gehrman, this novel tells "the story of two women torn between desire and taboo in the years leading up to the Nazi occupation of Amsterdam."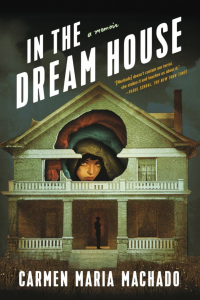 In the Dream House by Carmen Maria Machado

Graywolf Press; 2019
Machado's memoir is an "engrossing and wildly innovative account of a relationship gone bad, and a bold dissection of the mechanisms and cultural representations of psychological abuse."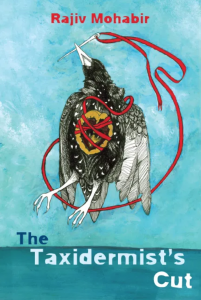 The Taxidermist's Cut by Rajiv Mohabir
Four Way Books; 2016
Winner of the 2014 Four Way Books Intro Prize in Poetry, The Taxidermist's Cut "inhabits the experience of a queer brown youth awakening sexually in a racist, anti-immigrant matrix."
Ugly Duckling Presse; 2019
Nao's poetry collection is "a satire on production and feminism and acts as an antithetical or opposition to male's prolixity on the canvas of literary canon."
Wave Books; 2020
This collection of five poem-essays "give space and voice to the complexity of contemporary life, admitting bafflement and dismay but also creating openings for indiscreet hope."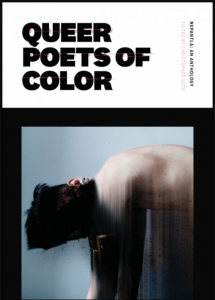 Nepantla: An Anthology Dedicated to Queer Poets of Color
Nightboat Books; 2018
The first major literary anthology for queer poets of color in the United States, Nepantla is edited by Christopher Soto and includes more than 100 classic and contempoary poems.
The Complete Works of Pat Parker by Pat Parker

Sinister Wisdom; 2016
This Lambda Literary Award for Lesbian Poetry–winning collection, edited by Julie R. Enszer and with a new introduction by Judy Grahn, features the published and previously uncollected poems, plays, prose of Pat Parker. Alexis de Veaux says, "With this oeuvre, we are allowed an opportunity to historicize Pat Parker's significance to black women's literary traditions, lesbian erotics, to black queer struggles and black feminisms, and to global social justice movements."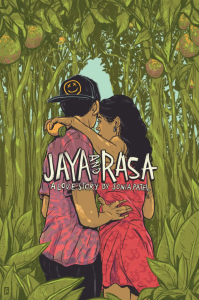 Jaya and Rasa by Sonia Patel

Cinco Puntos Press; 2017
This novel for young adult readers depicts a love story between two teenagers, each of whose "present identities has been shaped by years of extreme family struggles."
Hanging Loose Press; 1988
This poetry collection is "a tender and unsparing account of a young man dying of AIDS."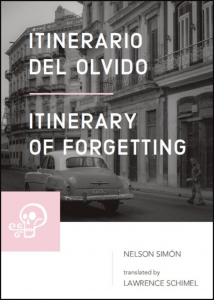 Itinerario del olvido / Itinerary of Forgetting by Nelson Simón
Skull + Wind Press; 2020
Translated from the Spanish by Lawrence Schimel and Simón's first publication in English, this sixteen-part series "tackles both homosexuality & politics… while at the same time situating itself within the lyric traditions of both Cuba and the larger Spanish-speaking world."
Graywolf Press; 2020
Smith's latest poetry collection "acknowledges that in a country overrun by violence, xenophobia, and disparity, and in a body defined by race, queerness, and diagnosis, it can be hard to survive."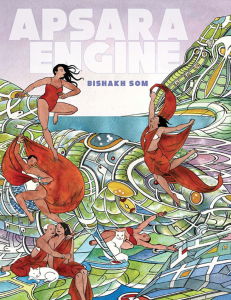 Apsara Engine by Bishakh Som

The Feminist Press; 2020
This graphic short story collection "is immersed in questions of gender, the body, and existential conformity."
What's Left of the Night by Ersi Sotiropoulos
New Vessel Press; 2018 
Translated by Karen Emmerich and winner of the 2019 National Translation Award, this novel follows Constantine Cavafy's 1897 trip to Paris and "illuminates the complex relationship of art, life, and the erotic desires that trigger creativity."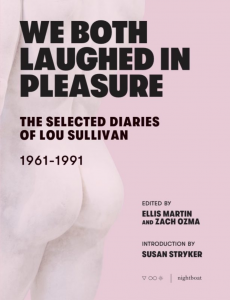 We Both Laughed in Pleasure: The Selected Diaries of Lou Sullivan by Lou Sullivan
Nightboat Books; 2019
Winner of a 2020 Lambda Literary Award, these selected diaries narrate "the inner life of a gay trans man moving through the shifting social, political, and medical mores of the second half of the 20th century."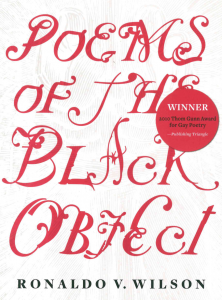 Poems of the Black Object by Ronaldo V. Wilson

Futurepoem Books; 2009

According to Erica Hunt, Wilson's poetry collection captures "all the slippage between stages of person, Black and on the page, folding and unfolding layers of social construction."