We spoke with Becca Kantor, the editorial director of Paper Brigade, in this Member Spotlight.
What is the history behind Paper Brigade? When was it founded and what is its mission?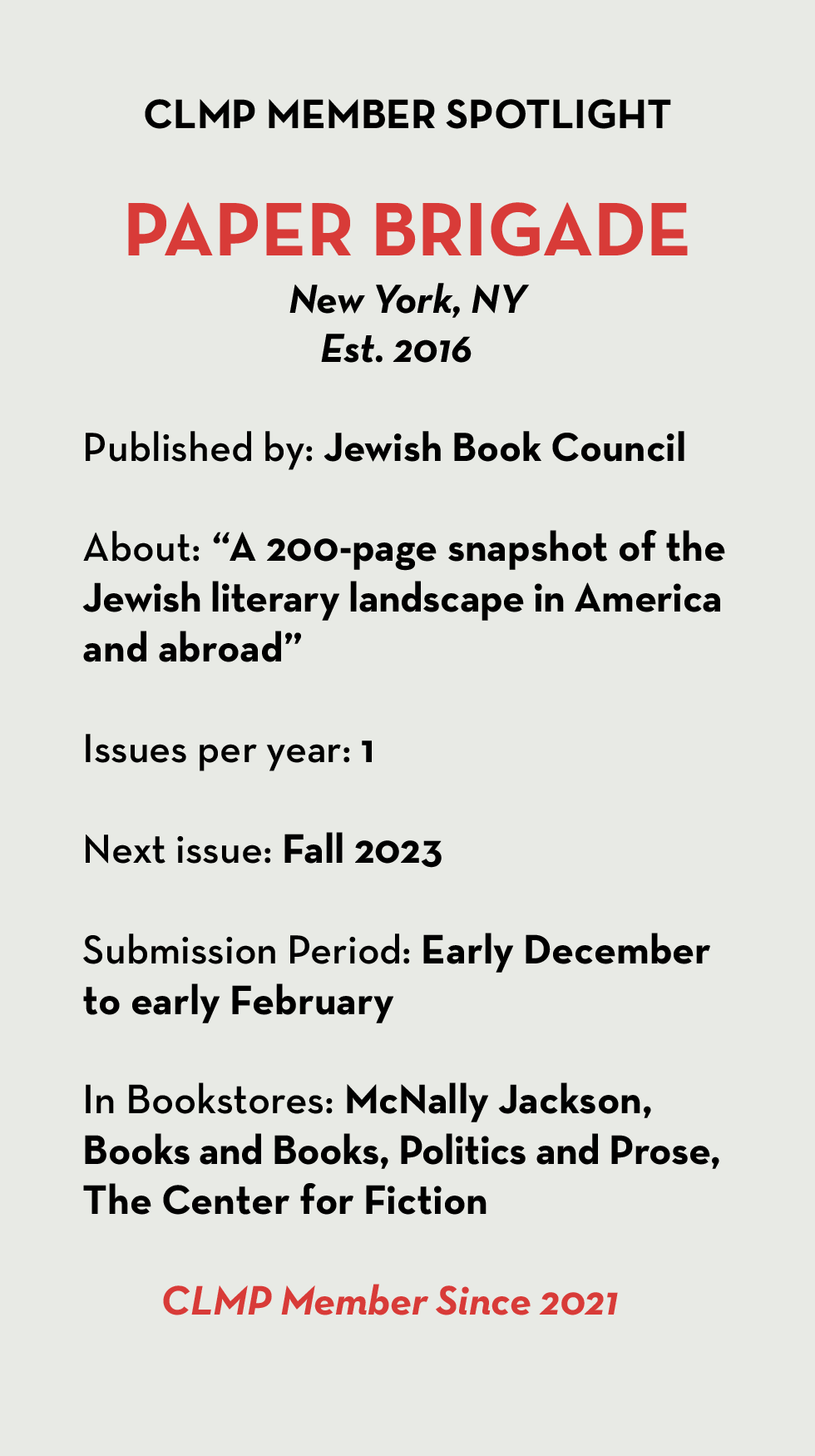 Paper Brigade is the annual literary journal of Jewish Book Council (JBC), a nonprofit devot­ed to sup­porting and cel­e­bra­ting Jew­ish lit­er­a­ture. The journal was founded in 2016 by me and our executive editor, Carol Kaufman, to reflect the breadth and diversity of the Jewish literary landscape in the U.S and abroad. Each issue includes representative work of all different genres—fiction, poetry, essays, translation, as well as visual arts like illustration, photography, and comics.
With the journal, we hope to expand com­mon­ly held ideas of what con­sti­tutes the ​Jew­ish expe­ri­ence. For many years, the American Jewish literary canon was white, Ashkenazi, and heteronormative. As editors, we have the privilege and joy of highlighting many different Jewish literary voices. Paper Brigade also builds on the idea that no writer works in a vacuum. Many of the essays and interviews we publish explore how a common theme or topic appears in multiple books. We also emphasize ties between Jewish books and the wider literary world, too. Today, when thinking has become more polarized and antisemitism is on the rise, it feels especially important to show and encourage dialogue among writers.
What was the inspiration behind the name Paper Brigade?
Paper Brigade is named after a group of writers and intellectuals in the Vilna (Vilnius) Ghetto. Forced to help the Nazis sort through material for a planned "'museum of an extinct race," they jeopardized their lives to save thousands of books, documents, and works of art by smuggling them into the ghetto and stashing them away. The ghetto police derisively referred to the group as the "paper brigade," incredulous at their efforts. But for the "paper brigade," preserving cultural heritage was another form of survival. The value that they placed on Jewish literature is a true inspiration for us.
Paper Brigade is published both as the online series PB Daily and as an annual print magazine. What are some of the challenges and rewards of this dual publishing model?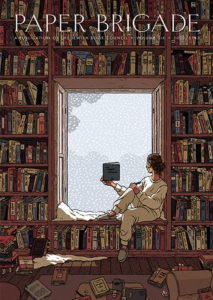 Since JBC's founding in 1943, we've always put out a print publication—first Jew­ish Book Annu­al (which was published in English, Yiddish, and Hebrew), and then a quarterly magazine, Jew­ish Book World. By the time I joined JBC in 2015, we knew Jewish Book World was becoming redundant. The book reviews that made up the bulk of the magazine were also published on our website, where readers could find them much more quickly and easily.
In order to continue JBC's tradition of publishing in print, we needed to create a publication that would complement our online offerings rather than replicating them. We designed Paper Brigade to be a keepsake—something that a reader can treasure for five, ten, or twenty years and still find resonant. We approach the journal not just as a vehicle for words, but also as an aesthetic, tactile object in its own right. We spotlight some of the incredible illustrators, designers, and visual artists that play an essential—but sometimes overlooked—part in making print publications what they are. Online, we publish poetry, excerpts of forthcoming books, author interviews, and short essays under the umbrella of PB Daily. We continue to publish around six book reviews a week, too. Whereas PB Daily gives up-to-the-minute coverage of new releases, Paper Brigade lets us take a step back and examine how those books fit into overarching trends.
Alongside original stories and poems by Jewish writers, each issue of Paper Brigade features information about Jewish literature and art around the world; Volume 6 includes a Jewish literary map of India and an exploration of Jewish puppetry. What influenced your decision to consistently highlight work across genres and borders?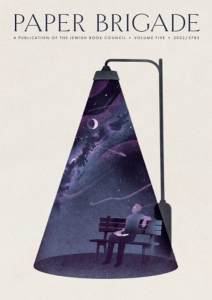 Great question. The centerpiece of each issue of Paper Brigade is a two-page, illustrated literary map highlighting the Jewish books of a certain country or region. (As you mentioned, the map in our current issue is of India, and in the past, we've created maps of Egypt, Italy, Latin America, the American South, New York, and Australia.) This nods to Paper Brigade's mission of spotlighting the diversity of Jewish writing—in this case, the geographical diversity. Although many American readers might be most familiar with Jewish literature from the US (or even specific places in the US, like New York), it's being written all over the globe. With the map—and other elements of the journal, like translations—we hope to introduce readers to writing they wouldn't encounter otherwise.
I'm fascinated by genre-bending work, and I think print is often an ideal medium for it. Quite a few of our contributors discuss how storytelling is enhanced by other art forms—puppetry, plays, comics, food, and sewing. Interplay between different genres can be an innovative way to address the overlap of different identities that so many Jewish people experience today.
Can you share some other literary journals, small presses, and organizations you admire that also foster and support Jewish literature?

Absolutely! There are a number of small publishers who put out excellent Jewish-interest books. Ayin Press, for example, publishes a wide range of beautiful, thought-provoking titles. Other Press, Restless Books, and New Vessel Press don't focus exclusively on Jewish-interest books, but they consistently publish books (including translations) with unusual, fascinating Jewish content. In terms of organizations, the Yiddish Book Center is a staple, and I'm excited about Yetzirah, a new nonprofit dedicated to fostering community among Jewish poets. Other literary journals I admire include Lilith and The Jewish Quarterly.
Lastly, I want to mention that JBC just became a founding member of the Global Jewish Literary Alliance along with The Wingate Prize, JW3, and the JCC Asso­ci­a­tion of North Amer­i­ca. I'm thrilled that we're teaming up with these organizations (each of which is definitely worth looking into individually!). The Alliance is developing a resource guide for writers, which promises to be very useful as well.
How can interested writers submit their work to Paper Brigade?
Our submission period for fiction, poetry, nonfiction, and translation is open from early December to early February. In late fall, we'll post the guidelines to submit here. We'll also be announcing the call for submissions in our newsletter and on Instagram, Facebook, and Twitter!