For Black History Month, observed annually during the month of February, we asked our members—independent presses, literary journals, and others—to share with us some of the books and magazines they recommend reading in celebration.
Fiction
Departure Story by Rowana Marlene Abbensetts-Dobson
Spoken Black Girl | 2021
This novel follows a college student from Guyana who "decides to find justice by championing the cause of an African Dance group on her small midwestern campus."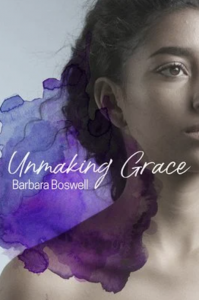 Unmaking Grace by Barbara Boswell
Catalyst Press | 2019
In this novel, the protagonist's "old childhood friend emerges after disappearing a decade earlier during a clash with apartheid riot police in the Cape Flats, where South Africa's coloured community makes its home."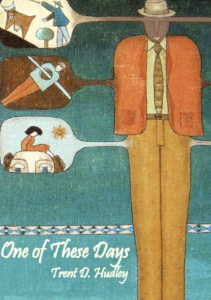 One of These Days by Trent D. Hudley
Veliz Books | 2017
The characters in this collection of short stories "grapple with violence, environmental issues, and inequality as pertains to race, gender, and socio-economic status."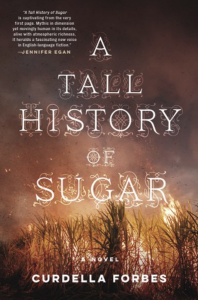 A Tall History of Sugar by Curdella Forbes
Akashic Books | 2019
Winner of the 2020 Hurston/Wright Legacy Award for Fiction, this novel follows a couple's "mysterious love affair from childhood to adulthood, from the haunted environs of rural Jamaica to the city of Kingston, and then to England."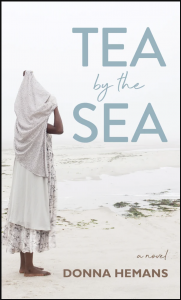 Tea by the Sea by Donna Hemans
Red Hen Press | 2020
Hemans's debut novel is, according to Marlon James, "a powder keg of a novel, where secrets and lies explode into truth and consequences, all told with spellbinding, shattering power."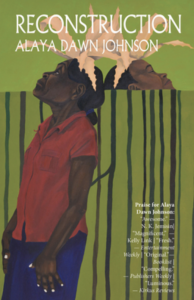 Reconstruction by Alaya Dawn Johnson
Small Beer Press | 2021
In this short story collection, award-winning writer and musician Johnson "delineates the lives of those trodden underfoot by the powerful, and how they rise up."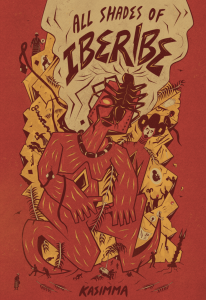 All Shades of Iberibe by Kasimma
Sandorf Passage | 2021
According to Chika Unigwe, in this short story collection Kasimma "presents a Nigeria that is peopled with characters struggling as much to understand as to be understood."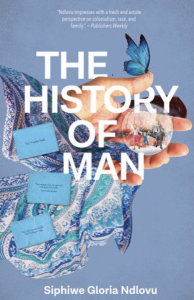 The History of Man by Siphiwe Gloria Ndlovu
Catalyst Press | 2022
Ndlovu's latest book "explores decades of history in an unnamed Southern African country through the eyes of one man on his journey from boyhood to manhood, and the changes that befall him through love, loss, and war."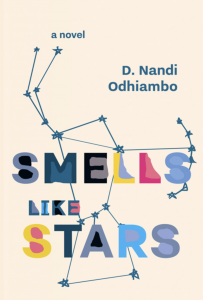 Smells Like Stars by D. Nandi Odhiambo
Book*hug Press | 2018
Winner of the 2018 Elliot Cades Award for Literature for an Established Writer, this novel "draws attention to what is hidden in plain sight, what cruelties life presents, and what struggles we face in our search for meaning."
BOA Editions | May 11, 2021
Winner of the BOA Short Fiction Prize, this collection of eighteen short stories, "each centered around an encounter with the unexpected," explores "what it means to be an alien."
New Vessel Press | 2017
According to Maaza Mengiste, Adua "tells a gripping story of war, migration and family, exposing us to the pain and hope that reside in each encounter."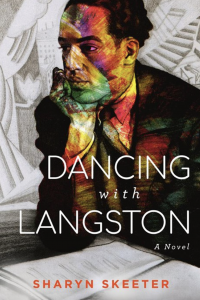 Dancing With Langston by Sharyn Skeeter
Green Writers Press | 2019
In this debut novel, Skeeter "has crafted a story that generously delivers black American history and culture, humor, a cast of vibrant, memorable characters, and a vivid portrait of one of the world's most celebrated literary artists, Langston Hughes."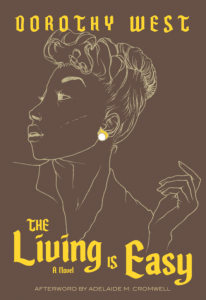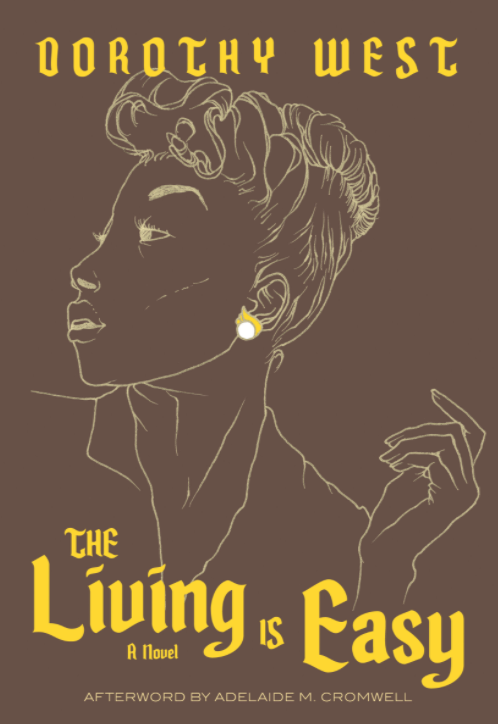 The Living Is Easy by Dorothy West
Feminist Press | 2020
West's first novel, originally published in the 1940s, is "a classic of American literature by a groundbreaking African American woman writer whose work deserves widespread and enduring recognition."
Nonfiction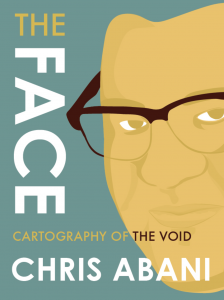 The Face: Cartography of the Void by Chris Abani
Restless Books | 2016
In this memoir, Abani "meditates on his own face, beginning with his early childhood that was immersed in the Igbo culture of West Africa."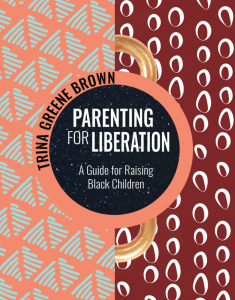 Parenting for Liberation: A Guide for Raising Black Children by Trina Greene Brown
Feminist Press | 2020
This guidebook speaks "directly to parents raising Black children in a world of police brutality, racialized violence, and disenfranchisement."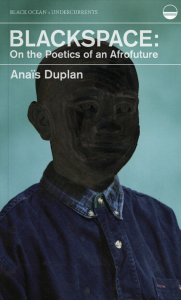 Blackspace: On the Poetics of an Afrofuture by Anaïs Duplan
Black Ocean | 2020
Through this series of researched lyric essays, interviews, and ekphrastic poetry, Duplan explores "the aesthetic strategies used by experimental artists of color since the 1960s to pursue liberatory possibility."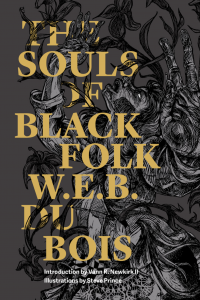 The Souls of Black Folk by W. E. B. Du Bois
Restless Books | 2017
This new edition of Du Bois's "seminal work of sociology, with searing insights into our complex, corrosive relationship with race and the African-American consciousness" includes an introduction by Vann R. Newkirk II and illustrations by Steve Prince.
Feminist Press | 2021
Edited by Cynthia R. Greenlee, Kemi Alabi, and Janna A. Zinzi, this book features community reporting from a writing collective of Black women and nonbinary writers, covering "reproductive justice and abortion politics; new and necessary definitions of family; trans visibility; stigma against Black motherhood; Black mental health; and more."
The Clearing by JJJJJerome Ellis
Wendy's Subway | 2021
This hybrid work "asks how stuttering, blackness, and music can be practices of refusal against hegemonic governance of time, speech, and encounter."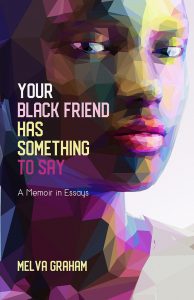 Your Black Friend Has Something to Say by Melva Graham
Regal House Publishing | 2020
In her debut essay collection, Graham "answers back to the bias and bigotry she has experienced from childhood to adulthood," depicting "one woman's journey to own her truth, find her voice, and take back her power."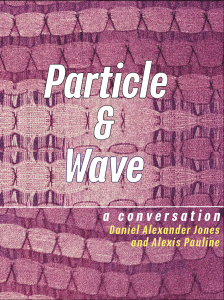 Particle and Wave: A Conversation by Daniel Alexander Jones and Alexis Pauline Gumbs
53rd State Press | 2021
In this conversation, Jones and Gumbs "discuss love as a foundational principle of artistic practice and societal change."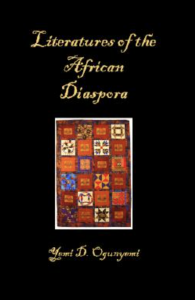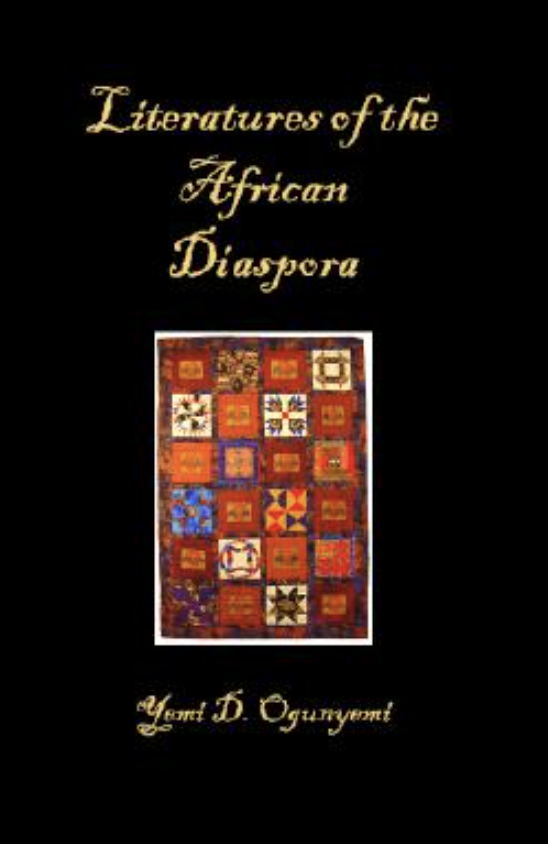 Literatures of the African Diaspora
Gival Press | 2014
Edited by Yemi Ogunyemi, Literatures of the African Diaspora is "a collection of essays that trace the influence of African culture and literature on literature of the world."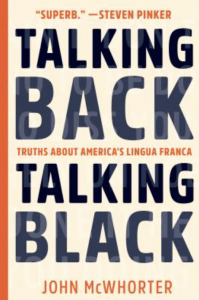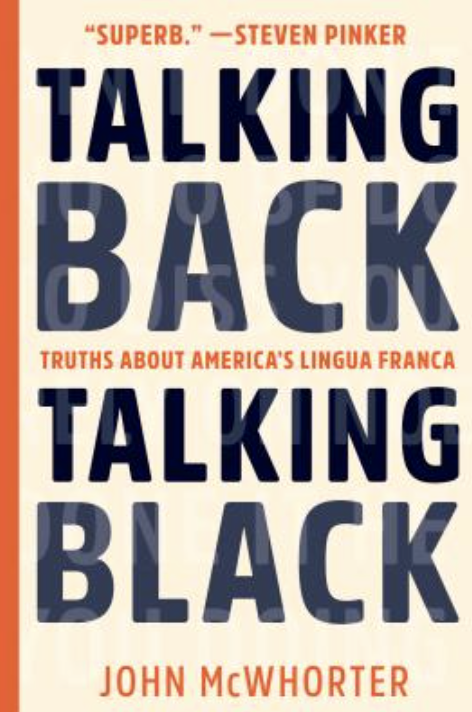 Talking Back, Talking Black by John McWhorter
Bellevue Literary Press | 2017
Linguist and academic McWhorter explores the fundamentals and history of Black English and "takes us on a fascinating tour of a nuanced and complex language that has moved beyond America's borders to become a dynamic force for today's youth culture around the world."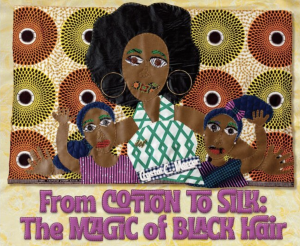 From Cotton to Silk: The Magic of Black Hair by Crystal C. Mercer
Et Alia Press | 2021
This illustrated children's book "encourages girls everywhere to appreciate their hair in its natural state and love themselves just the way they are."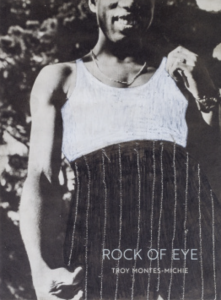 Rock of Eye by Troy Montes-Michie
Siglio Press | 2021
Rock of Eye is "a tactile and sensuous artist's book, recalling the forms of both magazines and swatch books" and featuring contributions by Tina Campt, Brent Hayes Edwards, and Andrea Andersson.
Wendy's Subway | 2022
This interdisciplinary work "is a meditation on the intersection of desire, mourning, and listening to one's skin while coming to understand the practice of love."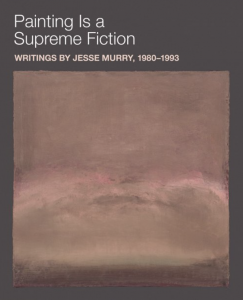 Painting Is a Supreme Fiction: Writings by Jesse Murry, 1980–1993
Soberscove Press | 2021
Edited and with an introduction by Jarrett Earnest and a foreword by Hilton Als, this collection presents the writings of artist and poet Jesse Murry (1948-1993).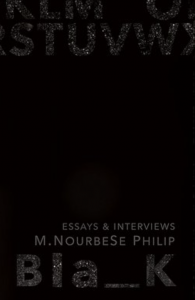 Blank: Essays and Interviews by M. NourbeSe Philip
Book*hug Press | 2017
Recipient of the 2020 PEN/Nabokov Award for International Literature, Blank is "a collection of previously out-of-print essays and new works by one of Canada's most important contemporary writers and thinkers."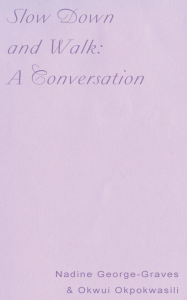 Slow Down and Walk: A Conversation by Okwui Okpokwasili and Nadine George-Graves
Ugle Duckling Presse | 2020
In a conversation that took place in August 2020, scholar and choreographer Nadine George-Graves and performance-maker and dancer Okwui Okpokwasili "discuss ideas of collaborative practice, radical forgiveness, virtuosity, and community."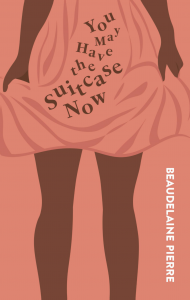 You May Have the Suitcase Now by Beaudelaine Pierre
New Rivers Press | 2021
According to Joëlle Vitiello, Pierre "offers a complex gaze on immigration in the Youwés (US) through the experience of a Haitian woman coming to grips with her history, with the unforgiving world of her new surroundings in the Twin Cities, with her hopes, despairs, and children's future."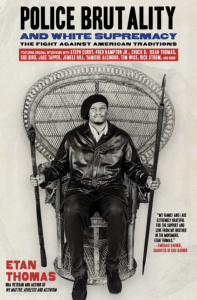 Police Brutality and White Supremacy: The Fight Against American Traditions by Etan Thomas
Akashic Books | 2022
In this book, "an NBA veteran offers engaging interviews and reflections that explore police brutality, white supremacy, and the struggle for racial justice in America."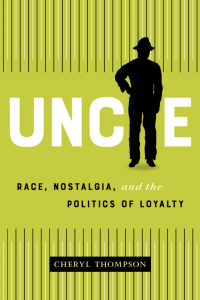 Uncle: Race, Nostalgia, and the Cultural Politics of Loyalty by Cheryl Thompson
Coach House Books | 2021
In Uncle, Thompson "makes the case for why understanding the production of racial stereotypes matters more than ever before."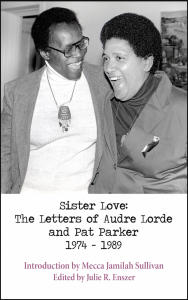 Sister Love: The Letters of Audre Lorde and Pat Parker
Sinister Wisdom | 2018
In these collected letters, Audre Lorde and Pat Parker "discuss their work as writers as well as intimate details of their lives, including periods when each lived with cancer."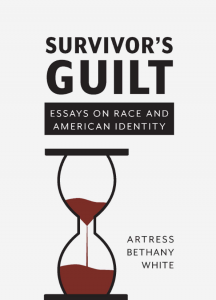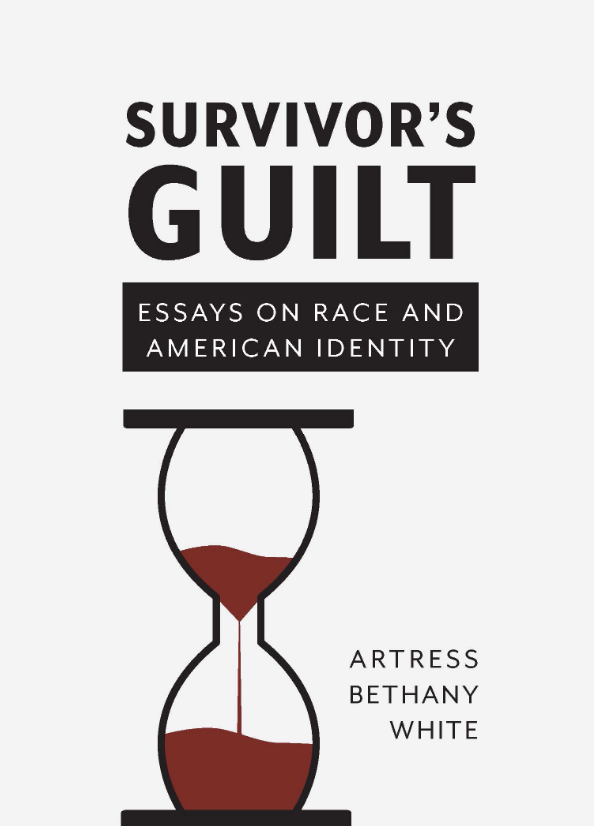 Survivor's Guilt: Essays on Race and American Identity by Artress Bethany White
New Rivers Press | 2020
In these essays, Bridgett M. Davis says, White "interrogates and informs, startles and prods, and implicates us all—forcing us to see ourselves through multi-faceted prisms of American identity."
Poetry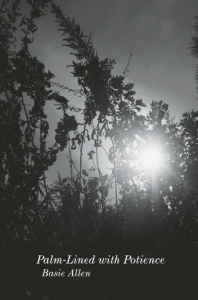 Palm-Lined with Potience by Basie Allen
Ugly Duckling Presse | 2022
Forthcoming in March, this debut poetry collection "is by turns political and lyrical, charting both physical and emotional landscapes, making maps of paintings and paintings of maps."
Black Ocean | 2020
The poems in this collection are "stories of blackness, of queerness, of womanhood, and of all the identities we hold externally and internally that create the tapestry of who we are and who we want to be."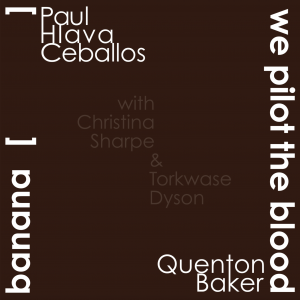 Banana [         ]/we pilot the blood by Paul Hlava Ceballos and Quenton Baker
The 3rd Thing | 2021
This book includes "two accounts of empire by two different poets, between them a critical/contemplative interval conducted by writer and scholar Christina Sharpe in conversation with artist Torkwase Dyson's 'hypershapes.'"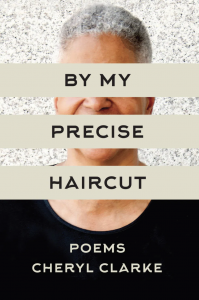 By My Precise Haircut by Cheryl Clarke
The Word Works | 2016
Selected by Kimiko Hahn for the 2015 Hilary Tham Capital Collection, Clarke's book is full of poems "confronting and interweaving issues of race, sex, gender, aging, history, and the individual's responsibility to the whole."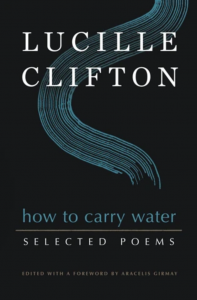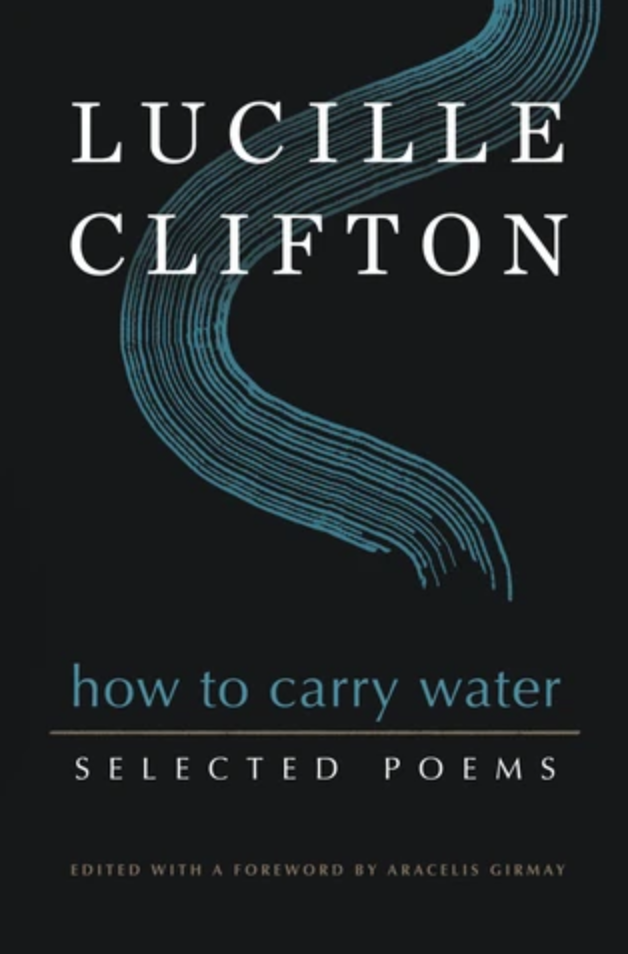 How to Carry Water by Lucille Clifton
BOA Editions | 2020
Selected and introduced by Aracelis Girmay, this selection of Clifton's poems "celebrates both familiar and lesser-known works by one of America's most beloved poets, including 10 newly discovered poems that have never been collected."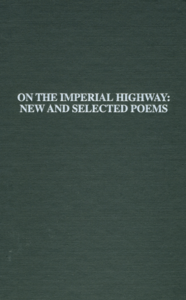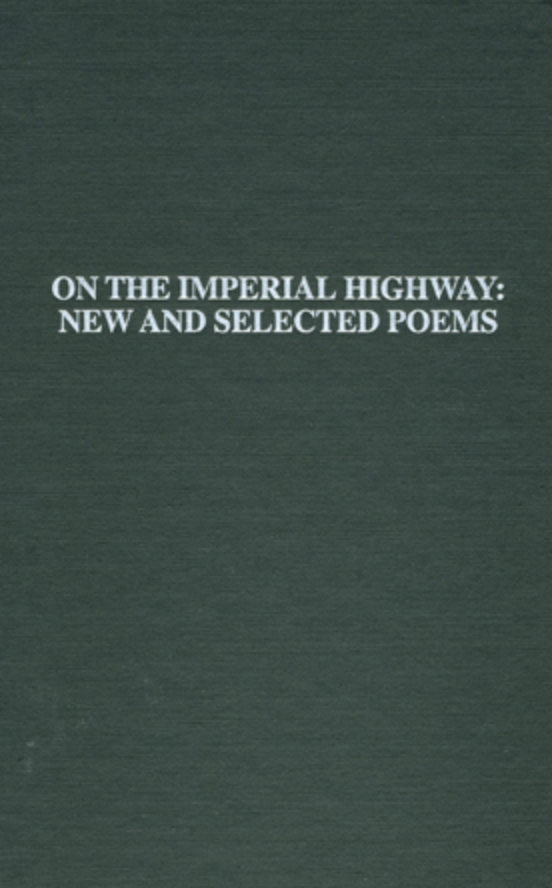 On The Imperial Highway: New and Selected Poems by Jayne Cortez
Hanging Loose Press | 2009
According to Maya Angelou, "Cortez has been and continues to be an explorer, probing the valleys and chasms of human existence."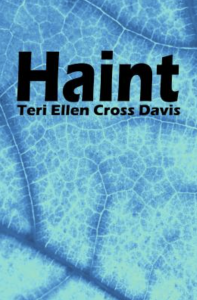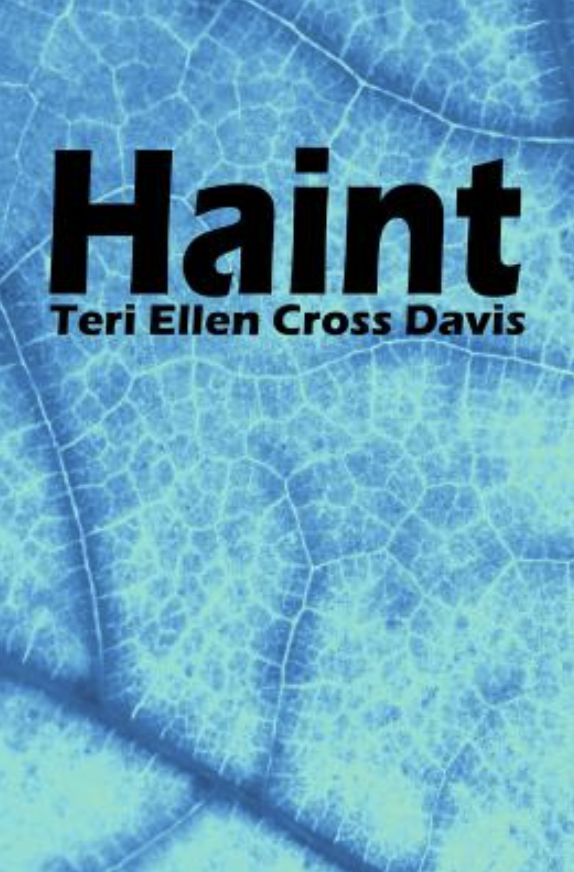 Haint: Poems by Teri Ellen Cross Davis
Gival Press | 2016
According to Cornelius Eady, Haint "is a book of choices, and witnessing. A book of learning the bodies territories, pleasures and sorrows."
BOA Editions | 2019
Winner of the James Laughlin Award, Davis's second collection of poems "reads as an evolving love letter and meditation on what it means to raise an American family."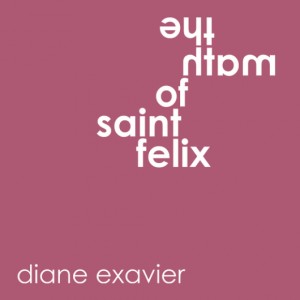 The Math of Saint Felix by Diane Exavier
The 3rd Thing | 2021
According to Legacy Russell, "Diane Exavier's The Math of Saint Felix marks her as a rising star in the next generation of Black poetics, showing us the ways Black femmehood carries and rebuilds language—and the world."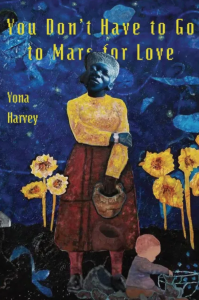 You Don't Have to Go to Mars for Love by Yona Harvey
Four Way Books | 2020
The poems in Harvey's collection "follow an unnamed protagonist on her multidimensional, Afro-futuristic journey"; this character's story "stretches the boundaries normally constraining a black, female body like hers."
The Word Works | 2018
According to Tyehimba Jess, Hope's poetry collection is "a family reunion in verse and sound that sings a personal and public history alive and into our hands."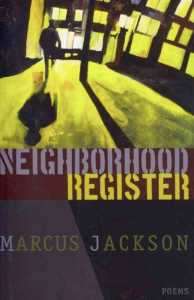 Neighborhood Register by Marcus Jackson
CavanKerry Press | 2011
Jackson's poetry collection "is a ledger of the people, scenes, and sectors from which hidden music and meaning unearth," evoking "the beauties and difficulties within multi-racial families, the value of vernacular, and the unexpected resonances of common objects."
Wave Books | 2016
Winner of the 2017 Pulitzer Prize in Poetry, Olio "presents the sweat and story behind America's blues, worksongs and church hymns."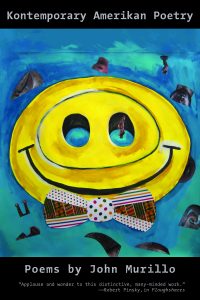 Kontemporary Amerikan Poetry by John Murillo
Four Way Books | 2020
Kwame Dawes says Murillo's second poetry collection demonstrates "a dogged Americanness, a poet determined to assert himself within an America that has sought to deny his song and the songs from the rich African American tradition. And what songs these are! They are songs of irresistible vulnerability, tough truth-telling, cutting wit, and formal command."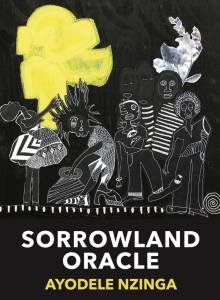 SorrowLand Oracle by Ayodele Nzinga
Nomadic Press | 2020
This poetry collection is "a compendium of spells, incantations, prayers, and their translations into the event of being Black in modernity."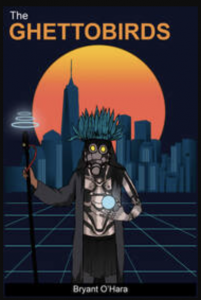 The Ghettobirds by Bryant O'Hara
Frayed Edge Press | 2021
In this collection of speculative poetry, "O'Hara works with a love of both the natural and the artificial world, and uses rhythm and cadence to compress thought into images of just how strange our experiences can become."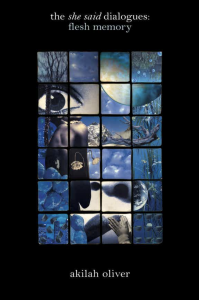 the she said dialogues: flesh memory by Akilah Oliver
Nightboat Books | 2020
First published in 1999, this poetry collection "investigates the non-linear synapses between desire, memory, blackness (as both a personal identity and a non-essentialist historical notion), sexuality and language."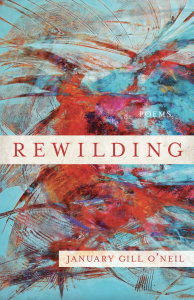 Rewilding by January Gill O'Neil
CavanKerry Press | 2018
This poetry collection "examines the external worlds of race and culture and the internal, personal worlds of family and desire."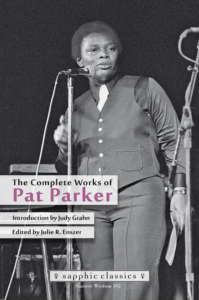 The Complete Works of Pat Parker by Pat Parker
Sinister Wisdom | 2016
This Lambda Literary Award for Lesbian Poetry–winning collection, edited by Julie R. Enszer and with a new introduction by Judy Grahn, features the published and previously uncollected poems, plays, and prose of Pat Parker. Alexis de Veaux says, "With this oeuvre, we are allowed an opportunity to historicize Pat Parker's significance to black women's literary traditions, lesbian erotics, to black queer struggles and black feminisms, and to global social justice movements."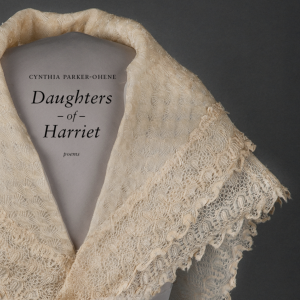 Daughters of Harriet by Cynthia Parker-Ohene
Center for Literary Publishing/Colorado Review | 2022
According to Taylor Johnson, this poetry collection forthcoming in March 2022 is "an anatemporal cistern for pleasure, irreverence, and memory that invites the reader to enter into the wild lineage of those who walked on water, whose crossing meant a rupture in language."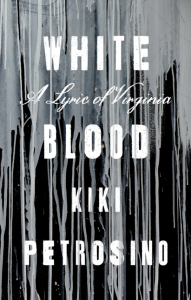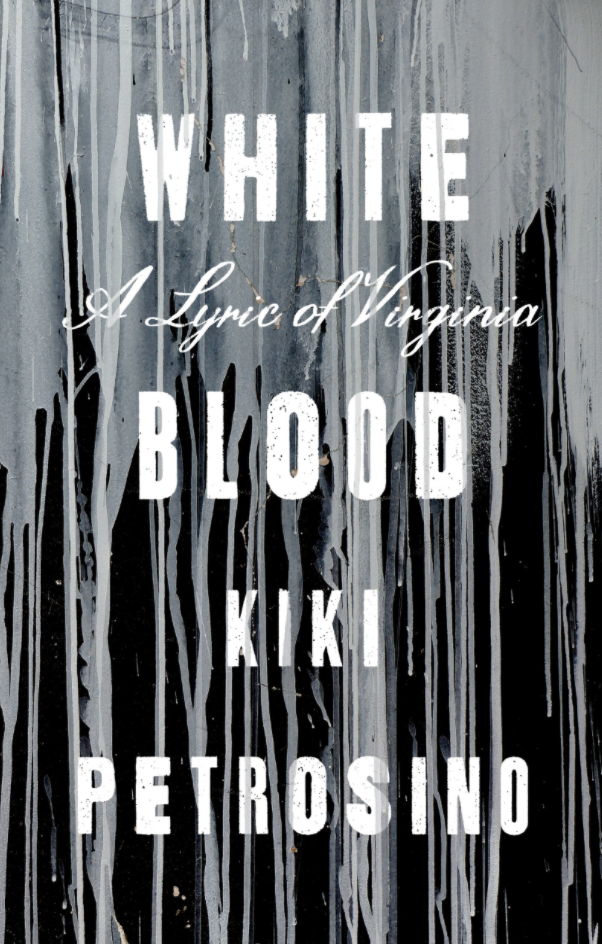 White Blood: A Lyric of Virginia by Kiki Petrosino
Sarabande Books | 2020
In her fourth poetry collection, Petrosino "turns her gaze to Virginia, where she digs into her genealogical and intellectual roots, while contemplating the knotty legacies of slavery and discrimination in the Upper South."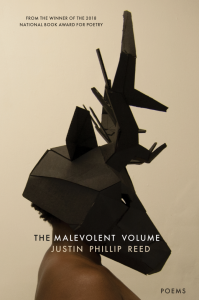 The Malevolent Volume by Justin Phillip Reed
Coffee House Press | 2020
Winner of the 2021 Firecracker Award, this poetry collection examines, according to Terrance Hayes, "the intimacies of mind and body, myth and memory."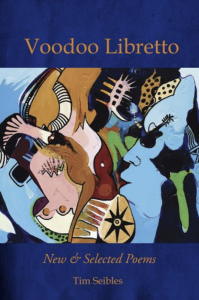 Voodoo Libretto: New and Selected Poems by Tim Seibles
Etruscan Press | 2022
Seibles's latest poetry collection "is in many ways a book of memories, a chronicle of both the personal and the political sensibility of a black baby-boomer."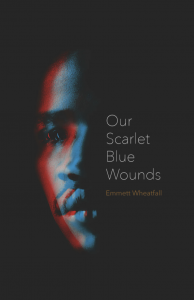 Our Scarlet Blue Wounds by Emmett Wheatfall
Fernwood Press | 2019
In this poetry collection, Wheatfall "shows us how the roots of love grow deep in the soil of sacrifice" and "illustrates the intensely complex relationship between idealism and realism."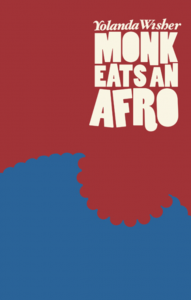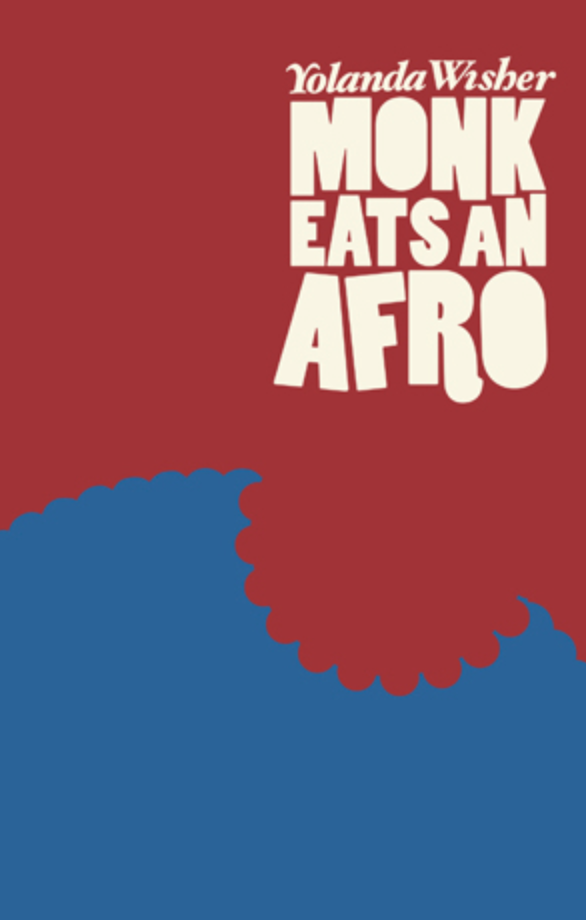 Monk Eats an Afro by Yolanda Wisher
Hanging Loose Press | 2014
Wisher's poetry collection "cracks open a blueswoman's purse of poem and songs, bursting folk poetry for the millenium."
Literary Magazines
The Spring 2021 issue of Howard University's literary arts journal includes poetry by Alexis Jackson, fiction by Quinton Marcellus Lawrence, an interview with Roxane Gay, and more.
Lucky Jefferson's digital zine "for Black authors by Black authors" is dedicated to "demystifying the Black experience through poetry, essays, art, and more."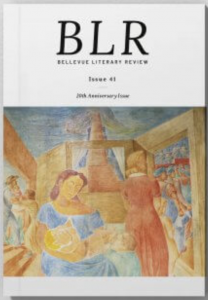 "Our Eyes Were Watching Marcia" by Samuel A. Autman
Bellevue Literary Review | Issue 41
In this essay, Autman "recalls how he and his sister grew up identifying with sitcoms of idealized white family life—especially The Brady Bunch—that had nothing in common with their family experience and the undiagnosed mental illness that wreaked havoc with it."

"It's Important I Remember That Darkness and Blackness Aren't Perfect Synonyms—" by Cortney Lamar Charleston
Cincinnati Review | 2021
This poem begins, "but the Venn diagram is a perfect circle."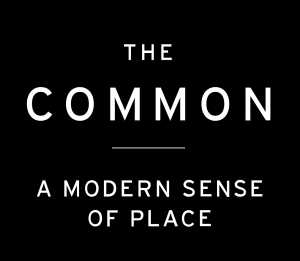 The Common | Black History and Heritage Month
This reading list for Black History and Heritage Month features poetry by Vievee Francis and Cortney Lamar Charleston; fiction by LaShonda Katrice Barnett and Kashana Cauley; nonfiction by Madison Davis and W. Ralph Eubanks; and more.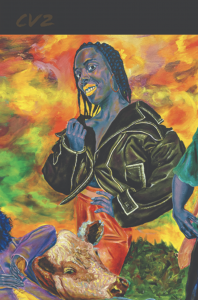 "Black Alive & Looking Back at You"
CV2 | Volume 44, Issue 1
Edited by Leslie Joy Ahenda and Chimwemwe Undi, this issue "invites Black poets to share with us their daily beauties, their curiosities, their full and complex selves, to join us in asserting our place, our sense of being and our inalienable right to joy."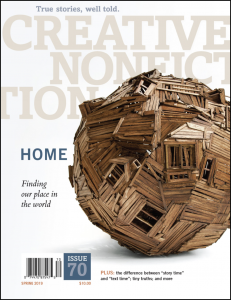 "A Tourist at Home," by Herb Harris
Creative Nonfiction | Issue 70: Home
Harris's essay begins, "My weekly phone call with my mother had been following its routine of meandering family stories and local news."

"Black Womxn Are Violets" by Tatiana Johnson-Boria
Cincinnati Review | 2021
This poem "​​creates a complex portrait of Black womxnhood that's simultaneously an ode and much more than one."
Bellevue Literary Review | Issue 40 
In this essay, a family medicine physician "captures a full year of the pandemic in succinct and gripping prose."
The Winter 2020 issue of Orion magazine was dedicated to how issues of social and racial justice are entwined with environmental justice.
The April-May 2021 issue of Pipe Wrench includes work by Breai Mason-Campbell, Nyasha Junior, and Ed Sinclair.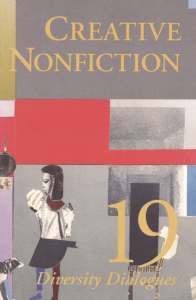 "Looking at Emmett Till," by John Edgar Wideman
Creative Nonfiction | Issue 19: Diversity Dialogues
Wideman's essay begins, "A nightmare of being chased has plagued my sleep since I was a boy. The monster pursuing me assumes many shapes, but its face is too terrifying for the dream to reveal."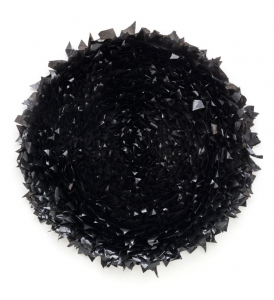 International Black Voices on Race and Racism
Words Without Borders | 2021
This issue features writing by ten writers "whose works grapples with the many guises of anti-Black racism around the world—from Cabo Verde to Brazil, Sweden to Madagascar, and more."