Throughout 2020, CLMP has been gathering monthly lists of the books forthcoming from our member presses. We're excited to share this year-end roundup of dozens of nonfiction books published in 2020 by small literary publishers! Browse below for essay collections, memoirs, and other works of nonfiction, and read our year-end roundups for fiction, poetry, and hybrid work as well!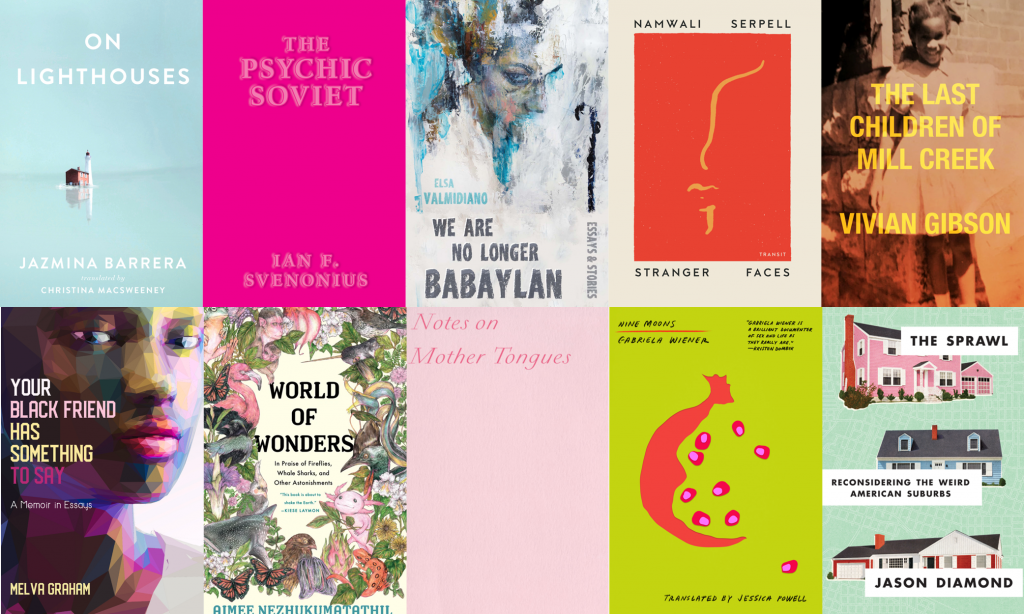 Essays & Lyric Essays
Notes on Mother Tongues by Mirene Arsanios
Ugly Duckling Presse | October 2020
Arsanios "meditates on the relationships between mother tongues, motherhood, and colonialism" in this pamphlet from the 2020 Pamphlet Series.
On Lighthouses by Jazmina Barrera
Two Lines Press | 2020
Translated from the Spanish by Christina MacSweeney, this collection of personal essays "artfully examines lighthouses from the Spanish to the Oregon coasts and those in the works of Virginia Woolf, Edgar Allan Poe, Ingmar Bergman, and many others."
Notes Toward a Pamphlet by Sergio Chejfec
Ugly Duckling Presse | July 2020
Translated by Whitney DeVos, this essay investigates "the pamphlet form as a 'megaphone' for the dissemination of 'views' bound by 'a situation of existence' of a poet who 'aspired to a voice permanently lowered.'"
Translation is a Mode=Translation is an Anti-neocolonial Mode by Don Mee Choi
Ugly Duckling Presse | May 2020
In this critical essay, Choi "explores translation and language in the context of US imperialism."
I See You Big German by Zac Crain
Deep Vellum | December 2020
This lyric essay "follows Dallas Mavericks star player Nowitzki's 21-year career, charting the highs and lows of his career and what he means to the city of Dallas."
The World Has Been Empty Since the Postcard by Simon Cutts
Ugly Duckling Presse | May 2020
This essay "reproduces fourteen postcards of a polemical nature by writer, artist, designer, and publisher of Coracle Press, Simon Cutts" alongside commentary from the author.
The Nail in the Tree: Essays on Art, Violence, and Childhood by Carol Ann Davis
Tupelo Press | March 2020
In this collection of essays, poet Carol Ann Davis meditates on the experience of raising her sons in Sandy Hook, Connecticut, during and after the shooting that took place there.
A Mano / By Hand by Nicole Cecilia Delgado
Ugly Duckling Presse | December 15, 2020
Part of the 2020 Pamphlet Series, this essay "proposes that poetry is the basic unit of the project, the project of living a life in communities, with dignity and joy."
The Sprawl by Jason Diamond
Coffee House Press | August 2020
The essays in this collection "reconsider the creative potential of the American suburb" through a combination of "personal experience, cultural reportage, and history."
Sundays by Thomas Gardner
Tupelo Press | November 2020
The lyric essays in Thomas Gardner's latest collection "focus on moments in our ordinary lives when something within us breaks and we are cast out to wander and sing."
Slow Down and Walk: A Conversation by Nadine George-Graves & Okwui Okpokwasili
Ugly Duckling Presse | December 15, 2020
In this installment in the 2020 Pamphlet Series, George-Graves and Okpokwasili "consider how art making reflects the kind of imagination of how one might live in the world, proposing modes of relation that are neither predatory nor transactional, but grounded in care."
Sun of Consciousness by Édouard Glissant
Nightboat Books | February 2020
According to Matt Reeck, this first English translation—translated from the French by Nathanaël—of Glissant's debut essay is "decolonizing in the basic sense of that term" and "suggestive — potently suggestive — of global futures."
Your Black Friend Has Something To Say by Melva Graham
Regal House Publishing | March 2020
In her debut essay collection, Graham "answers back to the bias and bigotry she has experienced from childhood to adulthood," depicting "one woman's journey to own her truth, find her voice, and take back her power."
Of Forests and of Farms : On Faculty and Failure by Adjua Gargi Nzinga Greaves
Ugly Duckling Presse | December 15, 2020
In this installment in the 2020 Pamphlet Series, Adjua Gargi Nzinga Greaves "unearths pastoral metaphor in books she used to inspire, direct, and reflect upon her performance "unschoolMFA" (2012-2015)."
Electric Sarcasm by Dimitra Ioannou
Ugly Duckling Presse | December 15, 2020
This installment in the 2020 Pamphlet Series "explores language as a response to hegemonic things, and a need to articulate and concretize suppressed meanings."
The Issue Is Power by Melanie Kaye/Kantrowitz
Aunt Lute Books | 2020
This essay collection, first published in 1992, examines "the connections across a wide range of issues: whether the topic is class, racism, Israel and Palestine, war, anti-Semitism, violence against women or violence by women, the issue is power—in all its complexity."
Invisible Horizon: A Religious Pamphlet by Sibyl Kempson
Ugly Duckling Presse | December 15, 2020
Part of the 2020 Pamphlet Series, this essay is "an experiential record of the flotsam and jetsam that washed up on the shore" after the performance project 12 Shouts to the Ten Forgotten Heavens.
Letters: The classroom is burning, let's dream about a School of Improper Education by KUNCI Study Forum & Collective
Ugly Duckling Presse | December 15, 2020
This pamphlet is "a collaboratively authored epistolary essay that narrates the discourse behind the development of KUNCI's School of Improper Education, an initiative that posits studying together as a tactical approach to creating the conditions for social movement."
The End by Aditi Machado
Ugly Duckling Presse | October 2020
Part of Ugly Duckling Presse's 2020 Pamphlet Series, this essay "examines notions of epiphany, closure, excess, and economy."
The Semblable by Chantal Maillard
Ugly Duckling Presse | December 15, 2020
In this pamphlet translated by Whitney DeVos, Maillard "asks whether a world without violence is possible."
The River Always Wins: Water as a Metaphor for Hope and Progress by Davis Marquis
Deep Vellum Publishing | May 2020
This "meditation on water as metaphor for social change" is rooted in art and based on the author's experiences as an environmental activist.
Say Translation Is Art by Sawako Nakayasu
Ugly Duckling Presse | December 15, 2020
This pamphlet is "a treatise on literary translation that exceeds the bounds of conventional definitions of such, advocating for a wider embrace of translation as both action and as art."
World of Wonders: In Praise of Fireflies, Whale Sharks, and Other Astonishments by Aimee Nezhukumatathil
Milkweed Editions | September 2020
According to Kiese Laymon, Nezhukumatathil's essay collection "lingers in a world where power, people, and the literal outside wrestle painfully, beautifully."
Social Poetics by Mark Nowak
Coffee House Press | March 2020
Nowak's essay "documents the imaginative militancy and emergent solidarities of a new, insurgent working class poetry community rising up across the globe."
Pain Studies by Lisa Olstein
Bellevue Literary Press | March 2020
In this extended lyric essay, Olstein "mines her lifelong experience with migraine to deliver a marvelously idiosyncratic cultural history of pain," drawing on sources including Joan of Arc, Virginia Woolf, and Elaine Scarry. Essayist Eula Biss calls the book "a fascinating, totally seductive read!"
Quartet by Claudia La Rocco
Ugly Duckling Presse | October 2020
In this installment of the 2020 Pamphlet Series, La Rocco "weaves fragile threads of acquaintanceship and intimacy into a chamber piece of voices, attitudes, and gestures of attention, spurred on by the restless interplay of present, past, and page."
The Story I Am by Roger Rosenblatt
Turtle Point Press | April 2020
This essay collection is, according to Kitty Kelley, "a hymn of praise for the craft of weaving words in order to survive."
A Fish Growing Lungs by Alysia Li Ying Sawchyn
Burrow Press | June 2020
These linked essays follow a misdiagnosis of bipolar disorder and its consequences in, according to Dinty W. Moore, an "intimate, vulnerable, and entirely spellbinding exploration of addiction, identity, and one writer's struggle to become whole."
What Came Before by Matthew Schultz
Tupelo Press | September 2020
The essays in What Came Before combine ""myth, essay, and poetry" to explore "subjects as diverse as the death of Moses, the special relationship between gay men and cats, the movie Titanic, rock collections, and the afterlife."
Stranger Faces by Namwali Serpell
Transit Books | September 2020
In this essay collection—the second installment of the Undelivered Lectures series—Serpell "probes our contemporary mythology of the face."
Golem Soveticus: Prigov as Brecht and Warhol in One Persona by Aleksandr Skidan
Ugly Duckling Presse | May 2020
Translated by Kevin M. F. Platt, this critical essay "places Dmitri Alexandrovich Prigov, one of the most significant poets and artists of the late-Soviet underground, into transnational historical context."
The Psychic Soviet by Ian F. Svenonius
Akashic Books | July 2020
A reissue of Ian F. Svenonius's debut essay collection, The Psychic Soviet is, according to the New York Times, a "love letter to the good old days of do-it-yourself punk concerts."
The Age of Skin by Dubravka Ugresic
Open Letter | November 2020
Translated from the Croatian by Ellen Elias-Bursać, this collection of essays "takes on the dreams, hopes, and fears of modern life."
We Are No Longer Babaylan by Elsa Valmidiano
New Rivers Press | November 2020
This debut collection of essays "explores the impact of colonialist patriarchal societies on the lives and beliefs of those from a spiritual, matriarchal society."
Survivor's Guilt: Essays on Race and American Identity by Artress Bethany White
New Rivers Press | 2020
In these essays, Bridgett M. Davis says, White "interrogates and informs, startles and prods, and implicates us all—forcing us to see ourselves through multi-faceted prisms of American identity."
Nine Moons by Gabriela Wiener
Restless Books | May 2020
Peruvian essayist Wiener's latest book is "a fierce and funny exploration of sex, pregnancy, and motherhood that delves headlong into our fraught fascination with human reproduction."
Skull Cathedral: A Vestigial Anatomy by Melissa Wiley
Autumn House Press | September 2020
Winner of the 2019 Nonfiction Prize, selected by Paul Lisicky, Wiley's essay collection uses "the slow evolution and odd disintegration of vestigial organs to enter the braided stories of the lives we establish for ourselves."
Being Human Is an Occult Practice by Magdalena Zurawski
Ugly Duckling Presse | October 2020
In this pamphlet, Zurawski "argues that studying and sharing literature can function as a means of enriching the impoverished definition of 'human' created by capitalist social relations."
Thirty-Odd Functions of Voice in the Poetry of Alice Notley by Steven Zultanski
Ugly Duckling Presse | May 2020
In this critical essay, Zultanski examines how "Alice Notley has consistently peopled her poetry with the voices of those around her."
Memoir
Fault Lines by Meena Alexander
Feminist Press | November 2020
Featuring a preface by Ngugi wa Thiong'o and published in a new edition on the two-year anniversary of Alexander's passing in 2018, this memoir "follows one woman's evolution as a writer at home—and in exile—across continents and cultures."
The Last Children of Mill Creek by Vivian Gibson
Belt Publishing | 2020
This memoir chronicles Gibson's childhood and her family's everyday experiences in a segregated working-class neighborhood of St. Louis. Gibson says, "This memoir is about survival, as told from the viewpoint of a watchful young girl."
I Belong to Vienna: A Jewish Family's Story of Exile and Return by Anna Goldenberg
New Vessel Press | June 2020
Translated from the German by Alta L. Price, this memoir is "a probing tale of heroism, identity and belonging, marked by a surprising freshness as a new generation comes to terms with history's darkest era."
Neutral Evil ))) by Lee Klein
Sagging Meniscus Press | May 2020
Klein's latest book is an "inquiry into a variety of subjects, including: anxiety, edibles, solitude, talent, self-realization, responsibility, dry ice, fog," and many other topics.
Particulate Matter by Felicia Luna Lemus
Akashic Books | November 2020
Set in Los Angeles, this memoir is Lemus's "collection of still lifes, landscapes, and portraits of a challenging year that threatened all she loved most."
Later: My Life at the Edge of the World by Paul Lisicky
Graywolf Press | March 2020
In this memoir, Lisicky chronicles his time in Provincetown during the AIDS crisis, dramatizing "a spectacular yet ravaged place and a unique era when fully becoming one's self collided with the realization that ongoingness couldn't be taken for granted."
Beyond Repair: Living in a Fractured State by Sebastian Matthews
Red Hen Press | August 2020
In this memoir in essays, Matthews recounts attempts to reengage with others "in a fractured society no longer recognizable."
The Dragons, the Giant, the Women by Wayétu Moore
Graywolf Press | June 2020
This memoir is, according to Chigozie Obioma, "a moving and richly drawn tale of a family threatened by violence in '90s Liberia and their escape from it. Out of this tumultuous experience, Moore has shaped a powerful, utterly convincing, and unforgettable story."
Where Did Poetry Come From: Some Early Encounters by Geoffrey O'Brien
Marsh Hawk Press | May 2020
O'Brien's new book chronicles his own beginnings as a poet.
Mostly Water by Mary Odden
Red Hen Press | June 2020
The essays in Odden's debut collection "form a linked memoir that explores the American outback from eastern Oregon horse trails to the arctic and subarctic river towns of Alaska."
We Need to Talk: A Memoir About Wealth by Jennifer Risher
Red Hen Press | September 2020
Risher's debut memoir "explores the hidden impact of wealth on identity, relationships, and sense of place in the world."
The King and the Quirky by Heather Siegel
Regal House Publishing | June 2020
Winner of an Indie Book Award in  Women's Issues/Nonfiction, this memoir chronicles—according to Diane Donovan—"the remarkable task of reconsidering life's goals and possibilities within and beyond the traditions of marital bliss and connection."
Pretzel, Houdini & Olive by Deborah Thompson
Red Hen Press | September 2020
The eleven interconnected essays in this memoir are "told from the perspective of a self-identified 'crazy dog lady'" and follow Thompson's life with five dogs.
The Names of All the Flowers by Melissa Valentine
Feminist Press | July 2020
The Names of All the Flowers is, according to Emily Raboteau, "heartfelt memoir of losing her brother expresses the grief of being a black woman left behind when a black man dies to gun violence, and the specific condition of growing up mixed race in Oakland."
Conspiracy to Riot: The Life and Times of One of the Chicago 7 by Lee Weiner
Belt Publishing | August 2020
This memoir by one of several young men indicted by the federal government for conspiracy to incite a riot is "directly relevant to today's efforts to change America for the better."
For Joshua: An Ojibwe Father Teaches His Son by Richard Wagamese
Milkweed Editions | April 2020
In this "intimate series of letters to the six-year-old son from whom he was estranged," Richard Wagamese "fulfills this traditional duty with grace and humility."

Other Nonfiction
Little Wonder: The Fabulous Story of Lottie Dod, the World's First Female Sports Superstar by Sasha Abramsky
Akashic Books | August 2020
This latest biography from the Edge of Sports imprint follows Lottie Dod, "a truly extraordinary sports figure who blazed trails of glory in the late nineteenth and early twentieth centuries."
Black Power Afterlives: The Enduring Significance of the Black Panther Party
Haymarket Books | September 2020
Edited by Diane Fujino and Matef Harmachis, Black Power Afterlives is "the first book to comprehensively examine how the Black Panther Party has directly shaped the practices and ideas that have animated grassroots activism in the decades since its decline."
Parenting for Liberation: A Guide for Raising Black Children by Trina Greene Brown
Feminist Press | June 2020
This guidebook speaks "directly to parents raising Black children in a world of police brutality, racialized violence, and disenfranchisement."
Can't Pay Won't Pay
Haymarket Books | September 2020
By the Debt Collective and with a foreword by Astra Taylor, this book is, according to Rep. Rashida Tlaib, "an important campaign to help build the mass movement we need to resist and abolish student debt."
Lecture by Mary Cappello
Transit Books | September 2020
The first title in Transit Books's new narrative nonfiction series, Undelivered Lectures, is "a song for the forgotten art of the lecture."
The First Books of David Henderson and Mary Norbert Korte: A Research by Iris Cushing
Ugly Duckling Presse | July 2020
According to MC Hyland, "Bringing together archival scholarship, interviews with key figures, and reflections on her own small-press publishing activities, Cushing models a powerful mode of embedded historical scholarship."
The Brother You Choose by Susie Day
Haymarket Books | September 2020
In this book with an afterword by Ta-Nehisi Coates, former Black Panthers Paul Coates and Eddie Conway "discuss lives, politics, and their friendship that helped Eddie survive decades in prison."
Audubon's Sparrow: A Biography-in-Poems by Juditha Dowd
Rose Metal Press | April 2020
This verse biography of naturalist John James Audubon's wife Lucy Bakewell combines poems, imagined letters, and diary entries in "an enchanting blend of research and imagination."
Excerpts from the 1971 Journal of Rosemary Mayer
Soberscove Press | May 2020
Edited by Marie Warsh, this illustrated edition of Mayer's 1971 journal is "an intimate account of everyday life and art in 1970s New York from a pioneering feminist artist."
Frantz Fanon and Emancipatory Theory: A View from the Wretched
Haymarket Books | October 2020
Edited by Dustin J. Byrd and Seyed Javad Miri, "this comprehensive volume discusses Frantz Fanon's enduring impact on revolutionary movements and thinking across the world."
Clutter: An Untidy History by Jennifer Howard
Belt Publishing | September 2020
Howard's latest book is an "expansive assessment of our relationship to the things that share and shape our lives."
Disparate Beasts: Basil King's Beastiary, Part Two by Basil King
Marsh Hawk Press | May 2020
In this follow-up to his 2007 77 Beasts: Basil King's Bestiary, King "speaks about the painting and the painter."
Cat Among the Pigeons by David Muirhead
Catalyst Press | February 2020
Illustrated by Patricia de Villiers, this is "an irreverent but loving treatise on the creatures of South Africa and beyond… mixing folklore and legend with a heavy dose of scientific facts."
Phong Nha, the Making of an American Smile by Tammy Nguyen
Ugly Duckling Presse | July 15, 2020
Nguyen's pamphlet "moves through autobiography, politics, geology, and philosophy, it reveals fissures in the notion of shared truth while illuminating how stories, true or not, often serve as moral compasses."
To Reach the Spring: From Complicity to Consciousness in the Age of Eco-Crisis by Nathaniel Popkin
New Door Books | December 2020
Popkin's latest book asks, "In the shadow of an escalating eco-crisis—a looming catastrophe that will dwarf the fallout from COVID-19—how can we explain our society's failure to act?"
Saving Free Speech… from Itself by Thane Rosenbaum
Fig Tree Books | March 2020
Featuring a foreword by Bret Stephens, Rosenbaum's book "sets the tone for the fractious discussion of how the First Amendment should be interpreted in today's society and how the free speech aspect of it should not be weaponized."
Cold Moon by Roger Rosenblatt
Turtle Point Press | October 2020
Rosenblatt's latest book demonstrates "an appreciation of being alive, a recognition of the gift and power of love, and the necessity of exercising responsibility toward one another."
You Can Keep That to Yourself by Adam Smyer
Akashic Books | September 2020
This alphabetized list of things white people should avoid saying to Black people is, according to Publishers Weekly, "designed to strip away the hypocrisy and half-truths of these cultural exchanges by laughing at them."
None So Fit to Break the Chains by Dan Swain
Haymarket Books | October 2020
In this book, Swain "offers an interpretation of Marx's ethics that foregrounds his commitment to working-class self-emancipation and argues for the continued relevance of this principle for contemporary politics."
Sharing the Burden of Repair: Reentry After Mass Incarceration by Heather Tosteson and Charles D. Brocket
Wising Up Press | 2020
Motivated by "deep concern about the individual, familial, community, and societal consequences of mass incarceration," this project chronicles experiences of reentry from the criminal justice system.
Cape Town: A Place Between by Henry Trotter
Catalyst Press | January 2020
The first book in the Intimate Geographies Series, this is an "incisive mix of travel narrative, literary non-fiction, and personal memoir exploring the complex histories and cultures of South Africa's Mother City."
The Post-Pandemic Liberal Arts College: A Manifesto for Reinvention by Steven Volk and Beth Benedix
Belt Publishing | September 2020
This timely book considers "what a new, transformative culture would look like, from how students are admitted and faculty hired, to the economics that would permit all these college to admit students without regard to financial need."
Where The Future Came From
Soberscove Press | May 2020
Edited by Meg Duguid, this collective research project "reveals a dynamic continuum of practices in Chicago's artist-run culture, shaping a critical conversation that places women and women-identified organizers at the core of the art world in Chicago and beyond."