Throughout 2020, CLMP has been gathering monthly lists of the books forthcoming from our member presses. We're excited to share this year-end roundup of books published in 2020 by small literary publishers! Browse below for hybrid works and art books, anthologies and author collecteds, and books for children and young adults, and read our year-end roundups for fiction, poetry, and nonfiction as well!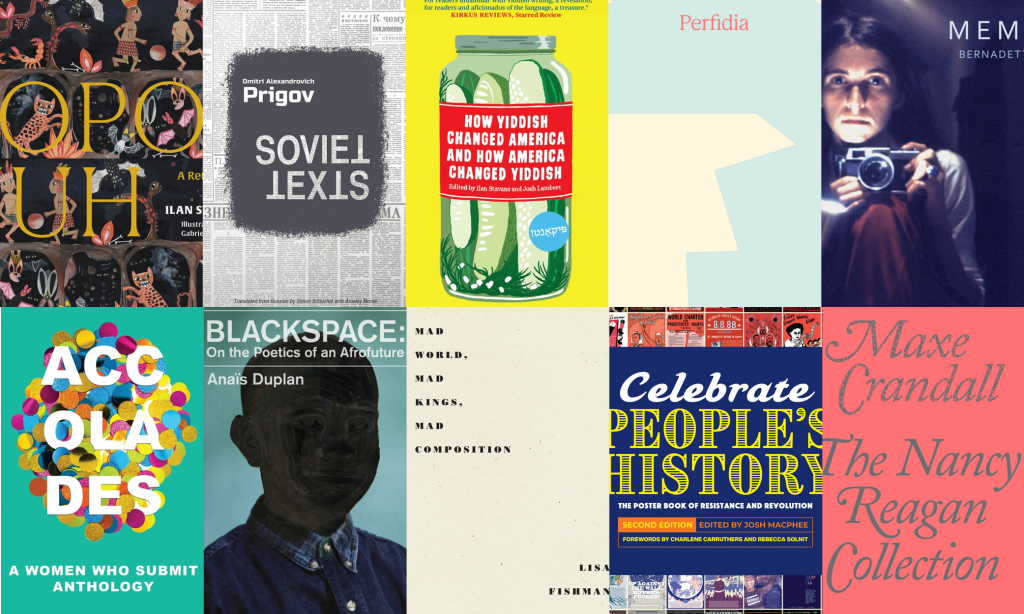 Art Books & Hybrid Works
The Odd Years by Morgan Bassichis
Wendy's Subway | August 2020
A collection of Bassichis's weekly to-do lists, The Odd Years is "one response to the oddness of times in which intensified crisis becomes ordinary."
Be the Change!
Radix Media | 2020
This collaboration between Radix Media and the Justseeds Artists' Cooperative is a social justice–themed coloring book featuring artists such as Melanie Cervantes, Jesse Purcell, and Jesus Barraza.
More Stupids by Emmy Bright
3 Hole Press | September 2020
According to Paula Wilson, this book is a "queer post-modern tarot-esque deck that serves up hilarious and sensual fodder for foresight and insight that comes from the often overlooked encounters in life."
Celebrate People's History (Second Edition)
Feminist Press | August 2020
Edited by Josh MacPhee, this book features posters that "pay tribute to the long-standing human legacy of revolution, creative activism, and grassroots organizing."
Life's Tumultuous Party: Reduced to its Essential Partycycles by Marvin Cohen
Sagging Meniscus Press | May 2020
In this combination of short stories, essays, and other pieces edited by Colin Myers, Cohen "dissects party-going as both celebrant and philosopher."
Ann, Fran, and Mary Ann by Erin Courtney
53rd State Press | November 2020
Ann, Fran, and Mary Ann "is a deeply reflective, reflecting, refracting play about trauma, God, patterns, and the way they live in our bodies, our minds, and acts of love."
A Pedestrian's Recent History of Dallas by Zac Crain
Deep Vellum | December 2020
This collection of photographs, "taken on phones and during lunch breaks, show Dallas from a human perspective."
The Nancy Reagan Collection by Maxe Crandall
Futurepoem | April 2020
Miguel Gutierrez calls this performance novel "a virtuosic experiment where the all too harrowing reality of the Reagan era and its discontents (AIDS, Iran-Contra, the beginning of the end of the progressive American dream) meets a phantasmagorical interlocution with its strangest protagonist—Nancy Reagan."
The King's Highway by Dicus
Baobab Press | February 2020
In The King's Highway, "cartoonist-philosopher Dicus notes with a scrupulous gaze, wry wit, a touch of empathy, and a whole lot of honesty just where he has been and what he has seen on his journeys."
Blackspace: On the Poetics of an Afrofuture by Anaïs Duplan
Black Ocean | October 2020
Through this series of researched lyric essays, interviews, and ekphrastic poetry, Duplan explores "the aesthetic strategies used by experimental artists of color since the 1960s to pursue liberatory possibility."  
An Excess of Quiet: Selected Sketches by Gustavo Ojeda, 1979–1989
Soberscove | November 2020
Edited by Gabriel Ojeda-Sagué and Erich Kessel Jr., this art collection presents over 200 sketches from Cuban American painter Gustavo Ojeda "that demonstrate the artist's rigorous commitment to his craft."
Mad World, Mad Kings, Mad Composition by Lisa Fishman
Wave Books | August 2020
This hybrid work of lyric, prose, and visual forms "moves between observational directness and maddened speech, places and persons, humor and alarm."
Long Story Short: Turning Famous Books Into Cartoons by Mr. Fish and Friends
Akashic Books | July 2020
This collection of cartoons, illustrations, and paintings condenses "the complicated narratives of famous books into one-page works of art."
Grieving: Dispatches from a Wounded Country by Cristina Rivera Garza
Feminist Press | October 2020
Translated from the Spanish by Sarah Booker, Grieving is a "hybrid collection of short crónicas, journalism, and personal essays on systemic violence in contemporary Mexico and along the US-Mexico border."
Island of the Innocent: A Consideration of the Book of Job by Diane Glancy
Turtle Point Press | October 2020
According to The New York Times Book Review, Glancy "uses poetry and prose to filter the Book of Job through the stories of Native Americans and other marginalized groups."
Ballroom Harry: Volume II by Harry Goaz
Deep Vellum | November 2020
This new photography collection "picks up the trail of actor-artist Harry Goaz as he's reprised his infamous role on David Lynch's Twin Peaks."
Capital by Mark Hage
A Public Space | December 2020
This photo essay on New York City "reframes the story of gentrification in a meditation on vestiges and accidental composition."
Haus Red Vol. 3
literaturhaus | March 2020
Vol. 3 features Fox by Dubravka Ugrešić from Open Letter Books—winner of the 2016 Neustadt International Prize for Literature—which blurs the line between fiction and essay, as well as several related interviews and a critical essay by Alicia Kennedy.
Wild Peach by S*an D. Henry-Smith
Futurepoem Books | September 2020
This poetry- and photography-based project is "a multisensory roaming of landscape and interior, often (but not always) in near stillness and varying light."
Perfidia by Sky Hopinka
Wendy's Subway & CCS Bard | September 2020
Edited by Julie Niemi, Perfidia is a collection of poetic writings by filmmaker Sky Hopinka; "each brief text swirls together to form an image of multiple landscapes that bid us remember: the past has come and gone, and the future is told through traces of nostalgic lore."
Vibratory Milieu by Carrie Hunter
Nightboat Books | October 2020
Hunter's work of lyric collage is "a study of identity and its abstraction, formation, and analysis through interaction with texts of all kinds: poems, film, music, dream, and friendship." 
The Disappearing Ox by Lewis Hyde
Copper Canyon Press | September 2020
Created in collaboration with painter Max Gimblett, this poetry collection is "a modern American version of the twelfth-century Chinese 'Oxherding Series' that combines Chinese text, visual art, and multiple English translations."
Frog Pond Splash by Ray Johnson & William S. Wilson
Siglio Press | November 2020
This juxtaposition of work by Ray Johnson and William S. Wilson "intends to suspend and magnify their relationship as well as provide an intimate portrait of the fractured, disappearing Johnson that only Wilson could render, through an also diffuse lens."
Neighbor by Rachel Levitsky
Ugly Duckling Presse | January 2020
In this play, the "mutable, shifty narrator alternately reifies and attempts to refuse the constricting, separating, culture-load bearing wall between lovers and neighbors."
Severed by Ignacio Lopez
53rd State Press | October 2020
This monologue, which weaves together the voice of the narrator and that of serial killer Jeffrey Dahmer, is "at once a coming-of-age story, a horror story, and a highly theatrical experiment in radical empathy."
Memory by Bernadette Mayer
Siglio Press | 2020
Combining images and text from the early 1970s into book form for the first time, Memory is a "conceptual work that investigates the nature of memory, its surfaces, textures and material."
The Shore by Chris Nealon
Wave Books | 2020
This collection of five poem-essays "give space and voice to the complexity of contemporary life, admitting bafflement and dismay but also creating openings for indiscreet hope."
Rotalever Revelator by Doug Nufer
Sagging Meniscus | September 2020
Featuring art by James Siena, Rotalever Revelator is "a book made from words that spell other words backwards: a giant palindrome that contains poems about geography, dams, swamps, celebrities, eponyms, and the news."
Soviet Texts by Dmitri Alexandrovich Prigov
Ugly Duckling Presse | February 2020
Translated by Simon Schuchat and Ainsley Morse, this collection includes " short stories about amazing heroes of the revolution and after, and poetic sequences that expose literature, history, and culture to the stark light of a post-modern Gogolian laughter."
The Hatchet and the Hammer by Caitlin Scarano
Ricochet Editions | March 2020
"Part long poem, part essay in fragments, about real and imagined violence," this chapbook looks at three intersecting traumas.
The New World by Kelly Schirmann
Black Ocean | October 2020
Schirmann's hybrid collection of poetry and prose "follows the attempts, failures, and re-attempts at understanding and articulating an era of immense social upheaval, political corruption, and environmental consequence."
The Miraculous, Sometimes by Meg Shevenock
Conduit Books | March 2020
The winner of the Marystina Santiestevan First Book Prize, this hybrid poetry collection is, according to judge Bob Hicok, "a beautiful meditation on the experience and purpose of art, a demonstration that we live our aesthetics."
Instrument by Dao Strom
Fonograf Editions | November 2020
Dao Strom's Instrument is "an experiment in multimodal poetics—inhabiting a synergistic blend of poetry, music, and visual art: the artist's three forms of 'voice.'"
The Purpose of Things by Peter Serchuk and Pieter de Koninck
Regal House Publishing | July 2020
This collaboration between poet Peter Serchuk and photographer Pieter de Koninck pairs "fresh language and images to create a landscape of new possibilities filled with insight and humor."
Popol Vuh: A Retelling by Ilan Stavans
Restless Books | October 2020
Illustrated by Gabriela Larios and introduced by Homero Aridjis, this is "an inspired and urgent prose retelling of the Maya myth of creation."
Photostats by Felix Gonzalez-Torres
Siglio Press | November 2020
Featuring writing by Mónica de la Torre and Ann Lauterbach, Photostats is "a series of fixed works with white serif text on black fields framed behind glass to create a reflective surface."
The World's Worst: A Guide to the Portsmouth Sinfonia edited by Christopher M. Reeves and Aaron Walker
Soberscove Press | May 2020
This collection of archival documents "examines the founding tenets, organizing principles, and collective memories of the Sinfonia, whose reputation as 'the world's worst orchestra' underplays its unique accomplishment as a populist avant-garde project."
All the Useless Things are Mine: A Book of Seventeens by Thomas Walton
Sagging Meniscus Press | July 2020
This book of seventeen-word sentences, illustrated by Douglas Miller, is "lofty and lowly… wildly imaginative and strangely intimate."
Anthologies & Collecteds
22 Under 22
Flexible Press | December 2020
Edited by Emma Harrington, Madelaine Formica, Abby Doty, and Kayla Gray, this anthology features "fiction, essay, and poetry by 22 people under the age of 22 speaking up about what they believe, what they want, and what keeps them going."
Accolades: A Woman Who Submit Anthology
Jamii Publishing | 2020
This anthology celebrates the submissions, acceptances, and publications by members of the organization Women Who Submit, which encourages and empowers women and nonbinary writers to share resources and submit their work.
Accra Noir
Akashic Books | December 2020
This installment in the Akashic Noir series—edited by Nana-Ama Danquah—features stories by Nana Ekua Brew-Hammond, Kwame Dawes, and more, all set in the capital of Ghana.
Addis Ababa Noir
Akashic Books | August 2020
Edited by Maaza Mengiste, this anthology of original noir stories explores "the wonderful, intriguing, vexing complexities of Addis Ababa."
And We Came Outside and Saw the Stars Again
Restless Books | August 2020
In this anthology edited by Ilan Stavans, "dozens of esteemed writers, poets, artists, and translators from more than thirty countries send literary dispatches from life during the pandemic."
Belgrade Noir
Akashic Books | December 2020
Edited by Milorad Ivanović, this installment in the Akashic Noir series features all new stories, each one set in a distinct neighborhood or location within Belgrade.
Berkeley Noir edited by Jerry Thompson and Owen Hill
Akashic Books | May 2020
This anthology of original noir set in Berkeley features short fiction by Barry Gifford, Kimn Neilson, Aya de León, and others.
The Best of Brevity: Twenty Groundbreaking Years of Flash Nonfiction
Rose Metal Press | November 2020
Edited by Zoë Bossiere and Dinty W. Moore, this anthology features selections from twenty years of Brevity: A Journal of Concise Literary Nonfiction.
Treason: A Sallie Bingham Reader by Sallie Bingham
Sarabande Books | August 2020
This collection of fiction and drama from across Bingham's career "showcases the range of a writer at the height of her powers."
Avant Desire: A Nicole Brossard Reader by Nicole Brossard
Coach House Books | 2020
Edited by Sina Queryas and Erin Wunker, this collection traces "Brossard's fusion of lesbian feminist desire with innovation, experimentation, and activism, emphasizing the more overtly political nature of her early work and its transition into performative thinking."
100 Cassettes by Dennis Callaci
Pelekinesis | February 2020
This book, which began as one hundred hand-drawn cassette covers for an art installation, "winds around autobiographical information, the rich culture of Southern California from 1619 to the present day, and all music points in between."
Emergency INDEX: An Annual Document of Performance Practice, Vol. 9
Ugly Duckling Presse | December 15, 2020
Edited by Zoe Guttenplan, this collection documents a year of performance practice and "reveals the breathtaking variety of practices used in performance work today."
Escape Wheel
great weather for MEDIA | August 2020
great weather for MEDIA's annual anthology features poetry and fiction alongside an interview with Cornelius Eady.
Four Quartets: Poetry in the Pandemic
Tupelo Press | November 2020
The poets featured in this anthology—edited by Kristina Marie Darling and Jeffrey Levine—"bear powerful witness to the COVID-19 pandemic in writing that reels from collective grief and uncertainty."
Fury: Women's Lived Experiences During the Trump Era
Regal House Publishing | March 2020
Edited by Amy Roost and Alissa Hirshfield, this anthology "brings together a diverse community of women who reveal the impact Donald Trump's behavior, words, and presidency has had on each one of them, how each is confronting the problem, and how she is fighting back."
The Gary Anthology
Belt Publishing | September 2020
Edited by Samuel Love, this collection of work from and about Gary, Indiana, "complicates standard narratives about steel, violence, and urban decay, and offers readers the chance to hear from those who are reshaping the city from the bottom up." 
Goodness
Wising Up Press | December 2020
The forty-three writers included in this anthology—edited by Charles Brockett and Heather Tosteson—consider "goodness in such difficult social realities as homelessness, imprisonment, and more intimate ones like illness, families, marriage, aging."
Haus Red Volume 4
Literaturhaus | September 2020
The latest volume from Literaturehaus features interviews and essays with various contributors.
How We Go Home: Voices from Indigenous North America
Haymarket Books | October 2020
Edited by Sara Sinclair, this anthology "shares contemporary Indigenous stories in the long and ongoing fight to protect Native land and life."
How Yiddish Changed America and How America Changed Yiddish
Restless Books | January 2020
Edited by Ilan Stavans and Josh Lambert, this is a "momentous and diverse anthology of the influences and inspirations of Yiddish voices in America—radical, dangerous, and seductive, but also sweet, generous, and full of life."
I Love Myself When I Am Laughing by Zora Neale Hurston
Feminist Press | 2020
Feminist Press has recently reissued this classic anthology of Hurston's writing, edited and with a new note by Alice Walker and featuring an introduction by Mary Helen Washington. The Washington Post Book Review says, "This well-made collection of her work… should give momentum to the rediscovery of Hurston as 'the intellectual and spiritual foremother of a generation of black women writers.'"
The Louisville Anthology
Belt Publishing | September 2020
This collection of essays and poems "offers locals and visitors a closer look at compelling private and public spaces in an attempt to articulate what defines Louisville beyond—but also inclusive of—its most recognized cultural exports."
Marking the Occasion
Wendy's Subway | December 1, 2020
Edited by Jaime Shearn Coan and Tara Aisha Willis, this collection gathers archival materials from residents of the 2019 Watershed Residency at Mount Tremper Arts. 
Miami Noir: The Classics by Les Standiford
Akashic Books | November 2020
The latest noir anthology from Akashic Books "highlights an outstanding tradition of legendary writers exploring the dark side of paradise."
The Nicotine Chronicles
Akashic Books | September 2020
Edited by Lee Child, this collection of stories about smoking features new work from Joyce Carol Oates, Hannah Tinti, Christopher Sorrentino, and more.
Tampa Bay Noir
Akashic Books | August 2020
Edited by Colette Bancroft, this anthology features "all new stories, each one set in a distinct location" in Tampa Bay, Florida.
Yi Sang: Selected Works by Yi Sang
Wave Books | September 2020
Edited by Don Mee Choi and translated by Jack Jung, Don Mee Choi, Sawako Nakayasu, and Joyelle McSweeney, this selection of poems, stories, and essays by "one of the great revolutionary legacies of modern Korean literature" is a "visionary and daring response to personal and national trauma."
We Want It All: An Anthology of Radical Trans Poetics
Nightboat Books | October 2020
Edited by Andrea Abi-Karam and Kay Gabriel, this anthology features "poems that pursue the particular and multiple trans relationships to desire, embodiment, housing, sex, ecology, history, pop culture, and the working day."
Children & Young Adult Books
The Thousand Steps by Helen Brain
Catalyst Press | January 2020
Set in a futuristic Cape Town, the first book in Brian's dystopian fantasy series for young adults follows a teenager who "discovers that she's the heiress to a massive fortune—and an ancient prophecy to save the human race."
Here Comes Lolo by Niki Daly
Catalyst Press | May 2020
This collection of three easy-to-read stories for beginning readers follows "Lolo, a curious, fun-loving, adventurous a girl living in South Africa with her mother and grandmother."
Small Mercies by Bridget Krone
Catalyst Press | February 2020
This middle-grade novel follows Mercy, who lives in Pietermaritzburg, South Africa with her foster aunts; "when developers start eyeing the house just as her Aunt Flora's health begins to worsen, Mercy feels like her life is falling apart."
David Tung Can't Have A Girlfriend Until He Gets Into An Ivy League College by Ed Lin
Kaya Press | September 2020
Lin's first novel written for young adults is "a heartfelt and hilarious look into the complexities of being Asian American."
LyricPop: A New Picture Book Series
Akashic Books | June 2020
This new series of children's picture books presents famous song lyrics—including Good Vibrations by Mike Love and Brian Wilson, African by Peter Tosh, Don't Stop by Christine McVie, and We're Not Gonna Take It by Dee Snider—illustrated for young readers.
Ellie's Voice by Piret Raud
Restless Books | August 2020
Translated from the Estonian by Adam Cullen, this children's book is "a touching and profound tale of friendship, differences, and acceptance."
Girls Lost by Jessica Schiefauer
Deep Vellum | March 2020
Translated from the Swedish by Saskia Vogel and the recipient of Sweden's most prestigious literary prize for young readers, this novel follows three teenage girls in a dark exploration of magic and gender.
Cane Warriors by Alex Wheatle
Akashic Books / Black Sheep | October 2020
This novel for young adults follows a fourteen-year-old boy "caught up in the most significant slave rebellion in Jamaican history, paying homage to freedom fighters all over the world."