Throughout 2021, CLMP has been gathering monthly lists of the books forthcoming from our member presses. We're excited to share this year-end roundup of dozens of nonfiction books published in 2021 by independent literary publishers! Browse below for memoirs, essay collections, and other works of nonfiction, and read our year-end roundups for fiction, poetry, and other genres as well!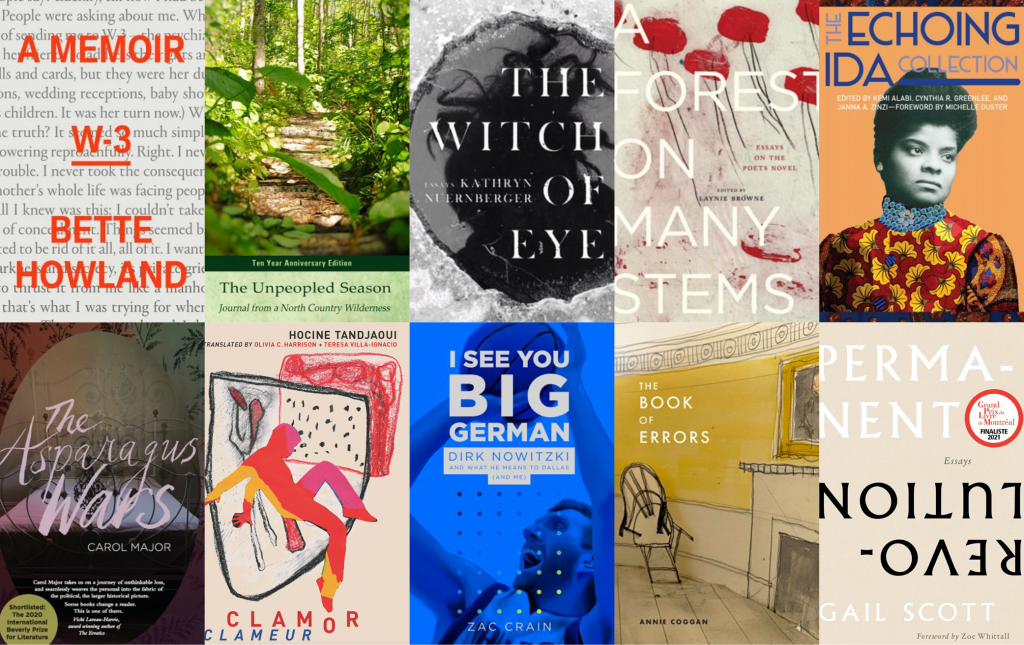 Memoir
Planet Claire: Suite for Cello and Sad-Eyed Lovers by Jeff Porter
Akashic Books / Gracie Belle | January 5, 2021
Porter's memoir about his wife's death "challenges the traditional solemnity that characterizes nonfiction books of grief, loss, and sorrow."
W-3: A Memoir by Bette Howland
A Public Space Books | January 12, 2021
First published in 1974, Howland's groundbreaking memoir is "an extraordinary portrait of the community of Ward 3, the psychiatric wing of the Chicago hospital where she was admitted."
Bestiality of the Involved by Spring Ulmer
Etruscan Press | February 9, 2021
Ulmer's debut memoir asks the question, "What does it mean to want to become a mother as children around the world die of treatable diseases, are killed by bomb or bullet, are held in cages?"
Who's Your Daddy by Arisa White
Augury Books | March 1, 2021
White's memoir is "a lyrical, genre-bending coming-of-age tale featuring a queer, Black, Guyanese American woman who, while seeking to define her own place in the world, negotiates an estranged relationship with her father."
Execute the Office: Essays with Presidents by Colin Rafferty
Baobab Press | March 2, 2021
In this essay collection, Rafferty " uses lyric prose and formal invention to explore the humanity, or lack thereof, that thrived in each of the forty-five American presidents."
The Communicating Vessels by Friederike Mayröcker 
A Public Space Books | March 2, 2021
Translated by Alexander Booth, The Communicating Vessels is "an intensely personal book of mourning, comprised of 140 entries spanning the course of a year and exploring everyday life in the immediate aftermath" of Ernst Jandl's death.
Unnatural Selection: A Memoir of Adoption and Wilderness by Andrea Ross
CavanKerry Press | March 2, 2021
In this memoir, Ross explores her own adoption and how she "grew up inhabiting two ecosystems: one was her tangible, adoptive family; the other her birth family, whose mysterious landscape was hidden from her."
My Disappearing West by Jesse Sensibar
Tolsun Books | March 9, 2021
The prose vignettes in Jesse Sensibar's memoir "illuminate a personal narrative of making ends meet in the Sonoran Desert."
This I Can Tell You by Brandi Spering
Perennial Press | March 21, 2021
According to Thea Matthews, this debut memoir "chronicles an intimate recollection of familial history, and a reconstruction of self in the aftermath of homicide."
Clamor by Hocine Tandjaoui
Litmus Press | April 19, 2021
Translated from the French by Olivia C. Harrison and Teresa Villa-Ignacio, this memoir is "a gripping testimonial to the transnational solidarities forged across the decolonizing world in the 1950s and 60s."
They Better Call Me Sugar: My Journey from the Hood to the Hardwood by Sugar Rodgers
Akashic Books | May 4, 2021
In this memoir, Sugar Rodgers "shares her inspiring story of overcoming tremendous odds to become an all-star in the WNBA."
Wait for God to Notice by Sari Fordham
Etruscan Press | May 11, 2021
According to Phillip Lopate, "This gripping, astutely written memoir of adventures and misadventures is also a very moving story of a mother-daughter relationship."
Black Box Poetics by Kendall Johnson
Bamboo Dart Press | June 10, 2021
According to John Brantingham, Black Box Poetics "explores the worst moments of a life and draws us forward into a world where even after one has been shown darkness, light is possible."
Distant Fathers by Marina Jarre
New Vessel Press | June 22, 2021
According to Vivian Gornick, Jarre's book—translated by Ann Goldstein—is "a beautifully ingenious memoir, saturated in the history of the European 20th century, and made all the more compelling by Ann Goldstein's luminous translation."
Antiman: A Hybrid Memoir by Rajiv Mohabir
Restless Books | June 22, 2021
Winner of the Restless Books Prize for New Immigrant Writing, Mohabir's memoir is "a portrait of an artist who comes into his own as a poet and as a queer brown man through the songs of his unlettered grandmother" that asks "how we can find survival and collective power by refusing silence."
The Unpeopled Season: Journal from a North Country Wilderness by Daniel J. Rice
Riverfeet Press | July 2, 2021
Published in a tenth anniversary edition, The Unpeopled Season is a daily record of the four months the author spent in isolation in the northern woods of Minnesota.
Farm Girl by Megan Baxter
Green Writers Press | July 15, 2021
According to Jodi Picoult, this book is a "startlingly lovely memoir about how things die, how things grow, and how we reap what we sow."
How to Walk with Steve by Robert Fromberg
Latah Books | September 7, 2021
According to Patricia Eakins, Fromberg's "poignant memoir details the painful ordinariness of misery—even for the bright scion of an artistic family."
Girlz 'n the Hood by Mary Hill-Wagner
Regal House Publishing | September 25, 2021
This memoir is "the unsentimental, moving, and surprisingly humorous account of a girl and her ten siblings who grew up in one of the roughest neighborhoods in Los Angeles."
The Asparagus Wars by Carol Major
Spineless Wonders | October 1, 2021
Shortlisted for the 2020 International Beverly Prize for Literature, this debut is "a deeply moving memoir about the battles waged against terminal illness and a mother's struggle to comprehend the battlefield in its wake."
My Love Is a Beast: Confessions by Alexander Cheves
Unbound Edition Press | October 12, 2021
In this debut memoir, one of America's leading sex columnists "tells intimate stories of what he sees as the sacred grace of pleasure as he embraces his life as a sex writer, worker, and activist."
American Bastard by Jan Beatty
Red Hen Press | October 19, 2021
In this memoir Beatty "writes through complete erasure: loss of name and history, and a culture based on the currency of gratitude as expected payment from the adoptee."
The Book of Timothy: The Devil, My Brother, and Me by Joan Nockels Wilson
Red Hen Press | November 9, 2021
This memoir "recounts in lyric movements a sister's journey, partly through trickery, but eventually through truth, to gain a long-absent admission from the priest who abused her brother."
Invitation to Intimacy: What the Marriage of Two Couples Therapists Reveals About Risk, Transformation, and the Astonishing Healing Power of Intimacy by Judy Tiesel-Jensen 
Et Alia Press | November 16, 2021
This memoir follows the marriage of two couples therapists, beginning "with a husband's dramatic diagnosis and weaves marital flashbacks and counseling sessions into the progression of his disease."
Essays
I See You Big German by Zac Crain
Deep Vellum | February 9, 2021
This lyric essay "follows Dallas Mavericks star player Nowitzki's 21-year career, charting the highs and lows of his career and what he means to the city of Dallas."
The Witch of Eye by Kathryn Nuernberger
Sarabande Books | February 16, 2021
According to V. V. Ganeshananthan, in this essay collection Nuernberger "stitches histories and hexes together, elegantly tracing the threads between how we talk about violence, nature, industry, and culture."
Within These Woods by Timothy Goodwin
Riverfeet Press | February 22, 2021
In this illustrated series of nature essays, Goodwin "guides the reader on a personal and educational journey through the Northwoods of the Great Lakes Region."
Nemerov's Door: Essays by Robert Wrigley
Tupelo Press | April 1, 2021
This essay collection is "the story of a distinguished and widely celebrated poet's development, via episodes from his life, and via his examinations of some of the poets whose work has helped to shape his own."
Begin by Telling by Meg Remy
Book*hug Press | April 21, 2021
This book of illustrated lyric essays by a pop sensation "paints a stark portrait of a spectacle-driven country."
M/W: An Essay on Jean Eustache's La maman et la putain by Matt Longabucco
Ugly Duckling Presse | May 1, 2021
This book-length essay reckons with director Jean Eustache's "document of political bitterness and romantic catastrophe from the standpoint of our own vexed present in which the unfulfilled legacies of the Left and the sexual revolution still haunt our hopes and darken our horizons."
The Stranger I Become: On Walking, Looking, and Writing by Katharine Coles
Turtle Point Press | May 11, 2021
This collection of lyric essays "probes the permeable boundary between inner life and outer, thought and action, science and experience."
Permanent Revolution by Gail Scott
Book*hug Press | May 25, 2021
These new essays, alongside a recreation of Scott's text Spaces Like Stairs, "provide an evolutionary snapshot of Scott's ongoing prose experiment that hinges the matter of writing to ongoing social upheaval."
Guard the Mysteries by Cedar Sigo
Wave Books | June 1, 2021
In this compendium of five talks for the Bagley Wright lecture series, Sigo "plumbs the particulars of modern critique, identity politics, early influences, and poetic form to produce a singular 'autobiography of voice.'"
Green Green Green by Gillian Osborne
Nightboat Books | June 15, 2021
In these essays, Osborne "draws on a poetic and scientific archive spanning from the late eighteenth century to the present to explore contemporary meanings of green."
A Forest on Many Stems: Essays on the Poet's Novel
Nightboat Books | July 20, 2021
Edited by Laynie Browne, this collection includes original essays "written by contemporary poets about the innovative and unforgettable novels written by their predecessors."
Getting to the Truth: The Craft and Practice of Creative Nonfiction
Books by Hippocampus | August 1, 2021
This collection of craft essays, edited by Rae Pagliarulo and Donna Talarico, offers thoughtful insights from some of the speakers from HippoCamp: A Conference for Creative Nonfiction Writers.
The Whole Alphabet: The Light And the Dark
So Say We All | August 1, 2021
In this anthology of essays, "a collection of brave and creative authors from across America delve into their most personal experiences to deliver unexpected and original shots to the heart."
Unstrung: Rants and Stories of a Noise Guitarist by Marc Ribot
Akashic Books | August 3, 2021
In this debut collection of essays and stories, the iconic guitarist "playfully interrogates our assumptions about music, life, and death."
Paper Concert: A Conversation in the Round by Amy Wright
Sarabande Books | August 3, 2021
According to the author, this essay "weaves a decades-plus-worth of questions and answers from a range of discussions I've had with artists, activists, scientists, philosophers, physicians, priests, musicians, and other representatives of the human population."
Portrait of a Deputy Public Defender (or, how I became a punk rock lawyer) by Juanita E. Mantz
Bamboo Dart Press | August 10, 2021
This multi-genre chapbook of memoir pieces, social justice essays, and poetry "describes the author's love of punk rock and her quest to challenge the system of mass incarceration as a deputy public defender."
The Book of Errors by Annie Coggan
A Public Space Books | August 24, 2021
This collection of three illustrated essays examines "the preservation of three historic houses–and the layered, messy process of reconstructing our past and reimagining history."
All Who Belong May Enter by Nicholas Ward
Autumn House Press | October 28, 2021
The essays in this debut collection "examine whiteness, masculinity, and a Midwest upbringing through tales of sporting events, parties, posh (and not-so-posh) restaurant jobs, and the many relationships built and lost along the way."
The Collected Essays by Mary Butts
McPherson & Company | December 1, 2021
The Collected Essays is "the latest addition to an ongoing project to bring almost all of Mary Butts's writings into print," featuring essays and literary reviews mostly written by Butts between 1932 and 1937.
Journey to Mount Tamalpais by Etel Adnan
Litmus Press | December 1, 2021
This second edition, with nine new drawings by Etel Adnan was originally published in 1986 and "is at once a deep study and a love letter of and to a mountain."
Milongas by Edgardo Cozarinsky
Archipelago Books | December 7, 2021
Translated by Valerie Miles, this essay collection is a "love letter to tango, and the diverse array of people who give it life."
How I Married Michele by Gary Gildner
BkMk Press | December 7, 2021
According to Maureen McCoy, in these fifteen personal essays Gildner "engages this world with both a storyteller's and a poet's heart."
Epiphany of a Middle-Aged Pilgrim, Essays in lieu of a Memoir by Peter Wortsman
Pelekinesis | December 10, 2021
In his short personal essays, Wortsman considers "childhood fear, chronic insomnia, ironing a shirt, getting a haircut, having a skin cancer removed, travel at home and abroad," and more.
Nonfiction
The Echoing Ida Collection
Feminist Press | January 12, 2021
Edited by Cynthia R. Greenlee, Kemi Alabi, and Janna A. Zinzi, this book features community reporting from a writing collective of Black women and nonbinary writers, covering "reproductive justice and abortion politics; new and necessary definitions of family; trans visibility; stigma against Black motherhood; Black mental health; and more."
By Bus by Erica Van Horn
Ugly Duckling Presse | March 1, 2021
According to Ross Hair, By Bus is "a compelling panorama of modern life as it is witnessed among the rhythms, odors, phone conversations, and evanescent idiosyncrasies of the bus journey."
On Time and Water by Andri Snær Magnason
Open Letter Books | March 16, 2021
Translated from the Icelandic by Lytton Smith, Magnason's book "is a rich and compelling work of narrative nonfiction that illustrates the reality of climate change—and offers hope in the face of an uncertain future."
Truman Capote's In Cold Blood: Bookmarked by Justin St. Germain
Ig Publishing | March 16, 2021
In the latest volume in Ig Publishing's Bookmarked series, Justin St. Germain "writes about a trip he took to Holcomb, Kansas, the site of the Clutter murders In Cold Blood claims to be about.
Black Manhattan by James Weldon Johnson
Ig Publishing | April 6, 2021
Originally published in 1930, and now back in print with a foreword by Zadie Smith, Black Manhattan "traces the black experience in New York City from the earliest settlements in Chatham Square during the pre-Revolutionary War period to the triumphant achievements of the Harlem Renaissance."
Journey to Russia by Miroslav Krleža
Sandorf Passage | April 20, 2021
In this travelogue originally published in 1926 and translated by Will Firth, Krleža's "reportage of mass demonstrations and jubilant Orthodox Easter celebrations is informed by his preoccupation with the political, social, and psychological complexities of his environment."
American Harvest by Marie Mutsuki Mockett
Graywolf Press | April 20, 2021
In American Harvest, Mockett follows "a group of evangelical wheat harvesters through the heartland as they follow the trail of ripening wheat from Texas to Idaho."
Honor Among Thieves: The Cinema of Jean-Pierre Melville by Andrew Dickos
Contra Mundum Press | May 5, 2021
In this book, Dickos profiles the life and influence of filmmaker Jean-Pierre Melville and "discusses his cinema as an essential body of work in our reckoning of postwar European cinema."
Parenting 4 Social Justice by Angela Berkfield
Green Writers Press | May 15, 2021
Written with cowriters Chrissy Colón Bradt, Leila Raven, Rowan Parker, Jaimie Lynn Kessell, and Abigail Healey, this book "discusses race, class, gender, disability, healing justice, and collective liberation, initiating age-appropriate and engaging conversations with kids about social justice issues."
Do Something for Nothing: Seeing Beneath the Surface of Homelessness through the Simple Act of a Haircut by Joshua Coombes
Akashic Books | May 18, 2021
In Coombes's debut book, "readers are taken on a geographical and emotional journey into the lives of humans experiencing homelessness in different cities across the world."
Swimming to the Top of the Tide by Patricia Hanlon
Bellevue Literary Press | June 8, 2021
In this book, Hanlon "bears witness to the vitality of the watersheds, their essential role in the natural world, and the responsibility of those who love them to contribute to their sustainability."
Our Endless and Proper Work: Starting (and Sticking to) Your Writing Practice by Ron Hogan
Belt Publishing | June 8, 2021
In this book, writer and editorial consultant Ron Hogan "helps readers develop an ongoing writing practice as an end in and of itself, not a means to publication."
Foucault in Warsaw by Remigiusz Ryziński
Open Letter Books | June 15, 2021
Nominated for the Nike Literary Award and translated by Sean Gasper Bye, Foucault in Warsaw "reconstructs a vibrant, engaging picture of gay life in Poland under communism—from the joys found in secret nightclubs, to the fears of not knowing who was a secret informant."
Migratory Birds by Mariana Oliver
Transit Books | June 22, 2021
In this installment of the Undelivered Lectures series, translated from the Spanish by Julia Sanches, Oliver "trains her gaze on migration in its many forms, moving between real cities and other more inaccessible territories."
False Memories of a Cape Cod Clam Shack by Joel Huschle
Bamboo Dart Press | June 25, 2021
False Memories of a Cape Cod Clam Shack is a collection of "notes, poems, past blog posts, and lyrics that explore the playful morbidities associated with daily existence."
Open Secrets: The Ultimate Guide to Marketing Your Book 
Tupelo Press | September 1, 2021
This handbook from an independent publisher "will prepare you to take the lead in executing your own publicity plan. It is designed to guide you, step-by-step, through the process of making a success of your book."
The Accommodation by Jim Schutze
Deep Vellum Publishing | September 7, 2021
Reissued with a new foreword by John Wiley Price, this classic of Dallas history "examines the violent and suppressed history of race and racism in the city, from slavery through the Civil Rights Movement, and the city's desegregation efforts in the 1950s and '60s."
Tolstoy Together: 85 Days of War and Peace with Yiyun Li by Yiyun Li
A Public Space | September 14, 2021
In Tolstoy Together: 85 Days of War and Peace, Yiyun Li "invites you to travel with her through Tolstoy's novel—and with fellow readers around the world who joined her for an online book club and an epic journey during a pandemic year."
Student Resistance in the Age of Chaos, Books 1 & 2 by Mark Edelman Boren
Seven Stories Press | September 21, 2021
This "all-encompassing history of today's global student activism movement" goes "continent by continent, country by country, to show us the contours of the new frontlines of resistance."
634 Ways to Kill Fidel by Fabián Escalante Font
Seven Stories Press | September 21, 2021
This book is "a disturbing portrait of how US tax dollars fund campaigns to stifle dissent and attempt to rupture movements in the Global South fighting for sovereignty, justice, self-determination, and ultimately a better world."
We Were There: The Third World Women's Alliance and the Second Wave by Patricia Romney
Feminist Press | October 12, 2021
"Interweaving oral history, scholarly and archival research, and first-person memoir," We Were There documents how the Third World Women's Alliance "shaped and defined second wave feminism."
The Ars Magna for the Manifold Dimensions of z by Neil de la Flor
JackLeg Press | October 15, 2021
"Through found (sometimes redacted text), memory, interviews and gorgeous speculation," de la Flor offers "a lovingly hybrid picture of Meta and the Danish Underground Resistance during the Holocaust."
Made-Up: A True Story of Beauty Culture under Late Capitalism by Daphné B. 
Coach House Books | October 19, 2021
Translated by Alex Manley, this book is a "nuanced, feminist, and deeply personal take on beauty culture and YouTube consumerism."
The Art of Revision: The Last Word by Peter Ho Davies
Graywolf Press | November 2, 2021
In this book, Davies addresses "the invisibility of revision—even though it's an essential part of the writing process, readers typically only see a final draft, leaving the practice shrouded in mystery."
The Clearing by JJJJJerome Ellis
Wendy's Subway | November 5, 2021
According to Claudia Rankine, this hybrid work is "a lyrical celebration of and inquiry into the intersections of blackness, music, and disabled speech; a restless interrogation of linear time; an intimate portrait of the author's real-time experience of his stutter; a baptism in syllable and sound; and a manuscript illuminated by The Stutter."
Mud Sweeter than Honey: Voices of Communist Albania by Margo Rejmer
Restless Books | November 16, 2021
Translated from the Polish by Zosia Krasodomska-Jones and Antonia Lloyd-Jones, this book is a "revelatory oral history of the people who suffered, rebelled, and survived under the dictatorship of Enver Hoxha in communist Albania."
Aftermath by Preti Taneja
Transit Books | November 30, 2021
In this installment of the Undelivered Lectures series, Taneja "interrogates the language of terror, trauma and grief; the fictions we believe and the voices we exclude."
After the Oracle by Shane Anderson
Deep Vellum | November 30, 2021
"Part memoir, part essay, and part chronicle of the greatest five-year stretch of a team in NBA history," After the Oracle "depicts the makes and misses of one expat trying to make a life worth living."
Conversations
Lace & Pyrite: Letters from Two Gardens by Ross Gay and Aimee Nezhukumatathil
Get Fresh Books Publishing  | April 1, 2021
Originally published by Organic Weapon Arts in 2014, Lace & Pyrite: Letters from Two Gardens "captures seasonal changes and life unfolding from the perspective of two gardens: Ross Gay and Aimee Nezhukumatathil."
Particle and Wave: A Conversation by Daniel Alexander Jones and Alexis Pauline Gumbs
53rd State Press | July 29, 2021
In this conversation, Jones and Gumbs "discuss love as a foundational principle of artistic practice and societal change."
TENSION : RUPTURE by Cutter Streeby and Michael Haight
Tupelo Press | August 1, 2021
According to Eduardo Corral, "the conversation between Michael Haight and Cutter Streeby is enthralling, bright with human excess and intimacies."
I embrace you with all my revolutionary fervor: Letters, 1947-1967 by Ernesto Che Guevara
Seven Stories Press | September 28, 2021
Edited by Maria del Carmen Ariet Garcia and Disamis Arcia Munoz, Guevara's letters in this collection "give us Che the son, the friend, the lover, the guerilla fighter, the political leader, the philosopher, the poet."