Throughout 2021, CLMP has been gathering monthly lists of the books forthcoming from our member presses. We're excited to share this year-end roundup of  books published in 2021 by independent literary publishers! Browse below for anthologies, dramas, art books, children's books, and a cookbook, and read our year-end roundups for fiction, poetry, and nonfiction as well!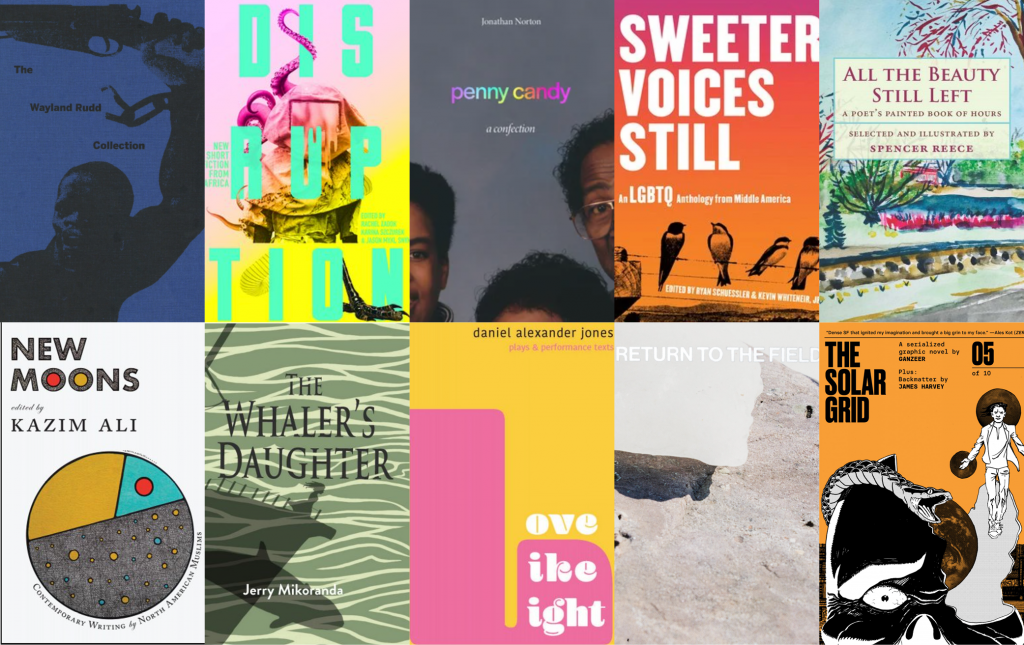 Anthologies
Sweeter Voices Still: An LGBTQ Anthology from Middle America
Belt Publishing | January 12, 2021
Edited by Ryan Schuessler and Kevin Whiteneir, Jr., this anthology features "queer voices" from "the middle of America—the Midwest, Appalachia, the Rust Belt, the Great Plains, the Upper South."
Speculative Los Angeles
Akashic Books  | February 2, 2021
Edited by Denise Hamilton, Speculative Los Angeles is the first installment in a "new city-based anthology series featuring all-new stories with speculative, sci-fi, and paranormal themes."
This is What America Looks Like
Washington Writers Publishing House  | February 2, 2021
Edited by Caroline Bock and Jona Colson, this "diverse, inclusive and incisive anthology" features work from 100 writers from Washington, D.C., Maryland, and Virginia.
Writing from the Broken Places
Slate Roof Press | March 31, 2021
Compiled by Jim Bell, this poetry anthology by people at the Northern Hope Recovery Center "bears witness to the dignity and struggle of those in recovery—and the courage of writers who write to live."
Divine Feminist Anthology
Get Fresh Books Publishing  | April 1, 2021
The poems in this anthology are, according to Marina Carreira, reminders "of all the brilliant and bold elements of our world, how every word and photograph capture the wild beauty and sacred darkness of existence."
Home is Where You Queer Your Heart
Foglifter Press | April 1, 2021
Edited by by Arisa White, Miah Jeffra, and Monique Mero-Williams, this anthology "explores the complex and varied meanings of 'home' through poetry and prose from LGBTQ+ authors around the country."
On the Mesa: An Anthology of Bolinas Writing (50th Anniversary Edition)
The Song Cave | April 1, 2021
In celebration of the anthology's 50th anniversary, The Song Cave presents an expanded edition of On the Mesa: An Anthology of Bolinas Writing, a gathering of poets, writers and artists living on or around the mesa in Bolinas, California.
If I Die Before I Wake: Tales of the Otherworldly and Undead
Sinister Smile Press | June 14, 2021
The fifth installment of the Better Off Dead series features stories about the otherworldly and undead from Renee M.P.T. Kray, Jeremy Megargee, Scotty Milder, and more.
The Silver Waves of Summer
Kelp Books | August 1, 2021
Edited by David M. Olsen, this anthology of short stories features work by Michael Scott Moore, Tod Goldberg, Naomi Hirahara, Charles Ardai, Antoine Wilson, Rob Roberge, and more.
Disruption: New Short Fiction from Africa
Catalyst Press | September 7, 2021
In this genre-spanning anthology edited by Jason Mykl Snyman, Karina M. Szczurek, and Rachel Zadok, "new and emerging writers from across Africa investigate many of the pressing issues of our time: climate change, pandemics, social upheaval, surveillance, and more."
A Very Irish Christmas
New Vessel Press | September 14, 2021
The sixth volume in the Very Christmas series "transports readers to the Emerald Isle with stories and poems sure to bring holiday cheer."
New Contexts: 2
Coverstory books | October 1, 2021
Edited by Ian Gouge, this anthology collects new prose and poetry by 47 writers from the United Kingdom, Australia, New Zealand, and the United States.
Queer As Fiction
Spineless Wonders | October 1, 2021
Edited by Quinn Eades, this collection of contemporary stories from the queer community "is about love, sex, and identity told through diverse stories from buying a double bed, meeting neighbourhood witches, and early morning swims."
Return to the Field
Wendy's Subway | October 5, 2021
This anthology "began as an invitation to consider questions of environment, affect, and mapping emotional and physical points of contact between the human and the landscape alongside visual artist Martha Tuttle and her collaborator and co-editor, poet Gabriel Kruis."
Truths We Tell: Stories From The Yarn Stage
Et Alia Press | October 12, 2021
In this collection curated by Hilary Trudell from The Yarn's first four years of production, storytellers "share powerful truths on diverse themes including family, racism, coming out, sexual assault, mental health, failure, resilience, death, and love."
Tongues: On Longing and Belonging Through Language
Book*hug Press | October 26, 2021
In this anthology of essays edited by Ayelet Tsabari, Eufemia Fantetti and Leonarda Carranza, 26 writers "explore their connection with language, accents, and vocabularies, and contend with the ways these can be used as both bridge and weapon."
The Feral Boy Who Lives in Griffith Park
Pelekinesis | November 13, 2021
Edited by Tim Kirk, the expanded second edition of this collection of stories that "span the decades of life in Los Angeles" features new short fiction from Annette Zilinskas, Matt Oswalt, and Hadley Meares.
New Moons: Contemporary Writing by North American Muslims
Red Hen Press | November 16, 2021
According to editor Kazim Ali, "The goal with this anthology is to represent that full range of contemporary expressions of Islam, as well as a full range of genres—poetry, fiction, essay, memoir, political writing, cultural writing, and of course plenty of texts which mix and match and blur all of these modes."
Joy Has a Sound: Black Sonic Visions
The 3rd Thing | November 16, 2021
Edited by Rachel Kessler and Elisheba Johnson, this anthology from Seattle's Wa Na Wari "is a poly-vocal, visually stunning answer to the question, What are the sounds of community and how they are handed down?"
Cookbook
Cooking As Though You Might Cook Again by Danny Licht
3 Hole Press | January 25, 2021
Licht's debut cookbook "invites us to cook with our senses and to work with the passage of time."
Art & Illustration
All the Beauty Still Left: A Poet's Painted Book of Hours by Spencer Reece
Turtle Point Press | April 6, 2021
Reece's latest book features "over 50 vibrant watercolors inspired by his life journeys and his reflections on faith."
The Solar Grid Issue #1 by Ganzeer
Radix Media | April 21, 2021
Part of the Graphic Narrative Collection, The Solar Grid will be serialized across ten saddle-stitched comics.
GLYPH: GRAPHIC POETRY=TRANS. SENSORY by Naoko Fujimoto
Tupelo Press | June 1, 2021
According to Gabrielle Bates, "By layering and arranging found art, original drawings, washi, photos, paint, and bits of leaf, Naoko Fujimoto has created a stunning contemporary emaki engaged with Japanese heritage, the horrors of war, and daughterhood."
Pickles Tails: The Hijinks of Muffin and Roscoe, Vol. 1 by Brian Crane
Baobab Press | September 7, 2021
Pickles Tails is Crane's first collection "dedicated to the beloved Pickles family pets, Roscoe and Muffin, and their wily ways."
The Go the Fuck to Sleep Box Set by Adam Mansbach
Akashic Books | October 5, 2021
This collectors' box set celebrates "a decade of profane, loving, and deeply cathartic children's books for adult."
The Wayland Rudd Collection by Yevgeniy Fiks
Ugly Duckling Presse | November 1, 2021
The Wayland Rudd Collection "presents artist Yevgeniy Fiks's archive of Soviet media images of Africans and African Americans—from propaganda posters to postage stamps—mainly related to African liberation movements and civil rights struggles."
Rip Tales: Jay DeFeo's Estocada and Other Pieces by Jordan Stein
Soberscove Press | December 7, 2021
This book traces the material history of a large-scale painting, "sharing previously unpublished archival material and contextualizing the work's evolution within DeFeo's artistic practice."
Children's Books
(Sittin' on) The Dock of the Bay by Otis Redding and Steve Cropper
Akashic Books | March 2, 2021
Otis Redding and Steve Cropper's "timeless ode to never-ending days is given fresh new life in this heartwarming picture book."
Humble and Kind by Lori McKenna
Akashic Books / LyricPop | March 2, 2021
Lori McKenna's "iconic song—as popularized by Tim McGraw—is the perfect basis for a picture book that celebrates family and togetherness."
Good Night, Earth by Linda Bondestam
Restless Books | April 27, 2021
Translated from the Swedish by Galit Hasan-Rokem, this new title from Restless Books for Young Readers "offers a charming peek at the many ways we settle in for sleep."
You're a Star, Lolo by Niki Daly
Catalyst Press | May 11, 2021
In the third book in the Lolo series for beginning readers, Lolo is "back for a whole new set of adventures."
The Rising Tide by Helen Brain
Catalyst Press | June 8, 2021
The second installment of the Fiery Spiral trilogy for young adult readers, this novel is "a dystopian fantasy that plays out on the shores of South Africa."
The Whaler's Daughter by Jerry Mikorenda
Regal House Publishing | July 24, 2021
This novel for young adults is, according to Karen Dionne, "a fascinating saga that takes place in a faraway place and time featuring a courageous and ambitious young heroine who aspires to more."
Sparks by David Michael Slater
Regal House Publishing | September 4, 2021
According to Alex Poppe, this YA novel "pushes the limits of creative imagination, illuminating what it means to be different in a world consumed with conformity."
Bebikaan-ezhwebiziwinan Nimkii: The Adventures of Nimkii by Stacie Sheldon
Hidden Timber Books |  September 7, 2021
This illustrated book shows children the world "through the joyful eyes of Nimkii, a fun, nature-loving dog who will teach them a whole new language: Ojibwemowin, a language spoken by the indigenous tribes in parts of Michigan, Ontario, northern Minnesota and Wisconsin, and Alberta."
The Moon's Tear: A Desert Night's Dream by Sophie Sheppard
Baobab Press | September 7, 2021
Illustrated by the author, this picture book "follows Raven in his journey to find a companion for the Moon, who is traveling alone across the empty night sky."
Pip Pip Toodle Doo by Lisa Sobiak
Baobab Press | September 7, 2021
Illustrated by Paula L. Robison, this picture book "follows Pinky the bird as she sings her playful song, dives through the clouds, and meets new friends."
Good Times Roll: A Children's Picture Book by Ric Ocasek
Akashic Books | October 5, 2021
Ric Ocasek's rock and roll classic "Good Times Roll" "leaps off the page in this exhilarating picture book."
How Did Humans Go Extinct? by Johnny Marciano
Akashic Books | October 19, 2021
In this children's book illustrated by Paul Hoppe, the young protagonist wonders what happened to humans, "those horrible, terrifying monsters who dominated the planet ten million years ago."
In the Meadow of Fantasies by Hadi Mohammadi
Elsewhere Editions | November 2, 2021
Translated from the Persian by Sara Khalili and illustrated by Nooshin Safakhoo, this "story about dreaming and about caring for others… will stir reveries in young readers and conjure new fantasies of friendly creatures in far off lands."
Paws and His Beautiful Day by Stephany Jenkins
Riverfeet Press | December 14, 2021
Paws is an illustrated children's book "meant to help parents, educators, therapists, and others teach children about emotions and big feelings."
Drama & Performance
Love Like Light: Plays and Performance Texts by Daniel Alexander Jones
53rd State Press | June 21, 2021
This collection of Jones's plays and performance texts "offers a panoramic view of Jones's shifting, glimmering, transformational body of work."
Booboo Roi by Marvin Cohen
Sagging Meniscus | September 15, 2021
Of this anti-theatrical adaptation of Alfred Jarry's Ubu Roi, Cohen writes, "I wrote this play as a compensation for being poor, more than half deaf, and growing up in Brooklyn with poor parents."
The 909 by Mark Givens and Joel Huschle
Bamboo Dart Press | October 15, 2021
The 909 is "a sci-fi script for a movie set in the near-future and taking the form of a reality documentary."
Kinderkrankenhaus by Jesi Bender
Sagging Meniscus | December 1, 2021
In this work of hybrid playwriting, Bender "explores neurodiversity, the pathologizing of difference, and the complexity of labels in a world where the unspeaking are seen as unthinking."
penny candy by Jonathan Norton
Deep Vellum | December 7, 2021
This play "follows one family as they seek to balance their responsibilities to their community and to one another."
ASTRS by Karinne Keithley Syers
53rd State Press | December 31, 2021
This pre-middle play by 53rd State's founding editor "is set in the 53rd State of the Union, zone of the sixth chrysanthemum."