We're thrilled to announce the winners of the 2019 FIRECRACKER AWARDS, given for the best self- and independently published books of fiction, creative nonfiction, and poetry and the best literary magazines in the categories of debut and general excellence. The winners were announced at our annual awards ceremony, held this year on June 5 at Poets House in New York City. At the ceremony, we also honored Tender Buttons, recipient of the third annual LORD NOSE AWARD, given in memory of Jonathan Williams, publisher of the legendary literary press The Jargon Society, in recognition of a lifetime of superlative small press publishing. Tender Buttons was founded in 1989 by poet Lee Ann Brown with the aim of publishing the best in experimental women's writing. CLMP Board Member David Wilk, presented the award.
2019 FIRECRACKER AWARDS WINNERS:
FICTION:  Little Fish by Casey Plett, published by Arsenal Pulp Press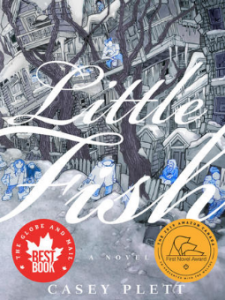 Arsenal Pulp Press, established in 1971 and located in Vancouver, Canada, publishes literature that engages and challenges readers, and that asks probing questions about the world. Genres include literary fiction and nonfiction, graphic novels, and children's and young adult titles, as well as books on social issues and gender studies and LGBTQ+ and BIPOC literature.
Casey Plett is the author of the novel Little Fish (Arsenal Pulp Press), winner of the 2019 Amazon Canada First Novel Award, and the Lambda Literary Award­­–winning story collection A Safe Girl to Love (Topside Press, 2014). She is also coeditor of the anthology Meanwhile, Elsewhere: Science Fiction and Fantasy from Transgender Writers (Topside Press, 2017). She lives in Windsor, Ontario, Canada.
From the Judges:
"In Little Fish, Casey Plett brings us fully into the world of her characters and lets us feel the fateful inevitability of their choices. Plett's protagonist, Wendy, is searching for a hidden trans lineage in her own family tree. This heroic quest is at once deeply private and an enormously helpful way to think about what it means for any of us to come of age and become heroes of our own lives."
CREATIVE NONFICTION: The Leftovers by Shaelyn Smith, published by Cleveland State University Poetry Center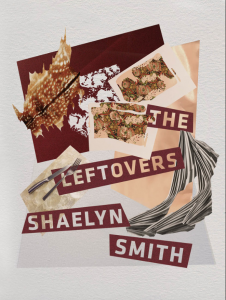 Cleveland State University Poetry Center was established in 1962 to promote poetry through readings and community outreach. In 1971, it expanded its mission to become a national nonprofit independent press under the auspices of the CSU Department of English and has since published over 200 titles. It currently publishes three to five books a year of poetry, essays, and works in translation, and runs the Lighthouse Reading Series in Cleveland. It also serves as an educational resource for students in the Northeast Ohio MFA program to learn literary editing and publishing through graduate assistantships and internships, and since 2018 has hosted the Anisfield-Wolf Fellowship in Writing and Publishing, which aims to promote diversity in literary publishing and programming.
Shaelyn Smith's The Leftovers was selected by Renee Gladman as the winner of Cleveland State University Poetry Center's 2017 Essay Collection Competition and was featured in "The Genre of Resistance: Debut Literary Nonfiction of 2018" in Poets & Writers Magazine. Smith's writing has been published in Essay Daily, storySouth, Sonora Review, The Rumpus, and Forklift, Ohio. She lives in Auburn, Alabama.
From the Judges:
"The strength and poignancy of Shaelyn Smith's The Leftovers rests in the work itself not being easily categorized. Emerging out of a critical engagement—one might even say a fixation—with Judy Chicago's iconic feminist art installation The Dinner Party housed at the Brooklyn Museum, The Leftovers encapsulates feminist testimony, art criticism, and personal discovery while rendering the visual as tactile and vivid. Smith goes well beyond asking who has been brought to the table and who has been left out—she erects platforms for voices and perspectives, both historical and contemporary, that speak to how historical recovery can also be a trap. The viewpoints she brings together offer universal truths held by individuals and community through a tightness in structure, voice, and overall composition. With prose that encourages a kind of infectious curiosity, Smith cracks open what writing about art can mean for how we read the world around us. The Leftovers is singularly engaging and as essential to our shelves as it is to our everyday dialogue."
POETRY: City of the Future by Sesshu Foster, published by Kaya Press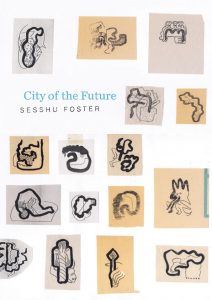 Kaya Press, founded in 1994, is a nonprofit publishing house run by a group of dedicated writers, artists, readers, and lovers of books working together to publish the most challenging, thoughtful, and provocative literature being produced throughout the Asian and Pacific Island diasporas. Now based in Los Angeles, Kaya Press continues to push boundaries by publishing literature, historically overlooked books from the Asian Diaspora, and books on art and film.
Sesshu Foster was raised in East Los Angeles and earned his MFA from the Iowa Writers' Workshop. Along with City of the Future, he is the author of the poetry collections World Ball Notebook (City Lights, 2009), which won an American Book Award and an Asian American Literary Award for Poetry, and City Terrace Field Manual (Kaya Press, 1996). He is also the author of the novel of speculative fiction Atomik Aztex (City Lights, 2005), which won the Believer Book Award. Foster has taught in East LA for 25 years as well as at the University of Iowa, the California Institute for the Arts, Naropa University's Jack Kerouac School of Disembodied Poetics, Pomona University, and the University of California, Santa Cruz. He lives in Los Angeles.
From the Judges:
"Sesshu Foster's City of the Future forces readers to rethink poetry, postcards, and the present by asking us to reimagine how we use language but also how language is used upon us. His work is one of utmost service. On a neighborly and communitarian level, Foster's work documents and challenges injustice. Beginning with 'in the infinite city,' the text builds image after image of sentient beings in "the city"—a space defined by its problematic (and dehumanizing) charge. City of the Future is part manifesto, part conversation/correspondence, and part elegy—this is a rare portrait of a space that is actively disappearing."
MAGAZINES/BEST DEBUT: Aster(ix)
Aster(ix) is a feminist literary arts journal based in Pittsburgh and New York City that is committed to social justice and translation, placing women of color at the center of the conversation. Available online, Aster(ix) also publishes a series of thematic print issues.
From the Judges:
"We are honored to award Aster(ix) the prize for Best Debut in Magazines. This refreshing new publication is striking, inspiring, and smartly visionary. The judges are impressed by the commitment to editorial excellence evident in the compelling content and clean design. Commendably, the journal's mission highlights generative experiment, recognizing the relationship between the creative interrogation of dominant discourse and effective social change. Moreover, leading the charge to nurture and publish works by artists and writers committed to social change with particular attention to works by women of color working on the margin of their discipline, Aster(ix) serves as a remarkable beacon for our times and beyond. This is an impactful and stunning debut, charting and accomplishing necessary work in the field."
MAGAZINES/GENERAL EXCELLENCE: ZYZZYVA
ZYZZYVA publishes three issues of fiction, nonfiction, poetry, and art each year. In every issue, the journal provides an overview of contemporary arts and letters, with a vibrant mix of established talents and new voices. The journal is dedicated to preserving room for discovery and experimentation, both through fostering emerging talents and by making space for established writers working in new forms. Though ZYZZYVA's purview is national (and beyond), its San Francisco roots shape the journal's perspective, and its longtime focus on highlighting West Coast writers and artists remains essential to its mission. In 2020, ZYZZYVA will celebrate 35 years of independent publishing.
From the Judges:
"We are honored to award San Francisco-based print publication ZYZZYVA the prize for General Excellence in Magazines. Since its founding in 1985, ZYZZYVA has been committed to publishing with care and curatorial verve all genres of literature—including poetry, fiction, nonfiction, and interviews—from writers known and emerging, as well as an impressive range of visual art.  Inclusive, equitable, and visionary, ZYZZYVA has impressed the judges with its unfailing standards of quality, scope, and its consistent contribution to and support of a broad spectrum of literature and literary conversation. They are an outstanding and longstanding example of the vital role of literary magazines and journals in the world."
2019 FIRECRACKER AWARDS FINALISTS:
FICTION
A Bright and Pleading Dagger by Nicole Rivas, published by Rose Metal Press
All Roads Lead to Blood by Bonnie Chau, published by Santa Fe Writers Project
Disoriental by Négar Djavadi, translated by Tina Kover, published by Europa Editions
Jonny Appleseed by Joshua Whitehead, published by Arsenal Pulp Press
Little Fish by Casey Plett, published by Arsenal Pulp Press
Mina by Kim Sagwa, translated by Bruce and Ju-Chan, published by Two Lines Press
Strawberry Fields by Hilary Plum, published by Fence Books
That Which Girls Conjure Will Help Them Survive by Kristen Stone, published by Guillotine
The Taiga Syndrome by Cristina Rivera Garza, translated by Suzanne Jill Levine and Aviva Kana, published by Dorothy, a publishing project
Trick by Domenico Starnone, translated by Jhumpa Lahiri, published by Europa Editions
CREATIVE NONFICTION
A Handbook of Disappointed Fate by Anne Boyer, published by Ugly Duckling Presse
An Imperfect Rapture by Kelly Beard, published by Zone 3 Press
Before They Left Us by Rosemary Ann Davis, self-published with Old Road Publishing
False Calm: A Journey Through the Ghost Towns of Patagonia by María Sonia Cristoff, translated by Katherine Silver, published by Transit Books
Letters from Max: A Book of Friendship by Sarah Ruhl and Max Ritvo, published by Milkweed Editions
Mating in Captivity: A Memoir by Helen Zuman, published with She Writes Press
To Float in the Space Between: A Life and Work in Conversation with the Life and Work of Etheridge Knight by Terrance Hayes, published by Wave Books
No Archive Will Restore You by Julietta Singh, published by Punctum Books
The Leftovers by Shaelyn Smith, published by Cleveland State University Poetry Center
POETRY
Baby, I Don't Care by Chelsey Minnis, published by Wave Books
Body & Glass by Rodney Koeneke, published by Wave Books
City of the Future by Sesshu Foster, published by Kaya Press
Crosslight for Youngbird by Asiya Wadud, published by Nightboat Books
Dissolve by Sherwin Bitsui, published by Copper Canyon Press
GOOD MORNING AMERICA I AM HUNGRY AND ON FIRE by jamie mortara, published by YesYes Books
Milk by Dorothea Lasky, published by Wave Books
Post Traumatic Hood Disorder by David Tomas Martinez, published by Sarabande Books
The Girls Are Coming Out of the Woods by Tishani Doshi, published by Copper Canyon Press
You Will Always Be Someone From Somewhere Else by Dao Strom, translated by Ly Thuy Nguyen, published by AJAR Press
MAGAZINES: BEST DEBUT
Aquifer: The Florida Review Online
Aster(ix) Journal
Full Bleed
Headway Quarterly
Poet's Country
The Arkansas International
The Bare Life Review
The Second Shelf: A Quarterly of Rare Books and Words by Women
Twyckenham Notes
Under a Warm Green Linden
MAGAZINES: GENERAL EXCELLENCE
Creative Nonfiction
Poetry
Raleigh Review
Sinister Wisdom
The Cincinnati Review
The Common
The Literary Review
Washington Square Review
Water~Stone Review
ZYZZYVA
Read more about the Firecracker Awards.
---