We spoke with Ronald Spatz, editor-in-chief and cofounder of Alaska Quarterly Review, in this installment of the CLMP Member Spotlight series.
What is the history behind Alaska Quarterly Review? When was it founded and what is its original mission?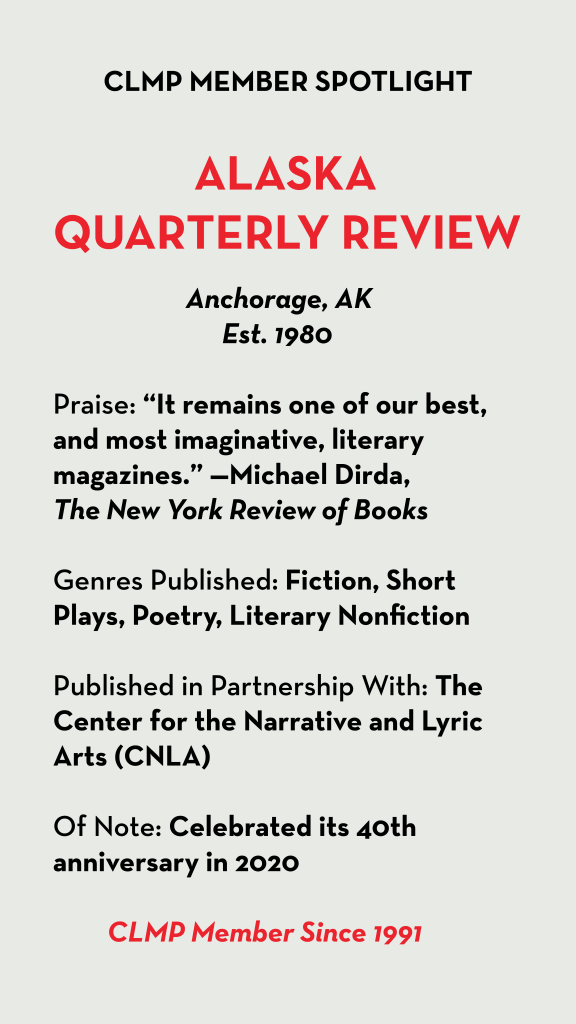 Alaska Quarterly Review (AQR) is a biannual literary journal that I cofounded in 1980 with a colleague, James Liszka. At that time, Alaska was quite isolated from the national or global literary community. Most of the state's activities, including publishing, were local and inward-facing. I felt strongly that in order to develop and build the literary community in Alaska, we needed to forge a national and global connection. With that as a framework, AQR's mission has always been to discover, nurture, and present eclectic and innovative literary works by a diverse range of new and emerging writers, as well as the noncommercial work of established writers. As an editor and publisher, I have always found it important to use the power of literary art to also promote empathy, truth, and learning in service of positive change.
Can you tell us about the Pièces de Résistance reading series?
Pièces de Résistance—which began on October 4, 2020, and will conclude on May 2, 2021—is a reading series celebrating AQR's 40th anniversary. In total, we will have hosted 21 free, live, online readings and conversations, featuring 60 exceptional and diverse poets and writers who have appeared in AQR. In French, pièce de résistance means a remarkable work. In this series we are proud to showcase remarkable works from a cross-section of the new, emerging, and established writers and poets we have published over the years. All of the events have been recorded and are available on the Alaska Quarterly Review YouTube channel.

Alaska Quarterly Review publishes both local and global writers; you have described it as "of Alaska but not Alaskan." Why is this emphasis on both regional and international work important?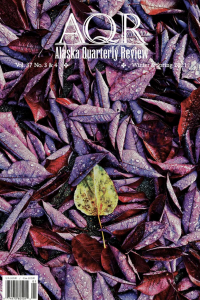 Yes, Alaska Quarterly Review is of Alaska but not Alaskan. We have an active and attentive lens to our Northern region—including its traditions of Indigenous stories and cultures, environmental concerns, and related social justice issues. But from our vantage point here at the top of the world, the inherent connections to the rest of the United States and the global literary community are absolutely essential. Our borders define us more by what they encompass than what they keep out. We believe it is necessary to overcome an inherent exclusionary nature—whether it be based on local, national, racial, ethnic, religious, or sexual identities—by forging connections that come from shared experiences; in these connections are opportunities for empathy. In other words, to know thyself is impossible without knowing our neighbors in the world. Creating literary arts—indeed all arts—is a means toward that end, and that creation is a universal act. It is a moral act as well. The writer/poet is the conscience, the provocateur, the translator, the individual demanding attention to the hard questions and seeking truth in all of its parts. Alaska Quarterly Review is a gathering place that empowers literary artists—especially new and emerging writers and poets—to develop and to present the broader questions and difficult conversations critical to our understanding of gender, race, ethnicity, the environment, and social justice at a time when the stakes could not be higher or the need more urgent.
Your submissions guidelines state that you accept prose work up to 70 pages. What are some of the challenges and rewards of publishing longer pieces?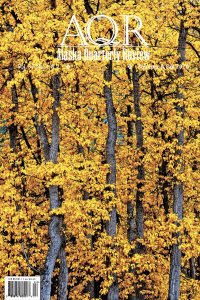 Alaska Quarterly Review publishes works in a wide range of styles and lengths, including very short pieces and also those that are novella-length. We take our mission as a home for non-commercial works seriously and hence we are open to all of these forms. That sets us apart from many of our peers. Other than the practical consideration that we do not have unlimited space on our pages, the length of a work is not what primarily drives our decision-making. We simply feel it is important to give writers the space to develop the necessary scope, complexity, and depth of their pieces where it's necessary and possible. Christopher Hitchens wrote in his introduction to The Best American Essays 2010, in which he selected one of our essays, that he was "mightily impressed" that we "continue to trust authors to write at length, and readers to take the trouble to repay that trust."
Alaska Quarterly Review is currently celebrating its 40th anniversary. What are some of your hopes and goals for the coming years?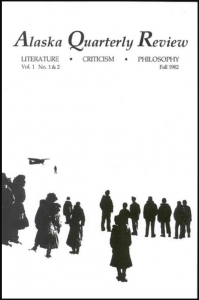 A milestone by definition marks the past. Celebrating AQR's 40th anniversary milestone is akin to stopping to take a few deep breaths and reflecting on that past. But what comes next is the hard part: to transform this milestone into a cornerstone—a foundation of strength and integrity from which to build anew—while staying true to our mission. Although the future is opaque, we are committed to both print and digital editions. We are excited by the potential of new technologies to help us discover ways to connect with more writers and readers—to help us grow and sustain what we do—and to contribute meaningfully to the fabric of American letters. Looking ahead, this is what I know: Literary journals create the backstage scaffolding for the larger literary community, and for Alaska Quarterly Review, this has been, and will always be, something of a sacred space.