We spoke with Jeb Livingood, editor of Best New Poets, in this installment of the CLMP Member Spotlight series.
What is the history behind Best New Poets? When was it founded and what is its mission?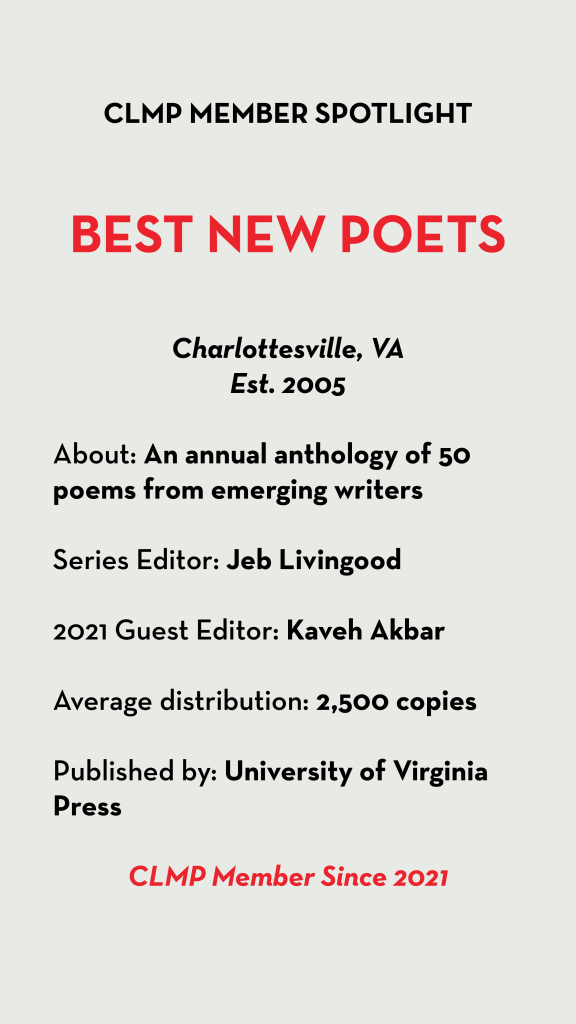 Long ago, when I graduated from the University of Virginia's MFA program, I was lucky enough to have a short story featured in the Best New American Voices anthology, which took its nominations solely from writing programs. It always bothered me that there wasn't some kind of poetry anthology equivalent for my poet friends. Originally, I thought Best New Poets could work in the same way as Best New American Voices, with the support of a large publisher for the book's production and distribution, but I couldn't get a single publisher to sign on to a poetry anthology. After sending out a lot of query letters to publishers and receiving only negative responses, I decided to start a press of my own and published the first volume of Best New Poets in 2005. Our mission has always been to give a little nod to emerging poets and the many programs and magazines that support them.
You accept poem nominations from writing programs and literary magazines, and you also accept submissions directly from writers. Why did you choose to structure submissions in this way?
I originally thought we could just take nominations from writing programs and ask those programs for a donation to help offset some of our costs. But as I did some brainstorming with Sydney Blair, who directed UVA's MFA program at the time, I learned that this was an idealistic notion. Sydney said that as a program director, she had a hard enough time just getting reimbursed for essential expenses, and she no longer had a checkbook or discretionary funds that were easy to disperse. Even a nominal donation would be virtually impossible for her.
The more I came to understand what a shoestring budget most writing programs operate under, as well as the bureaucratic rules that limit what they can do, I realized that donations were never going to work. And I knew from working as the faculty advisor to the University of Virginia's MFA-edited magazine, Meridian, that most literary journals would be in the same boat. But at Meridian, we had developed an online submission system that charged nominal reading fees. (This was long before online submissions were common.) And so, with Meridian as a model, Best New Poets ended up with our current three-pronged approach: We would take free nominations from writing programs and literary magazines, but we would also hold an open competition where anyone could enter their poetry for a small fee.
It was sort of a wing and a prayer for the first few years—hoping we could get enough open competition entries to help pay our readers and defray a little of the printing, and then hoping we could make enough in book sales to pay off the rest of the print bill. But we made it, barely, distributing the book mostly ourselves for the first year, and then entering into a distribution agreement with the University of Virginia Press. While we continued to pay to print the books, with the press's help our distribution and sales really went up. We never make very much money, but we've barely stayed in the black for seventeen years now—a rare victory in poetryland.
Can you tell us about the judging process? How are the final fifty poems selected for each annual anthology?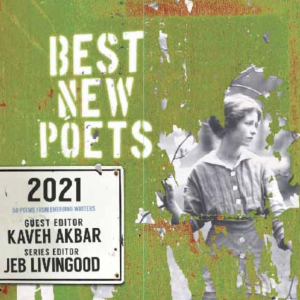 I'm a fiction writer by training, so I have to rely on others to help me shape the anthology. I hire a pool of about five to seven readers each year, who try to distill about two thousand submissions down to something more manageable. Many of these readers are outstanding young poets from UVA's MFA program, and sometimes I hire a few alumni or other poets from outside. Each year we send about 175 poems to a guest editor, and this guest editor picks our final 50 poems. I typically do most of the typesetting and arrangement. A lot of anthologies typeset their poetry entries alphabetically by the author's last names, and I understand how that solves some problems. But it also creates odd situations—a humorous poem about a bird followed by an ode to a cancer victim. So I've always done things the hard way, trying to make two-page poems fall out on facing pages, etc. The result, I hope, is a book that is more readable cover to cover.
What are some of the rewards of celebrating poets who have yet to publish a first book? 
I really appreciated the small nod I received when my short story was in Best New American Voices, and Best New Poets does much the same thing. It's an early acknowledgment in the career of a poet and a stepping stone to bigger things. Since our eligibility rules exclude poets who have already published their first collection, we take a strange pleasure in getting to tell former contributors with debut books, Congratulations, you're ineligible! Beyond celebrating the poets in our pages, we also try to acknowledge the many writing programs and literary magazines that support emerging writers.
What are some insights editing Best New Poets has offered into the landscape of literary magazines?
One thing that has really struck me in the last few years is how many of our final 50 poems have previously appeared in print and online—and how many of those poems are submitted through the open competition. This is partly because we limit magazine nominations to just two poems, so poets are submitting some previously published work themselves. But we're also receiving open-competition entries that appeared in new and fringe publications we didn't even know existed. With the Internet and print-on-demand services, if your kind of poetry magazine or press isn't out there, or if you feel your kind of poetry is being excluded, you can create your own publication at very little cost. New entities like these work mostly on volunteer effort and personal sacrifice, and I'm especially impressed by those who launch without any institutional support. It's just their passion that makes things run.