We spoke with Bradford Morrow, founder and editor of Conjunctions, in this installment of the CLMP Member Spotlight series.
What is the history behind Conjunctions? When was it founded and what was its original mission?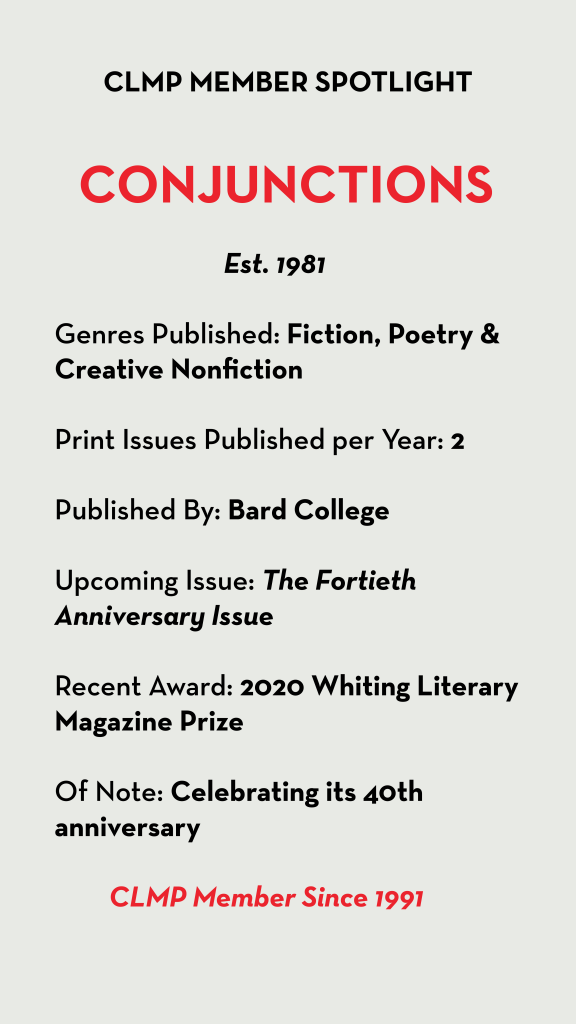 In early 1980, sitting with my friend and mentor Kenneth Rexroth in his converted barn library in Montecito, California, we traded ideas about launching a new literary journal. Despite being forty-six years my senior, he listened avidly as I told him that I could only find poetry that excited me in a handful of lit mags at the time—Sulfur, Montemora, Hambone, and a few others. And the formally edgy fiction I was keen on reading, I only found in the New Directions annuals, sometimes in Antaeus or The Paris Review. But no one journal consistently combined both, at least to my mind. So, with Kenneth's encouragement, Conjunctions came into being. Like its name suggests, the project was meant to embrace, to conjoin, and in that spirit our first issue was a celebratory Festschrift in honor of New Directions' visionary founder James Laughlin. After Kenneth died, I continued to press ahead with Conjunctions, thinking I might map a brief span of years, maybe three, five at the outside. I'd moved to New York in the meantime, and the journal just continued to grow. I was discovering new writers whose voices extended the traditions of their elders, and to be able to publish different generations side by side was, for me, inspiring and sustaining. Never, ever, did I imagine a day when Conjunctions would be celebrating four decades, during which time I would somehow have edited and published over a thousand contributors while writing my own novels, editing other books, and teaching. Dull days have been rare over those years, to be sure.
Conjunctions is structured around themed, biannual anthologies, with recent themes including Grendel's Kin, Dispatches from Solitude, Earth Elegies, and Nocturnals. How do you select the themes for your upcoming issues, and how do you go about curating your biannual issues around these themes?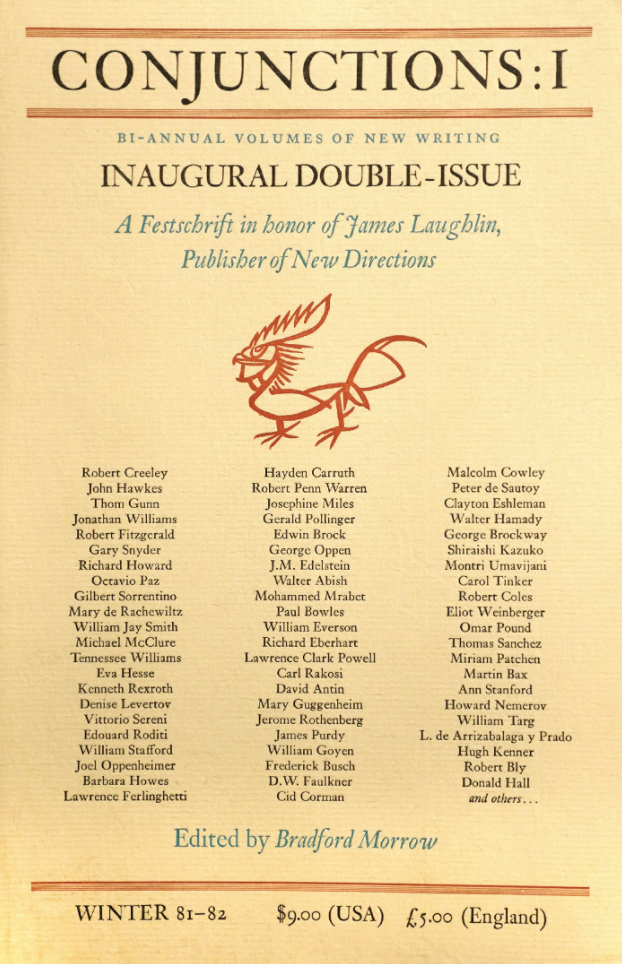 We didn't have themes for the first ten years. Conjunctions's very existence was often so touch and go that simply pulling together our spring and fall issues, along with making sure we had a publisher—David Godine and, later, John Glusman at Collier Books were heroic early supporters—took a lot of time and energy. When Bard College became our publisher in 1991, Conjunctions finally enjoyed enough stability for me to invest more time and energy in creating issues devoted to a wide spectrum of themes—music, fables, family, the gothic and fantasy, Caribbean writing, American theater, translation, birds, writers' credos, death—ones that challenged my imagination and ideally would challenge others'. That's pretty much how it still works today. Sometimes I'll read a manuscript that's so wonderful, it will inspire the theme for an entire issue. Kin, our issue about family, came about after I read an amazing piece by the then-little-known essayist Karen Hays, as did An Anatomy of Roads: The Quest Issue, which we put together after John Barth sent a brilliant manuscript, "I've Been Told: A Story's Story," out of the blue. Sometimes a colleague will come up with an irresistible idea. Other times a theme will just be there at the center of our lives, essential to pursue, such as Earth Elegies and Dispatches from Solitude, issues 74 and 75, that focus on climate change and the forms of isolation the pandemic has brought about. These recent issues I'm quite proud of, and I learned a lot while editing (I always do). As for curating them, we announce new themes on the Conjunctions website, in the print issue, and elsewhere, and, as the saying goes, little by little the bird builds its nest.
Conjunctions:76, your spring 2021 issue, is a celebration of your fortieth anniversary. Can you tell us about this issue?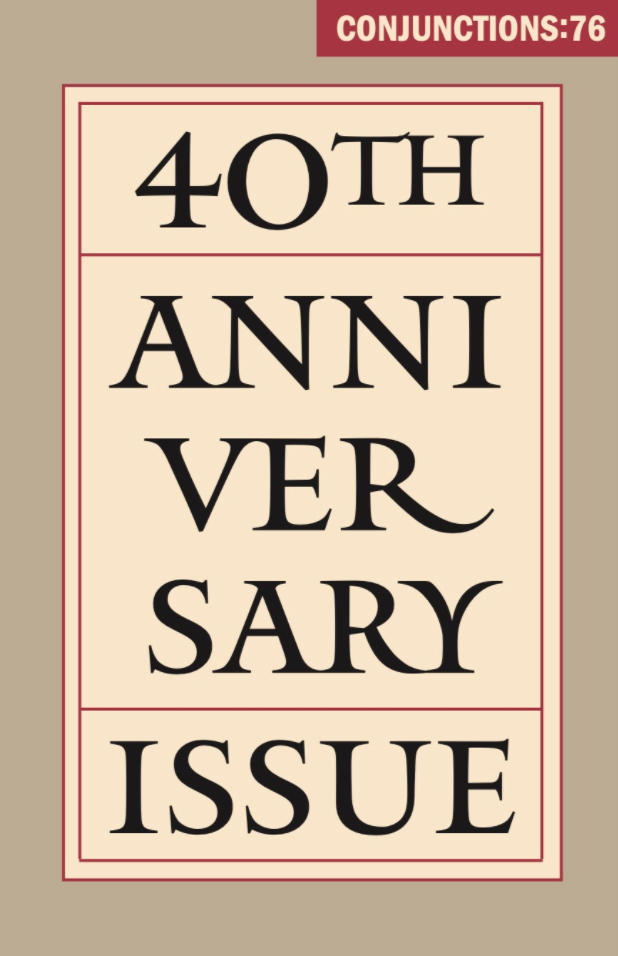 In the fortieth anniversary issue, our first without a theme in quite a while, we're bringing together old friends and new ones. People we published fairly early in their careers, such as Can Xue, Richard Powers, Karen Russell, Ann Lauterbach, and Isabella Hammad, are joined by ones who are new to our pages, like Shane McCrae, Akil Kumarasamy, Sanjena Sathian, Megan Kakimoto, and Wendy Xu. Poets and fiction writers Peter Cole, Fred D'Aguiar, Diane Williams, and Lydia Davis, who haven't been in Conjunctions for a while, are joined by others we publish fairly often: Samuel R. Delany, Joyce Carol Oates, Julia Elliott, and Robert Coover. There's also an unforgettable story by Isaac Bashevis Singer that has never appeared in English before, along with previously unpublished work by longtime contributing editors who are no longer with us, John Ashbery and William Gass. It promises to be a real fete.
Conjunctions is "committed to launching and supporting the careers of unknown authors." Why is this important? Who are some writers you are proud to have published early on?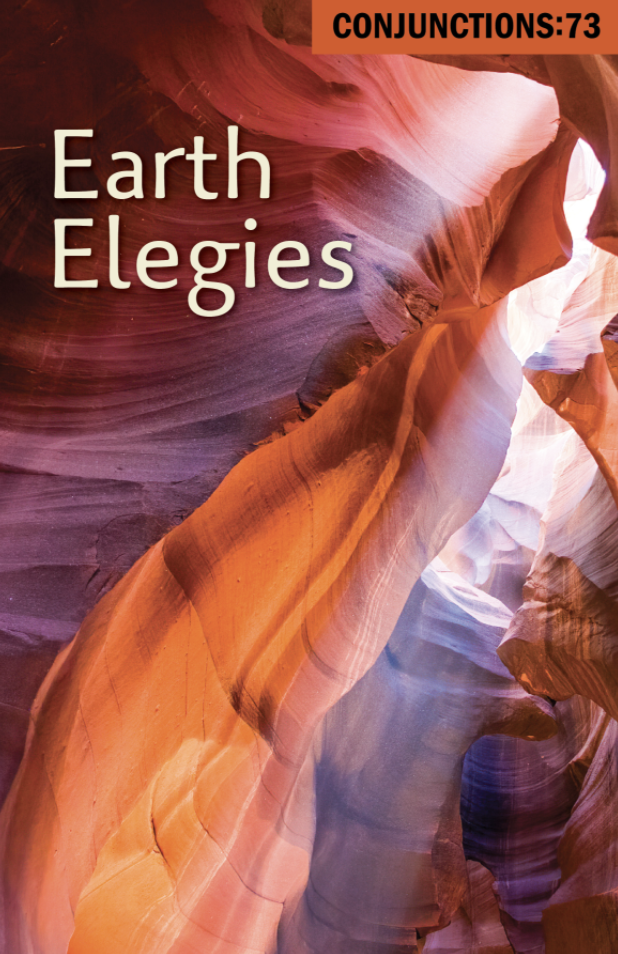 Publishing new voices inevitably enriches and complicates the flow of literature. Even the most famous writers in our pages were unknown fledglings at some point. Among our unsolicited manuscripts there may be one by a future master, and that makes the quest to discover them all the more exciting and imperative. Over the years, Conjunctions has been fortunate to publish first or very early appearances in print by Mei-mei Berssenbrugge, Mary Caponegro, Forrest Gander, William T. Vollmann, David Foster Wallace, Jim Crace, Ben Okri, Martine Bellen, Robert Antoni, Brian Evenson, H. G. Carrillo, Nam Le, Chinelo Okparanta, Erin Singer, Raven Leilani, and Vanessa Chan, to name only a few. We also regularly publish emerging voices in Conjunctions online, where readers can encounter new work every week. From the very beginning, the Conjunctions staff have themselves generally been writers, and we have all experienced—or are experiencing now—the importance of finding the right home for our work. Any role we've been able to play in helping others with this process continues to be really gratifying.
What are some of your hopes and goals for the future of Conjunctions?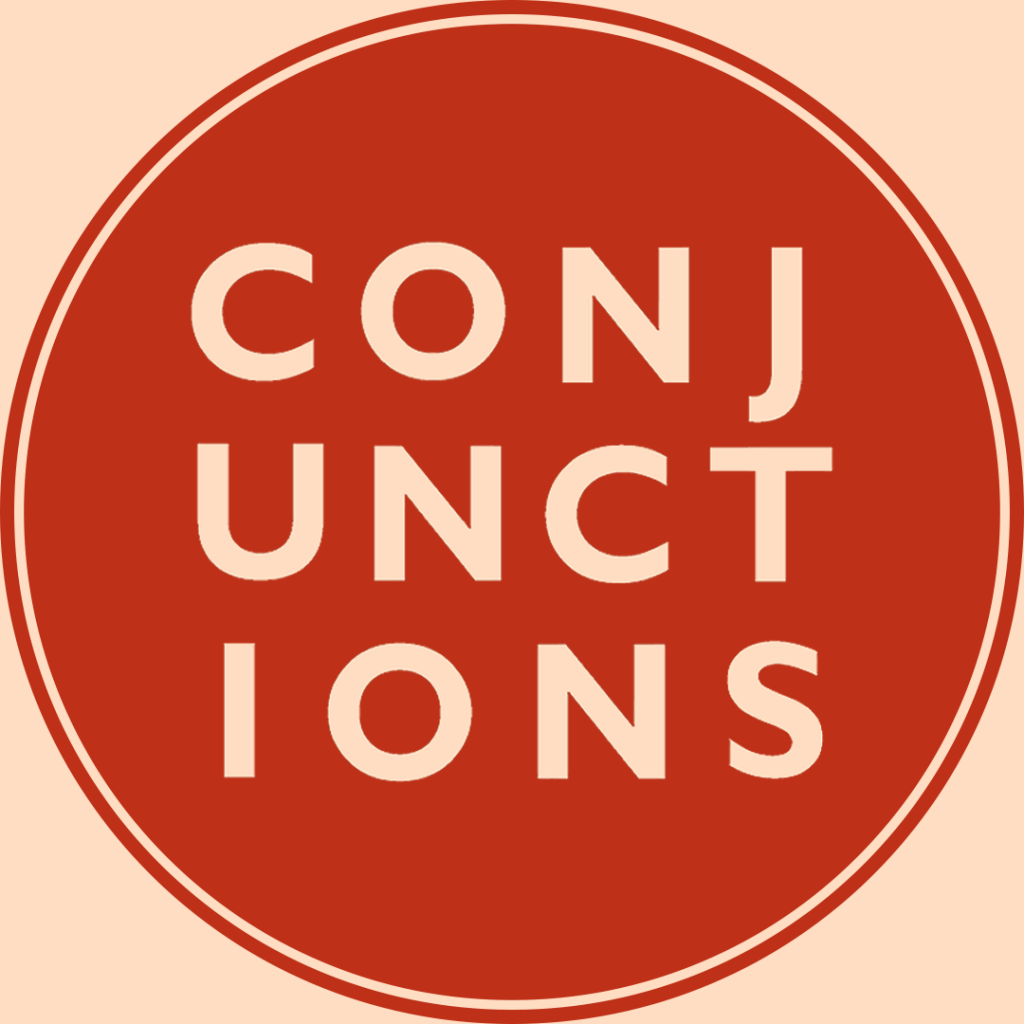 Our hopes and goals are pretty straightforward. To forge ahead on the path of discovery and to encourage writers of all backgrounds toward innovation and risk. To expand our community of readers as well as writers, to bring them together in a time when language is too often used to nefarious ends. To see what new formal modes of poetry and fiction, essays and works that defy genre, will arise in the future. Because, of course, they will arise. And we'd like to be there, championing them as they do.