We spoke with Meg Reid, director of Hub City Press, in our latest Member Spotlight.
What is the history behind the Hub City Writers Project? When was it founded and what is its mission?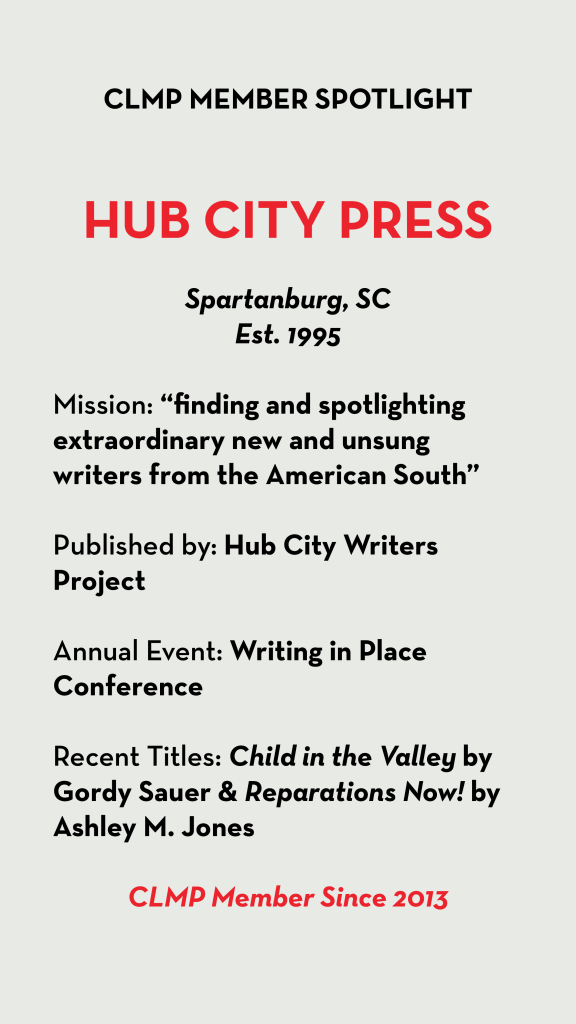 Founded in a coffee shop in 1995 by three Spartanburg writers with a mission to make their struggling blue-collar city a center for the literary arts, the Hub City Writers Project now employs a staff of seven and occupies two historic buildings we renovated just off the town square. In the first decade, Hub City was a community writing project, primarily publishing local authors and books on local subjects. We modeled ourselves after the Federal Writers Project, putting writers to work for our community, seeking to build broad understanding of the region's culture and history, and selling thousands of books locally. We sought to build the ranks of local writers by offering creative writing educational opportunities and sponsoring readings in various venues around town.
Over the years, Hub City evolved into one of the most active and ambitious independent literary publishers in the South. We now sell books nationally—and internationally—and release works by authors from Kentucky to Florida to Texas, while only occasionally publishing the kinds of local books that gave us our start. I took over as director in 2017 from the founder Betsy Teter. My driving force has been the belief that Southern stories deserve an independent publisher that will champion their work with careful editing, design, and promotion. By offering these voices a national platform, we work to transform and expand the national perception of the American South in literature and beyond. 
Can you tell us more about your commitment "to introducing a diverse roster of lesser-heard Southern voices"? Why is this important?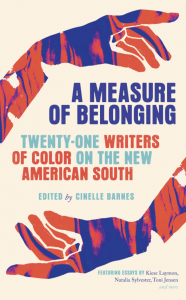 We see our work as being a very intentional corrective to the long-term erasure of diverse Southern voices in publishing. We're working in a region that's really quite huge—it reaches from Arkansas to Kentucky, from Virginia to Texas and encompasses over 110 million people! It's also the nation's most diverse region. But for so long the only Southern books making it onto the Big 4 publishers' lists were ones that explored the same tired—and overly white—terrain: beaches, magnolias, sweet tea. Our list is a willful turning away from these narratives and stereotypes in favor of books from underrepresented perspectives.
I think it's incredibly exciting to be the one literary press in the world that is committed wholly to publishing and supporting lesser-heard Southern voices. This includes Black and Indigenous people, queer and trans people, immigrants, people with disabilities, as well as people from ethnic, cultural, and religious groups who have been historically oppressed and underrepresented by the corporate and academic publishing industry. 
Hub City Press has a system in place to accept queries from unagented authors. What are some of the benefits and challenges of accepting submissions in this way?
We still take unagented queries during brief windows each season. Because we have such a small list—we only publish seven to nine books a year—each book we select has to be completely aligned with our publishing mission so we can continue to be highly author-focused and collaborative. That means we also see a lot of good stuff we have to pass on.

A lot of our peer presses are in cities with deeply established literary cultures, like New York City and Minneapolis. We don't have the same kind of ecosystem in the South. I maintain that these open reading periods are the most democratic way for us to fight the immense opacity and gatekeeping of the publishing industry while also allowing us to find quality manuscripts from the widest community of writers. It's essential to our mission that our authors are librarians, teachers, homemakers, urban planners, journalists, programmers, activists, and organizers. 
We work out of an old wagon warehouse in a small, post-industrial city in South Carolina. Our success is proof that there's no one correct way to make a literary culture—it absolutely doesn't require wealthy arts benefactors or corporate underwriting or even an immense population center. Every place has a story to tell. To limit what we read to just authors who have already obtained representation from an agent—an incredible achievement on its own—would fail to reflect the true diversity of writers working and writing in the South. 

Can you tell us about some of your access initiatives, including Growing Great Readers, Books as Mirrors, and Books at the Bus Stop?
Our Growing Great Readers program donates books to Spartanburg elementary school children in order for them to develop their own personal libraries in their homes. In partnership with our local school district, we have placed over 30,000 new books in children's personal libraries for the last decade. From that program came Books as Mirrors: Ensuring Children See Themselves in the Literature They Read. Books as Mirrors seeks to seed every public school library in Spartanburg County with $5,000 worth of new, diverse, and culturally relevant books. We are starting with the elementary schools and have already partnered with eleven schools in the program's first two years. Additionally, we maintain a curated shelf of books at our downtown passenger bus station so commuters and those just passing through can enjoy advanced reader copies of books yet to be published, including New York Times bestsellers, children's books, and Hub City Press titles.
Can you share some other literary journals and small presses you admire that also promote the work of lesser-heard Southern voices?
In terms of literary journals, we love and admire Ecotone, Shenandoah, Crazyhorse, and The Oxford American. I adore Belt Publishing in Cleveland—Anne Trubek and her crew share a similar ethos with us. We've shared a lot of resources that have kept me sane through the shifting landscape that is the ongoing pandemic. Blair Publishing and Lookout Books are both really important literary presses working in North Carolina, and in the university space, West Virginia University Press is having an absolutely momentous impact right now as well.