We spoke with Amanda Fields, editor in chief of Literary Mama, in this Member Spotlight.
What is the history behind Literary Mama? When was it founded and what is its mission?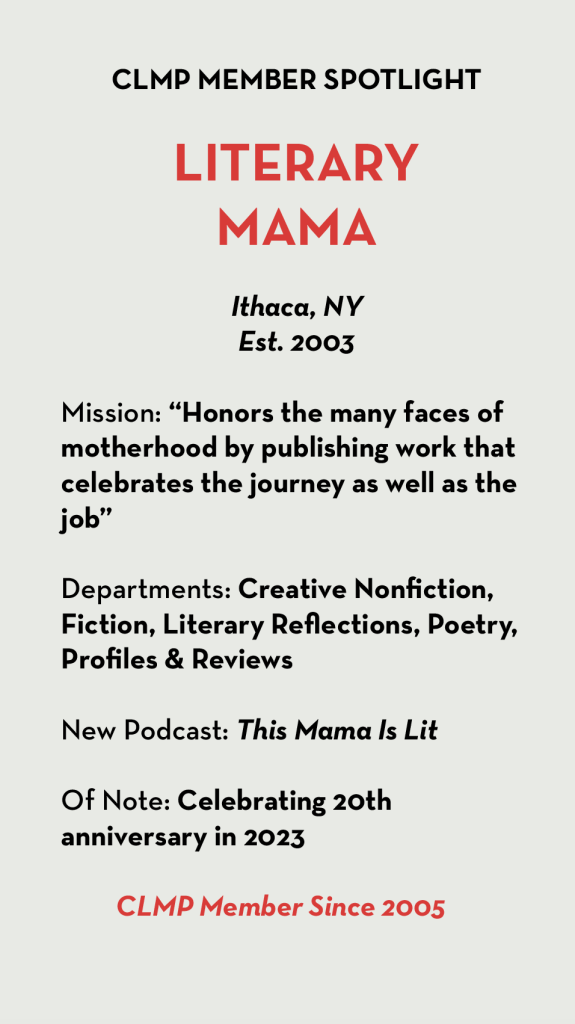 Literary Mama was founded in 2003 by a group of mothers in Berkeley, California, who wanted to offer a place where mothers could openly and honestly read and write about the ups and downs of being a mother. Literary Mama was not a place to gloss over the challenges, but to be raw and real and connect with other mothers going through similar experiences. Literary Mama was one of the first online literary journals to focus on motherhood.
Through a thoughtful editorial approach that supports writers and their development, Literary Mama aims to encourage mamas of all kinds to write about their experiences.
Why is it important to give mothers a literary platform and to portray a range of maternal experiences?
We need to keep resisting the notion that any subject is saturated on the market, or for a particular readership. We know that stories of motherhood can be unique and varied and just as viable and intriguing as any other story, but this is an idea that requires repeating in an environment that perpetuates patriarchal injustices. We've rarely heard of anyone saying there are too many fatherhood books. Would anyone ever say that?
Plus, the experience of motherhood is always new to those experiencing it. We want mothers at every stage of parenthood to be able to see something they recognize in Literary Mama, something that makes them feel less alone. But we also want others to understand that mother writing is not for some hormonally defined niche readership; this is writing about the human experience.
Literary Mama's blog includes a "Where Are They Now?" series, highlighting previous contributors. Can you share a few Literary Mama success stories?
While we're excited about the number of Literary Mama contributors whose works have found a large audience, we are just as excited to define success beyond the literary world, in those moments when mama writers find a space and community to connect with their experiences. That said, over the years, it's been so exciting when mama writers who've gone on to mind-blowing publishing success think of us fondly. Here are a few:
Deesha Philyaw, a member of the Literary Mama Nonprofit Board, recently scored a seven-figure deal for the publication of her next two books. Philyaw's column at Literary Mama, The Girl Is Mine, was one of her first writing gigs. Philyaw went on to publish the acclaimed collection The Secret Lives of Church Ladies (West Virginia University Press, 2020), which is currently being adapted for HBO. We're stoked to have Philyaw's support through the writing she has published with us and her guidance on the board.
Stephanie Land, whose first book, Maid (Hachette, 2019), inspired the Netflix show of the same title, published early in her career with Literary Mama. In her Literary Mama blog post about Land, Cindy DiTiberio mentions the "heart-breaking essay about the emotional abuse Land experienced from her first child's father titled 'Your Every Move.' She has also publicly credited our Calls for Submissions posts with helping her learn about the opportunity to write for Vox. That subsequent personal essay went viral and led to interest in the book that became Maid." Land also recently published Class: A Memoir of Motherhood, Hunger, and Higher Education (Atria/One Signal, 2023).
Jacinda Townsend, who won the 2022 Ernest J. Gaines Award for Literary Excellence for her novel Mother Country (Graywolf Press, 2022), also wrote for Literary Mama early in her career. In a 2009 Literary Reflections essay called "Unbricking," Townsend empathetically discusses the complexities of parenting and being a writer. In "Where Are They Now?," Townsend says, "Of all my identities—Black person, woman, artist, mother, professor, single parent—I think that being a writing mom might be the one with which I identify the most strongly." Of mama characters, Townsend told Fiction Editor Lolita Pierce in a 2022 Literary Mama profile, "I have no desire to be June Cleaver, and I don't know anybody who does. That's not the reality, you know? To take that trope and explode it, and make that woman real, make motherhood real, was something I'd aimed to do." These kinds of striking observations characterize much of Townsend's wonderful writing.
No matter their status in the overarching publication world, mama writers have a place with us here at Literary Mama.
Literary Mama is currently celebrating its 20th anniversary. How are you observing this milestone? What are your hopes and goals for the coming years?

Amanda Jaros Champion, Literary Mama's former editor in chief and current Nonprofit Board member, has collected and will publish a second Literary Mama anthology of staff writing, Labor of Love, in 2024 with Small Harbor Publishing. To celebrate this milestone of 20 years, Literary Mama staff and contributors gathered at the 2023 AWP conference for an off-site reading that included former Editor in Chief Caroline Grant as well as Mom Rage author Minna Dubin. Managing Editor Rhonda Havig designed our anniversary page, with a timeline documenting some of our work over the years. In October, we will be launching a podcast called This Mama Is Lit.
The anniversary has also offered us the opportunity to do strategic planning through the formation of the Nonprofit Board. Overall, we aim to continue to diversify writing and staffing as well as to develop guides for anti-racist approaches to writing and editing. We aim to bolster our consciousness and justice efforts toward the understanding that writing and editorial labor are often most afforded to privileged mamas. We want to continue to perpetuate a space where the complexities of mamahood are understood in relation to the labor conditions of our volunteer staff. We also want to expand our readers' and contributors' notions of what a mama is and who can write about mamahood. And we want to fundraise with a bit more vigor so that we can offer more support for mama writers through payment for publication as well as workshops and other events.
What are some other literary journals, small presses, and organizations you admire that also support mothers and parents?
We especially admire Sustainable Arts Foundation, Raising Mothers, Mom Egg Review, Brevity, The Experiment Publishing, and Scribente Maternum.
How can interested writers submit their work to Literary Mama?
Literary Mama is open for submissions year round, and established and emerging writers can submit their work to us by visiting our Submissions page for the latest details and instructions. Our writers tend to identify as mothers—and those identities vary—and write about their experience in that capacity.
In general, we accept only previously unpublished work, and our submission process is digital. Each department—Creative Nonfiction, Fiction, Literary Reflections, Poetry, Profiles, and Reviews—has its own specific guidelines and editors. All are provided on the site, and our department editors collaborate with the writers who submit.
While Literary Mama is not currently a paying market, we make a concerted effort to promote the work of our contributors via social media and our newsletter.