We spoke with Emily Louise Smith, cofounder and publisher of Lookout Books, in this installment of the CLMP Member Spotlight series. 
What is the history behind Lookout Books? When was it founded and what was its original mission?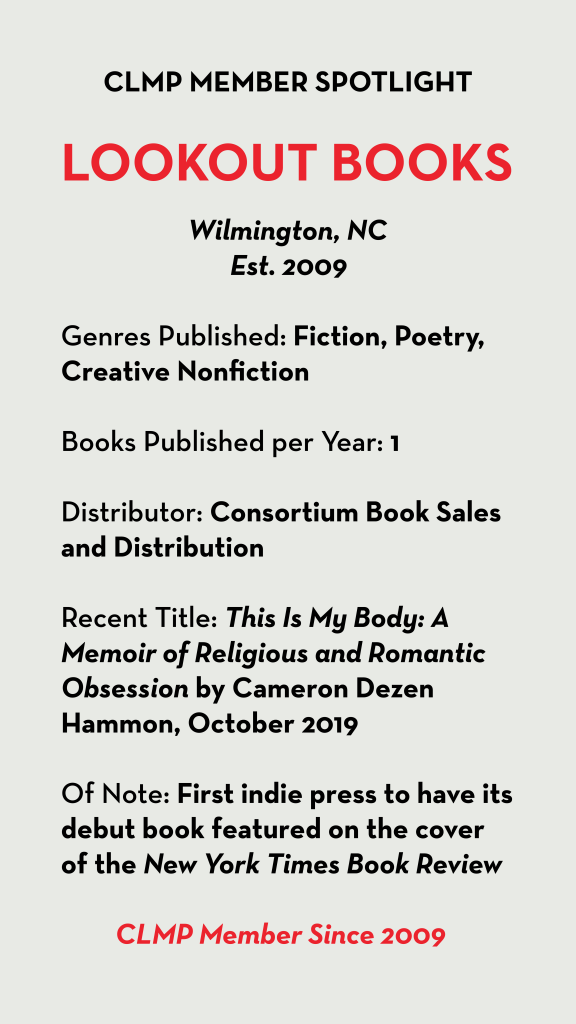 Lookout Books was founded in 2009 as a boutique literary imprint in the creative writing department at the University of North Carolina Wilmington, building on the department's commitment to incorporating the art and craft of publishing into its creative writing pedagogy.
I was hired in 2007 to direct the Publishing Laboratory , our desktop publishing suite and in-house teaching press focusing mostly on bringing out titles of local and regional interest, as well as supporting then-newcomer Ecotone magazine. I'd previously worked closely with Ecotone's founder David Gessner on the inaugural staff, as well as on the Pub Lab's early titles as a graduate assistant. My first objectives as the Pub Lab's director were to add a formal academic track leading to a certificate in publishing and to found a new literary imprint—Lookout Books—through which students could apprentice.
I envisioned Lookout as a marriage of the Pub Lab's design and production expertise and Ecotone's editorial care and attention, for which the latter was quickly becoming known at the time. The resulting imprint would combine the best of both worlds—giving the Pub Lab a chance to grow beyond its regional roots and the magazine opportunities to further support contributors whose unconventional approaches, styles, or subjects didn't always make their books a fit for trade houses.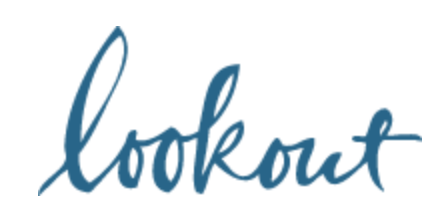 Lookout's original mission endures: to offer a haven for books that matter—whether overlooked gems by established writers or distinctive works by debut voices and authors who represent marginalized communities. We continue to collaborate with Ecotone contributors to expand longform essays into books, for example, and to help steward stories and poems toward debut collections.
When Lookout Books launched its first title in 2011, you became the first independent press to have its debut book—Edith Pearlman's Binocular Vision—featured on the cover of the New York Times Book Review. How did this, as well as the ongoing success of Binocular Vision, affect your work going forward?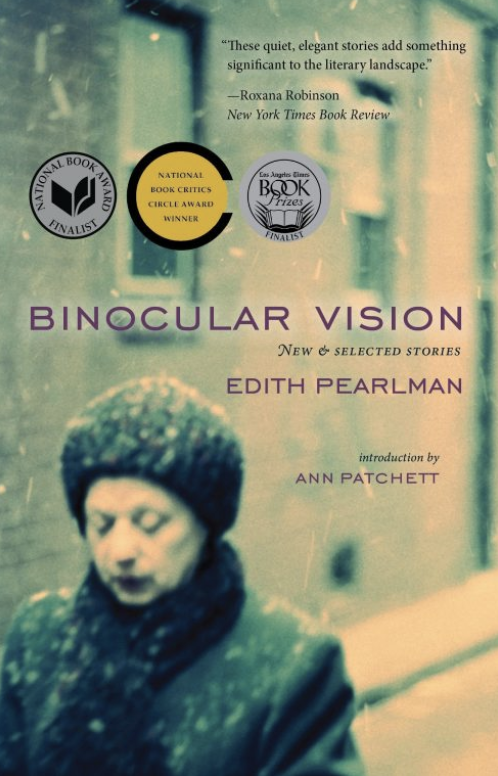 We're forever indebted to Edith Pearlman for her trust in Lookout to publish her new and selected story collection as our debut title. Her stories were known to fellow authors, of course, including Ann Patchett, who beautifully introduced Binocular Vision , and to the indies who championed her earlier collections; but the chance to curate her new stories alongside selections from previous books and reintroduce them thoughtfully and persuasively to readers—as we also introduced our imprint—was an extraordinary gift.
That year began, as you mentioned, with Roxana Robinson's cover review in the New York Times Book Review, as well as David Ulin's in the Los Angeles Times, and culminated in Binocular Vision being named a finalist for four of the country's most prestigious book awards. It went on to win the National Book Critics Circle Award in fiction . The whole experience was mind-bogglingly exciting, if feverish for us as a new publisher, but it also gave us an appetite for the rewards of devoting ourselves to a single project a year.
When we initially talked to Clare Beams about publishing her debut, the PEN/Bingham finalist We Show What We Have Learned , she mentioned Binocular Vision as one of the reasons she was eager to work with us. Likewise, when Lookout switched to Consortium Book Sales and Distribution a few years ago, the reps I met at my first sales conference needed no introduction to Lookout because they'd worked diligently with our former distributor to keep Binocular Vision on shelves. And I have no doubt that new Lookout projects, especially those by debut authors, make their way onto assigning editors' desks for consideration at least in part because of the reputation that Binocular Vision helped us establish as a publisher of distinctive, notable books.
Can you tell us about Trespass: Ecotone Essayists Beyond the Boundaries of Place, Identity, and Feminism? How has Lookout's relationship with Ecotone evolved over the years?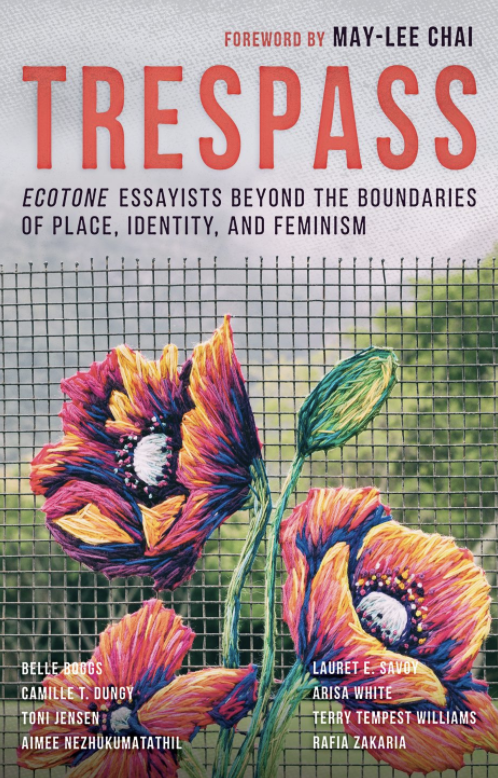 Yes, I love this essay collection! Some of my all-time favorite pieces from Ecotone's first fifteen years are included in Trespass , and they resonate anew because the anthology places these brilliant, vibrant essays by women from different eras and issues side-by-side in conversation. The contributors, as May-lee Chai writes in her foreword, "trespass across various confines—imposed upon body, gender, race, sexual orientation, class, national origin, and more—to explore the theme of place in their lives: the places they travel, the places they call home, the places they have carved for themselves in the world despite every obstacle." The collection is also a beautiful testament to the work that Ecotone and its editors, particularly Anna Lena Phillips Bell, have done to highlight intersections between environmental and social justice.
Lookout celebrated our tenth anniversary in January 2021, a big milestone for us. As we established our list over the past decade, we increasingly caught the attention of agents, who in turn brought us a wider array of completed book-length narratives to consider, as opposed to us soliciting in-progress manuscripts from contributors. The evolution has been healthy for the imprint (though I regret that more poetry doesn't cross my desk!), but it also means that fewer of our titles address place as explicitly as they once did. That's by design, obviously; we gave the imprint its own name so that over time it could develop its personality distinct from the magazine.
Of course, I continue to discover some of my favorite emerging writers through the pages of Ecotone. I relish collaborating on anthologies like Trespass that renew audiences and bring previously published pieces into conversation around themes. And some of my most inspiring and rewarding work as a publisher continues to be thinking creatively with Ecotone contributors—whether they go on to publish with Lookout or not—about their vision and ideas for books projects.

You've recently announced a new editor—KaToya Ellis Fleming, who previously served as an editor at Oxford American and as its 2019–2020 Jeff Baskin Writers Fellow. What are some of the hopes and goals you and Fleming will be working toward together?
I am a firm believer in the power of indie presses to lead change and disrupt our industry. As both a publisher and a teacher of publishing, I know firsthand the important role Lookout has played and continues to play in inspiring the next generation of editors, designers, and publicists. KaToya brings to our team, among many, many skills and talents, an abiding commitment to teaching as an extension of her research and editorial philosophy, as well as her vision for building on Lookout's original mission. As she put it in a recent interview, "I'm excited to see our catalog come to reflect the diversity of the country, and for Lookout to be a lighthouse for writers of color, and LGBTQ+ writers, and writers from myriad other groups who have been erased, unheard, or otherwise denied access to publishing." She is a brilliant, incisive editor who infuses every conversation with her characteristic warmth and wit. I know how very lucky our authors are to work with her, and how devoted she is to bringing their stories to a wide readership.
We're in the process of acquiring our first project together, forthcoming in 2022, and while I can't spill the beans just yet, let's just say that I couldn't be more excited about this vital, resonant book, which I see as a harbinger of KaToya's leadership and Lookout's bright future.