We spoke with NaBeela Washington, the founder and editor-in-chief of Lucky Jefferson, in this installment of the CLMP Member Spotlight series.
What is the history behind Lucky Jefferson? When was it founded and what is your mission?
The idea for Lucky Jefferson, or to start a literary journal, was envisioned in 2018. Lucky Jefferson's name, however, was actually the result of a typo, made three or so years prior to our founding, in a text-message conversation with a good friend.  (I wish I remembered what I initially typed before "Lucky Jefferson" came up as a typo, but it was so long ago!)

Essentially, Lucky Jefferson's history has been defined by one of the greatest elements of English, a grammatical error, or typo. Lucky Jefferson's mission is to provide a new type of literary community: a community dedicated to engaging authors in refreshing and impactful ways, enhancing visibility for new and emerging writers, and creating a digital space defined by empowerment and growth. 
Even before we published our first issue, we knew we wanted to be a journal with personality, with spunk! A journal that eagerly facilitates two-way conversations between writer and publisher. A journal that is all about new perspectives and highlighting writers of color.
What makes Lucky Jefferson different from other literary journals? To quote your mission statement, how do you "generate constructive and interactive conversations around poetry, art, and publishing and redefine the way journals are produced and shared"?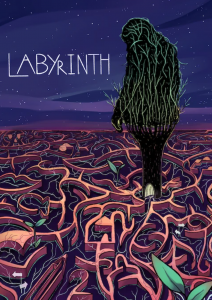 What sets Lucky Jefferson apart from other literary journals is our attention to curation and engagement. We curate everything from our social media persona, to our website presence, even down to how we are responding to writers. We feel that other journals don't take the time to curate their brand's personality enough, which is what I feel makes Lucky Jefferson one-of-a-kind. We want to be more than just a journal that puts out a body of work; we want to be remembered as the journal that was responsible for rallying people together to change our local and global communities through poetry, art, and literature. 
This might seem small, but one way we generate constructive and interactive conversations is by giving our readers a reason to actually want to read our work. We don't include a table of contents in our issues, ever and purposely, because we want authors to be able to stumble upon new work while searching for their own. We also include interactive activities in our issues to reinvigorate the reader's experience. Our literary community is inspired by the different types of literature we've made accessible; we've increased inclusivity in publishing by creating unique publications (365 Collection and Little Jefferson, and now Awake) for a variety of voices. 
We made these decisions based on our own experiences with other literary journals. Being real, the way people consume information has changed and that includes the way people read and enjoy literature. We take trends and behaviors into consideration to increase the length of time that readers are engaging with our work; engaging with the art in our issues; engaging with our literary community and brand. We aren't really doing anything super special; we just prioritize curating experiences and look for ways to present something frankly overdone in a new way.
Your most recent issue, launched in June, is Labyrinth. How do you select your issues' themes? How closely do you curate around these themes?

Our issues are based on arcs, meaning our issues, and themes, are connected to create a larger message, a larger experience. For us, there are four to five issues in one arc.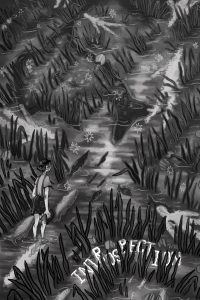 We wanted to experiment with what it might look like to connect themes over five separate issues. For instance, Testament is all about owning one's truth, so we figured the next issue would be about what happens after one testifies, how one might feel. That's how Exposed was born and then Labyrinth, and now Introspection. We wanted to create a space where authors could air their truth out and work through the potential ramifications of "coming out" or owning something. We wanted to explore how these experiences work together separately and collectively. Each piece selected for a specific issue was chosen because it closely aligns with the theme or a present arc.
Can you tell us about your Literary Illustrator Artist program?
We mainly curate art in-house, but extend invitations to other artists occasionally. The Literary Illustrator Internship program was born out of a desire to consistently illustrate published works and also teach and engage students about creative writing and how their individual artistic abilities could be used for the purposes of editorial illustration. It's really cool seeing students bring these works to life and even more satisfying helping them understand our world at the same time. It's incredibly rewarding because students often start off with limited knowledge on how to artistically respond to a piece, but by the end of it, they are completely owning their creative decisions and responsibilities. 
Students essentially go through a four-week boot camp, which exposes them to different elements of art and writing. The following month they collaborate with us and one another on an issue. We've personally had our fair share of dull internship experiences and so we wanted to make sure that students were literally a part of the work instead of "fetching coffee." Our dream is to grow this program even more and deepen our relationships with universities and schools to offer special programming to even more students and other populations. 
What is the Lucky Jefferson Student Relief Fund? When did you start this, and why?

The Lucky Jefferson Student Relief Fund is a fund created for the sole purposes of supporting students affected by COVID-19. It was launched on March 14, 2020, and was a direct response to students displaced after dorms were closed and students who lost funding from on/off-campus employment. We really value students and education so it made sense to start a fund for those who are so embedded in our culture.
You recently announced a new digital zine, Awake. What is Awake's mission, and how is it related to Lucky Jefferson as a whole? What inspired this new publication?

Awake was started because there is a huge disparity in who is represented in publishing—a huge lack of Black voices and Black publishing professionals. There are also pay disparities in publishing for people of color. It's pretty devastating to think about and to realize that half of the stuff that's being published is by people you don't identify with; that we still somehow don't really have a say-so in what we read, in what voices are being heard. Being that Lucky Jefferson was started by a Black woman, it made perfect sense to carve out a special space specifically for that culture and community.
Awake essentially exists so that people looking in might "wake up," might hear Black writers out for once, and truly try to understand where we are coming from, what we are still unfortunately experiencing. I think Awake is Lucky Jefferson rather than being an extension of Lucky Jefferson; we believe Lucky Jefferson to be a sort of gateway publisher that truly acknowledges the intersection of almost everything, whether that be poetry and feminism or poetry and racism, etc. Our publication was founded with the intention of waking readers up, inspiring them to question the world and its complicated past and even more frazzled present.
You're both a writer and a visual artist. How does your own work in the creative arts influence your work as an editor and publisher?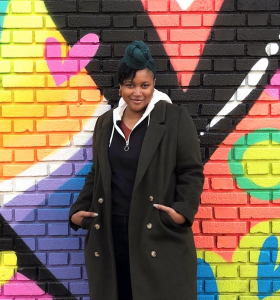 Being completely honest, my background influences the direction of Lucky Jefferson 300%. I actually studied art and graphic design during my undergraduate years, as well as marketing and communications; I believe that's why our publications and internship programs are so successful; we are actually interested in and have experience with what we are teaching, with what we are putting into the world. I also think that my background enhances my perspective and allows me to have a three-dimensional outlook on everything, from marketing, to cover art, to poetry. It's such a beautiful intersection of fields and passion. 
I've been a writer since the age of six, but like many writers, I experienced a whirlwind of side journeys before really devoting myself to this work; I think I needed those experiences to understand writing, to deepen my own writing abilities, and to create literature and a community that is truly dynamic and down-to-earth.
What are some other literary magazines you admire?

This is a tough one. So, I absolutely LOVE Bad Nudes. I love that they push the envelope and challenge the status quo. Their website and published works are so mesmerizing and so full of inspiration; I think every journal should aspire to soak up the attention of their readers and be innovative like that. Then there's Voicemail Poems, and The Believer!