We spoke with Sarah Gzemski, the executive director of Noemi Press, in this Member Spotlight.
What is the history behind Noemi Press? When was it founded and what is its mission?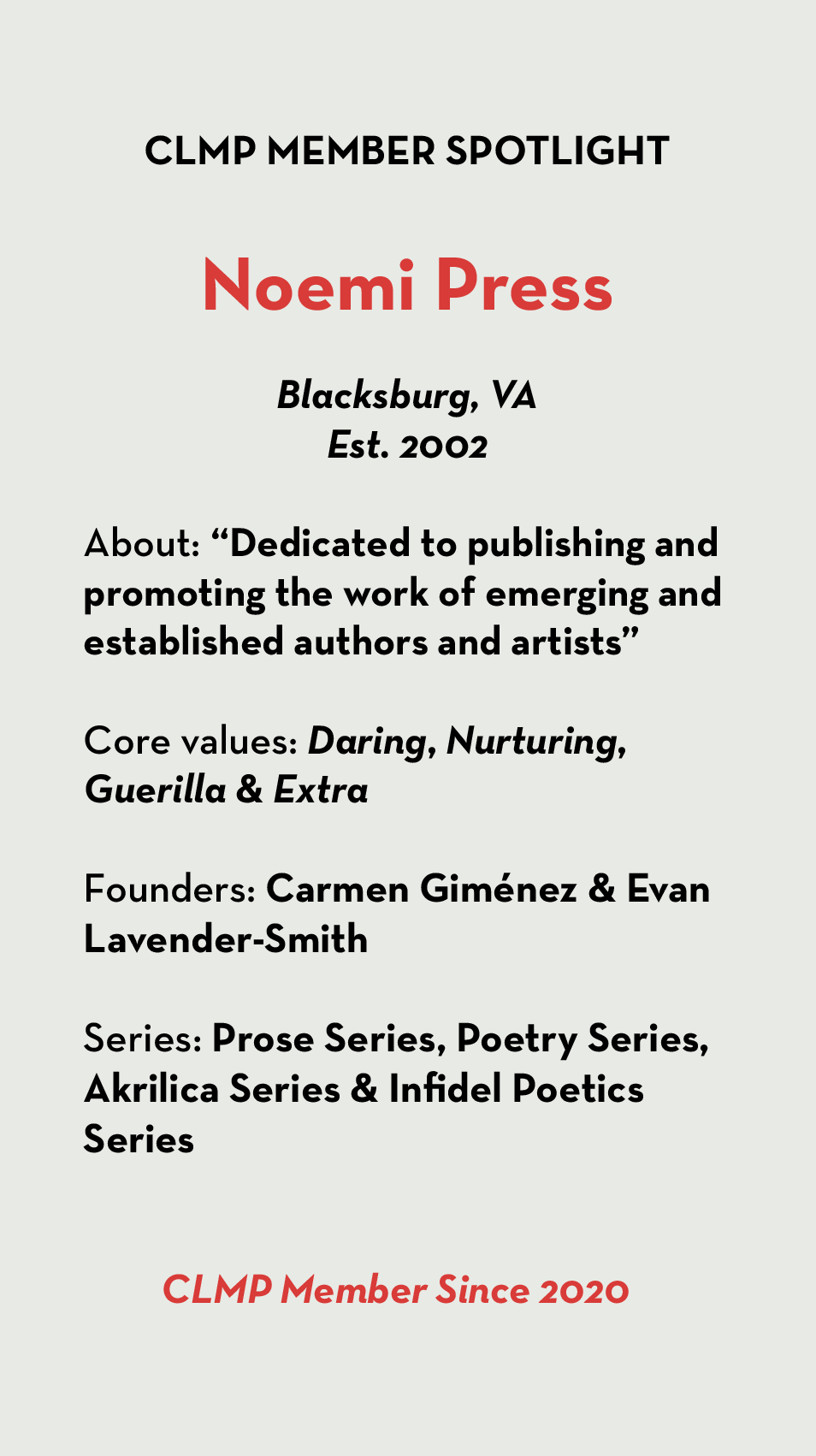 Noemi Press was founded in 2002 by Carmen Giménez (now publisher of Graywolf Press) and Evan Lavender-Smith. Under Giménez's leadership for twenty years, the press evolved from primarily a chapbook press at its inception to establishing two regular series (the Prose Series and the Poetry Series) and publishing full-length books in poetry and prose. In 2022 copublishers Anthony Cody and Suzi F. Garcia took the helm to continue Noemi Press's legacy. Our mission is to introduce voices that might otherwise be marginalized by mainstream presses to a broader audience. Noemi provides writers with support and guidance through extensive editorial collaboration. We have been a historically brown and queer press since our founding.
Can you tell us more about your four core values: Daring, Nurturing, Guerilla, and Extra? How did you arrive at these words, and how do they influence your editorial vision?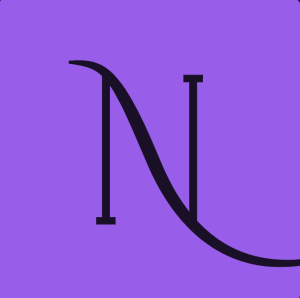 During the transition, Anthony, Suzi, and I sat down at our first-ever retreat in Tucson, Arizona, to talk about Noemi's future, what we see as our areas of strength, and how we want to present that to the world. That's how we came up with our four values, and they guide all of our decision-making. We want our publication choices to be daring in content and, often, in the book's physical form. We take editorial work very seriously and offer extensive developmental edits on each one of our books, often starting many years before publication. The three of us were mentored by Carmen Giménez, and we want to further that lineage so Noemi continues long into the future. Noemi Press is entirely independent and volunteer-based, so we wanted to acknowledge the tactical approach we take to utilizing our resources to help our books reach as many people as possible. Finally, we are rooted in works that have historically been deemed too much, too loud, and too other.
In addition to the Prose Series and the Poetry Series, Noemi Press publishes the Akrilica Series and the Infidel Poetics Series. Can you tell us more about both?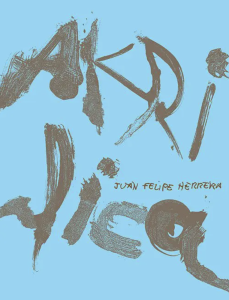 The Akrílica Series is a partnership with Letras Latinas that publishes experimental Latinx poetry. Writers from this series have been awarded the Whiting Award, the American Book Award, and more, and in 2022 we were honored to publish the series' namesake: Akrílica by Juan Felipe Herrera, edited by Carmen Giménez, Anthony Cody, and Farid Matuk. We presented this previously out-of-print book with brand-new translations of Herrera's work and a stunning, dynamic design by Douglas Kearney.
Infidel Poetics is a venue for shorter critical works by poets in which they address the overlap between poetry and politics, often interrogating notions of identity and their work. Our most recent title is Defacing the Monument by Susan Briante, which was given the Pegasus Award for Poetry Criticism by the Poetry Foundation.
Suzi F. Garcia and Anthony Cody took on the roles of Noemi Press's copublishers last summer, after previously serving as the associate poetry editor and executive editor. What are some of the highlights of the year since this transition? What are some of your goals for the coming year?
Suzi, Anthony, and I worked as part of Noemi Press together for years prior to the transition, and it's been a real joy to step into these new roles together. Post-transition, we've been thrilled to publish books like Jasminne Mendez's City Without Altar, Casey Rocheteau's Gorgoneion, Sandra Simonds's Assia, Nawal Nader-French's a record of how the mother's textile became sound, and Angela Peñaredondo's nature felt but never apprehended. We've also been working on our upcoming books in earnest and planning ahead. We're always looking for ways to make the press more sustainable through grants and donations, and we have a lot of hope for the future.
How can interested writers submit their work to Noemi Press?
Right now, especially as we plan for the next chapter of the press, we are primarily soliciting manuscripts. However, each year we do run a contest, and we usually accept both a winner and several other books from the pool of submissions. The contest is closed right now (we're reading manuscripts to determine this year's winner!), but it opens each year from January through May.