We spoke with Red Washburn and Brianne Waychoff, coeditors of Women's Studies Quarterly (WSQ), in this installment of the CLMP Member Spotlight series.
What is the history behind Women's Studies Quarterly (WSQ)? When was it founded and what is its mission?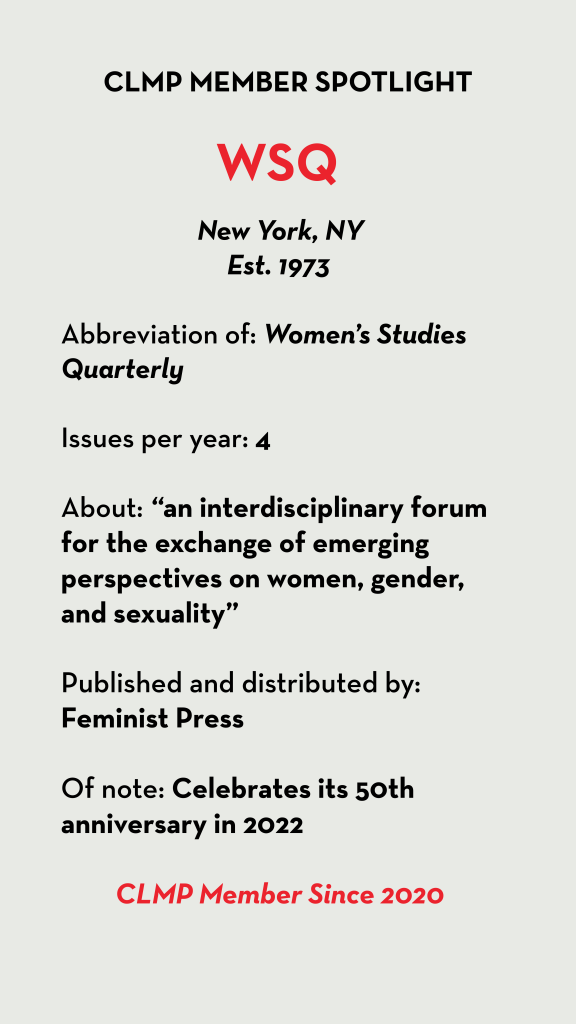 WSQ was founded in 1972 and ever since then has played a vital role in the transdisciplinary field that is Women's, Gender, and Sexuality Studies. That was a moment that marked the beginning of many feminist organizations, including two of our close partners: 1972 was two years after the founding of the Feminist Press and a few years before the launch of NWSA (National Women's Studies Association)—for its whole history, WSQ has been growing as part of a network of feminist journals and publishers and always working collaboratively. The journal has benefited greatly from its relationships throughout the CUNY system as well, including especially the Center for Humanities at the Graduate Center, the Center for the Study of Women and the MA program in Women's and Gender Studies, also at the GC, and of course both of us, Dr. Waychoff and Dr. Washburn, are CUNY faculty, at Borough of Manhattan Community College and Kingsborough Community College. In these and many other ways, WSQ is part of a diverse academic, artistic, and political feminist history and ongoing movement.
Women Studies Quarterly features both peer-reviewed scholarship and literary work, including fiction, creative nonfiction, poetry, and book reviews. What are some of the rewards and challenges of editing both scholarly and creative work in the same publication?
The rewards are many—maybe most of all, this welcoming of so many genres allows us to expand our audience and contributorship beyond the traditional boundaries of academia. As far as challenges go, we recognize before anything that this isn't a job for one or for two people, but for a team of editors. Beyond the general editors and the guest editors of each issue, WSQ has brought on new dedicated prose and poetry editors. Now working on prose are Keisha-Gaye Anderson, Marci Blackman, and Nicole Shawan Junior. Our poetry editors are Cheryl Clarke, Julie Enszer, and JP Howard. We couldn't be more excited to be working with them!
Each biannual issue of Women's Studies Quarterly addresses a different theme, with recent issues titled Asian Diasporas, At Sea, and Beauty. How do you select the themes for your upcoming issues, and how do you go about curating around these themes?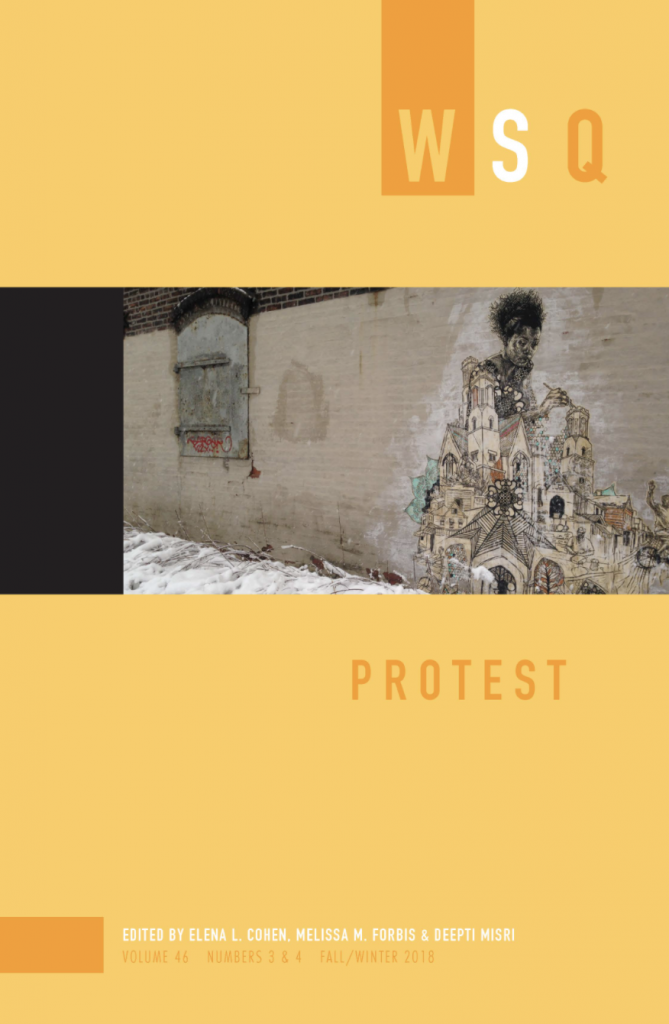 Upcoming issues proposed by guest editors and proposals are then considered by the general editors along with the editorial board. These themes reflect the particular areas of scholarship and expertise and interest of our guest editors, of course, and also have to reflect the moment we live in, politically, academically, and culturally speaking. Our next two issues will be Solidao, with guest editors Tanya Saunders, Luciane Ramos-Silva, and Sarah Ohmer, and Black Love with guest editors Rashida Harrison, Mary Phillips, and Nicole Jackson. Look out for these issues in fall 2021 and spring 2022!
How is Women's Studies Quarterly affiliated with The Feminist Press?
WSQ and the Feminist Press have a long history of working together—we continue to learn so much from the great work that the press does. Feminist Press has been the publisher and distributor of WSQ since 1972.
Women's Studies Quarterly will be celebrating its 50th anniversary in 2022. Do you have any celebration plans? What are some of your hopes and goals for the coming years?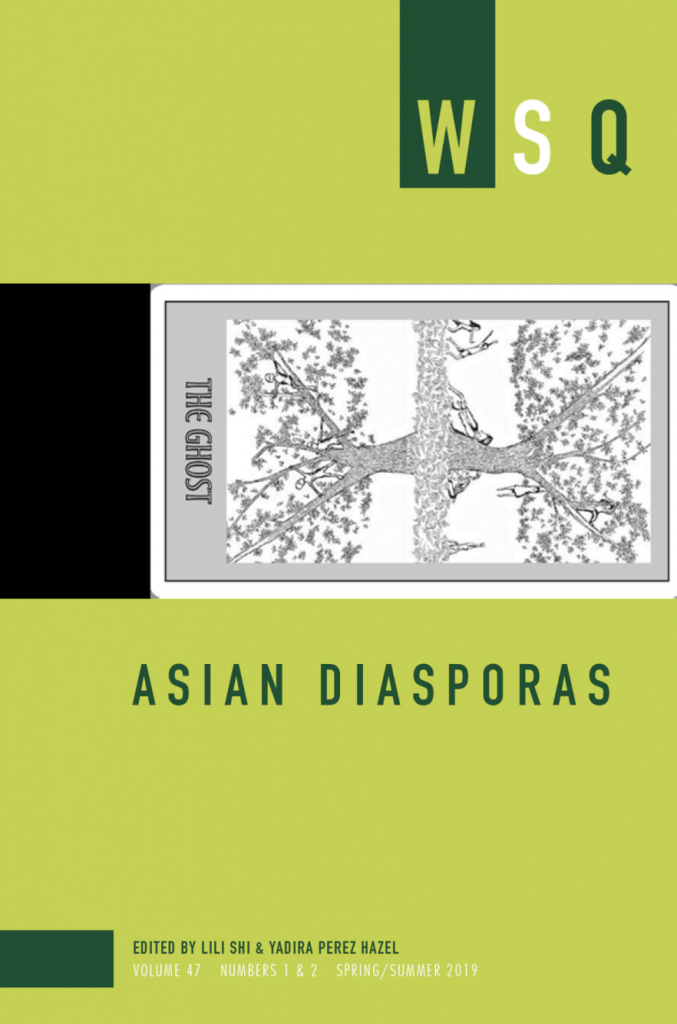 Yes! We are very excited about our 50th anniversary issue, which will be led by guest editors Heather Rellihan, Jennifer C. Nash, and Charlene Carruthers. We're currently accepting submissions for WSQ: 50!, with a deadline of September 15. This is a moment to celebrate our history, and also to engage in the always necessary, always critical practice of self-study. The issue will consider the past 50 years of WSQ, but also the past 50 years of feminist scholarship more broadly speaking. The issue will be commemorative, but will also ask what a feminist tradition of commemoration and historical accounting should look like. As we look ahead we are resolved to continue WSQ's tradition as a publication that aspires to empower the voices of the most marginalized, that works to dismantle structural inequities, that fosters community, creativity, intellectual study, and social justice.