For Pride Month, observed annually during the month of June, we asked the many independent literary presses and magazines that make up our membership to share with us some of the literature they recommend reading in celebration.
Anthologies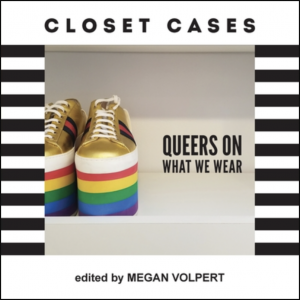 Closet Cases: Queers on What We Wear
Et Alia Press | 2020
Edited by Megan Volpert, this anthology "is a collection of artifacts that testifies to the power of fashion as a verb as it unfolds the complex and lovely strategies governing what we do in the LGBTQ+ community to build authentic selves that are both comfortable and seen."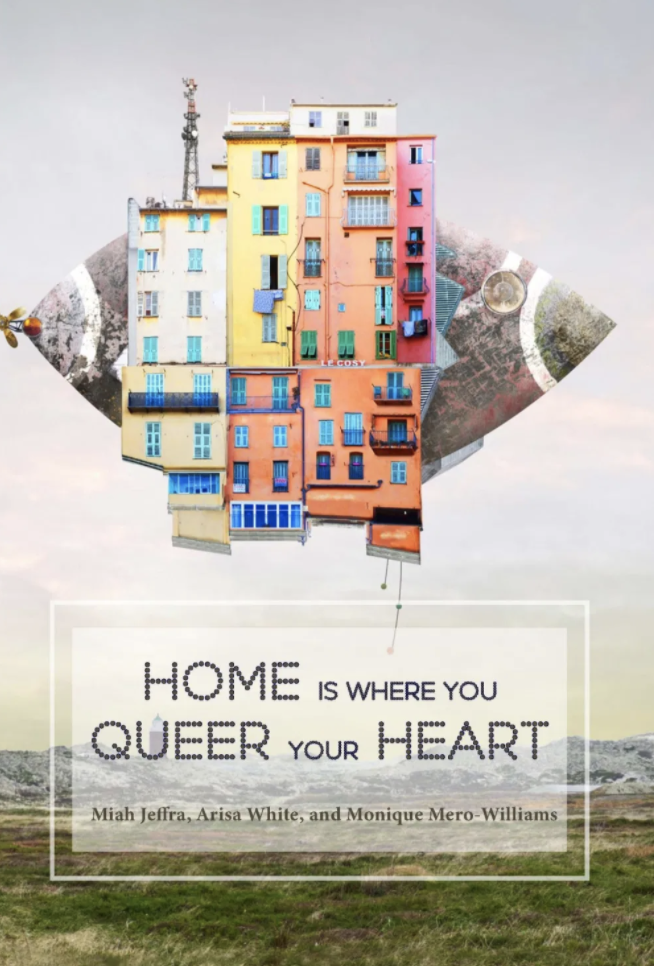 Home Is Where You Queer Your Heart

Foglifter Press | 2021

Edited by Miah Jeffra, Monique Mero-Williams, and Arisa White, this collection of poetry, fiction, nonfiction, and more "anthologizes contemporary queer writers and artists creatively thinking through the complex and fluid realities in the U.S. and abroad."
Spineless Wonders | 2021
Edited by Ygraine Heloise and Bronwyn Mehan, with an introduction by Quinn Eades, this anthology of contemporary stories from the queer community "is about love, sex and identity told through diverse stories from buying a double bed, meeting neighbourhood witches and early morning swims."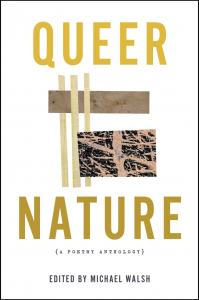 Queer Nature: A Poetry Anthology
Autumn House Press | 2022
Edited by Michael Walsh, this anthology featuring more than 200 queer writers "amplifies and centers LGBTQIA+ voices and perspectives in a collection of contemporary nature poetry."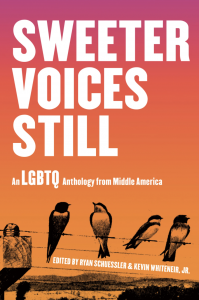 Sweeter Voices Still: An LGBTQ Anthology from Middle America

Belt Publishing | 2021

Edited by Ryan Schuessler and Kevin Whiteneir, Jr., this anthology features "queer voices" from "the middle of America—the Midwest, Appalachia, the Rust Belt, the Great Plains, the Upper South."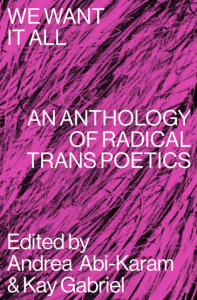 We Want It All: An Anthology of Radical Trans Poetics

Nightboat Books | 2020

In this poetry anthology edited by Andrea Abi-Karam and Kay Gabriel, intergenerational trans poets "imagine an altogether overturned world in poems that pursue the particular and multiple trans relationships to desire, embodiment, housing, sex, ecology, history, pop culture, and the working day."
Poetry
BOA Editions | 2021
Winner of the Isabella Gardner Poetry Award, this poetry collection "uplifts communal spaces as sites of resistance and healing, wonders at the restorative powers of art and erotic love, and celebrates the capaciousness of friendship."
Perugia Press | 2002
Winner of the Publishing Triangle Audre Lorde Poetry Prize, Braverman's poetry collection "is unselfconsciously about the search for love and security in the face of grief and within the queer community."
Entre Ríos Books | 2020

In this debut poetry collection, "a narrator of indeterminate gender mourns a dog of indeterminate species."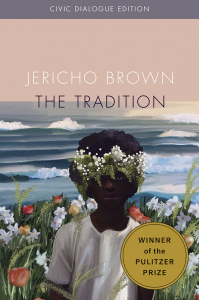 The Tradition by Jericho Brown
Copper Canyon Press | 2019
Brown's Pulitzer Prize–winning poetry collection is "is a cutting and necessary collection, relentless in its quest for survival while reveling in a celebration of contradiction."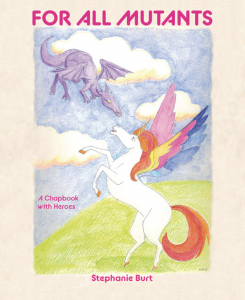 For All Mutants by Stephanie Burt
Rain Taxi Review of Books | 2021
In this chapbook, Burt "presents poems inspired by X-Men, pop culture, and more to explore love, romance, queer identities, fan cultures, powered-up princesses, red queens, pirates, retcons, and the spaces between the stars."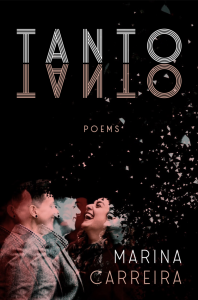 Tanto Tanto by Marina Carreira

CavanKerry Press | 2022

This poetry collection "highlights two queer daughters of immigrants and the struggles they face in a romantic relationship in the presence of oppressive, culturally sanctioned heteronormativity."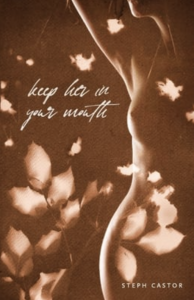 Keep Her in Your Mouth by Steph Castor

Thirty West Publishing House | 2020
Castor's second poetry collection "is a mediation on food, sex, travel, and relationships—a reminder to stay present, have a hunger for new experiences, lean into fear, have an unabashed lust for food, embrace adventure in intimacy, and hold onto those rare folks of pure gold."
Wave Books | 2021
According to Tracy K. Smith, "CAConrad's poems invite the reader to become an agent in a joint act of recovery, to step outside of passivity and propriety and to become susceptible to the illogical and the mysterious."
Four Way Books | 2021

In this new poetry collection, Cohen "approaches the idea of the macro through an elastic inquiry of the micro" and "examines logic through analogy."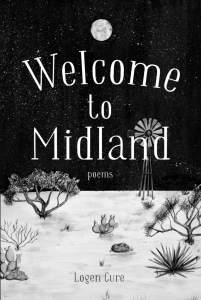 Welcome to Midland by Logen Cure

Deep Vellum | 2021

This poetry collection "is a queer coming-of-age narrative in verse set against the contested backdrop of conservative small-town Texas."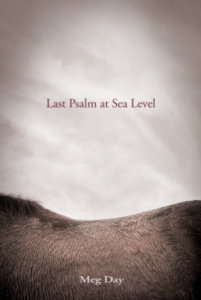 Last Psalm at Sea Level by Meg Day
Barrow Street Press | 2014
According to D. A. Powell, "The vivid impermanence of the body is like kindling catching, a source of fire for Meg Day, a poet whose fearless heart is tethered to the world."
Translated from Polish by Karen Kovacik
Zephyr Press | 2018
A finalist for the 2019 PEN Poetry in Translation Award, this poetry collection explores "Internet culture, science, nature and gay love."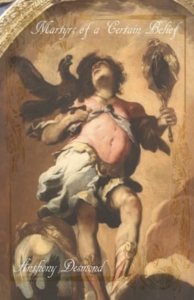 Martyrs of a Certain Belief by Anthony Desmond
Thirty West Publishing House | 2020
According to Ryan King, Desmond's poetry "is filled with scenes from another world; raw and lyrical heaviness with a personal sting that can be felt while wandering through his words."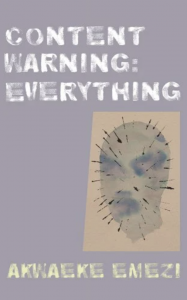 Content Warning: Everything by Akwaeke Emezi
Copper Canyon Press | 2022
The poems in this collection "travel from home to homesickness, tracing desire to surrender and abuse to survival, while mapping out a chosen family that includes the son of god, mary auntie, and magdalene with the chestnut eyes."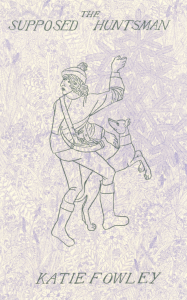 The Supposed Huntsman by Katie Fowley

Ugly Duckling Presse | 2021

In this debut poetry collection, Fowley "creates spaces that blur the lines of gender, species, and self."
Harbor Editions | 2022

According to Lisa Summe, "Gordon's poems whistle a queer urgency that aches with desire."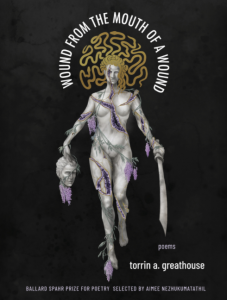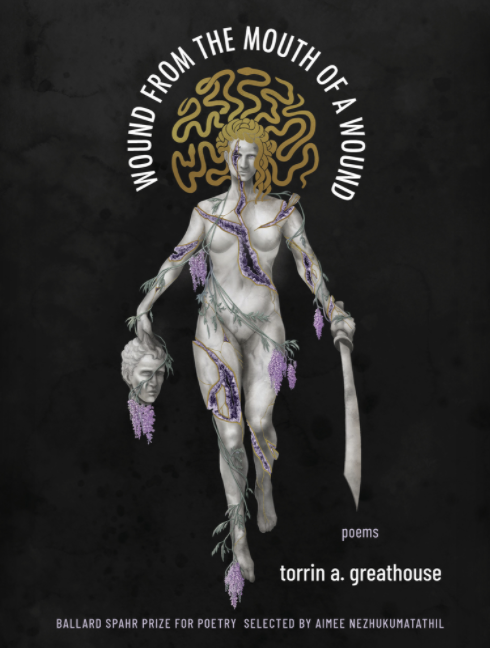 Wound from the Mouth of a Wound by torrin a. greathouse

Milkweed Editions | 2020

Selected by Aimee Nezhukumatathil as the winner of the 2020 Ballard Spahr Prize for Poetry, greathouse's debut collection "challenges a canon that decides what shades of beauty deserve to live in a poem."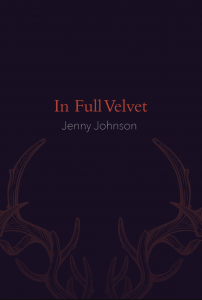 In Full Velvet by Jenny Johnson

Sarabande Books | 2017

The poems in Johnson's debut collection "interrogate the nuances of desire, love, gender, ecology, LGBTQ lineage and community, and the tension between a body's material limits and the forms made possible by the imagination."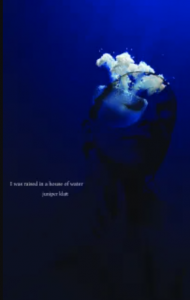 I was raised in a house of water by juniper klatt

Fernwood Press | 2019

According to Peg Edera, this poetry collection follows the poet's "slow strangle of losing her voice and the flood of coming back to herself."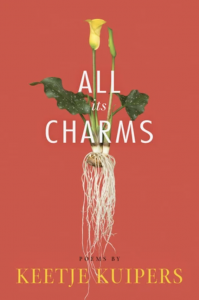 All Its Charms by Keetje Kuipers

BOA Editions | 2019
Kuipers's latest poetry collection is "about much more than the reinvention of the American family—it's about transformation, desire, and who we can become when we move past who we thought we would be."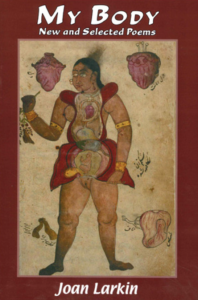 My Body: New and Selected Poems by Joan Larkin

Hanging Loose Press | 2007

According to David Ulin, this poetry collection contains poems "that stake out a territory of relentless self-examination, taking on love and death, family and sexuality in a voice that is unsentimental, ruthless and clear-eyed."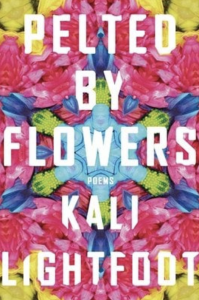 Pelted by Flowers by Kali Lightfoot
CavanKerry Press | 2021
Pelted by Flowers is a debut collection "of poems that favor a narrative style but also experiment successfully with poetic forms."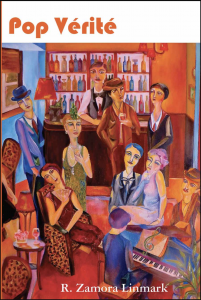 Pop Vérité by R. Zamora Linmark

Hanging Loose Press | 2017

According to David Kirby, "James Schuyler and Frank O'Hara flit in and out of these poems, but then so do Tony Bennett, Roberto Bolaño, Donna Summer, Samuel Beckett, Amy Winehouse, and, well, everybody."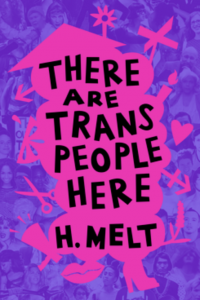 There Are Trans People Here by H. Melt

Haymarket Books | 2021

This poetry collection is "a testament to the healing power of community and the beauty of trans people, history, and culture."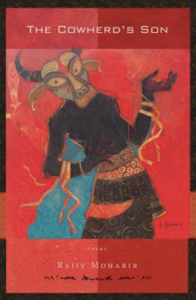 The Cowherd's Son by Rajiv Mohabir
Tupelo Press | 2017
In this Kundiman Prize–winning poetry collection, "Mohabir's inheritance of myths, folk tales, and multilingual translations make a palimpsest of histories that bleed into one another."
Book*hug Press | 2022

In this poetry collection, "akin to a poetic memoir, past and present are in conversation with each other as the narrator moves from Ireland to San Fernando, and finally to Canada."
Barrow Street Press | 2021
According to Wayne Koestenbaum, "In Shoreditch, we cruise the epitaphs, reenact the melodramas, and taste the paradoxes, almost Sapphic in their concentration, their hieratic fruit-forwardness."
NDSU Press | 2017
Murphy's poetry "explores themes of faith, family, spirituality, death, friendship, and love, all rooted in place—the Red and Sheyenne River watersheds, North Dakota, and the Great Plains."
Ugly Duckling Presse | 2021
According to Genya Turovskaya, this poetry collection "reaches for the muse's hand, stands amid the rubble of our collective mythologies and origin stories, and surveys the damage with a wry, irreverent intelligence."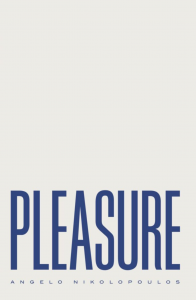 PLEASURE by Angelo Nikolopoulos

Four Way Books | 2022

Nikolopoulos's PLEASURE is "a book-length poem which muses on the phenomenology of solitude in a pastoral landscape, written in a diaristic, lyric mode, where the queer 'I' alternately savors the decadence of isolation and stands at the precipice of despair."
Milk and Cake Press | 2021
This debut poetry collection, "titled after the colloquial name for pomegranate seeds, excavates familial memory and ancestral inheritance."
Jackleg Press | 2020

According to Gregg Shapiro, "Seaton's sun- and sea-drenched poetry collection combines all of her strengths: teacher, lover, observer, seeker, reporter, tour guide, singer, naturalist, rover, sibling, and wordsmith."
New Rivers Press | 2021

According to Heidi Lynn Staples, "Scott's work shines poetry's searchlight into the nightclub toilets of youthful debauchery to reveal transcendent cathedrals of timeless yearning."
Wave Books | 2021
The poems in this collection "call attention to the experience of living as an embodiment of art, reminding the reader that poetry is like an open-air structure; it is open to all who are curious enough to welcome everything in."
Gival Press | 2019

Leave Smoke is "a personal and down-to-earth collection of poetry that speaks to the ordinary and the ups and downs of life and relationships."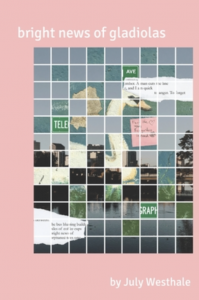 bright news of gladiolas by July Westhale

Harbor Editions | 2021

According to Rage Hezekiah, these poems "leave us simultaneously destabilized and riddled with hope, they emit haloes of something bigger than us."
Kaya Press | 2015

Winner of the Lambda Literary Award for Best Gay Poetry, this poetry collection achieves "a careful de-familiarization of language…to both enact and exemplify the irreducible persistence of the body through illness, dislocated desires, and colonization."
Fiction
Moldy Strawberries by Caio Fernando Abreu

Translated from Portuguese by Bruna Dantas Lobato

Archipelago Books | May 31, 2022

In this collection of eighteen stories, Abreu "navigates a Brazil transformed by the AIDS epidemic and stifling military dictatorship of the '80s."
Book*hug Press
Brewer's debut novel "shares three interweaving stories of artists tearing themselves open to make art."
Bellevue Literary Press | 2019

Inspired by the life of Alan Turing, this novel "evokes an extraordinary life, the beauty and sorrows of love, and the nature of consciousness."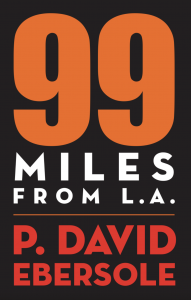 99 Miles From L.A. by P. David Ebersole
Pelekinesis | 2022
Ebersole's novel is "a hard-boiled crime story with a bi-sexual love triangle peppered with double-crosses."
Translated from Spanish by Jeffrey Zamostny
Swan Isle Press | 2021
Set in early twentieth-century Spain, Hidden Path is "a lyrical coming-of-age novel told from the perspective of a woman painter who struggles to find her way with art and with the women she loved."
Translated from the French by Emma Ramadan
Deep Vellum | 2015
Originally published in 1986, this novel is "a beautiful and complex love story between two characters, the narrator, 'I,' and their lover, A***, written without using any gender markers to refer to the main characters."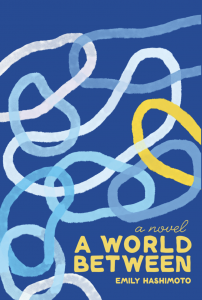 A World Between by Emily Hashimoto

Feminist Press | 2020

In Hashimoto's debut novel, "a college fling between two women turns into a lifelong connection—and spells out a new kind of love story for a millennial, immigrant America."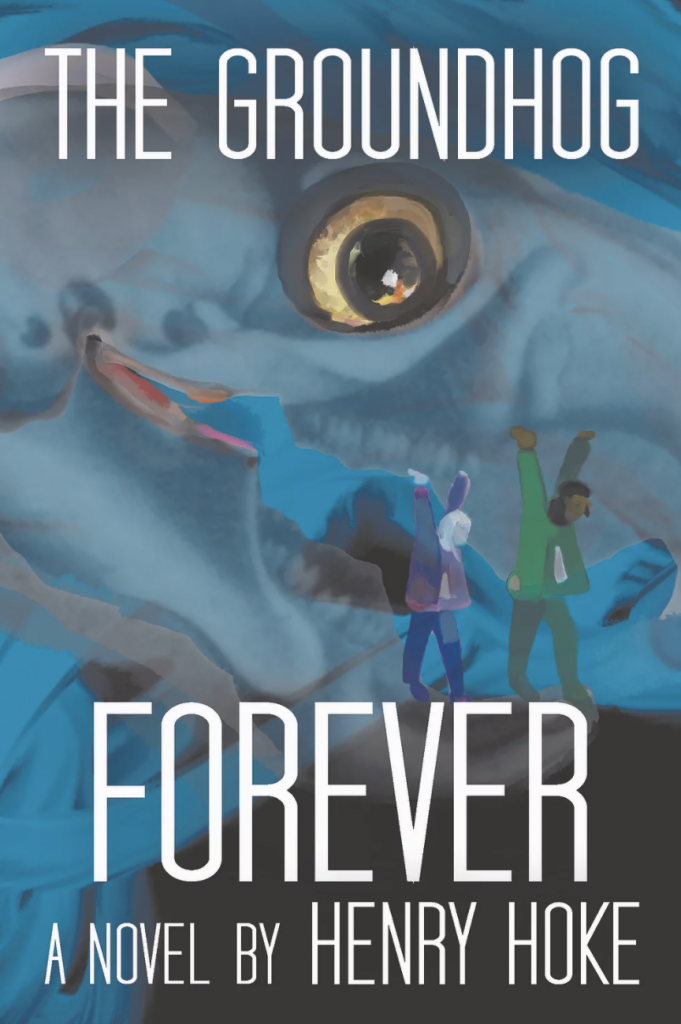 The Groundhog Forever by Henry Hoke
WTAW Press | April 27, 2021
According to Kimberly King Parsons, Hoke's debut is a "radiant, shapeshifting novel about fame, friendship, the ecstasy and agony of repetition, and The Divine Bill Murray."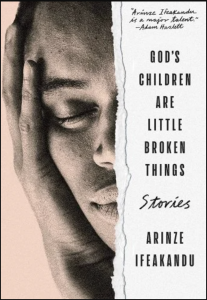 God's Children Are Little Broken Things by Arinze Ifeakandu
A Public Space Books | 2022
The nine stories in this collection, all exploring queer male intimacy in contemporary Nigeria, ask, "can deep love and hope be sustained in spite of the dominant expectations of society, and great adversity."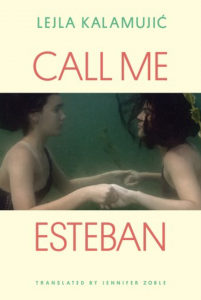 Call Me Esteban by Lejla Kalamujić

Translated from Bosnian by Jennifer Zoble

Sandorf Passage | 2021
This novel "depicts pre- and post-war Sarajevo by charting a daughter coping with losing her mother, but discovering herself."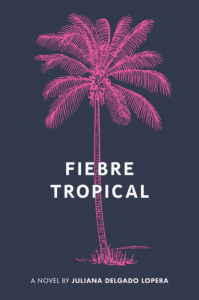 Fiebre Tropical by Julián Delgado Lopera
The Feminist Press | 2020
According to Lit Hub, this multilingual novel is a "story about coming of age as a queer adolescent, an immigrant, a daughter, a bilingual kid, a complex human being."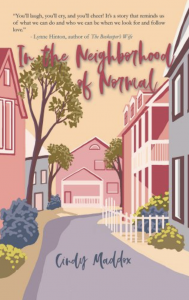 In the Neighborhood of Normal by Cindy Maddox
Regal House Publishing | 2021
In this novel, "Eighty-two-year-old Mish Atkinson from Fair Valley, West Virginia, is determined she's going to make something of the time she has left on this earth."
McPherson | 1994
According to Publishers Weekly, this novel about "strong and determined women becomes a meditation on loss—loss of life and love, of innocence, of a dream."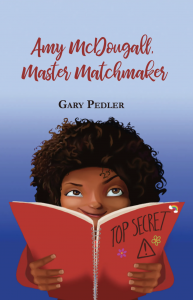 Amy McDougal, Master Matchmaker by Gary Pedler
Regal House Publishing | 2021
In this novel for young readers, "Thirteen-year-old Amy McDougall is worried about Travis, the single gay guy who adopted her when she was a kid. He wants a boyfriend yet isn't having any luck finding one himself."
New Rivers Press | 2018
Winner of the Gold Medal for LGBT+ Fiction at the 2020 Independent Publisher Book Awards, this novel is, according to Audrey Niffenegger, the story of "a gay man whose life and loves are shaped by the AIDS crisis, Midwestern social strictures and expectations for men."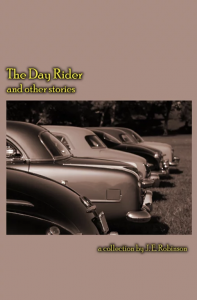 The Day Rider and Other Stories by J. E. Robinson
Gival Press | 2013

Winner of the San Francisco Book Festival Award for Gay Literature, The Day Rider & Other Stories "presents characters nominally situated in one world who seek to join another, while being themselves."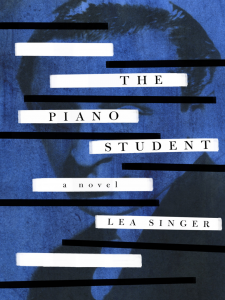 The Piano Student by Lea Singer

Translated from German by Elisabeth Lauffer

New Vessel Press | 2020

This novel explores "an affair between one of the 20th century's most celebrated pianists, Vladimir Horowitz, and his young male student, Nico Kaufmann, in the late 1930s."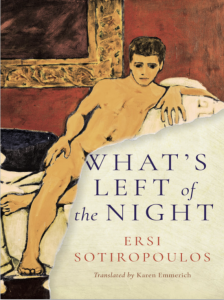 What's Left of the Night by Ersi Sotiropoulos

Translated from Greek by Karen Emmerich

New Vessel Press | 2018
Winner of the 2019 National Translation Award, this novel follows Constantine Cavafy's 1897 trip to Paris and "illuminates the complex relationship of art, life, and the erotic desires that trigger creativity."
Nonfiction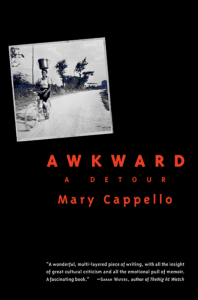 Awkward: A Detour by Mary Cappello

Bellevue Literary Press | 2007

In this book "fearlessly exploring the ambiguous borders of identity," Cappello "mines her own life journeys…to decipher the powerful messages that awkwardness can transmit."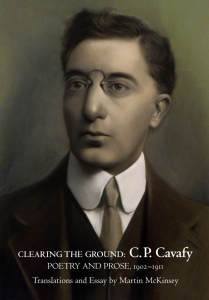 Clearing the Ground: C. P. Cavafy, Poetry and Prose, 1902-1911

Laertes Books | 2015
Featuring translations and an essay by Martin McKinsey, Clearing the Ground "illuminates a crucial decade of Cavafy's artistic development, marked at one end by a period of personal crisis and near creative stasis, at the other by the poetic force of the celebrated 'Ithaca.'"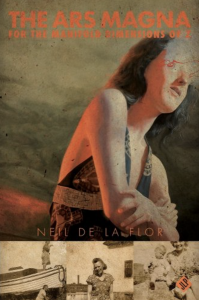 The Ars Magna for the Manifold Dimensions of z a book by Neil De La Flor
JackLeg Press | 2021
According to Denise Duhamel, "Through found (sometimes redacted text), memory, interviews and gorgeous speculation, de la Flor conjures a lovingly hybrid picture of Meta and the Danish Underground Resistance during the Holocaust."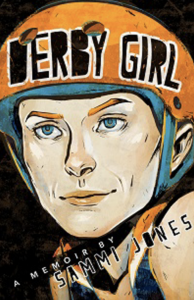 Derby Girl: A Memoir by Sammi Jones
NDSU Press | 2017
Jones "straps on her skates, adjusts her spandex, tests her center of gravity, and scores points with her no-punches-pulled memoir."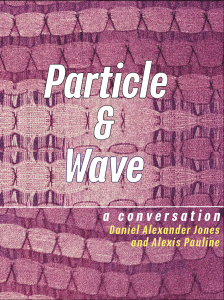 Particle and Wave: A Conversation by Daniel Alexander Jones and Alexis Pauline Gumbs

53rd State Press | 2021

In this conversation, Jones and Gumbs "discuss love as a foundational principle of artistic practice and societal change."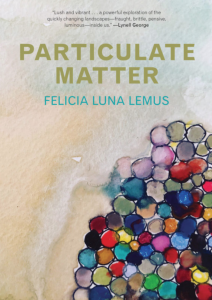 Particulate Matter by Felicia Luna Lemus

Akashic Books | 2020

Set in Los Angeles, this memoir is Lemus's "collection of still lifes, landscapes, and portraits of a challenging year that threatened all she loved most."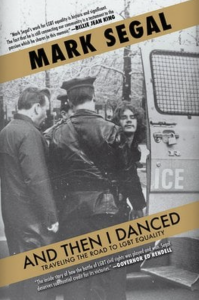 And Then I Danced: Traveling the Road to LGBT Equality by Mark Segal
Akashic Books | 2015
This book is "a dramatic and inspirational memoir from one of the world's top leaders of the movement for gay and lesbian equality."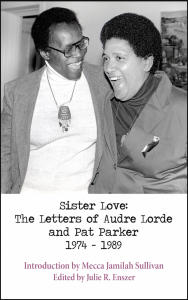 Sister Love: Letters of Audre Lorde and Pat Parker

Sinister Wisdom | 2018

This collection of correspondence between Lorde and Parker is "a rare opportunity to glimpse inside the minds and friendship of two great twentieth-century poets."
Drama & Art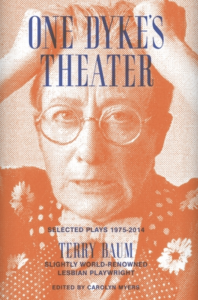 One Dyke's Theater by Terry Baum 
EXIT Press | 2019
The ten plays in this collection, edited by Carolyn Myers, "span 40 years of making theater about lesbian lives, from absurd farce to gripping historical drama."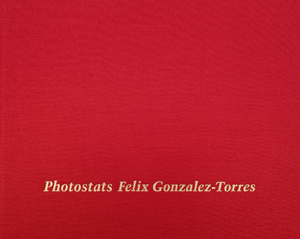 Photostats by Felix Gonzalez-Torres

Siglio Press | 2020

The series of photostats in this book "are profoundly suggestive text lists of political, cultural, and historical references that disrupt linear time, the seemingly causal relationships of chronology, and hierarchies of information."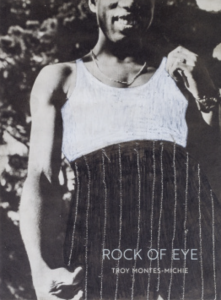 Rock of Eye by Troy Montes-Michie

Siglio Press | 2021

Rock of Eye is "a tactile and sensuous artist's book, recalling the forms of both magazines and swatch books" and featuring contributions by Tina Campt, Brent Hayes Edwards, and Andrea Andersson.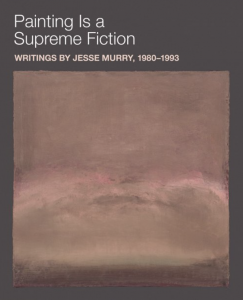 Painting Is a Supreme Fiction: Writings by Jesse Murry, 1980–1993

Soberscove Press | 2021
Edited and with an introduction by Jarrett Earnest and a foreword by Hilton Als, this collection presents the writings of artist and poet Jesse Murry (1948-1993).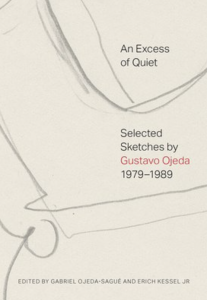 An Excess of Quiet: Selected Sketches by Gustavo Ojeda, 1979-1989

Soberscove | 2020
In his sketchbooks, Ojeda "fixated on the people of New York, filling thousands of pages with disembodied faces and the bodies of sleeping people riding public transportation and moving within urban space."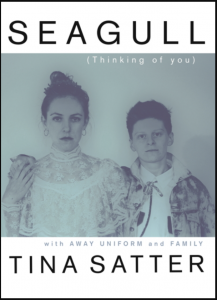 Seagull (Thinking of You) by Tina Satter
53rd State Press | 2013
This collection of plays is "a personal look at performance, failure and attempted love—ultimately an unexpected meditation on why we ever try to say something out loud."
Literary Magazines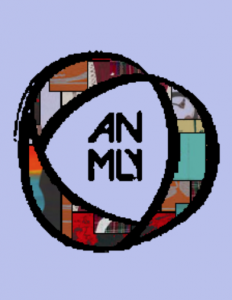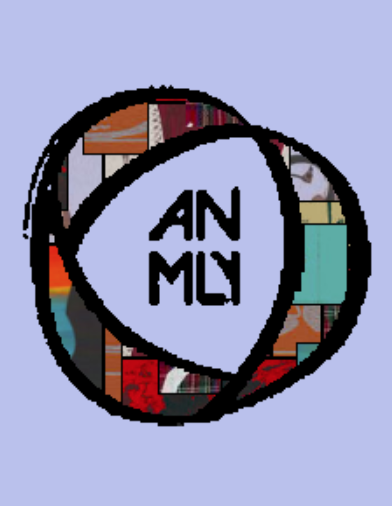 Queering in Plain Sight : a folio of queer fashion
ANMLY | 2019
According to Addie Tsai, "These delightful, fierce, inimitable, and unapologetic contributions transcend the lines between genre just as we transcend the lines between gender, sexuality, aesthetic, and style.
ANMLY | 2019
According to jayy dodd, "This folio looks to Trans & other post-gender writers using the mythos of science fiction, speculation, & experiments in language to create new rhetoric for the future & more intentionally, Trans Future."

"full disclosure / an inappropriate questionnaire *" by Milla van der Have
Cincinnati Review | 2021
This poem begins, "How do women, how do women…?"
Cincinnati Review | 2022
According to Lisa Ampleman, this poem "is a statement about the poetics of sex, in the smartest, richest way possible."
The Common

This selection of selected readings from The Common for Pride month includes poetry by Rage Hezekiah and Francisco Márquez, an essay by Raed Rafei, fiction by Lynn Pane, and more.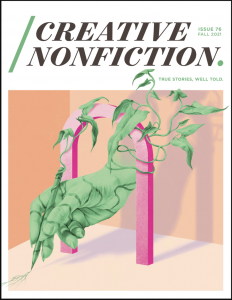 "How to Reintegrate" by Bronson Lemer
Creative Nonfiction | 2021
This essay begins, "A week before flying home to North Dakota from Kosovo, tell your mother what you'd like when you return."
Gulf Coast | 2019

Curated by Justin Torres, this special feature includes writing by Amber Atiya, Brontez Purnell,  Jaime Shearn Coan, and other queer writers.

Interview with Francesca Ekwuyasi
Mosaic Magazine | 2022
This interview by Nicole Dennis-Benn begins, "Francesca Ekwuyasi's debut novel, Butter Honey Pig Bread, is an evocative, lyrical tale of three Nigerian women—a mother and her two daughters whose relationship is ripped apart by a terrible event that would take years to overcome."

Interview with Mecca Jamilah Sullivan
Mosaic Magazine | 2022
This interview by Nicole Dennis-Benn begins, "Mecca Jamilah Sullivan's collection unfolds like a letter bestowed by an elder who has kept certain secrets at bay until the reader is old enough, mature enough to receive it, appreciate it."
Passengers Journal | 2021
This issue of Passengers Journal for Pride Month features poetry by Gabby Mijalski-Fahim and Lux Aeterna, prose by Julia Coursey and Kapilioha, visual art by Gregory Antollino and Nikki Kelsay, and more.
Sinister Wisdom | Issue 118

This special issue celebrates the 45th anniversary of the Lesbian Herstory Archives, "a grassroots collection…intentional about engaging with all facets and complexities of lesbian life, inclusive of diversity in race and gender-identity."
Sinister Wisdom | Issue 123
This special issue features essays honoring Conditions, "one of the signal publications of the late Women in Print Movement, a time of prodigious writing, organizing, and creating when women 'seized the time' and the means for our own revolution in letters."