This holiday season, give the gift of literary journals—to yourself or someone you love—with these subscription discounts and deals.
Purchase a one-year digital subscription to After Dinner Conversation for $4.95—a $20 discount—with the code CLMP.
Purchase single issues at 25% off with the discount code HOLIDAYS.
Use code CLMP25 in the Bellevue Literary Review store for 25% off all items, including back issues, subscriptions, and gift subscriptions.
Receive all four annual issues, as well as two Brink stickers, at a 20% discount with free shipping.
From December 8 through December 15, receive 50% off everything in the Cincinnati Review store, including subscriptions and back issues.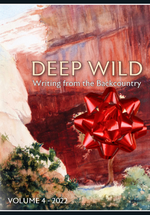 Deep Wild: Writing from the Backcountry
Receive Deep Wild 2022 for $15 (a 25% discount). Deep Wild also offers discounted bundling options, including $20 for Deep Wild 2022 and one back issue; $25 for Deep Wild 2022, Deep Wild 2021, and Deep Wild 2020; a two-year subscription for $28; and more.
Through December 15, receive a free letterpress-printed broadside featuring "White Spaces" by Lisa Low when you purchase a two-year subscription or renewal (four issues for $44).
During the holiday season, subscribe to—or give—The Georgia Review for $30 (a 25% discount).
Through December, annual and two-year subscriptions are 15% off with the 15th anniversary discount code THR15. Receive four issues for $29.75 or eight issues for $38.25.
Through December 16, purchase a one-year subscription for $36 (55% off the newsstand price)—either for yourself as a gift. Subscriptions include four issues of the print journal and access to the Kenyon Review digital archive, and gift recipients will be mailed cards notifying them.
Give a subscription to One Story and One Teen Story as a gift for $20, discounted from $25.
Receive 20% off all gift subscriptions until January 31, including one-year and multi-year subscriptions.
During Jewish Book Month (November 18 to December 18), receive $5 off Paper Brigade orders with the code PBCLMP. In addition, each purchase of Paper Brigade during this time will count as an entry into a giveaway for a special book bundle curated by Jewish Book Council.
Buy one subscription (or renew your own) for $35, then gift one for free! Each additional gift is just $17.50. Each subscription gives 11 issues and unlimited access to our digital app, which includes podcasts and back issues dating to 2016.
Receive (or gift) an annual subscription for $24—25% off the usual rate.
Before December 31, subscribe to a new year of Tahoma Literary Review at its 2022 prices in print ($20/year) or digital ($7/year).