A 2007 graduate of the New School MFA program, I believe I hold the record for attending the CLMP Literary Writers Conference more times than anyone. I've missed only one or two iterations since graduating all those years ago. Each year I watch for the program and think, "I can't believe I'm still an emerging writer!" and each year when the schedule is published I see that there are more things to learn, more panels to benefit from, more writers, agents, editors and publicists with invaluable inside knowledge to share. And I register again.
I don't know the precise definition of  'emerging writer.' I probably still fall into that category. This year, however, will see my literary debut; For Single Mothers Working as Train Conductors, which has been described variously as a memoir, an essay collection, a booklength essay and a collection of autobiographical stories, won the 2017 Iowa Prize for Literary Nonfiction, and will be published by the University of Iowa Press on June 1, 2018. Written over the course of nearly 15 years, it consists of a voice-driven series of sections that focus on my lifelong obsessions with language (I am a translator of Russian and French), literature, cultural difference and translation, as well as chronic illness, marriage and divorce.
During my first years as a conference attendee, I pitched the novel that had been my MFA thesis. Many agents who sat opposite me for those eight minutes during agent speed dating kindly agreed to look at it. Their gentle comments helped me to recognize when it was time to set that project aside and move on. When I told one of the conference organizers the following year please to remove me from the agent speed dating schedule because I had nothing to pitch, he urged me to present something, anything, so as not to miss the valuable opportunity to practice talking about my work. Thus did the idea of For Single Mothers Working as Train Conductors come into being, thanks to a fellow New School MFA graduate staffing the conference table whose name I never learned.
During the time that For Single Mothers was taking shape, the Literary Writers Conference was crucial to my understanding of the publishing industry and how books reach their readerships.l learned about literary magazines—the rich array that exist, especially the more recent ones, their role in nurturing literary talent, how to support them, and how (and how not) to submit to them–from listening to such luminaries as Brigid Hughes of A Public Space, Rob Spillman of Tin House, and editors of numerous other magazines, such as Guernica, Kenyon Review, The Literary Review, Killens Review and Hudson Review, to name just a few. During that time, 11 of the 13 sections of For Single Mothers came out in literary magazines, my submissions guided by what I had learned from those sessions.
The case study presentations, always featuring works of literary nonfiction, including essay collections, kept my spirits from flagging during the years that my book was coming together, reminding me that there are niches and readers for genres that get less attention than the novel. I particularly remember asking one agent on a panel whether it was worthwhile to work in a genre that I had been told again and again was not marketable. "If that is your strength, that is what you should do," she replied, without hesitation. I took heart and kept going.
The opening lines clinics enabled me to see if my sentences could draw in key literary gatekeepers such as agents Renee Zuckerbrot and Erin Harris, and to observe and learn from the work of my fellow emerging writers. The legendary Jonathan Galassi, head of Farrar, Strauss & Giroux, who spoke along with Michael Cunningham, author of The Hours, on the panel "The Writer and His Team," stands for me as the lodestar of uncompromising literary standards and dedication to the arc of a writer's career rather than to individual books. At that same panel, I was moved to hear Michael Cunningham speak about his difficult path, which included years and years when he had not a single story accepted for publication. Seeing him banter with his agent of many years, also on that panel, demonstrated vividly the rapport that an author and agent can and should have. I was reminded of all the varied paths a writer's trajectory can take when another attendee, an emerging writer in her sixties, confided to me afterward that decades earlier she and Cunningham had been classmates at the Iowa Writers Workshop.
The CLMP conference put writing colonies and residencies on my radar. "You should be applying to a few of these every year," CLMP director Jeffrey Lependorf said one year while moderating a panel along with the director of the Millay Colony and representatives of other artists' colonies. I began to apply that year and then followed his advice to contact colonies that had turned me down to ask how my application had done during the judging process. I learned from one place that my application had been deemed "slightly below average." After a break to overcome my discouragement, I continued applying for years, recently gaining admission at long last to the colony that had given me that disheartening response. (I had to decline their invitation owing to a scheduling conflict.) I am writing this guest blog from the MacDowell Colony, where I am continuing work on my second book, tentatively entitled Super-Pricey, Royal Blue French Lace Bra.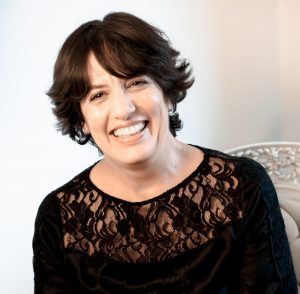 Laura Esther Wolfson's debut book, For Single Mothers Working as Train Conductors, won the 2017 Iowa Prize for Literary Nonfiction. She is a translator of Russian and French, and a MacDowell Colony Fellow. She holds an MFA from the New School Writing Program and lives in New York City. To learn more, visit lauraestherwolfson.com and follow her on Twitter @EstherLaura.