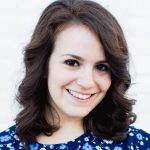 In the months leading up to this year's Literary Writer's Conference, we'll be sitting down with some of our favorite agents to talk about their work, working with writers, and their LWC experience. This week we're chatting with Stephanie Delman of Greenburger Associates. She began her career in early 2012 after a stint in digital media. She worked with agency president Heide Lange for almost six years, specializing in foreign rights, before transitioning to full-time agenting in January 2018. Stephanie represents writers of adult fiction and nonfiction, as well as a few illustrators whose work is geared toward the adult market. In fiction, she is particularly enthusiastic about literary/upmarket contemporary fiction, genre-bending suspense, and atmospheric, near-historical fiction (from the past 200 years).
How does a smaller conference like LWC benefit both writers and agents who participate? What are you most looking forward to about this year's conference? 
I love small, specific conferences, because you get the sense that everyone in attendance is serious about their work—the writers as well as the publishing professionals. Larger conferences may be useful for those just getting their feet wet—newer writers who need to build their literary communities, develop good habits, and become acquainted with the many distinct paths forward. But a smaller conference generally means that everyone's already speaking the same language—that you've been exposed to different types of publishing, and you've chosen this conference because you can identify with its aims. I'm excited to meet writers who have been engaging with small presses and literary journals. The more you read, the more you learn how to write. And the books and journals published by CLMP are some of my favorite things to read, which means that the writers who have sought out this conference are aspiring to create work that's inventive, smart, stylish, and meaningful.
When you come to an event like this, what are you looking for as an agent? How do you connect with emerging writers? How does LWC help foster a community of writers and agents?
I'm hoping to meet and see work from writers who are ready to move forward—writers who have done the groundwork, who know they're far enough along to share. As always, I'm hoping to fall in love with someone's writing and start a conversation that could become a partnership. But even when that doesn't happen, I appreciate LWC and conferences like it for planting the seeds from which these conversations can grow.
What do you think are the most important opportunities a writer can take advantage of at LWC? 
Attend everything! You can sleep later! And be sure to connect with your fellow writers, because those relationships can be really meaningful.
How does an event like this connect with your daily life as an agent? What are some of your essential takeaways?
Most of the time we spend reading (and writing) is in isolation. It's important to gather, to learn from on another, and to remember that we're all in this together. I also like to demystify the publishing process as much as possible! It can seem so opaque, but we're really all just nerds who love to read.
Ready to meet Stephanie and other agents looking for new clients? Register for LWC}NYC 2018 Here.