We spoke with Alexandra Watson, executive editor of Apogee, in this installment of the CLMP Member Spotlight series.
What is the history behind Apogee Journal? When was it founded and what is its mission?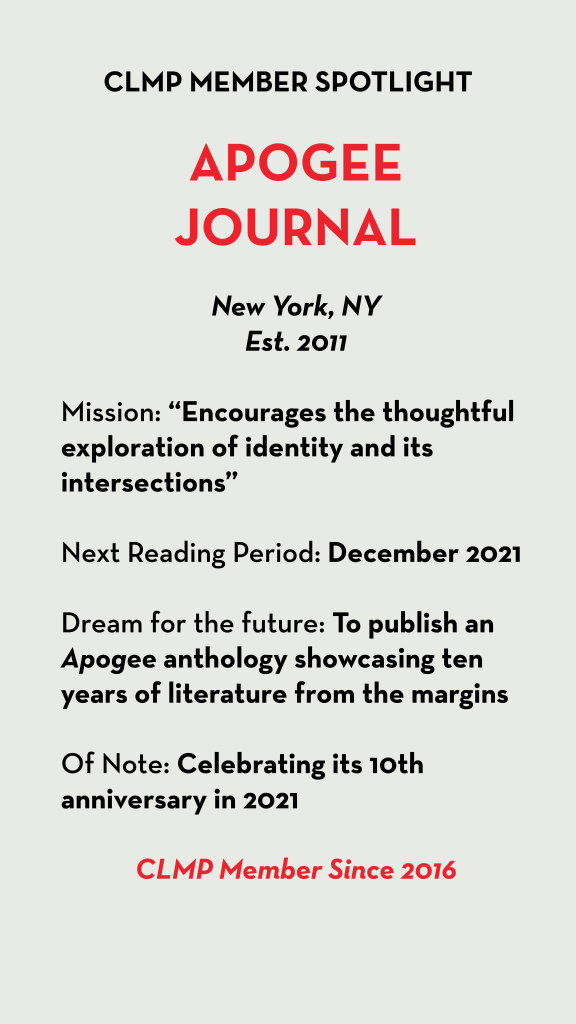 In 2011, a group of writers of color and international students in Columbia's graduate writing program created Apogee as a space to intervene in conversations about traditional publishing. Apogee began operating independently as a biannual print journal in 2013. We expanded our community of contributors and staff, building an active online hub, which features original editorials, reviews, interviews, and more.
Apogee is a journal of fiction, nonfiction, poetry, and visual art that promotes the thoughtful exploration of the intersections of identity. Apogee works to combat the domination of white, cis-heteronormative, patriarchal voices in our literary landscape. Our purpose is threefold: (1) to publish fresh work that interrogates the aesthetic and political status quo, (2) to provide a platform for underrepresented voices, prioritizing artists and writers of color, and (3) to model conversations and practices regarding equity in publishing.
After participating in the local New York City literary community for several years, Apogee transitioned to an all-online presence in 2018. What inspired this decision? How has this helped you build a broader artistic community beyond New York City, both before and during the COVID-19 pandemic?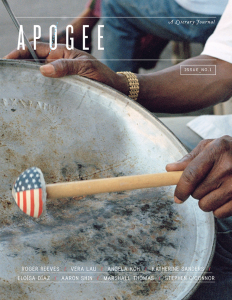 We published nine print-only issues before transitioning to a digital platform, with a paywall, in 2018. In 2020, we removed the paywall, making Apogee accessible for free online. Our biggest reason for switching was to increase access to the work. At the heart of our mission is to make visible literary and visual art by marginalized artists.
Our Writing Resistance workshops have traditionally taken place in New York City and have been supported by the borough arts councils as well as local partners like the New York Writers Coalition. With the latest virtual iteration of Writing Resistance, we are building the capacity to host both in-person and virtual writing workshops, which is expanding our artistic community.
Apogee's readers can support the journal by signing up for a monthly membership, from the Lil' Sparker Membership at $1 per month to the Flame Thrower Membership at $10 per month. What does Apogee membership entail?
Apogee membership is really about supporting our mission and our work, at various levels. Recently we have been experimenting with incentive levels that include manuscript consultations and sneak peeks at our issue content. Membership is about being engaged with what we're doing, from publishing to hosting workshops.
At the beginning of Issue 15, Fiction Coeditor Miriam Kumaradoss-Hohauser writes, "We all have the right to celebrate whatever victories and moments of respite emerge amongst this dystopia and its struggles. After all, joy is not a commodity that we must barter for with suffering." Can you tell us more about the importance of centering joy in this way?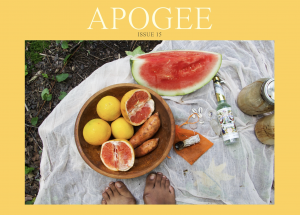 As part of our work at Apogee in our mission to fight against the domination of hegemonic voices in literature, it's important to us to highlight work that encompasses all aspects of what it's like to move through this world as a marginalized person. Too often, these experiences and stories are flattened by dominant voices unless they telegraph pain and/or struggle in a fetishized, oversimplified manner (to name a few examples, there's the trope of the Angry Black Woman, gratuitous one-dimensional narratives of queer suffering, the fact that the token person of color in the average horror movie is often the first to die). Centering joy in both life and art—the true, complex joy that arises from our lives in and despite a world rife with oppression—is an act of resistance against this flattening and against ideas of who we are "allowed" to be, a way of pushing back against "positive" stereotypes that are just as harmful as negative ones, and a celebration of all the kaleidoscopic, nuanced states of being that make up our identities as people relegated to the margins.
From a publishing standpoint, there's so much joy (alongside relief and often astonishment) every time we publish a new issue of the journal. To see contributors proudly sharing their pieces on social media, to watch other readers react enthusiastically, and especially to watch contributors reading and sharing one another's pieces—these all contribute to a sense of a vibrant community. Launch parties, too—there's something about watching an audience get hooked on a piece we've just published, and seeing contributors who've never met before connecting, admiring each other's work, and creating bonds. That sense of community, gathering around a literary object, is where I see the joy and abundance in publishing.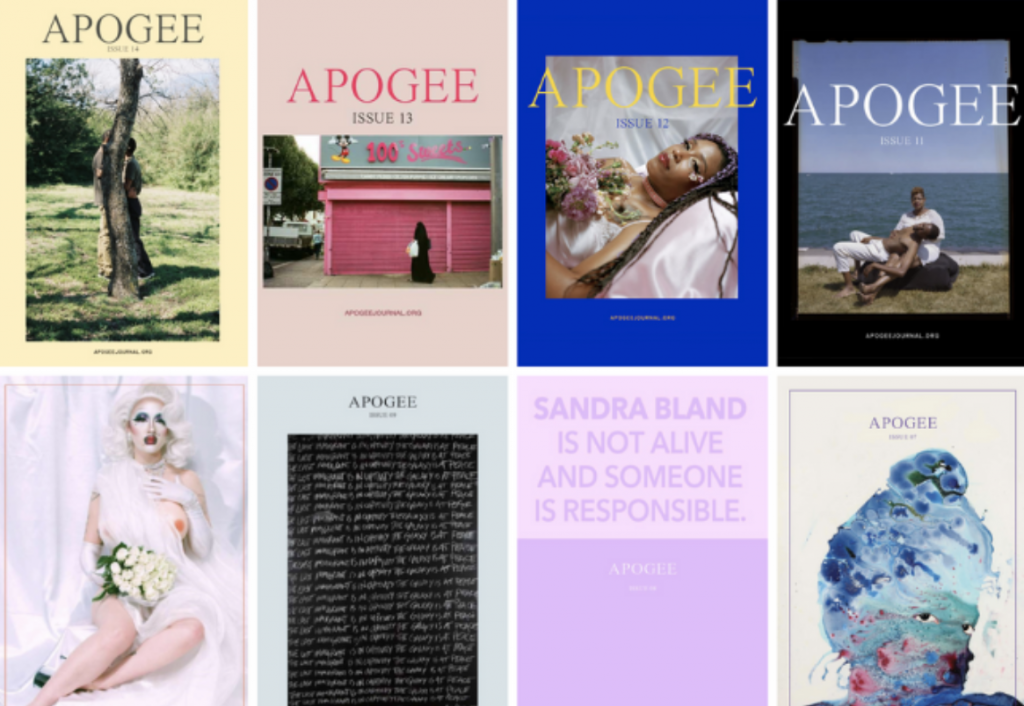 Apogee is celebrating its 10th anniversary in 2021. Do you have any celebration plans? What are some of your hopes and goals for the coming years?
We are currently 70% complete digitizing all nine print issues, which is an exciting step to us celebrating the work we've done in the past ten years. We are working on a comprehensive contributor database that helps readers explore the work of the authors we've published (who include, to name a few, Kaitlyn Greenidge, Tiphanie Yanique, Morgan Parker, Danez Smith, Tommy Pico, Rachel McKibbens, Deesha Philyaw, Dantiel W. Moniz, Mickalene Thomas, Juliana Huxtable, and many more). The database will also be updated regularly to reflect exciting developments from our contributors, including exhibitions, new publications, and awards.
A dream of ours is to publish an Apogee anthology, which showcases a decade of literary arts from the margins. This would also be an opportunity to develop teaching tools: a curriculum for teaching works from the anthology in high school and college courses. We have also just begun working on an issue for incarcerated writers, and we want to deepen our engagement with communities who are underserved in the literary world.