We spoke with Dani Hedlund, the editor-in-chief of F(r)iction and CEO of Brink Literacy Project, in this installment of the CLMP Member Spotlight series.
What is the history behind F(r)iction? When was it founded and what was its original mission?

F(r)iction started as a pipe dream back in 2014. Before then, we were running a pretty normal literary journal called the Tethered by Letters' Quarterly, a wee periodical that published traditional literary fiction and poetry. But then we started to get these submissions… these weird submissions. Stories steeped in fantastical elements, fantastical settings, or woven with horror.
But no matter how much we loved these stories, we couldn't publish them. All the funding I'd been killing myself to raise was for a traditional journal. There was no room for genre and comics and speculative fiction. The line had been drawn between literary works and mainstream, and the world told us we needed to choose one side. But we didn't want to. We believed the genre works could be just as gorgeously written as literary fiction, just as powerful and personally impactful. AND we believed that traditional realism and poetry didn't have to be stuffy or strait-laced. It wasn't all infidelity and angsty academics agonizing over love and existential ennui.
So we did something insane. We decided to toss away the stability of our old quarterly, and without a dime of investment behind us, we started F(r)iction. The mission was simple: we'd put the stories first. We'd publish stories from new and established talent alike, as long as those works pushed boundaries. As long as they both enchanted us and pushed us to think about the world differently. And if we were already going to be financially idiotic, we were gonna make the reading experience as immersive and captivating as possible. Recruiting artists from around the globe, we brought together a team to illustrate EVERY SINGLE literary piece.
Thus F(r)iction #1 came out in the spring of 2015. We printed just 100 copies and it took us over a year to move them all. Less than a year later, our print run had jumped to 1,000 units. Then Barnes & Noble picked us up in 2017—the youngest kid on the newsstands—and the momentum started to really pick up. Since then, we've been honored to have some legendary talent grace our pages—Jeff VanderMeer, Joyce Carol Oates, Charlie Jane Anders, Benjamin Percy, Kwame Dawes, Lev Grossman, Inua Ellams, Kay Ulanday Barrett, and Faylita Hicks, to name but a few.
But our real heart is in the debut talent. At least 30% of all our content ALWAYS comes from the slush pile—mentored completely for free by our senior editorial staff—to ensure new, diverse voices are always heard.
What does this mentorship program entail?
Thanks for asking! This is one of my favorite things about F(r)iction—and a big part of why we're so different from other journals.
Because nurturing the next generation of storytellers is a central tenet of our nonprofit mission, our editors aren't just reading submissions with "reject" or "accept" in mind. They are looking for works with potential. This means that our juniors will pass up rougher work to our senior editors if the piece is doing something unique and exciting. And my senior editors—who are some of the smartest, most caring, nurturing folks I've ever had the honor to work with—will take on stories, poems, and CNF pieces that are great, but need a little love. They mentor these works for as many as five to ten full drafts (sometimes taking months and months), so we can make sure that we're putting our money where our mouth is on the pledge to fight for diverse, new voices. Even my managing editor and I take on edits. (I have five stories on my desk right now that are knocking my socks off, all from unagented authors doing something really daring with their craft…and man, am I EXCITED about them!)
And, of course, we all do this 100% free of charge, so we can ensure that all writers—of all socioeconomic backgrounds, race, gender, and geographic location—can get access to high-quality editorial guidance. To us, this is the best way we can close the achievement gap and make sure marginalized voices are heard.
Even general submissions that we end up passing on are never just sent a blanket rejection note, because, honestly, is anything more UNHELPFUL than "Dear Author, we regret to inform you that this doesn't fit our aesthetic…?" With rejections like that, you have no idea if you're close, but need a little revision, or if that work is, well, totally missing the mark. So how do you know how to get better? Instead, when we send rejections, our editors always send an explanation of why it wasn't passed up, including what's working in the piece and what needs improvement. It's a little thing, but I know from my own writing that rejection letters that offered me guidance and encouragement were often more rewarding than my acceptance letters.
By combining these two big elements of our mentorship program, we never struggle to hit that "30% from the slush" rule. In fact, not only do we publish so many people who are unagented, we also publish so many brand-new, debut talents (for example, there are four debuts in our Monster issue!).
Can you tell us about F(r)iction's parent nonprofit, Brink Literacy Project? What is the Frames Prison Program?
Brink Literacy Project is the nonprofit that runs F(r)iction, and it's just as weird as the imprint it puts out. Wonder how we have the ability to mentor emerging authors for months? It's because our parent organization believes that education and mentorship is the only way we can elevate underrepresented voices…and they are willing to train and maintain 30+ volunteer editors just to help new authors thrive in the industry.
The ethos behind Brink is simple: that stories have the power to change the world. Thus, Brink works in the U.S. and U.K. to increase literacy rates, elevate marginalized voices, and empower people living on the brink to take positive steps forward.
Although we work with several underserved demographics, one of my favorite programs is the Frames Prison Program. Working in maximum-security women's prisons in the U.S. and Scotland, we teach graphic memoir courses, using comics as a way to engage low-literacy and reluctant readers. Although we read and discuss a great deal in these courses, the main crux of the program is having our students write their own graphic memoirs. Using short comics published in F(r)iction as examples, students distill a single turning point in their lives into a short comic. This process encourages them to look back at their lives and critically evaluate the power their decisions have and—if we're doing our jobs right—empower them to take positive steps forward upon release.
As with all Brink's education programs, F(r)iction is the primary teaching tool in these classrooms. The really rad thing about this is that F(r)iction is specifically curated to increase critical thinking around a particular topic—so it's GREAT for pushing students to think differently. But more than that, since our education department and publishing department work together, the stories students read in our pages are from diverse and varied communities, writing right now, about topics that matter to them, not just a bunch of old white dudes. That's the real secret sauce behind our program's success.
Your Summer 2020 issue was themed Monsters (perfect for Halloween!), and your upcoming issue is themed Memory. How do you select and curate around these themes?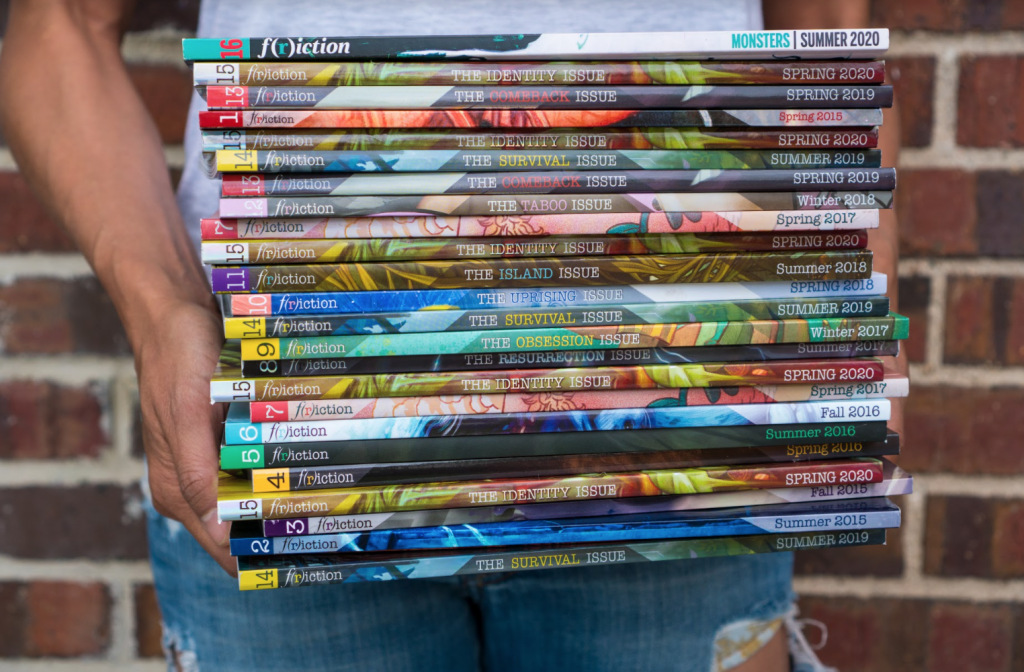 Oh goodness, curation is such a weird beast. You know how some days when you're writing, your fingers will start flying across the keyboard, a whole world materializing like magic, and then, other days, you're just white-knuckling words into place? That's sort of how curating our themes works. Every now and then, we'll look at the stories and poems locked in the pipeline, and they will fall nicely into evident categories. Then, other times, we have 20+ locked pieces that have nothing to do with each other. Then we sit down with the senior editors who worked on each piece and have them write down five themes that they think the pieces speak to. My managing editor—the ever-amazing Helen Maimaris—and I then set up a big sticky-note board and start tossing things around. Something always shapes up though, some hidden gem, and then we can plan out several books at once!
F(r)iction #16: Monsters was one of those books that just came together organically. There are some real stunners in that issue, from Marisa Crane exploring an abusive womanizer to Benjamin Percy, who wrote a short piece specifically for our issue that delves into "monster as place." The comic in that issue is a particular favorite of mine. I met the writer, Tracey Maye, when I was doing comic portfolio critiques for San Diego Comic Con. She brought me a script about a psychiatrist who "eats people's sins," and is therefore perhaps not as effective at her job—or relationships—in order to feed that hunger. Oh oh, and there's this retelling of Jurassic Park told from one of the maid's perspectives, casting a light on how badly Michael Crichton misappropriated Costa Rican culture…while also scaring the hell out of us. Man, it's just a great issue.
Memory, on the other hand, was a white-knuckler, but the way it finally came together—after every Hail Mary submission drummed up in the book—still startles me. I really thought with a theme like memory, the book would be saturated in genre-stories, but it's our most lit-fic/CNF issue we've ever put out. But let me tell you, even soaked in realism, it's all magic. Some stellar names and new talent came together to look at memory from so many diverse and fascinating angles. We have deathbed reflections from Shaindel Beers, gravity-defying reminiscences from Stephen Graham Jones, field notes on living inside your body from Emma Bolden, the breathless recollections of our community partner, Words Without Walls, and an exclusive pop science feature breaking down the history of memory in media.
And, as an added bonus, because Memory was so hard to figure out, we "accidentally" worked out the ENTIRE 2021 catalogue in that sticky-note (and G&T) fueled night. So get ready for explorations into Legacy, Arcana, and Unseen next year!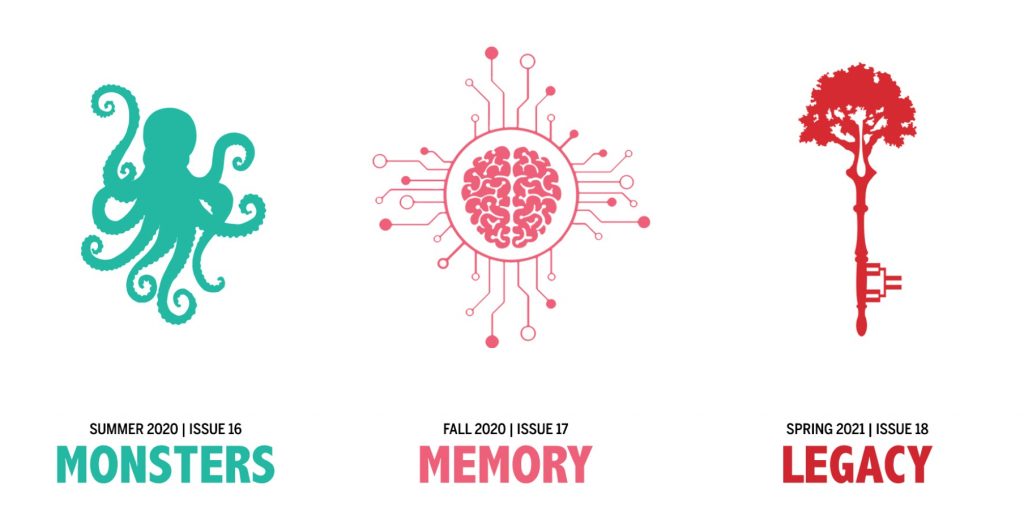 Many of your staff members got their start at F(r)iction through your Publishing Internship Program. Can you tell us more about your internships?
Our internship is one of the programs I'm most proud of (and, to be honest, absolutely the life blood of our entire organization). When we started the program back in 2012, we wanted to tackle one simple problem: why so many people who graduate with humanity degrees are unable to find work in the industry. Everywhere I looked, there were talented MFA graduates and English majors peddling coffee instead of using their pen for a living. So we set out to create a bridge between studying art and literature and actually working in those industries.
Our internship program is very, very intensive. Our interns learn everything from how to edit (from content to line edits); how to do marketing, outreach, and solicitations; and even the nitty gritty of the Adobe suite (imagine collective fists being shaken at InDesign). We also make sure to get them connected to as many facets of the industry as possible. This is especially important, because as much as we all don't want to admit it, so much of publishing is still a who-do-you-know game. And we want to equip our interns to play it as best they can.
But more than that, almost our entire staff is made up of past interns. By hiring from our internships pool—for both paid and volunteer positions—we can 100% ensure that our team has the skills, passion, and mentorship ethos to encourage our authors, students, and community members. Even my COO (who is also F(r)iction's managing editor)—who is easily the best, most competent human I've had the privilege to meet—was an intern just a few short years ago.
New talent, new voices, and diverse perspectives, that's what's going to usher in the next era of great storytelling—and change makers—and we want to be there to support them!
One of the things that makes F(r)iction distinct is your incorporation of full-color illustrations. What inspired this, and what are some of the rewards and challenges of featuring art prominently in a print publication?
When we set out to make F(r)iction five years ago, we didn't just want to give a home to innovative stories. We wanted to make that home as enchanting and vivid as the stories and poems within. You know when you were a kid and opening a book felt like a portal to new worlds? We wanted that for our adult hearts.
So we started finding artists from around the world, from a comic book artist in DC to a painter in Italy to a tattoo artist in Mexico. When we lock a story, poem, or essay for an issue, we sit down with the senior editor who fought for the piece and we have a long think about what kind of art will do it justice. Then we make an artwork description to take to the chosen artist and we work for weeks—through many rounds of thumbnails and progress shots—to bring the work to life.
Also, since we want each issue to work cohesively as a deep dive into the given theme, we create overall design aesthetics to make each issue sing. For example, Monsters was printed with ALL BLACK PAGES, with all the art creeping out of the darkness. For Memory, we went all pink brains and Escher-inspired glimpses into the way our minds work, everything emerging from the white of the page like the white of our blank minds, thoughts materializing in sparks of colorful synapses. And our upcoming Legacy issue is going to be intentionally aged. The pages will be a soft, old parchment color with gold metallic on the cover, like an ancient heirloom passed down from generation to generation, just waiting for someone to unlock its secrets.
Our hope is that this art deeply enhances the reading experience, especially for readers or students who feel a little reluctant about more difficult mediums like poetry. And, in the simplest of terms, literature is beautiful. It's valuable. Our authors work their bums off to create something meaningful… and we believe that that sort of art should be presented as carefully, lovingly, and lushly as possible.
How do your original comics tie into the overall ethos of F(r)iction?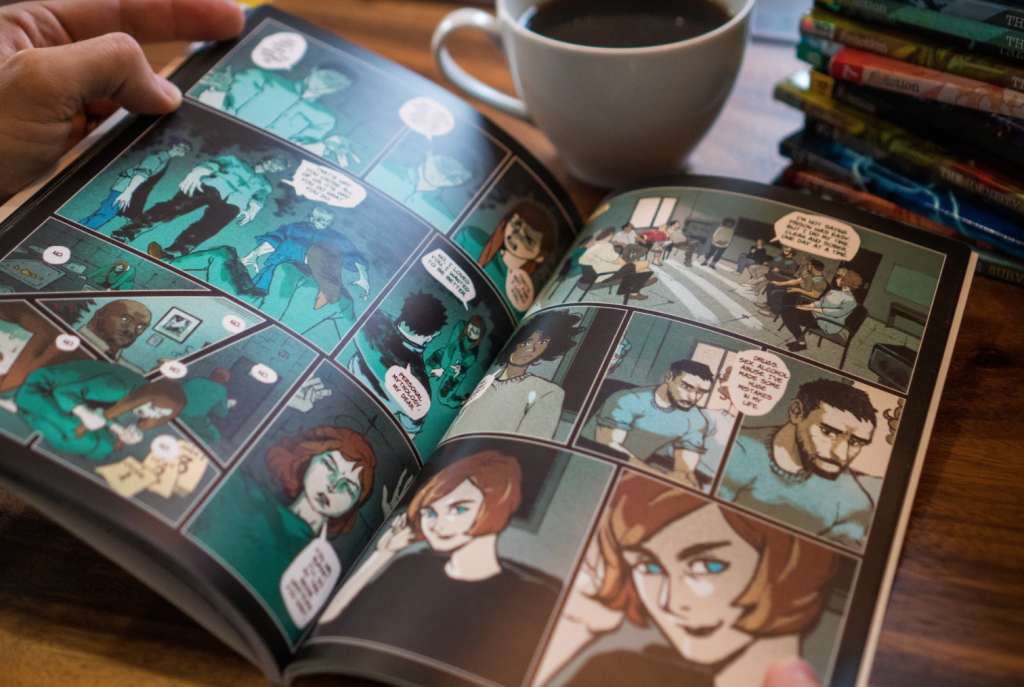 Oh comics, how we love them! On a personal note, I am comically dyslexic, and growing up in a small town with, well, let's say few resources, I wasn't diagnosed until I was in uni. So way back then, they popped me in special ed, and just couldn't figure out why the reading light wouldn't go on.
Then my dad bought me an issue of X-Men, and oh man, it changed my world. The combination of art and text that isn't justified (I know it's weird, but dyslexic humans really struggle with that formatting style) finally turned on that light, and soon you couldn't get my nose out of a book. Not only did this change my life in terms of education, but it also expanded my mind critically. Things like Watchmen, which on its surface is a fun superhero adventure but is actually a delve into politics, power, authority, and sexual abuse. That "fun" comic did more to teach me about history and politics than any history course. Thus, I've long loved the genre and wanted to help elevate it as a serious form of storytelling.
One of the big issues with the comic industry is that it's damn-near impossible to enter as a new creative, unlike prose-based books, which do have a ladder of short work in smaller publications, querying for an agent, nailing a book deal, etc. Comics doesn't have a ladder like this, mostly because no publisher in their right mind publishes short-form comics. They're just too damn expensive. Which means, not only are short-form comics dying out, creators also can't find journals to "take a chance on them" so that they have some publishing credits to pop in a query letter. Of course, webcomics are helping with that, but damn… that's so much to take on as a new creator. Years and years of work to gain a following. If you ever do.
So we wanted to be that bridge. We work with emerging talent—either artist/author teams, dual creatives, or writers who we pair with our own art team—mentoring them through pitches, to scripts, to paneling and final art. It takes us more than eight months per story, but it's worth it….
Finally, can you tell us about the Kickstarter campaign you recently launched?
Unfortunately, like so many indie publishers, we were hit hard by COVID-19. In particular, Barnes & Noble—our largest retailer—decided to close newsstands indefinitely. Thus, with a single email, 70% of our book sales went poof. But we're stubborn, and we're not going out with a fight!
Thus, we're running a Kickstarter campaign RIGHT NOW to try and find those hundreds of readers we lost with the B&N closures. If you think what we're doing sounds rad, please check it out!