We spoke with Alysia Sawchyn, editor-in-chief of The Rumpus, and Alyson Sinclair, owner and publisher of The Rumpus, in our latest Member Spotlight.
What is the history behind The Rumpus? When was it founded and what is its mission?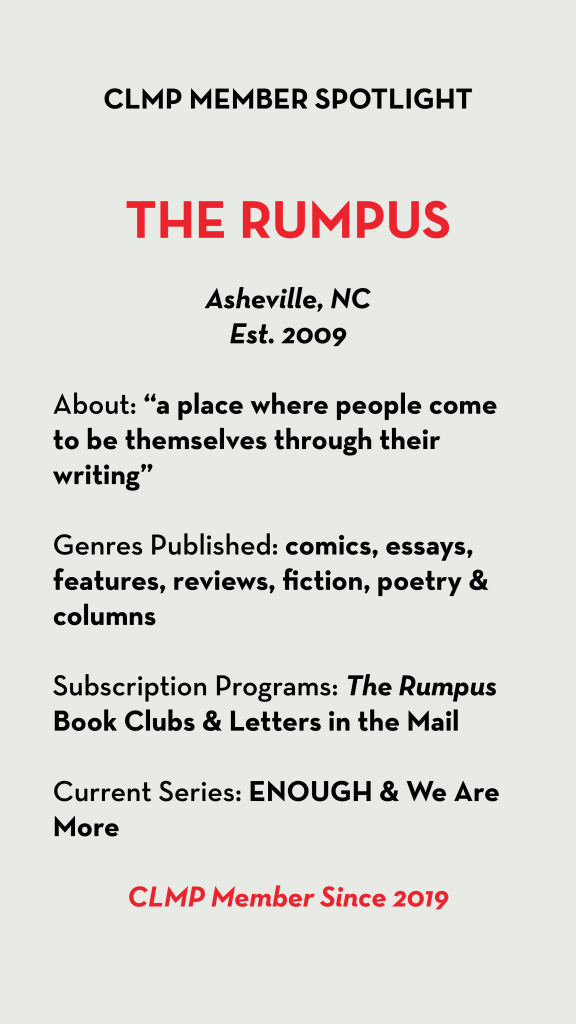 The Rumpus began in San Francisco in 2009 and is one of the longest-running online literary magazines. Many people know us because of early contributors like Roxane Gay and Cheryl Strayed. Their columns had such a wide reach and were a big part of their getting established as household names. While we've always been known for personal writing and risk-taking stories, when Marisa Siegel bought the magazine in 2017, she turned The Rumpus into a space specifically for that type of work. Under her leadership, we also started the ENOUGH column, which engages with rape culture and domestic violence, and built a robust poetry section of the site, including the National Poetry Month poem-a-day feature.  
You recently put out a call for submissions to ENOUGH. What inspired this series, and what is some of your other ongoing work?
Marisa created ENOUGH shortly after she bought the magazine in response to a combination of events—general rage, the Kavanaugh appointment, the Trump presidency, etc. We'll be opening for submissions again in May, and previous installments are available here on our site. Another newer ongoing series is We Are More, curated by Michelle Zamain, which is a space for SWANA  and SWANA diaspora writers, and we've also recently brought on a new Comics Editor, Colleen Kolba. 
The Rumpus publishes a wide range of content—comics, essays, features, reviews, fiction, poetry, and columns. What are some of the rewards and challenges of featuring such a variety of work?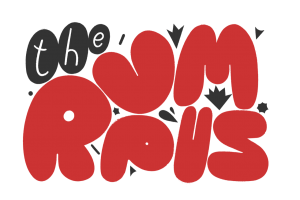 The reward, of course, is being able to showcase a range of amazing work. The interviews and reviews sections are particularly dear to our hearts because there are so few outlets for these types of writing now. We love books! We love authors! 
The challenge that comes with this is managing a large staff. There is a lot of work to be done and absolutely not enough money to fairly compensate those doing it. 
What is The Rumpus Advisory Board, and what role does it play?
The Rumpus Advisory Board was founded when Marisa Siegel took the helm in 2017. The function of the Advisory Board was initially conceived as a way to help when magazine leadership had questions or needed a sounding board for new ideas, to serve as role models, and to support the magazine leadership in reaching specific goals. You can read more about its members here. We are currently evaluating how to best move forward regarding the Advisory Board.
Can you tell us about The Rumpus Book Clubs and Letters in the Mail?
These subscription programs are what keep The Rumpus going—more than ads or donations. All of our programs bring an element of The Rumpus into our reader's mailbox: Book Club subscribers get a copy of each month's book delivered to their door, followed by access to an exclusive conversation with the author, and our Letters in the Mail programs send unique content by our favorite authors directly to readers. There's a fun range within the programs too; we've got prose and poetry Book Clubs, the letters sometimes include cartoons or poems, and we've gotten to work with authors like Kaveh Akbar, Melissa Febos, Nicole Chung, and Terrance Hayes.
In January, The Rumpus announced some major changes, specifically about your new roles—Alyson as owner and publisher and Alysia as editor-in-chief. What are you excited about? What are some of your goals for the future?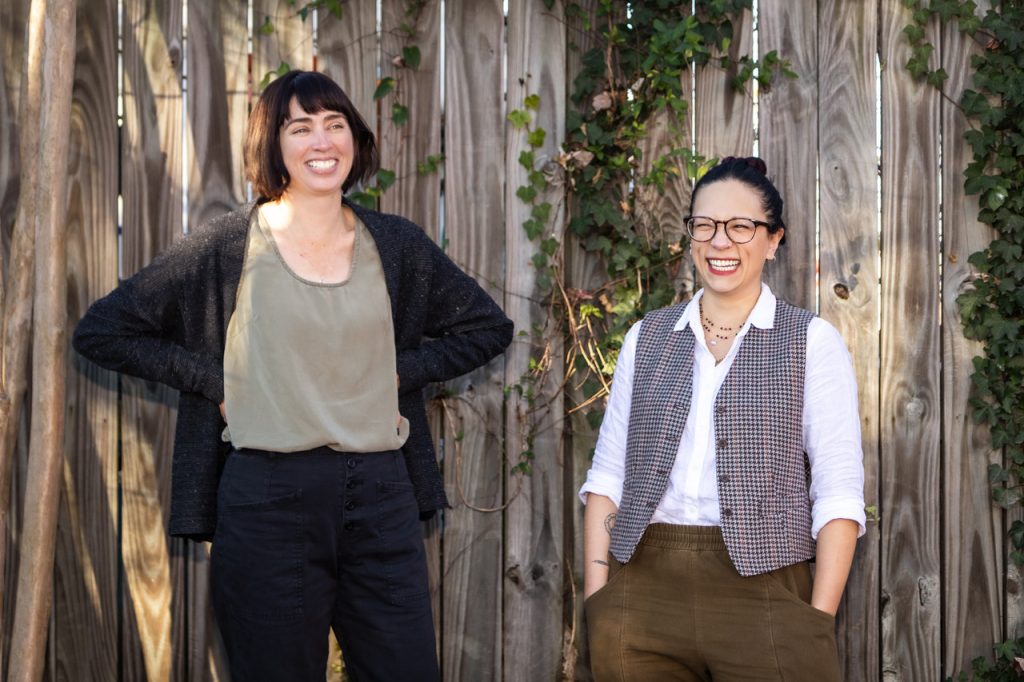 The truth about nearly all literary publications (especially those focused on prioritizing traditionally underrepresented voices) is that there's more ambition and great content than money. We need to have more financial support from our readers and the literary community to keep us going and stable. If we can pull this off without transitioning to a nonprofit, great! However, we realize we're one of the few hold-outs at this point.
On the business side of things, the immediate goals are to boost subscriptions and ad sales. For instance, if we had either 100 new book-club subscribers and/or a couple more authors or publishers interested in placing direct ad buys on our site or e-newsletter every month, we'd be able to pay our contributors a fairer, consistent rate. This year, The Rumpus is also very likely moving to a membership/subscription model that will allow readers to provide more consistent support. No paywalls for our regular content, but there will be some perks.
One of our longer-term goals is a website refresh! In order to do this correctly, we'd need to raise some major funds. We'd also like to have more of a presence at book festivals, indie bookstores, and other places where readers and writers gather to build community. 
If you're reading this spotlight, you can help us by joining one of our monthly Book Clubs, buying a Letters in the Mail subscription for yourself, reaching out for advertising, inviting an editor to take part in a workshop or event, or through a good old-fashioned donation. Oh, and by the time this interview is up, we should have some new limited edition merch up on Bonfire!