We spoke with Ugly Duckling Presse in this Member Spotlight.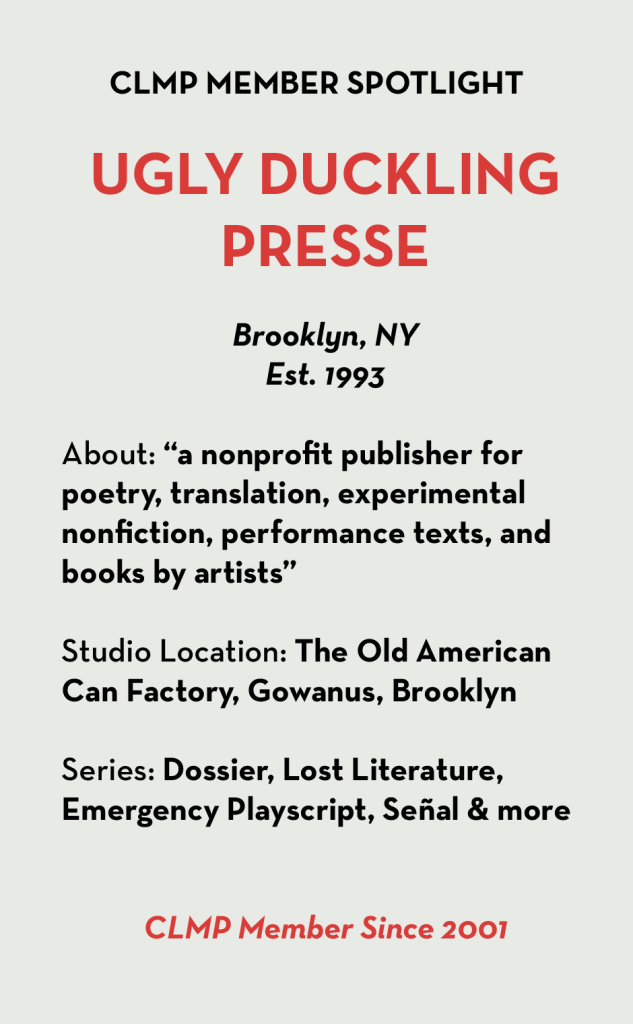 What is the history behind Ugly Duckling Presse? When was it founded and what is its original mission? 
Ugly Duckling Presse—or UDP, as we know it today—emerged in the late 1990s, when a core group of founding editors got together to publish works others wouldn't touch. The name "Ugly Duckling" was taken from a college zine one of us had started in 1993. The Presse incorporated in 2003 and has had many lives since. Across different editorial configurations, and progressing from a university xerox machine to editors' apartments to studio spaces in Red Hook and Gowanus, UDP has stayed consistent in its mission: to publish work that is experimental, difficult, or "forgotten," and to honor that work through experimenting with the form and design of the books. This has often meant incorporating handmade elements in the design of books, letterpressing our own covers and ephemera, and drawing on the history of bookmaking as a way to experiment with how a book can look, feel, and circulate.   
Ugly Duckling Presse is led by an editorial collective and a working collective, as well as a board of directors and an advisory board. How do these leadership bodies work together?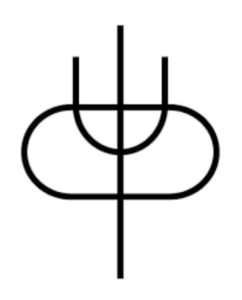 Together, the editorial and working collectives create the books. While members overlap, the labor is divided: The editorial collective chooses which works to publish and collaborates with authors and translators on their manuscripts, while the working collective produces the books and manages studio operations. From typesetting to distributing books, organizing events, letterpress printing, applying for grants, and working with apprentices, all cooperate to connect with other presses and writers and translators, and to collaborate on book fairs, bookmaking projects, parties, events, and more. As a nonprofit, UDP has a board of directors and advisory board, which advise on fundraising and structure. All these different entities mean a lot of emails, but the structure keeps the Presse working against easy hierarchies and toward collective governance and a culture of collaboration. 
Can you tell us about your online archive of out-of-print chapbooks and your Digital Proofs Program?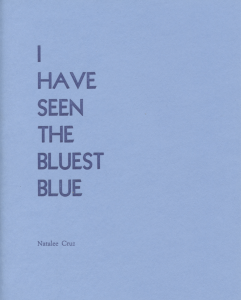 We want our titles to be accessible, so our website provides free downloadable PDF "documentation" of many of our books through our Online Chapbook Archive and Digital Proofs programs. These files mirror the design and content of our published books but are formatted as page-spread proofs, making them easy to print for classroom use and reading. While we encourage readers to support independent publishers by purchasing their books, this initiative is designed to enhance visibility for our authors and translators. Our Digital Proofs Program, initiated in 2013, was inspired and encouraged by UDP author Noel Black, who ignited discussions within our organization about online accessibility.
Ugly Duckling Presse publishes books and chapbooks through several specific series, including Dossier, Lost Literature, and Señal. How are these series distinct?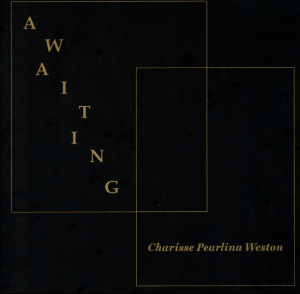 A series can function as a question, with each title providing a different answer. For example, Dossier titles don't have one single form, but tend toward a formally investigative impulse, whether in poetry, essay, criticism, interview, artist book, or polemical text. 
The Emergency Playscript series publishes primary performance texts, focusing on questions of notation and foregrounding new or "lost" work that offers radical approaches to describing and prescribing performance. 
Books in the Lost Literature series are either neglected, never-before-translated, or have fallen out of print. Focusing on historically marginalized writers from around the world, Lost Literature asks which books have been lost or almost never found; in reprinting them, the "why" of their losing is repudiated.
Finally, Señal publishes Latin American poetry in translation, aiming to trouble what has been traditionally meant by "Latin America," "poetry," and "translation." In the form of chapbooks with letterpress covers and flyleaves, Señal publishes emerging and/or underrepresented writers and translators, in fully bi- or trilingual editions.
There are more series—and some come and go—but these are a few that are especially active at the moment.
What are some other literary journals, small presses, and organizations you admire?
So many! Archipelago Books, Burning Deck, United Artists Books, New Directions, Nat. Brut, Annulet, Prelude, 1080 Press, No, Dear, WYRM, Bom Dia Boa Tarde Boa Noite, Litmus Press, Interference Archive, Wendy's Subway, Pinsapo Press, Black Sun Lit, CARA, Tuumba, Belladonna*, Lost & Found, Les Figues, Nightboat Books, Futurepoem, The Song Cave….
What are your hopes and goals for the coming years?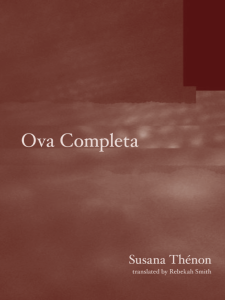 To keep publishing lost and experimental literature. That's our big mission, and all other projects support that: strengthening sources of ethical funding, continuing to build our apprenticeship program, welcoming new members in the working and editorial collectives, reorganizing our inventory, and perhaps beginning a new series or two. Also, as an artist-run organization, we have always felt that UDP itself is an ongoing art project, an unscripted creative collaboration that by necessity and desire has to continue shifting in structure and practice over time. We have a deep interest in navigating those shifts together, and this will continue to be the basis for everything we do. 
How can interested writers submit their work to Ugly Duckling Presse?
We hold open calls for our different projects throughout the year; they can all be found on our website, as well as on our social media and in our newsletter.