In this installment of the CLMP Member Spotlight series, we spoke with Dawnie Walton, Cofounder and Editorial Director, and Mark Armstrong, Cofounder and CEO, of Ursa Story Company, dedicated to celebrating short fiction and spotlighting underrepresented voices via the Ursa Short Fiction Podcast. 

What is the history behind Ursa? When was it founded and what is its mission?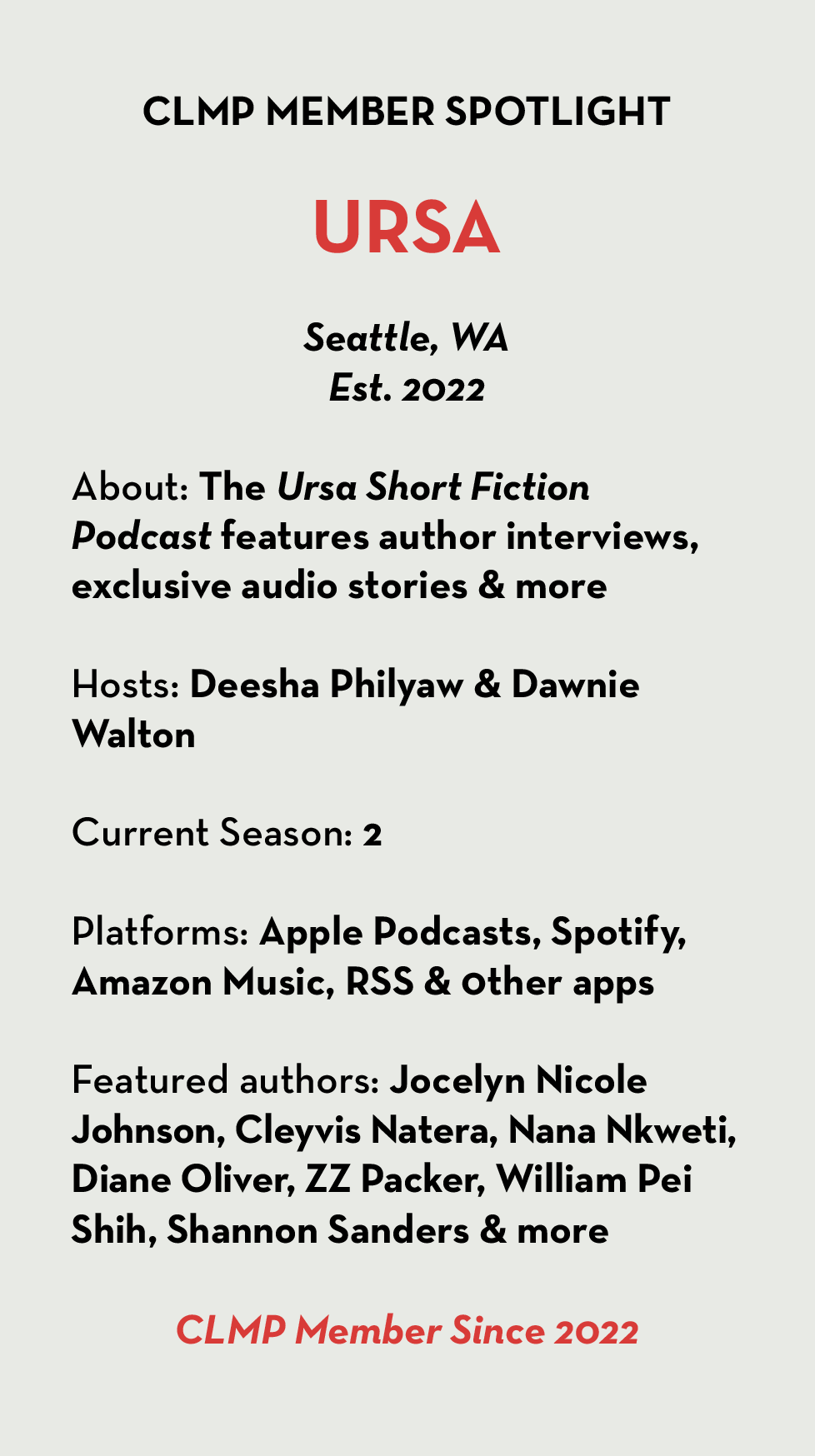 Dawnie Walton: Mark and I go back to our days as editors in the digital departments of different Time Inc. titles, and over the years we'd kept up with each other professionally—him leaving that world to found the iconic Longreads, and me pursuing my dream of writing a novel. Sometime in early 2021, when he was looking to launch another cool project and I was soon to publish The Final Revival of Opal & Nev, we started talking seriously about an idea to spotlight short fiction. Over time we honed that idea and decided that our mission would be to celebrate writers from underrepresented communities. In developing that mission, we started dreaming—who would be the ideal guests, the ideal advisers, the ideal co-host for our podcast? And that's how Deesha Philyaw came on board as my co-host. She and I had met through the literary community and discovered we had much in common (including the fact that we're both from Jacksonville, Florida, and attended the same high school five years apart). By that time Deesha was such a literary star that I felt shy to ask her, but we were so lucky that she was as excited as we were about the possibilities. 
Mark Armstrong: In addition to being a huge fan of Dawnie and her work from our early days in New York City, I loved her debut novel, The Final Revival of Opal & Nev. And it just happened that we had connected during these big transitions in both of our lives and careers, so we found ourselves going back and forth with these emails swapping notes and ideas. It turned out that we were both thinking a lot about what was possible with short fiction. And then Deesha's short story collection knocked us out, and it was a dream come true that she agreed to join us and be a part of Ursa.   
It's exciting to think back to those early conversations with Dawnie and Deesha, and how Ursa has now taken shape into a real thing out in the world that people are enjoying and engaging with.
In the first episode of the Ursa Short Fiction Podcast, co-host Deeshaw Philyaw says, "We're here because we love short fiction." What inspired the podcast's focus on short stories?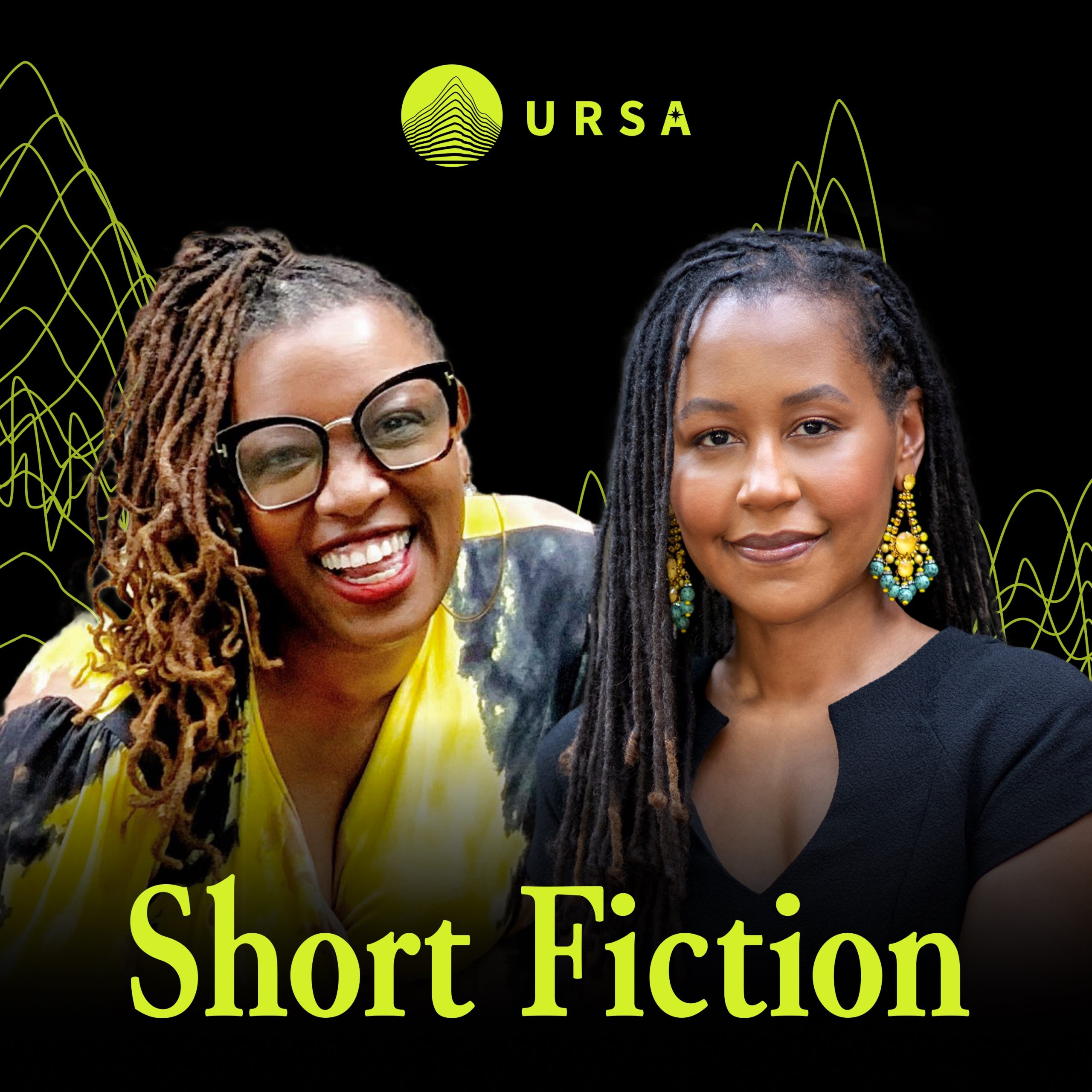 DW: In our early conversations, Mark and I talked a lot about my MFA experience at the Iowa Writers' Workshop (from which I graduated in 2018). I remember telling him that I had so many classmates whose short stories and collections-in-progress dazzled me, but who sometimes would have trouble when they went on submission to agents or editors, due to this persistent belief that short stories don't sell (it's that "great, but do you have a novel?" response). That felt unfair to me, dismissive of work that was powerful and exciting (even more so sometimes, because of the brevity of the work, and the constant meaningful choices the writer must make). And so my motivation was to spotlight the short-fiction form, and these writers, in a way that felt as glittery, prestigious, and celebratory as possible: high production values across the board, close readings by Deesha and me, deep craft conversations with authors that will inspire other budding story writers, etc. Also, as a novelist myself, the short story holds special mystery and magic for me. So part of this is selfishness on my part—my questions for these writers often stem from my thirst to know how they do what they do!
MA: Back in my early days of Longreads (which originally started as a Twitter account and hashtag), we dabbled in curating and publishing short stories. But the site always skewed more toward nonfiction—partly because my own background was in journalism, but I think another reason was that Twitter itself was so news-driven. Dawnie and I had both seen short stories as something we wanted to explore—we're in the middle of what feels like a renaissance for short stories, so perhaps we could develop some new approaches to spotlighting them. With Ursa we decided to focus on audio (and while we're at it, also have some fun with video trailers on TikTok and Instagram).
Podcasting turned out to be such a great way to get people into short stories—especially having two brilliant authors like Deesha and Dawnie helping listeners discover and learn about the stories and writers they love. And then on top of it having voice actors narrate the stories and bring them to life in an exciting new way. 
Can you tell us more about Ursa's emphasis on spotlighting underrepresented voices?
DW: We've all seen the numbers on the severe lack of diversity in publishing, and we know the vast majority of gatekeepers in all forms of storytelling remain white. In part, our mission is to address those gaps. Personally speaking: writers from underrepresented backgrounds are the heart of my community. As a Black writer, these are the people who look out for me professionally, nurture my voice, champion me, help me navigate the sometimes opaque publishing world. They are there for me in the loud and the quiet moments, and it was essential to me that my work builds upon that vital community. 
MA: To put it simply, Dawnie and I wanted to build the thing that we wanted to see more of in the world, and that was a literary and audio production company that centers writers of color and LGBTQ+ voices. It's at the heart of Ursa's mission. 
What are some of the rewards and challenges of publishing short fiction in audio form?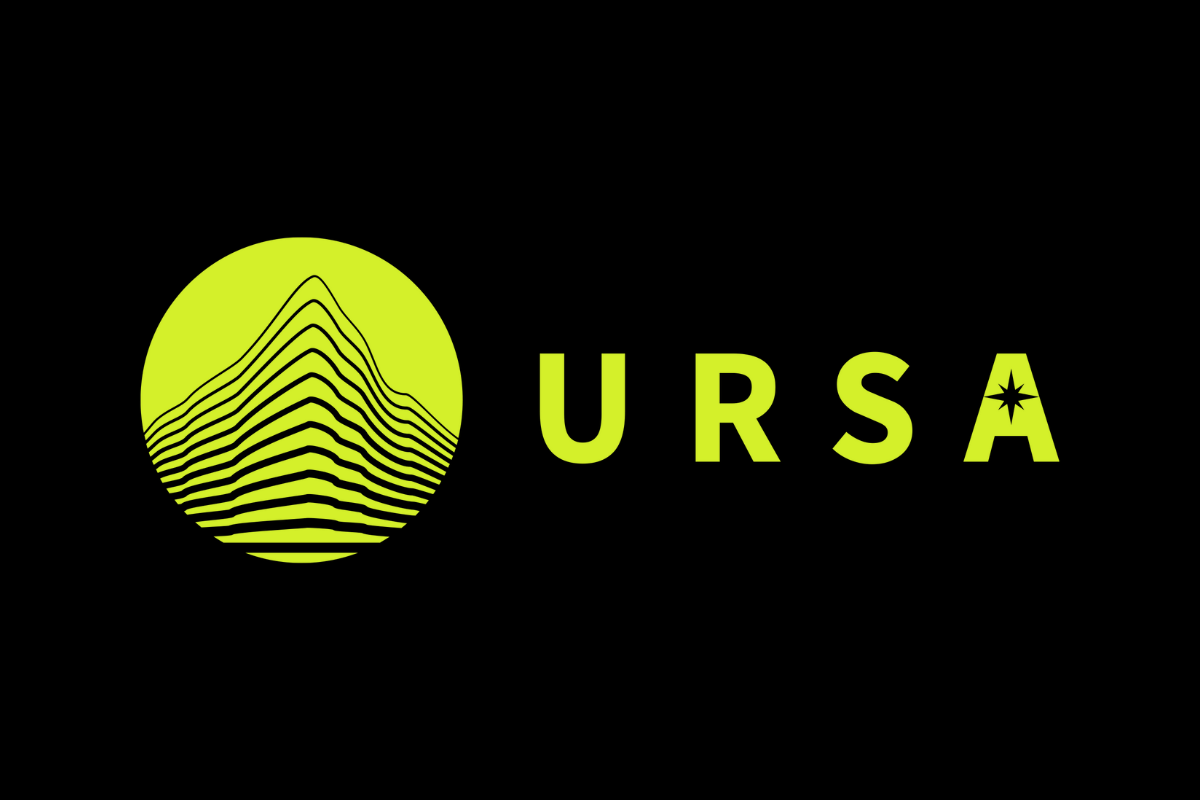 DW: It's been so much fun to hear these stories interpreted by voice actors—their performances intensify the feeling of what's on the page and take it to another dimension. And it's rewarding to know that with these fruitful collaborations, each audio story is bringing a different mood to our listeners—we've had comedy (Maurice Carlos Ruffin's "Ghetto University," voiced by Allan Thomas), tragedy (Cleyvis Natera's "Fog," voiced by Alberto "Mojo" Peña), sexy romance (Nana Nkweti's "Dance the Fiya Dance," voiced by Enih Agwe), a coming-of-age story (William Pei Shih's "Happy Family," voiced by Aria Song), and more. Many of the stories we produce would not otherwise have an audio version at all, so that is satisfying as well—to introduce their work to people who love audiobooks and podcasts.  
MA: I love seeing how the writers and voice actors connect, and the show is produced almost entirely remotely, so it's gratifying to be able to work with talent in different areas of the country (and the world). 
We've been experimenting and learning as we go—both in terms of production approach, but also in terms of what writing styles or story structures lend themselves best to an audio version. In addition to our own original productions, we've also partnered with audiobook publishers to feature some of their productions. So, Deesha and Dawnie will go in-depth with an acclaimed author like Jocelyn Nicole Johnson (My Monticello), and then also give the listeners an audio version of a story like "Virginia Is Not Your Home."
Ursa Story recently celebrated its first anniversary. Can you share some highlights from the Ursa Short Fiction Podcast's inaugural year?
DW: My favorite is that months after our two-part spotlight on the work of "hidden figure" Diane Oliver—a Black writer who died at age 22, in an auto accident—a posthumous collection of her work is now going to be published (by Grove in the U.S. and Virago in the U.K.). On Twitter, Grove editor Katie Raissian thanked Ursa and essayist Michael A. Gonzales, who first brought Oliver to our attention and was our guest, for the inspiration.
MA: Yes to Dawnie's highlight! It's been so gratifying to see Ursa turn people on to stories and writers they may not have heard about before. And not just writers but also emerging voice actors, too. We worked with one actor for whom the Ursa production was their first official credit, and building a platform that spotlights new talent, in addition to celebrating writers and voices who deserve more recognition, is our goal.    
Season 2 of the Ursa Short Fiction Podcast premiered in March with an interview with ZZ Packer on the 20th anniversary of Drinking Coffee Elsewhere. What else do you have in store for Season 2?
DW: Our guests remain illustrious! Joining us this season: ZZ Packer, Jamil Jan Kochai, Jocelyn Nicole Johnson, Jonathan Escoffery, Dantiel W. Moniz, Denne Michele Norris, Nafissa Thompson-Spires, Sidik Fofana, Rubén Degollado, and more to come. We're producing audio versions of stories selected from our first open submissions period. We're partnering with the audio divisions of publishers to preview and/or excerpt collections, so that listeners will be able to hear the work of some of our guests. And Deesha and I will continue member-exclusive bonus episodes, in which we talk about the nuts and bolts of publishing, answer listener questions, and more.
MA: We also have some audio stories from brand new collections, including our latest story "Rioja," which is by Shannon Sanders from her forthcoming debut collection Company (Graywolf Press, October 2023). It's performed by a wonderful voice actor, Khaya Fraites. 
On the business side, we're also going to keep building on our memberships and sponsorships to help fund production (get in touch! [email protected]), and we're already in development on some new show ideas. People can stay in touch by following Ursa Short Fiction in their favorite podcast app, or via our newsletter.