Learn more about past Firecracker Awards winners, finalists, and judges below.
2019 Firecracker Award Winners
FICTION: Little Fish by Casey Plett, published by Arsenal Pulp Press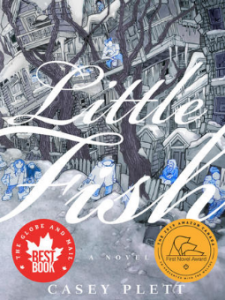 Arsenal Pulp Press, established in 1971 and located in Vancouver, Canada, publishes literature that engages and challenges readers, and that asks probing questions about the world. Genres include literary fiction and nonfiction, graphic novels, and children's and young adult titles, as well as books on social issues and gender studies and LGBTQ+ and BIPOC literature.
Casey Plett is the author of the novel Little Fish (Arsenal Pulp Press), winner of the 2019 Amazon Canada First Novel Award, and the Lambda Literary Award­­–winning story collection A Safe Girl to Love (Topside Press, 2014). She is also coeditor of the anthology Meanwhile, Elsewhere: Science Fiction and Fantasy from Transgender Writers (Topside Press, 2017). She lives in Windsor, Ontario, Canada.
From the Judges:
"In Little Fish, Casey Plett brings us fully into the world of her characters and lets us feel the fateful inevitability of their choices. Plett's protagonist, Wendy, is searching for a hidden trans lineage in her own family tree. This heroic quest is at once deeply private and an enormously helpful way to think about what it means for any of us to come of age and become heroes of our own lives."
CREATIVE NONFICTION: The Leftovers by Shaelyn Smith, published by Cleveland State University Poetry Center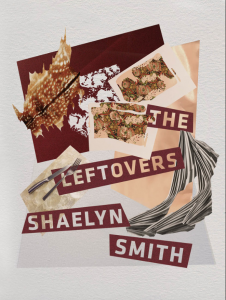 Cleveland State University Poetry Center was established in 1962 to promote poetry through readings and community outreach. In 1971, it expanded its mission to become a national nonprofit independent press under the auspices of the CSU Department of English and has since published over 200 titles. It currently publishes three to five books a year of poetry, essays, and works in translation, and runs the Lighthouse Reading Series in Cleveland. It also serves as an educational resource for students in the Northeast Ohio MFA program to learn literary editing and publishing through graduate assistantships and internships, and since 2018 has hosted the Anisfield-Wolf Fellowship in Writing and Publishing, which aims to promote diversity in literary publishing and programming.
Shaelyn Smith's The Leftovers was selected by Renee Gladman as the winner of Cleveland State University Poetry Center's 2017 Essay Collection Competition and was featured in "The Genre of Resistance: Debut Literary Nonfiction of 2018" in Poets & Writers Magazine. Smith's writing has been published in Essay Daily, storySouth, Sonora Review, The Rumpus, and Forklift, Ohio. She lives in Auburn, Alabama.
From the Judges:
"The strength and poignancy of Shaelyn Smith's The Leftovers rests in the work itself not being easily categorized. Emerging out of a critical engagement—one might even say a fixation—with Judy Chicago's iconic feminist art installation The Dinner Party housed at the Brooklyn Museum, The Leftovers encapsulates feminist testimony, art criticism, and personal discovery while rendering the visual as tactile and vivid. Smith goes well beyond asking who has been brought to the table and who has been left out—she erects platforms for voices and perspectives, both historical and contemporary, that speak to how historical recovery can also be a trap. The viewpoints she brings together offer universal truths held by individuals and community through a tightness in structure, voice, and overall composition. With prose that encourages a kind of infectious curiosity, Smith cracks open what writing about art can mean for how we read the world around us. The Leftovers is singularly engaging and as essential to our shelves as it is to our everyday dialogue."
POETRY: City of the Future by Sesshu Foster, published by Kaya Press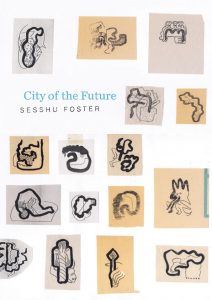 Kaya Press, founded in 1994, is a nonprofit publishing house run by a group of dedicated writers, artists, readers, and lovers of books working together to publish the most challenging, thoughtful, and provocative literature being produced throughout the Asian and Pacific Island diasporas. Now based in Los Angeles, Kaya Press continues to push boundaries by publishing literature, historically overlooked books from the Asian Diaspora, and books on art and film.
Sesshu Foster was raised in East Los Angeles and earned his MFA from the Iowa Writers' Workshop. Along with City of the Future, he is the author of the poetry collections World Ball Notebook (City Lights, 2009), which won an American Book Award and an Asian American Literary Award for Poetry, and City Terrace Field Manual (Kaya Press, 1996). He is also the author of the novel of speculative fiction Atomik Aztex (City Lights, 2005), which won the Believer Book Award. Foster has taught in East LA for 25 years as well as at the University of Iowa, the California Institute for the Arts, Naropa University's Jack Kerouac School of Disembodied Poetics, Pomona University, and the University of California, Santa Cruz. He lives in Los Angeles.
From the Judges:
"Sesshu Foster's City of the Future forces readers to rethink poetry, postcards, and the present by asking us to reimagine how we use language but also how language is used upon us. His work is one of utmost service. On a neighborly and communitarian level, Foster's work documents and challenges injustice. Beginning with 'in the infinite city,' the text builds image after image of sentient beings in "the city"—a space defined by its problematic (and dehumanizing) charge. City of the Future is part manifesto, part conversation/correspondence, and part elegy—this is a rare portrait of a space that is actively disappearing."
MAGAZINES: BEST DEBUT: Aster(ix)
Aster(ix) is a feminist literary arts journal based in Pittsburgh and New York City that is committed to social justice and translation, placing women of color at the center of the conversation. Available online, Aster(ix) also publishes a series of thematic print issues.
From the Judges:
"We are honored to award Aster(ix) the prize for Best Debut in Magazines. This refreshing new publication is striking, inspiring, and smartly visionary. The judges are impressed by the commitment to editorial excellence evident in the compelling content and clean design. Commendably, the journal's mission highlights generative experiment, recognizing the relationship between the creative interrogation of dominant discourse and effective social change. Moreover, leading the charge to nurture and publish works by artists and writers committed to social change with particular attention to works by women of color working on the margin of their discipline, Aster(ix) serves as a remarkable beacon for our times and beyond. This is an impactful and stunning debut, charting and accomplishing necessary work in the field."
MAGAZINES: GENERAL EXCELLENCE: ZYZZYVA
ZYZZYVA publishes three issues of fiction, nonfiction, poetry, and art each year. In every issue, the journal provides an overview of contemporary arts and letters, with a vibrant mix of established talents and new voices. The journal is dedicated to preserving room for discovery and experimentation, both through fostering emerging talents and by making space for established writers working in new forms. Though ZYZZYVA's purview is national (and beyond), its San Francisco roots shape the journal's perspective, and its longtime focus on highlighting West Coast writers and artists remains essential to its mission. In 2020, ZYZZYVA will celebrate 35 years of independent publishing.
From the Judges:
"We are honored to award San Francisco-based print publication ZYZZYVA the prize for General Excellence in Magazines. Since its founding in 1985, ZYZZYVA has been committed to publishing with care and curatorial verve all genres of literature—including poetry, fiction, nonfiction, and interviews—from writers known and emerging, as well as an impressive range of visual art.  Inclusive, equitable, and visionary, ZYZZYVA has impressed the judges with its unfailing standards of quality, scope, and its consistent contribution to and support of a broad spectrum of literature and literary conversation. They are an outstanding and longstanding example of the vital role of literary magazines and journals in the world."
2019 Lord Nose Award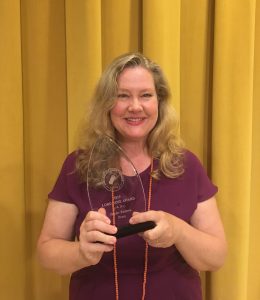 LEE ANN BROWN & TENDER BUTTONS
The third annual Lord Nose Award, given in memory of Jonathan Williams, publisher of the legendary literary press The Jargon Society, in recognition of a lifetime of superlative small press publishing, was presented to Tender Buttons, founded by poet Lee Ann Brown in 1989 with the aim of publishing the best in experimental women's writing.
Read CLMP Board Member David Wilk's remarks about Tender Buttons.
2019 Firecracker Award Finalists
FICTION
A Bright and Pleading Dagger by Nicole Rivas, published by Rose Metal Press
All Roads Lead to Blood by Bonnie Chau, published by Santa Fe Writers Project
Disoriental by Négar Djavadi, translated by Tina Kover, published by Europa Editions
Jonny Appleseed by Joshua Whitehead, published by Arsenal Pulp Press
Mina by Kim Sagwa, translated by Bruce and Ju-Chan, published by Two Lines Press
Strawberry Fields by Hilary Plum, published by Fence Books
The Taiga Syndrome by Cristina Rivera Garza, translated by Suzanne Jill Levine and Aviva Kana, published by Dorothy, a publishing project
That Which Girls Conjure Will Help Them Survive by Kristen Stone, published by Guillotine
Trick by Domenico Starnone, translated by Jhumpa Lahiri, published by Europa Editions
CREATIVE NONFICTION
A Handbook of Disappointed Fate by Anne Boyer, published by Ugly Duckling Presse
An Imperfect Rapture by Kelly Beard, published by Zone 3 Press
Before They Left Us by Rosemary Ann Davis, self-published by Old Road Publishing
False Calm: A Journey Through the Ghost Towns of Patagonia by María Sonia Cristoff, translated by Katherine Silver, published by Transit Books
Letters from Max: A Book of Friendship by Sarah Ruhl and Max Ritvo, published by Milkweed Editions
Mating in Captivity: A Memoir by Helen Zuman, published with She Writes Press
No Archive Will Restore You by Julietta Singh, published by Punctum Books
To Float in the Space Between: A Life and Work in Conversation with the Life and Work of Etheridge Knight by Terrance Hayes, published by Wave Books
POETRY
Baby, I Don't Care by Chelsey Minnis, published by Wave Books
Body & Glass by Rodney Koeneke, published by Wave Books
Crosslight for Youngbird by Asiya Wadud, published by Nightboat Books
Dissolve by Sherwin Bitsui, published by Copper Canyon Press
GOOD MORNING AMERICA I AM HUNGRY AND ON FIRE by jamie mortara, published by YesYes Books
Milk by Dorothea Lasky, published by Wave Books
Post Traumatic Hood Disorder by David Tomas Martinez, published by Sarabande Books
The Girls Are Coming Out of the Woods by Tishani Doshi, published by Copper Canyon Press
You Will Always Be Someone From Somewhere Else by Dao Strom, translated by Ly Thuy Nguyen, published by AJAR Press
MAGAZINES: BEST DEBUT
Aquifer: The Florida Review Online
The Second Shelf: A Quarterly of Rare Books and Words by Women
MAGAZINES: GENERAL EXCELLENCE
2019 Judges
FICTION
Andrea Lawlor is a fiction editor for Fence and the author of Paul Takes the Form of a Mortal Girl (Rescue Press, 2017) & Position Papers (Factory Hollow Press, 2016).
Veronica Santiago Liu is founder and general coordinator of Word Up Bookshop/Librería Comunitaria. Previously, she was a Contributing Editor at Seven Stories Press, where she worked as Managing than Senior Editor for more than a decade.  
Robert Pollock is PEN America's Prison Writing coordinator. Additionally, Robert is an ongoing participant in Rehabilitation Through the Arts, Musicambia, Refoundry, and Carnegie Hall's Musical Connections Advisory Committee. He is also a visual artist/singer-songwriter.  
CREATIVE NONFICTION
Jennifer Baker is a publishing professional, writer, creator/host of the Minorities in Publishing podcast, contributing editor to Electric Literature. She is the editor of the short story anthology Everyday People: The Color of Life (Atria Books, 2018). 
Jeff Deutsch is the Director of the Seminary Co-op Bookstores, Inc., which includes 57th Street Books. Other than a two-year stint as a Live-Work Artist at the Djerassi Resident Artist Program, Deutsch has spent his entire career in bookselling. 
Jyothi Natarajan is Editorial Director at the Asian American Writers' Workshop. Previously, she was an editor at The Caravan magazine and The New Press. Her writing has appeared in the anthology Good Girls Marry Doctors (Aunt Lute, 2016).
POETRY
Farrah Field is a co-founder of Berl's Brooklyn Poetry Shop. 
erica kaufman is the author of POST CLASSIC (forthcoming Roof Books, 2019), INSTANT CLASSIC (Roof Books, 2013), and censory impulse (Factory School, 2009). kaufman is the Director of Bard College the Institute for Writing & Thinking and where she is also Visiting Assistant Professor of Humanities.
Dean Rader is a poet and author of Works & Days, Landscape Portrait Figure Form (Omnidawn, 2014). He is a professor at the University of San Francisco.
MAGAZINES
Maribeth Batcha is the Publisher and Co-founder of One Story.
Poet, sound artist, and scholar, Duriel E. Harris is an associate professor of English in the graduate creative program at Illinois State University and the Editor of Obsidian: Literature and Arts in the African Diaspora. She is author of three print poetry collections including No Dictionary of a Living Tongue (2017), winner of the Nightboat Poetry Prize.
Katie Raissian is Publisher and Editor of Stonecutter, and a literary fiction and nonfiction editor at Grove Atlantic.
2018 Firecracker Award Winners
FICTION: An Unkindness of Ghosts by Rivers Solomon, published by Akashic Books
CREATIVE NONFICTION: Dreaming of Ramadi in Detroit by Aisha Sabatini Sloan, published by 1913 Press
POETRY: Unaccompanied by Javier Zamora, published by Copper Canyon Press
MAGAZINES: BEST DEBUT: Flock Literary Journal
MAGAZINES: GENERAL EXCELLENCE: One Story
LORD NOSE AWARD: Bobby and Lee Byrd & Cinco Puntos Press
2018 Firecracker Award Finalists
FICTION
Empire of Glass by Kaitlin Solimine, published by Ig Publishing
I'm So Fine: A List of Famous Men & What I Had On by Khadijah Queen, published by YesYes Books
Monolith by Yanick Lahens, translated by Emily Gogolak, published by Deep Vellum Publishing
North Station by Bae Suah, translated by Deborah Smith, published by Open Letter
Paul Takes the Form of a Mortal Girl by Andrea Lawlor, published by Rescue Press
The Passion of Woo & Isolde by Jennifer Tsung, published by Rose Metal Press
The Right Way to be Crippled and Naked, edited by Sheila Black, Michael Northen, Annabelle Hayes, published by Cinco Puntos Press
Tom o'Vietnam by Baron Wormser, published by New Rivers Press
CREATIVE NONFICTION
Asker by Douglas Martin, published by Nightboat Books
Caca Dolce: Essays from a Lowbrow Life by Chelsea Martin, published by Soft Skull Press
In the Province of the Gods by Kenny Fries, published by The University of Wisconsin Press
Pain Woman Takes Your Keys, and Other Essays from a Nervous System by Sonya Huber, published by University of Nebraska Press
Patagonian Road by Kate McCahill, published by Santa Fe Writers Project
Surviving Jersey: Danger and Insanity in the Garden State by Scott Loring Sanders, published by Outpost 19
The Flowers in My Mother's Name by Philip Harris, published by Nomadic Press
There You Are: Interview, Journals and Ephemera by Joan Kyger and edited by Cedar Sigo, published by Wave Books
POETRY
blud by Rachel McKibbens, published by Copper Canyon Press
Field Theories by Samiyah Bashir, published by Nightboat Books
I know Your Kind: Poems by William Brewer, published by Milkweed Editions
Silk Poem by Jen Bervin, published by Nightboat Books
The Happy End / All Welcome by Monica de la Torre, published by Ugly Duckling Presse
While Standing in Line for Death by CAConrad, published by Wave Books
MAGAZINES: BEST DEBUT
Aquifer: The Florida Review Online
Better than Starbucks
drDoctor
Erizo: A Journal of the Arts
Neologian
Paper Brigade
Poet's Country
The Wax Paper
True Story
Under a Warm Green Linden
MAGAZINES: GENERAL EXCELLENCE
Conjunctions
Creative Nonfiction
Ecotone
Full Stop
Georgia Review
New England Review
Poetry
Words Without Borders
Zyzzyva
2018 Judges
FICTION: Sarah Mickelm, Jay Nicorvo, Jess Pane
CREATIVE NONFICTION: Luis Jaramillo, Marie Mitsuki Mockett, Geo Ong
POETRY: Mahogany Browne, Cassie Duggan, Christopher Soto
MAGAZINES: Clarence Reynolds, Jodie Stanley, Craig Morgan Teicher
2017 Firecracker Award Winners
FICTION: Eve Out of Her Ruins by Ananda Devi, translated by Jeffrey Zuckerman, published by Deep Vellum Publishing
CREATIVE NONFICTION: Calamities by Renee Gladman, published by Wave Books
POETRY: Buck Studies by Douglas Kearney, published by Fence Books
MAGAZINES: BEST DEBUT: Bennington Review
MAGAZINES: GENERAL EXCELLENCE: Prairie Schooner
LORD NOSE AWARD: Bruce McPherson & McPherson & Co.
2017 Firecracker Award Finalists
FICTION
Blood of the Dawn by Claudia Salazar, translated by Elizabeth Bryer, published by Deep Vellum Publishing
Chronicle of the Murdered House by Lucio Cardoso, translated by Margaret Jull Costa & Robin Patterson, published by Open Letter
Gesell Dome by Guillermo Saccomanno, translated by Andrea G. Labinger, published by Open Letter
Into the Sun by Deni Ellis Béchard, published by Milkweed Editions
Nine Island by Jane Allison, published by Catapult
Say Something Nice About Me by Sara Schaff, published Augury Books
The Measure of Darkness by Liam Durcan, published by Bellevue Literary Press
The Natural Way of Things by Charlotte Wood, published Europa Editions
The Port-Wine Stain by Norman Lock, published by Bellevue Literary Press
CREATIVE NONFICTION
A Loaded Gun: Emily Dickinson for the 21st Century by Jerome Charyn, published by Bellevue Literary Press
Coast Range: A Collection from the Pacific Edge by Nick Neely, published by Counterpoint Press
Diving Makes the Water Deep by Zach Savic, published by Rescue Press
My Private Property by Mary Ruefle, published by Wave Books
Proxy: Essays Near Knowing {A Reckoning} by Brian Blanchfield, published by Nightboat Books
Sublime Physick: Essays by Patrick Madden, published by University of Nebraska Press
The Estrangement Principle by Ariel Goldberg, published by Nightboat Books
The Home Place: Memoirs of a Colored Man's Love Affair with Nature by J. Drew Lanham, published by Milkweed Editions
The Voyager Record: A Transmission by Anthony Michael Morena, published by Rose Metal Press
POETRY
Hammer with No Master: Poems of René Char by René Char, translated by Nancy Naomi Carlson
Hardly War by Don Mee Choi, published by Wave Books
Hell Figures by E. Tracy Grinnell, published by Nightboat Books
Music for Mussolini by Nick Johnson, published by Nomadic Press
Post- by Wayne Miller, published by Milkweed Editions
Profeta Without Refuge by Raina J. León, published by Nomadic Press
Remembering Animals by Brenda Iijima, published by Nightboat Books
Sympathetic Little Monster by Cameron Awkward-Rich, published by Ricochet Editions
The Tornado Is the World by Catherine Pierce, published by Saturnalia Books
MAGAZINES: BEST DEBUT
F(r)iction
Prodigal
Springhouse Journal
The Sixpenny Review
The Timberline Review
MAGAZINES: GENERAL EXCELLENCE
A Public Space
Gettysburg Review
Gulf Coast
Kenyon Review
MAKE Literary Magazine
New England Review
Ninth Letter
One Story
Poetry
The Common
Virginia Quarterly Review
2017 Judges
FICTION: Jarrod Annis, Paul Lisicky, Pia Padrone
CREATIVE NONFICTION: Michele Filgate, Alison Gore, Alexandra Kleeman
POETRY: Anne Boyer, Camille Drummond, Patricia Spears Jones
MAGAZINES: Maribeth Batcha, Ellen Duffer, Brigid Hughes
2016 Firecracker Award Winners
FICTION: The Things We Don't Do by Andrés Neuman, translated by Nick Caistor and Lorenzo Garcia, published by Open Letter
CREATIVE NONFICTION: The World Is on Fire: Scrap, Treasure, and Songs of Apocalypse by Joni Tevis, published by Milkweed Editions
POETRY: Garments Against Women by Anne Boyer, published by Ahsahta Press
BEST LITERARY MAGAZINE: A Public Space
2016 Firecracker Award Finalists
FICTION
American Meteor by Norman Lock, published by Bellevue Literary Press
Ciao Suerte by Annie McGreevy, published by Nouvella
Home by Leila S. Chudori, translated by John McGlynn, published by Deep Vellum Press
Medicine Walk by Richard Wagamese, published by Milkweed Editions
On the Island at the Center of the Center of the World by Elizabeth Kadetsky, published Nouvella
Pinkies by Shane Hinton, published by Burrow Press
The Listener by Rachel Basch, published by Pegasus Books
The Sleep of the Righteous by Wolfgang Hilbig, translated by Isabel Fargo Cole, published by Two Lines Press
Tran 83 by Fiston Mwanza Mujila, translated by Roland Glasser, published by Deep Vellum Publishing
CREATIVE NONFICTION
Because You Asked: A Book of Answers on the Art & Craft of the Writing Life edited by Katrina Roberts, published by Lord Horse Press
Belief Is Its Own Kind of Truth, Maybe by Lori Jakiela, published by Atticus Books
My Chinese-America by Allen Gee, published by Santa Fe Writers Project
Shader by Daniel Nester, published by 99: The Press
Solemn Pleasure by Melissa Pritchard, published by Bellevue Literary Press
Suite Vénitienne by Sophie Calle, published by Siglio Press
The Ghosts Who Travel with Me by Allison Green, published by Ooligan Press
Travels in Vermeer: A Memoir by Michael White, published by Persea Books
Wide Open: My Adventures in Polyamory, Open Marriage and Loving On My Own Terms by Gracie X, published by New Harbinger
POETRY
Bastards of the Reagan Era by Reginald Dwayne Betts, published by Four Way Books
Bright Dead Things by Ada Limón, published by Milkweed Editions
Illocality by Joseph Massey, published by Wave Books
Incorrect Merciful Impulses by Camille Rankine, published by Copper Canyon Press
Let's Let That Are Not Yet: Inferno by Ed Pavlic, published by Fence Books
Life in a Box Is a Pretty Box by Dawn Lundy Martin, published by Nightboat Books
S O S: Poems 1961-2013 by Amiri Baraka, edited by Paul Vangelisti, published by Grove Press
Supplication: Selected Poems by John Weiners, edited by Robert Dewhurst, Joshua Beckman, and CAConrad, published by Wave Books
The Poet, the Lion, Talking Pictures, El Farolito, a Wedding in St. Roch, the Big Box Store, the Warp in the Mirror, Spring Midnights, Fire & All by C. D. Wright, published by Copper Canyon Press
What about This: Collected Poems of Frank Stanford by Frank Stanford, edited by Michael Wiegers, published by Copper Canyon Press
BEST LITERARY MAGAZINE
Gulf Coast 
The Kenyon Review
MAKE Literary Magazine
Ninth Letter
One Story
Poetry
The Common
The Gettysburg Review
Virginia Quarterly Review
2016 Judges
FICTION: Brad Johnson, Yin Li, Dawn Raffel
CREATIVE NONFICTION: Claire Kirch, Kelly McMasters, Meredith Walters
POETRY: Kazim Ali, Ifeanyi Menkiti, Tim Nolan, Stephanie Strickland, Jonathon Welch
MAGAZINES: Don Lee, Ander Monson, David Martinez, Molly Rose Quinn, Clarence Reynolds
2015 Firecracker Award Winners
FICTION: Song of the Shank by Jeffrey Renard Allen, published by Graywolf Press
CREATIVE NONFICTION: Self-Portrait in Green by Marie NDiaye, published by Two Lines Press
GRAPHIC NOVEL: Beauty by Hubert & Kerascoët, published by NBM Publishing
POETRY: Sonnets: Expanded 25th Anniversary Edition by Bernadette Mayer, published by Tender Buttons Press
YOUNG ADULT: Some Boys by Patty Blount, published Sourcebooks
MAGAZINES: BEST DEBUT: Story
MAGAZINES: GENERAL EXCELLENCE: Tin House Magazine
2015 Firecracker Award Finalists
FICTION
Hum by Michelle Richmond, published by FC2, an imprint of University of Alabama Press
List by Matthew Roberson, published by FC2, an imprint of University of Alabama Press
Search for Heinrich Schlögel by Martha Bailie, published by Tin House Books
Sister Golden Hair by Darcey Steinke, published by Tin House Books
Songs for the Deaf by John Henry Fleming, published by Burrow Press
Street of Thieves by Mathias Énard, published by Open Letter Books
The Family Cannon by Halina Duraj, published by Augury Books
The Good Life Elsewhere by Vladimir Lorchenkov, published by New Vessel Press
Us Conductors by Sean Michaels, published by Tin House Books
CREATIVE NONFICTION
Loitering by Charles D'ambrosia, published by Tin House Books
The Empathy Exams by Leslie Jamison, published by Graywolf Press
The Other Side by Lacy M. Johnson, published by Tin House Books
Surrendering Oz by Bonnie Friedman, published by Etruscan Press
GRAPHIC NOVEL
All Stars by Jesse Lonergan, published by NBM Publishing
Family Ties by Eric Hobbs and Noel Tuazon, published by Rattapallax
Whitman Illuminated by Allen Crawford, published by Tin House Books
POETRY
Beast Feast by Cody-Rose Clevidence, published by Ahsahta Press
Blue Hanuman by Joan Larkin, published by Hanging Loose Press
Exclosures by Emily Abendroth, published by Ahsahta Press
Tree Line by Judy Halebsky, published by New Issues Poetry & Prose
YOUNG ADULT
A Boy Like Me by Jeannie Wood, published by 215 Ink
Hollow City by Ransom Riggs, published by Quirk Books
My So-Called Ruined Life by Melanie Bishop, published by Torrey House Press
Rebels by Accident by Patricia Dunn, published by Sourcebooks
MAGAZINES: GENERAL EXCELLENCE
6 x 6
A Public Space
Creative Nonfiction
Fence
Mosaic
2015 Judges
FICTION: Katie Freeman, Mitchell Kaplan, Hannah Tinti
CREATIVE NONFICTION: Michele Filgate, Kiese Layton, Terese Svoboda
GRAPHIC NOVEL: Eric Lorberer, Christine Monroe, Calvin Reid
POETRY: John Evans, Kimiko Hahn, Stacy Szymaszek
YOUNG ADULT: Katie Coyle, Sarah LaPolla, Jordan Nielson
MAGAZINES: Jane Freedman, Karen Gisonny, Ina Morris, Saeed Jones