Celebrating the Best of Independently Published Literature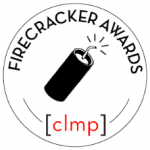 The CLMP Firecracker Awards for Independently Published Literature celebrate books and magazines that make a significant contribution to our literary culture and the publishers that strive to introduce important voices to readers far and wide. Prizes are awarded in the categories of Fiction, Creative Nonfiction, Poetry, Magazine/General Excellence, and Magazine/Best Debut.
A national publicity campaign spotlights and promotes our winning titles each year. In partnership with the American Booksellers Association, the Firecracker Award winners are announced in Bookselling This Week and promotional materials, including a press release, shelf-talkers, and more, are sent to over 500 independent booksellers across the country. Winners are also promoted in CLMP's newsletters, on our website, and through a dedicated social media campaign.
Submissions to the 2020 Firecracker Awards will be accepted from September 16 to October 31, 2019.
Finalists will be announced in spring 2020; the winners will be announced at the Firecracker Awards ceremony in June 2020.
Submission Guidelines
Books must be published by an independent publisher during the 2019 calendar year.
Anthologies and self-published titles are not eligible but works in translation and graphic novels are welcome.
Both print and digital magazines are eligible.
Magazines submitting in the General Excellence category must have published regularly for at least the past two years.
Magazines submitting in the Best Debut category must have launched during the 2018 or 2019 calendar year.
There is no limit to the number of entries publishers may submit.
The entry fee is $65 ($55 for CLMP Members) for the first book and $30 ($25 for CLMP Members) for each additional entry.
Interested in becoming a CLMP Member? Join now.
Congratulations to the 2019 Firecracker Award Winners!
Fiction: Little Fish by Casey Plett, published by Arsenal Pulp Press
Creative Nonfiction: The Leftovers by Shaelyn Smith, published by Cleveland State University Poetry Center
Poetry: City of the Future by Sesshu Foster, published by Kaya Press
Magazine/General Excellence:  Zyzzyva
Magazine/Best Debut: Aster(ix)
Lord Nose Award: Lee Ann Brown & Tender Buttons Press
Read about past winners, finalists, and judges.
The Firecracker Awards are sponsored by