Celebrating the Best of Independently Published Literature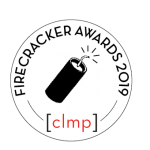 The CLMP Firecracker Awards for Independently and Self- Published Literature celebrates books and magazines that make a sparkling contribution to our literary culture and the publishers that strive to introduce important voices to readers far and wide.
A national campaign spotlights and promotes our winning titles each year. Working with the American Booksellers Association, we feature the Firecracker Award winners through Bookselling This Week and a national Red Box Mailing that goes out to independent booksellers across the country.
Join Us at the Firecracker Awards Ceremony
Celebrate the best of independent literature on Wednesday, June 5, 2019, 7:00-9:00 P.M. EST at Poets House in New York City. Poet Dorothea Lasky, author of the poetry collections Milk (Wave Books, 2018) and ROME (Liveright, 2014) will host. Join us for the unveiling of the winners and toast them afterward with a glass of wine at the reception to follow. This event is free and open to the public.
*Please note that we cannot accept anthology submissions in any category, but we do welcome works in translation, graphic novels, and YA.
Prizes will be awarded in the following categories:
Fiction
Creative Nonfiction
Poetry
Magazine (General Excellence)
Magazine (Best Debut)

We believe in a fair and transparent judging process. All submissions are read by two first readers, who collaboratively narrow submissions to a longlist of 20 titles in each category. Judges—who also have access to all submitted manuscripts—will release a public list of 10 finalists in May 2019. The winning titles will be announced in June 2019.
Guidelines for Submission 
All book submissions must have a publication date within the 2018 calendar year. Magazines should be uploaded as a single PDF containing every issue published within 2018. Online-only magazines may wish to upload a document containing links to issues published in 2018, along with a note and instructions (if needed).
There is no limit to the number of manuscripts that may be submitted. Please submit each manuscript individually, selecting "Additional Title Submission Fee" for all manuscripts submitted after the first.
2019 Judges
FICTION
Andrea Lawlor is a fiction editor for Fence and the author of Paul Takes the Form of a Mortal Girl (Rescue Press, 2017) & Position Papers (Factory Hollow Press, 2016).
Veronica Santiago Liu is founder and general coordinator of Word Up Bookshop/Librería Comunitaria. Previously, she was a Contributing Editor at Seven Stories Press, where she worked as Managing than Senior Editor for more than a decade.  
Robert Pollock is PEN America's Prison Writing coordinator. Additionally, Robert is an ongoing participant in Rehabilitation Through the Arts, Musicambia, Refoundry, and Carnegie Hall's Musical Connections Advisory Committee. He is also a visual artist/singer-songwriter.  
CREATIVE NONFICTION
Jennifer Baker is a publishing professional, writer, creator/host of the Minorities in Publishing podcast, contributing editor to Electric Literature. She is the editor of the short story anthology Everyday People: The Color of Life (Atria Books, 2018). 
Jeff Deutsch is the Director of the Seminary Co-op Bookstores, Inc., which includes 57th Street Books. Other than a two-year stint as a Live-Work Artist at the Djerassi Resident Artist Program, Deutsch has spent his entire career in bookselling. 
Jyothi Natarajan is Editorial Director at the Asian American Writers' Workshop. Previously, she was an editor at The Caravan magazine and The New Press. Her writing has appeared in the anthology Good Girls Marry Doctors (Aunt Lute, 2016).
POETRY
Farrah Field is a co-founder of Berl's Brooklyn Poetry Shop. 
erica kaufman is the author of POST CLASSIC (forthcoming Roof Books, 2019), INSTANT CLASSIC (Roof Books, 2013), and censory impulse (Factory School, 2009). kaufman is the Director of Bard College the Institute for Writing & Thinking and where she is also Visiting Assistant Professor of Humanities.
Dean Rader is a poet and author of Works & Days, Landscape Portrait Figure Form (Omnidawn, 2014). He is a professor at the University of San Francisco.
MAGAZINES
Maribeth Batcha is the Publisher and Co-founder of One Story.
Poet, sound artist, and scholar, Duriel E. Harris is an associate professor of English in the graduate creative program at Illinois State University and the Editor of Obsidian: Literature and Arts in the African Diaspora. She is author of three print poetry collections including No Dictionary of a Living Tongue (2017), winner of the Nightboat Poetry Prize.
Katie Raissian is Publisher and Editor of Stonecutter, and a literary fiction and nonfiction editor at Grove Atlantic.
Congratulations to the 2018 Firecracker Award Winners!
GENERAL EXCELLENCE MAGAZINE: One Story
BEST DEBUT MAGAZINE: Flock Literary
FICTION: An Unkindness of Ghosts by Rivers Solomon, Akashic Books
CREATIVE NONFICTION: Dreaming of Ramadi In Detroit by Aisha Sabitini Sloan, 1913 Press
POETRY: Unaccompanied by Javier Zamora, Copper Canyon Press
LORD NOSE AWARD: Bobby & Lee Byrd of Cinco Puntos Press
The Firecracker Awards are sponsored by